Black Dragon – Borealis Book 8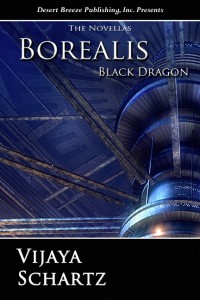 A dandy is cheating in a gambling den of the Borealis space station, and Lieutenant Zara Frankel intends to catch him in the act. She always gets her man, but this one could prove more than she can handle.
Captain Czerno Drake, code name Black Dragon, intends to break his innocent uncle from the most secure penitentiary in the galaxy, on the Borealis space station. He will stop at nothing to succeed, even enrolling the help of the lovely straight arrow TPP enforcer. When Zara realizes that she's been used by a shrewd but seductive rebel, however, her reaction surprises everyone, most of all herself.
"Phenomenal world building, characters the readers care about, and an intriguing mystery… all the elements one expects from a Vijaya Schartz story! Easily recommended!" Debbie – CK2sKwipsandKritique