The Adventures of Ralph Rocket: My Life In Music by Michael D. Husser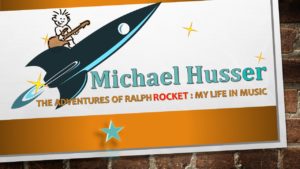 I am of the mind that one's life story is predetermined before we arrive on the planet.  The Adventures of Ralph Rocket: My Life in Music, By Michael D. Husser proves just this, for his journey has been one of consistency in being able to learn to play music and share the gift of joy through music.
It encompasses working with " famous "people, including:  Little Richard, Buffy Sainte Marie, Johnny Carson, and "almost famous" people including:  Walter Hand, Tia Carroll, Jeb Brady, and myself.
Now that Ralph/ Michael is in his early 70's, it is my privilege to share his story with you as his friend and musical partner of five years and 4 CD's later in The AH Factor Band, and now as his publisher. I am a better person and musician for knowing him!
Stefanie August 2018
Chapter Excerpts
Ralphie Arrives - Chapter 1
I was born in San Francisco, CA on June 21, 1946, exactly one year after the chartering of the United Nations in San Francisco, and one mile away from that location.  Two days after my arrival, I was brought to my parents' home in Richmond California. My father, George Husser, was a pediatrician and an internal medicine specialist. He had been the physician for FDR in WWII and came back to the Bay area to start his medical practice. In fact, being a resident at UCSF Medical Center when I was about to be born, he had my favorite uncle Chico drive my beautiful mother Helen across the Bay Bridge during labor, so dad could take advantage of having me born under the auspices of the hospital he worked in, and so as to receive the benefit of a discount in hospital fees! Even back then birthing babies was not inexpensive! My family included my older sisters Kate and Peg, our younger brother Tim (who is sadly no longer with us, our parents, and of course myself.
My parents met in college and were graduates of UC Berkeley – that bastion of liberalism, socio-political contention, and deep thought.   We were always reading something in our home, which helped me to become a very well-informed person. Although I was not aware that I was able to soak up and retain information being the small sponge that I was, my sister Peg used to remind me "not to scare them" when recapping historical context or political fact.  Years later, remembering this phrase served me well in my secondary career as an high-school social studies teacher. But I digress. Herein want to get to the nasance of Ralph Rocket my musical alter-ego.
FIRST MUSICAL EXPERIENCES
Aside from my keen curiosity of all things written, I also possess, and still do,  an immense need to understand how things work. At the lofty age of 8 while attending my grade school's carnival,  I noticed a man sitting next to the stage. He had a green box connected to a microphone that was on the stage where one of my female classmates was singing.  Boldly asking the man what he was doing and what the green box was for he kindly explained to me that he was running what was called a "P.A. system". Showing me that by moving a dial on the amplifier I could make the mic louder or softer,  I turned the knob. Suddenly the girl's voice got very loud in the room and as she looked over at me to see what was happening I realized it would be a good thing to be a PA system operator.Not just because pretty girls checked me out, but because I could control what came out of or didn't, from this little green box!  This was my first introduction to live sound. I was hooked.
Around age 10, I got the idea to design a recording studio in my father's house. Obtaining some graph paper and measuring tape,  I measured my bedroom, the bedroom next to mine, and the closet in between the two rooms. I then drew the studio in one room and the control room in the closet, with my room as part of that control room. I even measured the window that needed to go into the wall between the two rooms.  Presenting this drawing to my father, to this day I am grateful for the fact that he said to me "we don't have time to do it right now, but it's a terrific idea!". His support of my creative mind and vision helped set me on my path toward professional audio because he validated me in his polite and astute way as my dad, and as a well-known pediatrician  to most of the city of Richmond's population.
Near this same time, my grade school planned a talent show for the students.  At the urging of Kate and Peg, I performed a pantomime of a record called "The Hat I Got for Christmas is Too Big", made popular by Stan Freberg.  I wore my first communion white pants, a white shirt, some sandals and an over-large sombrero. In advance of lip-syncing becoming an art form, I practiced mouthing the words to the song in front of a large mirror in our home dressed as Speedy Gonzales.  On the day of the show I performed the song in front of the assembled students in the school auditorium – without stage fright!. When I was finished I received large applause, and was given a ribbon. I did not win the event however, the ribbon did say "Honorable Mention".  In my 10 year old mind I was convinced that this was just as good as earning first place because A) I was now "honorable", and B) I had before been mentioned, at least not in this capacity. This was my first experience on stage.
Speaking of stage fright,  I am somewhat unique in that I have never experienced what is for many a reason to be nervous on stage. In fact, the biggest crowd I have ever spoken in front of has been over 5,000 people, and it didn't bother me at all.  This lack of fear makes me a natural ham. I encourage anyone with stage fright to keep on struggling through it, because eventually you will experience the joy of your ham being baked, too.
In the  fourth grade, my teacher Mr. Skelton, (no relation to Red), taught us to play an instrument called a Flute-O-Phone – an entry level to playing recorder, and every parent's nightmare if blown out of tune.  The class learned Christmas songs and we played them for the school. That was my first experience playing an instrument in front of an audience.
In the fifth grade, our class produced for ourselves a small play in the classroom. The name of the play was "The Doughnut Shop", and yours truly played the part of the proprietor.  Other students played characters who came to the doughnut shop to talk to me and of course to buy doughnuts. This gave other students the opportunity to be actors, with me as their foil. It also meant that I had more lines than everybody else.  All I had to do was put my script papers down on the counter of the doughnut shop and read my lines. During one of the exchanges, one of the students got stage fright and forgot their lines. The poor soul walked off and sat down in the back of the room, very embarrassed. The "audience" then (as audiences do) looked at me because I was still in front of them. They knew what had happened, I knew what had happened, but I had to remain in character. So I started making up a monologue about how nice it was being the proprietor of the doughnut shop, and how I was going to keep the place nice and tidy until the next student was ready to say their lines. In this way, I kept the show going. I did not know anything other than I needed to make something up, and I did. When our  little play was over, the teacher Miss O'Brien told me I was a natural actor and performer. These experiences on stage fomented my creative bent and helped lay the groundwork for a professional career as an performer, musician, and sound/video engineer.
A Music Maestro in the Making - Chapter 2
1959 – a year when 75 confident and not so confident high-schoolers attended Salesian High in Richmond CA.  Given that this was the school's inception year and that it was a Catholic school, I would say that we were all immaculately chosen by a higher power to attend.  For me the higher power was my Grandmother Husser, who made it quite clear to my now remarried father after the passing of my dear mother, that each of her grans were to attend some sort of Catholic institution of higher learning, especially those good – fer-nothin' boys of his, Michael and Timothy.  Who knew that expressing an interest in wanting to play music would earn me a prestigious spot on the Master's punishment roles – but I digress!
It also must have been because I had previously attended public school where  boys and girls mingled in class together. As natural as this was to me, to Grandmother it seemed licentious, and so I was removed from the very environment where I thrived.  Not wanting to incur the wrath of my gram and to give my father some piece of mind, I complied with little complaint. Besides, Salesian was positioned directly behind Richmond high, where I continued to consort with those heathens I remained friendly with, as time and the Priests allowed.
I had no fear of girls so I was quite surprised that many of my classmates did not know how to behave around girls at all.  We were invited to school dances at Richmond High, which I went to but my classmates were very nervous about attending. Presentation High the all-girls Catholic school was in Berkeley, CA.  Eventually we saints of Salisian and saintlier girls of Presentation began dating. I met my high school sweetheart in my junior year because she was a cheerleader for our school along with three of her friends.  Since Salesian didn't have female cheerleaders, given my abilities in public performance, I became the head cheerleader of Salesians all-boys cheerleading squad. This was a true vantage point for me since it once again placed me in front of an audience and allowed me to talk to girls!
I was also the director of school plays for Salesian  drama department, and a singer in the school folk singing quartet. The group performed songs by the Limelighters and Kingston Trio along with other folk performers and writers. In yearbook photographs I am holding a guitar although formal lessons were forthcoming.   I was also the MC of the group, so I would tell the jokes and introduce the songs. This went on until our graduation in 1964, my release date from prison and the last time that I attended a Catholic mass.
After graduation and all of that Catholicism, I promptly I took a job at a local shoe store, selling women's shoes of all things.  It was good to be back around all of those lovely ladies without a Priest hitting me over the head with a ruler! Plus, for being such a pious student, I received a guitar and guitar lessons from my parents as a  graduation/birthday present, since my release occurred close to my 18 th birthday. When I attempted to take my first lesson, the instructor realized I could not use the little finger of my left hand, and could not make guitar chords. He happened to be the bass player in the local rock group in the Richmond. Having been paid in advance, he said "change to play electric bass, you only need 3 fingers". Not knowing anything, I agreed, and traded in my guitar for an electric bass. I took 2 additional lessons from his and then started playing and exploring the instrument on my own. I had been "playing" the bass for 3 weeks when I received a phone call at the shoe store.  
I took the call in the stock room of the shoe store. The caller said "my name is Larry Sanchez and I have a band that is playing tonight at The Center. We need a bass player and we understand you purchased a bass from the local music store." " I told him that was correct  but that I had only been playing for three weeks , couldn't really play well yet, but that I could sing. Larry said "We don't get played unless there's a bass player in the band. All you'll have to do is stand there and sing with us". So they picked me up with my bass and my amp in front of the shoe store and we drove to the American Indian Center in San Francisco, where I "played" and sang in front of 200 native Americans. I was the only non-Native other than he drummer in the room. I was paid $22.50 and since the payment on my bass and amp was $18.00 I felt that I was now really in show business!  
After the dance, the drummer wanted to fire me immediately, and rightly so since he wound up holding down the back beat for most of the night.  But Larry, as band leader, saw my potential and refused to fire me. I ended up rehearsing with Larry every day for hours. He taught me blues pattern on the bass and we studied the recordings of Jimmy Reed and other blues artists.
After graduation from Salesian,  I also started classes at Contra-Costa College (CCC) in San Pablo CA , intending  to take courses in order to become a lawyer. When I started there, my father and I had a disagreement about the chaos that was engulfing our family.  This resulted in me being asked to leave the family home. My father gave me what he had in his pocket at the time, which was $14.00. Fortunately I taken in by a high-school friend's family, full-blooded Sioux Indians.  The mother was a nurse at the local hospital and knew my father. She obtained a job for me in the dietary department. I worked there while going to school and continuing to play music with Larry Sanchez whose family were originally from Acoma Pueblo.
I moved from my classmate's family's home to  Larry Sanchez's house and ended up living with his family for about a year. Their home was a bungalow in the middle of the Santa Fe railroad facility in Richmond, aptly called the Santa Fe Indian Village. I was the only non-Native to my knowledge to ever have lived there. They moved from Richmond back to New Mexico a few years later and I also ended up living with them on Acoma Pueblo at that time.
Larry's tribe came from  the "Land of Enchantment".  The state got that phrase from "enchanted mesa" which is located on their ancestral land. Their tribe had been living there for over one thousand years. Acoma is the  oldest continuously inhabited Native American city in North America. I was very proud to live with them. I was also proud to become a permanent member of The Enchanters.
Before moving to the "res" the Enchanters included Larry on guitar and vocals, Wayne Neckel on drums and vocals and a great guy named Vic on sax and vocals, whose last name eludes me at present. It was with this band that I had played my first paid musical show at the American Indian Center in SF. The Enchanters Band also played at Contra-Costa College and other venues. The band was involved in a "band battle" at El Cerrito High-School. We played at El Cerrito High School. We only agreed to perform at the contest if we were paid for our time. The promoters agreed and said not to tell any of the other bands. On the bill was a band called the Blue Velvets now known as Creedence Clearwater Revival. We won the band battle. John Fogerty, lead singer of the Blue Velvets, insisted that their band was better than ours. Although we own that contest, time has proven that CCR  was a much more lucrative group.
I played with the band until around 1967  when Larry received his draft notice to go to Vietnam. He joined the Air Force instead of being drafted. When he left, I was living in Richmond. I had rented a room on Costa Avenue, which was located by the hospital where I formerly worked.  I obtained a job at Kawneer corporation which manufactured aluminum doors for buildings, ended up in the shipping dept and did shipping all over the world. While there I was asked to join the management group, but I didn't want to be in an office. My ambition was to play music.
I continued playing in various groups in the Bay area. Richmond was known for blues, zydeco and Cajun music because many of the people who resided there came from their home states to work in the shipyards during WWII and continued to reside there after the war.  In San Pablo, the same was true except the people played country music, which represented their lives. The music that was played in these communities was very important to the people because it reflected where they had come from. I felt privileged to play with them because I learned the authentic methods and phrases necessary for these kinds of music.  I would play country on Friday nights, blues on Saturday nights, folk music Sunday afternoons, and maybe some jazz when time permitted.
Later in my musical career I was able to play with many well-known blues, folk, and country artists because of my ability to play the authentic parts. I didn't know at the time how important my experience  would be later on my career. I thought everybody played authentically because I was surrounded by people who played this way. Even today people will compliment me by saying that I still play "old school".
In 1967 I was living in Berkley and was working at Kawneer Corporation. I was renting a large house and sharing it with friends. My friend Andre wanted to get a job as a valet with Little Richard who was performing at a club on Broadway in San Francisco.  Andre was nervous about meeting Richard and asked me to go with him. Andre told me to bring my bass and amp to play for Richard in case he needed a bass player, and I happily complied. We went to Richard's hotel on Van Ness Avenue and knocked on the door. The door opened about two inches, and a voice said, "Who is this". Andre identified himself. The door opened to allow us into the darkened room. The only light was from the television broadcasting snow. The person who had let us in immediately closed the door and put a wet towel at the bottom because everyone in the room was smoking marijuana. Everybody except me was African-American.
Out of the gloom a hand came up toward me, and a voice said "Hi, baby, how you doin', I'm Richard", and that is how I met Little Richard. He asked me to set up my amp and my bass, which I did by feel in the dark.  He then told me to play certain keys at certain tempos. "Play a 2/4 blues in A, now a ¾ blues in C, now a 4/4 in Bb." Since Richard also had horns in his band he wanted to see my aptitude in playing in keys pertinent to them. After about 10 minutes and given the fact that I was concentrating,  I realized that Richard was singing along with me. I was very gratified and when I finished he said, "You sound good! Would you like to play tomorrow night." The next night I was on stage playing with Richard. We struck up a great friendship which continues to this day.
In December of 1967 I went my fiance's family home in Riverside, CA.  Richard invited me to his mother's house in Perris, CA. I was invited to meet her, his two brothers and sister. Since it was Christmas I knew I had to get him an Christmas present. What to get Little Richard for Christmas? Make-up? No. I decided to get him a copy of the Robert Johnson album on Columbia. I had it gift-wrapped, I brought it to the house and gave it to him as a present. When he unwrapped the album, Richard got very emotional. He handed it to his mother Mrs. Penniman, who  also got emotional. Concerned I asked, "Is the present okay?" Mrs. Penniman replied, "This is what we listened to when Richard was growing up. You're one of the family". To this day I am honored to have had this experience.
Moon Rose Forest - Chapter 3
After working with Richard, I  got a job at Norman's Restaurant on College Ave in Berkeley CA. I was content to wash dishes and was regaining some of my energy. One day I was in a coffee shop on Telegraph Avenue and met a young man whose name was David Sultzer. He said he had come from Santa Cruz, CA to find musicians for a band that he was creating to do original music. I was living in a small cottage in Berkeley and said I would come and visit the house where the band was living. The house was located on Dwight Way at San Pablo Ave in Berkeley. I walked in with my bass and my amp and David had his guitar and a tape machine where he played back some songs that had been written. All the songs were original songs. I was very, very happy to know everything was original, because I was very attracted to playing original music,having performed with Richard and new the potential of originals.
I asked him if he had any ideas about what bass parts he wanted. He said "No that's what you do." I said "let's do it". The band had David Sultzer on guitar, Carol and David (singers), and David O'Connor, second guitarist and myself on bass.   We eventually hired Phil Ford as our drummer who played drums and tabla. Phil added so much to the group, he also ended up playing some piano when we did our later recordings.
My fiancée, Vicky and I were asked to move into the band house. A few of the other band members lived with us.  The only furniture in the house was amplifier, a couple of beds, some chairs and a table. We had literally no money. I was bringing in food from the restaurant and Vicky, was working part-time as a cashier. Every day we would assemble in the living room and play for 5-7 hours. Once I remember we made a tuna casserole in a large baking dish and divided it up by days.
One afternoon we were playing in the living room and we had made an unconscious agreement that we were gonna play until they found us slumped over, until we couldn't play anymore. We believed in our music that deeply.  The next day when we were playing there was a knock on the door. When we answered the door a young man said "I've been standing outside your house for 45 minutes listening to your music. I've never heard anything like it. Is there anything I can do to help the band. We said "we don't have much money" He reached into his pocket and pulled out a $100 bill and half an ounce of grass. We thanked him, asked him to come back the next day when we were playing, waited until he left, went around the corner, and attempted to stuff ourselves with Chinese food. We couldn't eat very much because our stomachs had shrunk. He came back the next day and gave us another $100. It was such a relief to be believed in by absolute strangers.
 Then one of our friends in Santa Cruz found us a house that was for rent in a little town called Soquel. It was located on  7.5 acres in the Santa Cruz Mountains. It had a farmhouse, and the water came from the stream up the mountain. We moved in and played constantly. Our daily schedule was awakened by a bell at 9:00 am, at 10:00 am we would have breakfast in the kitchen, after breakfast we'd go into the studio (living room) and we would play from 10:00 am -1:00 pm. At 1:00 we had lunch until 2:00, we went back in the studio from 2:00-6:00, we had dinner at 7:00 pm, and we were free to practice or anything else after that. Frequently myself and other musicians with practice sections with other players. This was six days a week, with Sundays off. We practiced this way for a few months and became very proficient in our songs and arrangements.  We didn't know it at the time but the band Traffic was doing the same thing in England. This is known among musicians as wood shedding.
One of the things we created within our our songs arrangements, was that the lead guitarist had an option of playing one of three lead guitar parts of his choice. We had previously learned all three of those parts and he would play the "cue" notes before one of the three leads, so we would play the correct backup parts. We had very few conflicts during this period because we were all dedicated completely to the music.
My fiance' Vicky's parents heard about the band and offered to invest in us, as kind of a wedding present.They invested $6,000 which was a lot of money in 1968 and we were able to get good equipment and we hired a young lady to be the housekeeper.
David Sultzer, our band leader had met Buffy Sainte-Marie in Hawaii where David was a surfer. He was ranked among the top 10 surfers in the world.  David had determined that he was going to dedicate himself to playing music rather than surfing because he realized he would have a longer career in music then in surfing.  He told Buffy that he was going to go back to the mainland, create a group and that when it was ready he would call her. He said it was time and he called her. He told us that it was now time, the band was ready and he called her.
Buffy and her husband Dwayne Bugby, flew from HawaiI and were picked up by our manager whose name was Richard Novak.  Richard is now a partner in a company called NHS, that produces the Santa Cruz line of skateboards and snowboards and other products.
Richard picked up Buffy and Dwayne at the airport, and brought them to our house.  We were playing an instrumental section when she came into the studio. She sat on the floor along the wall. We stopped playing. Buffy said "No, please keep playing." We played for another 15 minutes, then stopped. Her first words were, "That was really good. I liked that. Would you like to do an album?"   
We recorded with her the next month. It was November, 1968. We were flown to Los Angeles and put into the Magic Hotel on Hyland Avenue in Hollywood. The engagement was for four nights at a club called The Troubadour. All of the shows were going to be recorded for the album. Since we were in LA a week before the shows, we practiced on the stage in the club during the day.  The Club Troubadour later became the location for the North American tour by Elton John who had just released Tumbleweed Connection. The producer for Buffy's album was Mark Roth, who had just produced an album for Richie Haven's called "Richard P. Havens" The recording was done by Wally Heider Mobile Recording. The tapes were recorded on 16 track, 2 inch tape, which was a big deal in those days.
The first three nights we performed two shows and on the last night we did three.  The shows were attended by various popular musicians members of The Byrds and Hoyt Axton, who I had the privledge of becoming a good friends with.  The William Morris Agency also sent representatives. The show was favorably reviewed in the LA Times.
After our recording with Buffy two members were invited to tour with her worldwide.  One was myself and the other was a guitarist named Bobby Bozina who had joined the band for LA shows. I respectfully declined her offer because I felt loyalty to the Moon Rose Forest band members and wanted to continue to create original music with them.
Our band reconvened at the original location in Santa Cruz in January 1969 and in March of the same year we relocated to Oakland, CA. 
I still had investor money for the band which I was allowed to use for rental needs and food for the group. We found a location at 666 63rd Street in Oakland. The band continued to practice and we reconfigured members of the band. A new member who wrote songs and played guitar was named Gareth Cook. He was a very creative and a very good singer. David Sultzer and myself continued to play. David later left to work as a solo act and was replaced by Russell Daneke. We then added another guitarist/singer named Lindsey Haisley.   In later years, Lindsey became known for his work on the auto-harp playing Appalachian music. He received the Maybelle Carter award and is considered one of the top auto-harp players in America.
Moon Rose Forest played a variety of country, blues, and ballads, along with some jazz. The original drummer from the Buffy recordings, Phil Ford, remained the drummer in the band. The group was booked for an audition at a club in San Francisco called the Matrix. We were booked for a Monday night audition/jam. The arrangement with the club owner was that we could audition but then had to leave our amps and drums on stage for the people jamming to use. We agreed to that, played our one hour, and were hired to play two shows within a month.
We used a different drummer for the Matrix.  Phil had left because he wanted to explore playing tabla.  He played on an album with a band called Brewer Shipley and also worked with Ali Akbar Kahn.
During the jam at the Matrix, the new drummer and I went on stage at and started playing.  A person came up from the crowd and asked if Elvin. The Elvin was Elvin Bishop (formerly with the Paul Butterfield Blues Band) . I said of course. He came up and plugged in and came up to me and said to me,  "Can Harvey play with me". I said "Sure". Then another guitarist came up whose name was Harvey Mandel (formerly of Canned Heat). The jam was blues and I was able to play the two different distinct styles of the two guitarists.  It was so well received that we were asked to continue playing that evening and the club owner closed the club and provided drinks for the audience. Elvin and Harvey both gave me their phone numbers, and I gave them mine, thinking we might possibly work together.  It was an honor to play with blues royalty.
The New Moon Rose Forest  recorded some original songs. We acquired a fan who owned a generator. We would take the band, our amps, and the generator to Stinson Beach in Northern CA. We would then connect the generator to the amps and play music on the beach.  One day Bill Graham, the owner of the Fillmore was walking down the beach and heard us play. He asked us if we were interested in being an opening act at the Fillmore West. We agreed, and played there once. The band went their separate ways about 6 months after the Fillmore West gig.
I began employment at Davis Instruments.  I was also playing music with a guy named Dan Gabrezak and becoming exhausted from playing music every night and working at Davis.  I was subsequently laid off from Davis Instruments and Dan and I parted ways as band mates.
My mother passed away leaving me a small inheritance. I had used up the investor money. When she left me this small inheritance, I then paid bills and placed an ad in the Rolling Stone looking for opportunities to play music.