The Simple Road to Riches: Pay Off Debt & Make a Plan to Live Your Best Life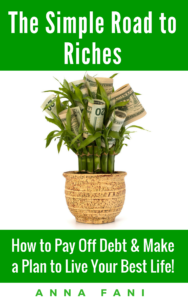 When I began my debt free journey in Feb 2010, I had exactly $900 in my savings account and was over $40,000 in debt. Today, I am debt free and have my own business. Back then, it seemed impossible that I would ever come out ahead of the debt. It felt like an anchor tied to my leg, drowning me one dollar at a time until I discovered that all you need is a plan and some kick ass creative money saving techniques.
In addition to outlining all the creative ways I was able to free up money in my income and techniques used to generate additional income, it also details what I did with the money, how I managed it effectively and invested it accordingly to manifest my life plan. And I did it all in less than 5 years!
The book is broken into three parts – what you need to get started, how to start generating extra income and stashing the moolah, how I paid off the debt and started growing my money. A few of the things you'll be able to do with this book include:
Start working on your mindset and creating a dream plan to make things happen for you.

Over 15 extra income options, online and offline, with resources and how to get started with each one. You can do all of them or one at a time depending on your interests. Either way, there's money to be made all round.

Answers to the usual reasons people have for why they can't seem to crawl out of debt or stop digging themselves into a bigger hole.

Empower yourself with the knowledge you need to ignite your imagination and start living your best life.

Overcome your fear of failure and give you a push start.
In addition to the book, you also get 3 free bonuses to help you jumpstart your savings and decide if the life plan you are creating for yourself is right for you!