You are here:
Home
/
Archives for Jonna Ocampo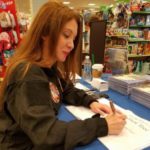 ~The conundrum of life is not easily solved by thought but achieved through action. You may not always find what you are seeking, but in your quest, you may discover happiness at the end of the path. 
Jonna Amato-Ocampo is an inventor, a scientist, and a commercial scientist-astronaut candidate who believes that dreams do not have deadlines. Her first children's book, On My Way to the Lilikoi Tree, has won the Moonbeam Children's Book Awards, Silver Medal Winner for Children's Picture E-book, reached #1 New Release on Amazon for Children's Mystery and Wonder Books and received the distinction of Five Stars from Readers Favorite.
~Writing to inspire, photographing to create a vision, and sharing to give hope. 
With a passion for exploration, in 2018, Jonna was credited for the discovery of five paleontology finds dating back to 5 million years ago, designed and operated a scientific mission on the Lemur-2-Greenberg Satellite orbiting the Earth, and was awarded a NASA Florida Space Grant Consortium Fellowship.  She presented her scientific research to the United Nations in Vienna, Austria and in October 2018, released her second children's book, Henry the Astronaut.
In 2020, Henry's dream will become a reality.  Henry the Astronaut will fly to Space as a payload on the maiden voyage of Firefly Aerospace's Alpha rocket.
https://firefly.com/firefly-aerospace-announces-dream-payload-participants/
Dreams do come true.