Amethyst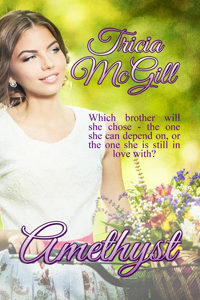 Love comes in many guises. Although Amy cares for Tony, and in the small country town where they live they are considered a couple, Amy still carries a torch for Tony's older brother who spurned her adolescent avowals of love. When Andrew returns home, now a wealthy, prosperous man, Amy's whole world is in turmoil. Because of his rejection in the past, how can Amy trust this man who proposes to settle down in the small town he walked away from years ago? Amy has no doubt that he will soon long to be back in the bustling world he has become accustomed to in the city, and is determined to keep her head and not let her heart divulge its secrets this time around.
Chapter Excerpts
Chapter Two
Amy propped her bicycle against the wall of the player's changing shed beside the sports oval. Jessie barked a welcome to the several men already clad in T-shirts and shorts, who called out to Amy as they ran onto the green.
"Hi, guys!" The cat sat perched in the basket on the handlebars, and Amy patted its head, as she ordered, "Stay there, Goldie. I'm warning you, if you don't behave yourself I won't let you come to footy practice with me again, do you hear?" With a disdainful glance at her mistress the cat settled down and curled her tail up over her nose. The dog followed Amy to the fence around the oval. Amy pulled up the zip on her windcheater, and shivered. The evenings were starting to get chilly.
Her workmate also leant on the fence further along, and when Amy called, "Hi, Sam," she didn't respond with as much enthusiasm. Sam was eighteen, and the group of friends she stood with were all around her age. Amy didn't have many girlfriends, and to be truthful had none that were really close. Her growing years were spent with Tony, first as his playmate, then as his girlfriend, now as his future wife. They'd slipped into this state, she guessed, because it was expected of them.
The twenty or so men on the oval were kicking a ball back and forth amid shouts of encouragement from the small crowd of onlookers. Amy was acutely conscious of the tall, dark man who came to stand beside her. When he said quietly, "Good evening, Amethyst," the sound of that voice sent sparks zinging to her nerve endings. "Bit cool, isn't it?" He rubbed his palms together.
No one ever called her by her full name now. Well, no one but Andrew and her parents on rare occasions. The last time he used it had been one of those treasured moments frozen in time, just before her fifteenth birthday, on a magnificent day in spring. Amy and the two brothers were walking in the woods adjacent to the football oval. Even then Andrew was already powerfully built, and she was mesmerised by his charm. They'd always been active, and this day when Tony disappeared momentarily to retrieve a ball he'd kicked into some bushes. Andrew stopped, and for the first time seemed to notice Amy as something other than a child he grew up with. Threading his fingers through her hair, he made the breath catch in her throat as he said softly, "I wonder if your parents ever realised how apt your name is."
Unable to do anything but stare mutely into his brown eyes, Amy slowly shook her head.
"Amethyst is a kind of quartz, did you know that?"
Still her voice lodged in her throat when he continued to let her hair drift through his fingers. At that time it fell in a straight thick, mass way past her shoulders.
"It sometimes has traces of gold in its crystals. Your hair is pure gold, Amy. Amethyst is purplish or bluish violet—exactly the colour of your eyes."
Amy licked her lips, which were now as dry as her throat. His long lashes brushed his cheeks as he half closed his eyes to watch his fingers moving through her hair.
"Actually my dad named me," she got out at last, feeling a blush heat her cheeks. "He bought Mum a quartz clock before I was born. They vowed to call each of their daughters after a precious gemstone." Trying for a laugh she cursed inwardly when it came out as a soft nervous squeak. "Ruby and Pearl were to come next, but fortunately… or unfortunately, depending on how you look at it, they were blessed with only me."
Tony chose that moment to return, and the illusion was shattered.