Amid the Stars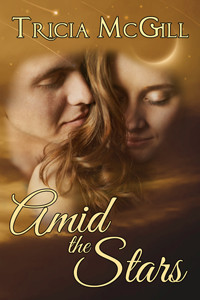 Terrified, and in fear for her life after her husband, an undercover cop, is killed, Melanie Ross has nowhere to hide.
A squadron from a far planet visiting Earth on a reconnaissance survey prepares to leave, without one of their members who is dying of a virus.
Irena must remain on Earth, so seeks a replacement to take her craft back to the other side of the Universe. Seeing Melanie's predicament she offers her an escape. Reluctantly Melanie agrees. Conquering her fears, she must learn to live among a superior race on Qindaga.
Reve, commander of the star ship circling their planet, bears an inexplicable resemblance to her dead husband. Passion flares amid the stars, but can love with an alien flourish?
Chapter Excerpts
Excerpt from Chapter Four
"Fascinating? I guess you could say that," she admitted, with a self-conscious laugh. "On Earth someone as good looking as you would only be seen in movies or modeling. I have to tell you, this whole thing is really weird. Your face is Chris's, but your body most definitely is not."
"It's not so strange really. I find your face and body just as odd. Soon you will not find it so puzzling." His half smile was enigmatic.
"You do?" Melanie looked down at her magnificent shape and wondered why he found it odd. All the women she'd seen so far were just as shapely, and beautiful. That was certainly strange too. Perhaps all these Qindagans were perfect specimens. Or—a horrible thought hit her—perhaps they did away with anyone who didn't come up to scratch, beauty-wise.
His eyes were on her again, inscrutable. As if he knew exactly what she was thinking. Doubtless he did, with his extraordinary powers.
"So," he said. "Irena sent you as her replacement. Something tells me she did not have a lot of time to make her choice."
Melanie glared at him. "And something tells me you're being sarcastic, mister."
"My name is Reve, so why do you insist on calling me mister?" His eyes were as cold as Siberia in winter.
"I'm being sarcastic, as you are. You don't seem awfully pleased to see me here." With a glance down, she took in her new form. "In this body. But it was Irena's choice, and as you say, she was running out of time. By the way, she left a message for you in the craft. I have no idea what she said, but I'm sure she was explicit. Can I go to my quarters now? Or do you have further questions to ask me?" Her shoulders went back stiffly. What a pain in the neck he was proving to be. Still, there was one consolation. He wasn't a repulsive alien. She had this to be grateful for. At least he was good to look at. After seeing some of the aliens in the Star Wars movies, what would their creators think of this very Earthly looking specimen?
"I have many questions. But for now we will leave them."
His expression was strange. Could he read everything in her mind? What a thought. She blushed.
"I will see what Irena has to say, and I will summon you when you have had time to acclimatize more." His voice remained bland.
He held the flat of his hand over a fluorescent panel on his great wall of buttons and knobs and instantly a door slid back and a woman as tall as this new Melanie came through. She was just as shapely, with the same flowing hair of titian. And wore exactly the same body-hugging clothes as Melanie. A clone? This idea seemed the likeliest, and most repulsive. Oh God! What if nothing but the brain remained of the old Melanie? While she still digested the ghastly idea, he made a small gesture towards her.
"Bettrys, see that our new comrade is made comfortable. Put her in Irena's quarters," he said.
Bettrys opened her mouth. It was apparent she was about to say something, perhaps put up an argument, but closed her mouth smartly when Reve gave her a stern look from beneath those imposing brows. Melanie didn't blame her. She found him more than a tad scary too.
"Come," Bettrys said in a lilting voice. "Follow me."
Melanie gave the commander a brief glance. He still stared at her in a perturbing way. She went out with Bettrys, and trailed her escort down the corridor, drawing in a shuddery breath when they entered an elevator. The instant the doors closed, strange letters on a screen proclaimed they were traveling past many levels, but she couldn't feel any movement, except for the butterflies cavorting about in her stomach.
"You were sent here by Irena," Bettrys said. "What name should we address you by?"
"My name's Melanie."
Bettrys nodded briefly. She hadn't smiled yet either—seemed morose, in fact. The big boss, Reve, hadn't cracked his face, but then he was highly suspicious. It was to be expected. Miserable lot. This trip promised to be a lot of fun—not.
The door slid open and with a sigh of relief Melanie followed Bettrys out. Her relief soon disappeared. Bettrys and she were in another small, enclosed lobby. Was everything windowless here? Her claustrophobia was making her feel quite ill.
The Qindagan tapped a code on a set of buttons and another door slid soundlessly back. "This is Irena's place of rest."
* * *
They went into what could only be termed a cell. A windowless cell.
Bettrys pointed to another raised panel on a sort of bench, vaguely like a vanity unit. "If you need anything at all, hold the flat of your hand over here."
"This is Irena's room?" Melanie wiped hands that had begun to perspire down the sides of her pants. "But surely there's somewhere else I can go. I can't stay here. It's almost as small as the elevator." Fear made her voice wobble. The walls seemed to be closing in on her. Breathless, she looked about but kept by the doorway, just in case she should be inadvertently trapped inside the confining space.
"You are not happy with your quarters?" Bettrys looked and sounded puzzled.
"Look, you people may be used to living in the equivalent of a sardine can, but I can't stand it. Please find me somewhere else to go," Melanie pleaded. There was a bunk set into one wall with barely a foot of breathing space above it, a screen set in the wall near the vanity unit, and nothing else. No way would she be able to rest comfortably in here. Just the thought of being shut in made her insides quake.
"I will see what Commander Reve has to suggest," Bettrys said slowly, staring at Melanie as if she was an escapee from a lunatic asylum. She held her palm over the panel she'd pointed out. Immediately it began to glow. Bettrys tapped out a code and in a second his handsome face came on the screen.
"What is it, Bettrys?" he asked impatiently.
She gave Melanie a brief look. It spoke volumes. "This woman wishes to be moved to other quarters, Commander Reve."
"Other quarters?" He appeared to be just as astonished. "We have no other place for her to go. Why do you wish to go elsewhere?" he bit out.