BLACK MAGIC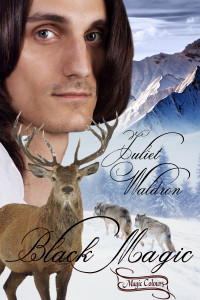 Black Magic
Magic Colours Series, Book 2
By Juliet Waldron
Published by:
Books We Love Ltd.
Chestermere, Alberta
Canada
Copyright 2014 by Juliet Waldron
Cover Art by Michelle Lee Copyright 2014
All rights reserved. Without limited the rights under copyright reserved above, no part of this publication may be reproduced, stored in or introduced into a retrieval system, or transmitted in any form, or by an means (electronic, mechanical, photocopying, recording or other) without the prior written permission of both the copyright owner and the publisher of this book
***
Dedication:
To Magic, and to all characters who refuse to leave the room quietly.
Chapter Excerpts
Chapter One
Goran von Hagen rested on the crupper of his saddle. Clouds and sunshine chased across the mountain looming overhead, but the cheerful view brought no pleasure. He'd ridden directly from Vienna to the Heldenberg, making a eight and half day journey of what was normally two weeks. He should have been happy to arrive, but the sight of the great hunting lodge depressed him more than he'd thought possible.
After a decade, he'd resigned his military commission. He'd left a confused, dirty Serbian war that he wanted no part of. For the last months, riding homeward, he'd imagined bringing lovely Veronique to his family's summer home on a wedding journey which would reenact the one made by his father and mother many years ago. However, his joy upon returning to Vienna and his fiancé proved short-lived.
Veronique Haineau, the beauty who'd haunted his dreams for the last two years, had, just weeks before, eloped with a wealthy Count, a much older man. Veronique had left only a letter, explaining that this was, in the end, 'best for both of them'. She'd decided she would never find happiness living a rural, mundane life with a mere "country gentleman." The new husband, on the other hand, was a confirmed urbanite, the kind of man who had a banker in every European capitol city.
Veronique of the golden eyes! How often Goran had imagined her delight at the natural wonders along the way, the waterfalls, the tall, whispering pines, the black-tailed deer and golden meadows! How often he'd imagined her, warm and yielding in his arms…
Around his Viennese friends, where news of her defection was already public property, he'd tried to joke it off.
"Plenty of pretty women left for me!" He'd hoped a display of bravado would ease his heartache, but it hadn't, not a whit.
Goran urged his tired horse to a trot along the tree shaded gravel lane that led to the house. The von Hagen family might be a bit threadbare after the Napoleonic Wars, but he would have felt almost naked appearing on anything less than this elegant mount.
Through the terrible years of shortages, famine and plague that had followed the catastrophic Year-Without-a-Summer, Heldenburg lodge had been often uninhabited. Goran noticed the shuttered cottages nearby, one of them beginning a lonely collapse. How much needed to be fixed!
He and Mina—twins–had spent much of their childhood here, in this secluded, peaceful landscape. Today, however, the picture-perfect snow-capped mountain behind the house seemed a malign presence. Looking up at the high peaks where snow always lingered, he wondered if Evil had always been lurking there. The mountain, whose moody beauty his parents had both loved so greatly, today was an oppresive presence.
He looked up, at the gray rubble scar sprawling across the lush upper pasture. There, beneath tons of gray rock lay the body of his mother, Caterina. She and three tenants had been moving cattle out of harm's way when a sudden avalanche of rock and mud surprised them. It was the first time Goran had been back since the tragedy, and he was surprised by the pain he felt–pain on top of pain–as if his losses old and new had combined. Goran, a brave and much decorated soldier, immediately felt exhausted. It was as if he'd been defeated before he'd even begun.
At the front of the house, he tied his sweating horse to a wrought iron hitching post. He noticed the shiny paint, which signaled that the servants had been preparing for his arrival.
"Don't worry, fellow." Goran patted the horse's sweaty chestnut neck. "We'll get you rubbed and fed as soon as I look in."  He collected his saddle-bag which contained a change of clothes and a few personal items, and sighed as he studied the moss-lined brick terrace which led to the entrance.
He could almost feel Veronique warmly holding his arm. The letter she'd left still haunted him. It had said, really, almost nothing about her reasons. It might, he thought for the hundredth time, have been written by a stranger. Something basic, he thought, had, somehow, changed.
"Ah, Herr Goran! We did not expect you so soon—you must please excuse us! I just now saw you." The words belonged to Herr Martin, the same gray-haired butler who'd always been there.
"Never mind that, Martin. I'm just relieved to be at the end of a long ride."
"Indeed, sir. You must have ridden like the wind! It is certainly a pleasure for my old eyes to see you here again after all these long years."
"Thank-you, Martin. It's good–to be back. Will you tell Herr Stocke I've arrived?"
"Oh, sir, he's just awake from his postprandial nap. He'll be in the study in a few minutes. Every day now, directly after dinner, he rests. We are all getting older and slower here, sir; please forgive us. But Herr Eichel is already at work."
"Eichel? Oh yes, father wrote about sending a clerk from his regiment to help out up here."
"Well, sir, he and his wife have been a welcome addition to our little society. We're all pleased to have them. He's able to ride about and see things for himself, which Herr Stocke can no longer do."
"I'm planning to be here well into September, Martin. There will time enough for everything."
The old man bowed him inside. In the foyer, Goran found servants anxiously rowing up according to precedence. He would have to greet them all so he sincerely hoped he could remember everyone's name. In the old days, his parents had spent every summer at Heldenberg. They'd never stood upon a great deal of ceremony with the staff.
Except for an ancient armoire and a heavy, nicked catch-all sideboard and mirror set beside it, the foyer was bare. The windows had just been cleaned; the smell of vinegar lingered. Sunlight fell onto the slate floor in a bright block, edged with a mosaic of color from the stained glass border.
Goran, his sister Mina, and all the younger brothers had often risked their necks sliding down the long curving banister. Remembering what had once been scary, fun, and forbidden, remembering how his mother had scolded, his lips curved, but those childish days were gone now, part of his past. Even his most carefree memories ended in sadness.
Yes, there was plenty to fill him with sorrow here, even without Veronique's crushing defection.
As he came into the foyer, servants with gray hair hurried up to bow before him. There were new young faces, too, freshly recruited for the summer reopening of the house. Outside, beyond the still open door, he saw a pair of stable hands taking charge of his horse.
"Gentlemen!" He retreated into the doorway to give instructions. "Take good care of him, please! Turk has just carried me all the way from Vienna."
"He's real beauty, sir! We've a fine box ready for him. He'll be cooled and rugged."
"Ahm–Kommandant!" The elder of the two grooms put a foot on the step and looked up. "Does he have any tricks we need to look out for?"
"No more than any other stallion. He's tired, though, so that should help you handle him."
The men touched their caps deferentially, and then led Turk away, one positioned on each side of his tossing chestnut head. As Goran reentered the foyer, the house servants bowed again.
After speaking with them and trying to catch all the new names, he spoke to the cook, Helma, about supper, and to the chief housemaid, Barbel. Everyone needed to be reassured that his sisters, his niece, and their servants were probably still days away.
Then, with Martin at his side, Goran headed for the study where the accounts were kept. As the door opened before him, he saw a curly headed, solid man sitting at Stocke's desk. He leaned forward, pen in hand, before an open ledger.
"Herr Sergeant Kurt Eichel," said Martin, "the Kommandant is here."
Eichel, surprised, looked up and then awkwardly arose. He used a cane which leaned against the desk and as he stood to bow. Goran saw that this new clerk, though otherwise hale, had a bad leg. His father had a penchant for employing old soldiers, the sort whose injuries kept them from combat duty.
"You have taken us by surprise, Kommandant."
"I rode fast." Goran studied the room. He was tired, but after years as an officer, he was used to giving orders. Perhaps it was a good thing, his early arrival. It was as good a time as any to set the tone. After all, his father said there had been quite a fall-off in returns from the manor, even more than might be expected through hard times. He noted there were quite a few open ledgers piled one atop another at the corner of the desk, as if much business was left unfinished.
Not a good sign. Not at all as Stocke used to keep things…
"You must have ridden like the wind, Kommandant! It is a long way from Vienna. I–we—Herr Stocke and I–hoped to have the books in better trim before you came." Eichel flushed to the roots of his fair thinning hair.
"Never mind," Goran said. "I'll be here for the rest of the summer. Time enough to sort everything out." The sigh of relief that came from the man was almost audible. With a sinking heart—this did not bode well—Goran turned the conversation with a question, one intended to put the new man at ease.
"Where did you serve, sir?"
He learned that Eichel had almost bled out at Leipzig, a leg artery had nearly been severed. He'd taken a shot from a musket, a 76 caliber ball. Against the odds, Eichel had survived and now was "extremely grateful for your father's trust and continued employment."
After a little of this, Goran retreated upstairs, leaving the anxious new employee behind. He had a feeling that Eichel was, probably, a decent enough fellow, but out of his depth. The notion didn't do a thing to improve his mood.
A sturdy boy in neat woolen knee-britches trotted ahead of him, carrying a pitcher of water ordered from the kitchen.  Goran was pleased with this quick response and more than ready to wash the journey dust away. He left behind Herr Martin busy in the hall, talking with the head cook and the housekeeper about the problems his early arrival had created. He should have realized that his headlong race from Vienna would set everything here at sixes and sevens.
***
"Years gone since young Master Goran has been here with us! Imagine!"
"He was a man then, but just look how broad he's grown after all that time in the wars! And how he's grown! I never thought that boy would be as tall as his father."
"Well, I always thought he looked like his father, even when he was little."
"Ah, he's always favored the Herr Graf, but he's got freckles like his mother, for all his dark hair and broad shoulders."
"Why, I remember the night he and his sister were born…" Barbel the housekeeper began to reminisce. "I'd just come to work in the house when…"
The under-maids, who'd all heard the story of Lady Caterina's twins a thousand times, shared a look. Barbel's ramble was cut short by the cook, who toik advantage of a pause to say that their young Master had grown into "a mighty handsome fellow."
"So many years since the family spent the whole summer with us!"
"Yes. The Graf and Lady Mina always come and go so quickly now. No one stays long here—not since the avalanche."
At the mention of the bad years—1815 through 1817—everyone looked grim. The von Hagens weren't the only ones who had lost loved ones during that dreadful time of cold, storms, floods, and famine.
"Perhaps, if I had another fat estate to live on like they do, I wouldn't come up here after what happened, either."
Barbel said, "It's certainly felt like a long, sad time since dear Lady Caterina died on our mountain, and that's the truth. But come on, girls, we've all got catch up to do now that Master Goran's here."
***
Goran closed the door of the bedroom to which the servant had brought him. It was the one his parents had shared, and, as he considered it, he didn't much relish the thought of sleeping here. He wished, now that he was alone, that Mina had arrived, and that he hadn't been in such a hurry to escape Vienna.
Goran's father, Christoph von Hagen had plunged into grief after the death of his wife.  Although he'd fought despair with active duty, he had not been able to easily shake his sorrow. Goran thought his virile, vibrant father had aged decades during the last four years.  The Graf's dark hair, was now streaked with gray.
His father had been ordered away by the Emperor on some diplomatic mission into Hungary. Before Christophe had gone, he'd written to Goran that he was to resign his military commission as soon as possible and return to manage the family estates. His brother Rupert was tending the richer properties, the ones closer to Passau, helped along by his remaining Grandfather. This had left the wilder, and once much beloved Heldenberg property to stagnate.
"Mina has been a great help with your grandparent's estates, but it is more than time for you to take the reins of what will eventually be a part of your inheritance. Someone in the new council seems to think I can assist the cause of Austria in the East, although I'm not certain what they expect. I have no idea why I have been singled out, though perhaps it is because it is no secret what I felt about the Emperor's collaboration with Bonaparte. Perhaps because I've killed enough Turks over the years, it is known that the Bohemians still respect me. I've never been much of a diplomat, God Help me, but Francis is still Emperor and I am his to command…"
After an exchange of letters, Goran and Mina decided to make a summer journey to the neglected estate. This would be the best time to ride the place over and find out how things were in the fields and forests of their domain. Their younger siblings—all but Rupert—were still away at school.
It was not, as his father had always said, a good thing to leave houses and property in the hands of servants for any extended period. Even the best bailiff and staff could lose their way. Herr Stocke, who had managed the place for so long, had grown frail, and the Graf had concerns about relying so heavily upon a man who long ago should have been comfortably retired. At the time, Goran believed he could face anything with Veronique on his arm. Now, his twin, Mina, would have to help him stay strong, but she, her little daughter, Charlize, and his youngest sister, Birgit, had not yet finished their journey from Passau.
Being alone in the house was painful. As soon as he had finished a good splash in the basin, Goran abandoned the master bedroom. He'd often pictured Veronique there. She'd have teased him, no doubt, laughing mercilessly about the antique bed-curtains. They were embroidered with an erotic subject of nymphs and fauns–not at all to his, or to any modern–taste–but a work of art, nonetheless. They'd been purchased at great expense in pre-revolutionary France. Why his mother had never replaced these wicked bachelor relics he had never understood. Goran had heard stories that his father had been "a famous rake" before he'd settled down to become a dedicated family man.
Damn Veronique! How often he'd imagined her here, standing before a mirror, letting down her heavy blonde hair. He'd have taken her in his arms, watched her lovely face flush with desire. They'd begin the prelude, as they had many times before, and this time—this time—it would happen, the fiery moment when she would allow him to enter her lush body!
Goran donned his knee-length riding coat. Habit caused him to check his boot knives were in place. During the war, he'd learned never to trust to the safety of even the most familiar places.
He departed in a hurry, for the bedroom seemed full of ghosts, banging down the stairs. From the sideboard in foyer he seized a half-full bottle of brandy. He thought he'd walk—and drink. The house was worse than he'd thought. A sensation of loss and grief pervaded the familiar rooms where he'd spent a happy childhood.
Not to mention what he'd seen in Stocke's once tidy study!
Goran could only imagine the hours of mind-numbing book work which waited—and right now, he didn't want to think about it. He stalked through the small, overgrown ornamental garden some grandparent or other had created. It was set in view of the long study windows, and had several slate paths, now narrowed by encroaching flowerbeds. The whole place was overlooked by a lichen-spotted marble faun atop a pedestal. Balanced upon one cloven foot, with his head was thrown back in abandon, the creature cheerfully played a flute. For an instant Goran paused to study it, remembering how Mina had always been a little frightened of it when they'd been children. She'd complained she sometimes had nightmares about the faun chasing her.
He was distracted from this idle thought when a pair of servants came rushing out to attend him. Waving them away, he continued, bottle in hand, disregarding the stares which followed. At the barn, he checked on his horse, well-lodged now as promised, in a roomy box stall. There was food, water and the two grooms were still at work, bringing Turk's red brown coat to a high sheen, picking his hooves clean. The stallion whickered, happy to see his master, but also pleased with the attention he was receiving. Goran thanked the grooms, who appeared to know their business.
He left the barn and then kept on walking, past the cottages where the once plentiful staff had lived. A few chickens clucked about the shrubbery and smoke rose from chimneys here and there, telling him which were still occupied. Goran continued past vegetable gardens and went through a gate into pasture. Horses and cattle dotted the landscape. Tired as he was, he kept walking, sipping brandy as he went. Now and then he told himself to 'be a man' and 'pull yourself together.'
There was, as his father had said, plenty to occupy him here! The sooner he got to it, the better—but, damn it to hell, tomorrow would do…
His bright wonderful mother had been dead for four years. Looking back at the house, his gaze fell again upon the gray scar left by the avalanche. Dead stumps showed where a pine grove had been shattered before the fall finally came to rest. Somewhere, under tons of gravel and rock, lay his mother, the old smith, Zigmond, and stablehands Lukas and Dom, young cousins. He knew crosses had been raised at the termination point of the slide for Caterina and for the others who had been riding with her on that fatal day.  His sister had written that the brave farm boys were mourned as "too young to die," and Zigmond, of course, they both remembered. He had been something of a legendary character, a man of strength and vitality despite his advanced years.
Goran walked on and on, studying his land. Some fields lay fallow. Tenants had died, gone to the wars, or run away during the famines that had followed the bad years. Somehow, he'd have to attract more laborers.  It would be difficult to rebuild a reliable workforce. Europe was in upheaval since the French Revolution and Napoleon's great imperial gamble. The old order of things, no matter how much politicians and kings denied it, was past.
He continued on, drinking until the bottle emptied, increasingly melancholy and exhausted. Alcohol hadn't improved his mood.
Why did I drink all that? I'm behaving like a reckless boy, not like a seasoned soldier, a mature gentleman of twenty-seven.
The sun lowered, gold draped across the boulder-strewn shoulders of mountain. Pausing to look around, he felt a growing chill. A few clouds had gathered near the high white peak, but otherwise the sky was fair. A dry clear night was ahead, one full of stars.
He was surprised to see how far toward the village of Heldenruhe he'd strayed. Doubtless he'd missed the early supper that was customary at the manor. Although he felt hunger pangs, he wasn't moved to retrace his steps. Not yet, anyway. Again he wondered why he'd ridden here as if the Devil was after him, imagining he could endure that lonely house all by himself—without the woman for whom he still yearned, without the comfort of his dear twin and the little girls' funny chattering?
He knew he should have returned to talk to Herr Stocke, who'd borne the burden of the place for so long, get started on the business of taking charge, act like the Herr Graf he someday would be. But so many things he'd held dear had been lost—friends from childhood who'd died in the war, an adored parent, the betrayal of his golden beauty—it was as if anything he counted on, anything that was solid ground had been swept away.
Napoleon, that arrogant madman, had brought ruin to all of Europe and to Russia beyond, had destroyed thousands upon thousands of lives. And now, at the end, a rich decadent old man had swept Veronique into his arms! Goran was a leader of men, battle-hard—but tonight, back on this perilous mountain, he felt like a child, one who'd been, despite all his bravery and valor– unjustly thrashed.
Wandering to the top of a rise, he heard music and voices and spied a curling cloud of smoke. Remembering that tonight was Midsummer's Eve, he started toward it. He was suddenly ready to talk to someone—anyone–even if it meant the beginning of business with his tenants. He was heartily sick of his own company.
Some minutes of brisk striding and he arrived at a clearing among the larches. In the midst of the gathering, a huge bonfire roared skyward. Around it, men and women in bright skirts whirled to the rhythm of an old drum and the tinny shrilling of pipes.  He knew that many peasants kept the ancient holiday, as they kept many old traditions, and that this festival would end only with the sun's rising on the morrow. There was a tapped barrel set up on one of several trestle tables, and another squatting on the ground, waiting for later. The rich smell of roast pork floated past on greasy smoke.
At dawn tomorrow, lovers would emerge from the woods, smudged and grass-stained. Faces shining, everyone would feast again, this time upon fresh milk, bread and strawberries. He'd planned to show Veronique the sights—and delights—of this lusty rural festival. Thinking of her again, his heart ached.
"Good evening, Mein Herr."
A girl was beside him, although he not noted her approach. She was a local maid, wearing a low cut white blouse and a gray, much-embroidered wool skirt. She was crowned with flowers; her dark hair fell over her firm young bosom in heavy braids. Boldly, she laid a tanned hand on his arm. She had the high coloring of someone who worked long out-of-doors.
"Good evening, Madchen."
"Madchen indeed, Herr Goran von Hagen!" Her rosy, round checks dimpled prettily. "Don't you recognize me? I'm Sabine Maier, your Cattlemaster's daughter."
"And so you are." It now occurred to him that Sabine, who he'd thought daring in strolling up to a noble "stranger," was probably about the age of his brother Albert, around seventeen. She'd been a chubby child when he'd been here last—and now, suddenly, here she was, a tall, shapely young woman, boldly taking his arm.
"Come down to your people, sir, and stay with us a while. We heard you were coming home, but not so soon. It will be an honor for us if you would break bread at our feast."
The older folk had apparently seen him, too, for many faces had turned expectantly in his direction. It was too late to leave, even if he'd wanted to.
So Goran, with pretty Sabine familiarly holding his arm, went down into the glade. Here he was greeted by his tenants. Some, he knew were kinfolk of young men who'd gone with him to war, some of whom had not returned. These people tended his herds, his flocks of sheep and cattle, and tilled his land.  He was a little drunk, of course, but he could certainly talk a little with them and hear some of what was on their minds.
For a time after he joined him, nothing was unusual. They led him to a seat in a circle of stumps at a little distance from the cheerful rout of the dancers. Here he talked with local leaders, the saw mill overseer and the farmers, with a new, muscular young smith, and a few herders down from the mountain. They were uniformly glad to hear that he was to stay for the whole summer. There were some concerns voiced about how things were being managed at the "big house."
"Not to say anything against Herr Stocke, you know, for he is a wise old gentleman, only, so it happens, he was ill most of last year and some things have been let slip…and the new man…well, he doesn't know us, not the way Herr Stocke does."
Goran had learned from his father that it was always a good idea to listen to the tenants. They knew first-hand what was wrong and often had workable ideas about how to make things better.  He promised that he would visit them one at a time, and find out what their problems were.
Roast piglet and sauerkraut, skewers of roasted goat, blood sausages, and flagons of black, hoppy beer were brought to him with some ceremony by Sabine. She smiled and flushed, and her big dark eyes brightened when she spoke to him. Goran had a passing erotic memory of a new-to-the-game whore he'd had one night in a Leipzig tavern and felt a corresponding rise of interest. Still, attractive as this girl was, she was also the gently-reared daughter of a trusted servant. He thanked her politely, and turned his eyes elsewhere, to the row of heavy set young wives who were now laughing, joking, and dancing arm in arm around the fire.
The food was delicious, hot, and freshly made. Goran ate and drank his fill and then sat, beaming gratefully at everyone. He hadn't realized just how hungry he was until he'd begun to eat.
Village elders came to sit beside him and talk, clearly wanting to take advantage of their lord's apparent welcoming mood. From them, Goran learned who among the villagers had died since he'd been gone. He offered condolences to the parents of soldiers who had not lived through the war, and promised them assistance, if they should need it in the absence of their young men. In turn, the farmers all said how sorry they were that his mother had died, "for she was a good mistress who cared for everyone."
The loss of Zigmund and the boys was discussed. Everyone present praised Zigmond, saying that even if he had been a bit crazy and not always reliably in his smithy, he had been a generous, upright neighbor. Then the conversation circled back to more condolences upon the loss of Goran's "Lady Mother."
His mother had been, typically, out in bad weather with a party of men searching for  cattle run off during a storm. Separated by a little distance from the others, she, Zig, and the boys had been swept away when the rocks roared down from the mountain. Goran thanked everyone, some of them witnesses, for their honest sympathy, but began to heartily wished they'd let it go. After all, tonight, with so many disappointments and losses behind him—and so much work ahead–he was weak as a kitten. It wouldn't be manly to burst into tears.
A narrow new moon disappeared over the bony flank of the mountain. Stars blazed. The dancers grew tired and sat down to rest. The night grew colder. More wood was brought to refresh the fire. Old people and children departed, or lay down to nap inside shelters woven of the green saplings which grew at the edge of the clearing. He watched Sabine bedding down in one of these with two young girls who had the same big, dark eyes. They must, he thought, be little sisters.
A fight broke out between two men, but before Goran could intervene, it was quelled.  The music of the pipes began anew, but these songs were softer, sweeter. Lovers holding hands slipped away into the chill shadows of the trees.  Goran watched them, but he was so tired now he couldn't muster the energy to nurse regret or longing.  His head ached from mixing beer and brandy and from the physical aftermath of the long ride.
After a time, he wrapped himself in an old cloak Herr Maier handed him and lay down among the ferns. Almost at once, though the heavy wool smelled of smoke, cattle and sweat, he fell asleep. This, after all, had been the pattern of his life as a soldier, and a soldier he had been since his seventeenth year. Sleeping rough, boots on, was nothing new.
***
How much later it was he couldn't guess, but he awoke. A man sang words which sounded like German, but, half asleep, he couldn't make sense of them. Goran rolled over and   saw a small group holding held hands and making a slow shuffling circle around the fire.
A little sore and unsteady, he got up, shaking out the cloak and then tossing it over his shoulders. A procession arrived at the fire, of younger farm folk of both sexes, who carried a variety of objects. Some held flowers, others held carved wands, antlers, bowls and hay rakes. The circle parted and let them enter, and they arranged themselves in a semi-circle inside. The chanting ceased.
Goran noticed someone had come to stand behind him. Turning, he saw Herman, Sabine's father, now tossing back the hood of a long cloak. Herr Meier was a muscular block of a man with brawney arms and a large hard belly.  Goran looked past him toward the fire. Every face was turned his way.
"It would greatly please us all if you could assist with our festival tonight, Herr Graf. Old Zigi would have played the part, but he's gone now."
Everyone nodded. There was a chorus of soft "ayes" and they all looked so bereft that Goran wondered if he should offer his condolences again, so he said, "Herr Zigmond was a brave fellow, my father always said, and a fine smith."
"And you are a brave man, too, Herr Graf. Young Janci and Pieter Block have told us how you took care of their company during the great wars past, so we know what you are. What Zigmund the Smith did for us, you shall not fear."
Fear?  The word rang oddly in Goran's ears. Although he was standing, he felt more than half in a dream.  Still, Herman's words were a sort of challenge.
A man who was a leader, to be a master of these—or of any men–had to take up challenges.
After he'd spoken, Herman bowed him, rather awkwardly, inside the circle.  The ring, as Goran approached, opened to admit him. Not quite knowing what was expected, he walked to the head of the circle where the oldest men and women stood. In the fierce shadows cast by the bonfire, it was hard to make anything out, but as he came around he saw there was now a staff stuck into the ground. It supported a skull with a pair of curving horns.
That must, Goran thought, have belonged to an impressively large bull.
"Here, sir. Have a seat, my lord." A heavy, three-legged stool was carried forward and set down for him. A young man rushed forward and knelt before him.
"You must be barefoot like us," said Herr Meier.  "Your feet must touch the earth."
Puzzled, he turned. As the youth pulled off his boots, the crowd eagerly moved forward. The men, he saw, had indeed removed their boots and the women their clogs. Square, calloused feet with horny nails peeped from beneath long skirts and baggy trousers.
Thinking back later, Goran supposed he might have been apprehensive, but these were only farmers—his farmers—people with whom he'd just spent a companionable evening, eating, and talking and drowning his sorrows in good ale, much as they drowned theirs.
An old women—he thought he remembered her as an herbalist his mother had occasionally consulted—drew closer. She held a cup. Just behind her he saw Sabine, her cheeks reddened, her arched feet showing soft and white against the trampled earth. She smiled too, but a little uncertainly.
"For the der Held! For the Hero, Guardian of the Berg and all of us." The old woman's voice rang out, bringing everyone to attention. She stepped forward and then ceremoniously handed Goran an ordinary brown-glazed farmer's cup.
Goran looked at Herman, who just winked conspiratorially and whispered, "Humor them, my lord.  It's a midsummer tradition, to bring us good luck. You raise the cup to the old bull to bring us rain and sun, good health and good harvest. Drink it down quick, sir, so we can get this folly over with. After all, we need a little sleep afore the cows are milked."
Goran put the aged vessel, the reddish glaze within faded and cracked, to his lips and smelled a strong broth, with a top note of something heavy-sweet, like honey-mead. The liquid looked thick as gravy. It was hot, too, steaming slightly in the chilly night air. All those sun-tanned, lined faces gazed up at him. Much like his soldiers, they were expectant, waiting for him to act.
How bad could it be?
Raising the cup in a salute to the skull, he downed the contents in one long swallow.  The next instant, his hands flew to his throat, for the drink was red hot metal. The cup fell and shattered.
As he gasped and shuddered, fighting for consciousness, they closed in around him. He could feel hands and bodies against his, crowding him, holding him up. They smelled like the creatures of the field they were, rank with sweat, hard work, open fires and beer…
Writhing on the ground, his vision suddenly cleared, but the pain was shattering, as if he had burst open from the inside. Half mad, he leapt to his feet again and saw that somehow he was taller than any of them—a giant! Goran threw his head back and let out a bellow that echoed straight up the walls of the brooding mountain. Hurling aside anyone who tried to hold him as if they were men of straw, he raced into the grove.
Although it was dark and the moon was gone, he could see everything, although the world was green-tinged and distorted. Someway, although he couldn't fathom how, left and right were equally clear. He was trying to reconcile this, when he saw the women slipping among the trees, skirts hissing through the ferns.
They were wives, women he'd met tonight. As they approached he could smell them—their healthy bodies, their warm sex. They lifted their skirts, showing him dark deltas and white thighs. The nearest one pulled up her skirt, displaying a voluptuous backside and braced herself against a tree.  In a far off place his humanity cried "No!" but the scent of woman was overpowering. Tearing at his trouser flap, he leapt upon her.
He seized her on either side of her heavy buttocks and moved in. She moaned, but stood her ground, gripped the tree trunk ever harder. Like the rest of his body, this part was enlarged, engorged, still it did not take long. He exploded into her, as if this woman he did not know was Venus, a woman he'd long and passionately desired.
When he released her, he saw that the nails of his hands, usually neat and short, had grown very long. Lifting one hand, he saw a monstrous thing, ending in claws. Blood trails trickled on each side of her thick waist where he had gripped her. Not knowing how else to make amends, he lowered his head and licked the bloody scratches he'd made. She, still holding the tree for support, shuddered all over from his attention, as if his tongue seared her flesh. The bleeding stopped at once. Her skin glowed, once again perfect and unscathed.
Some distant part of his brain screamed at him to run, to escape from this madness, but other women approached. Each hopefully lifted her skirt, exposing flesh which appeared to glow from within. As his gaze lit upon the nearest, a sturdy woman he'd watched dancing earlier in the evening, he felt his member eagerly rise …
***
Goran awoke with a midsummer sun in his eyes. By the height, he could tell it was already close on noon. He was naked, his body dappled in black and blue bruises, cut all over and covered with dirt. His head wanted to explode and his groin throbbed. He felt as if he'd drunk a barrel of beer all by himself, leaving him sick to his stomach and blurry-eyed. Or perhaps, he'd been dealt a final celebratory blow to the head?
The borrowed cloak lay beside him along with remains of what had been his clothes. The boots leaned awkwardly against the three legged stool. He lay close to the charred remains of last night's fire, among food-smeared tables and broken crockery. The pole and the horned skull were gone, though he could see the hole the left behind.
"What the hell?"
Something, although perhaps not, he prayed–the things he remembered–had happened last night. His body, as he looked down at all those bruises, testified to it. He was just dragging the cloak around himself when he heard someone crunching through the bracken. His head hurt so much he simply sat and waited for whoever it was to emerge.
Here came Herman, Herr Meier, the one who had challenged him to drink from the poisoned cup.
"I should kill you!"
Instead of running away, Herman offered a square muscular hand to help him up. As he stood, Goran had the sensation, perhaps for the first time in his life, that he was only a small creature—at least, far smaller than whatever he'd been last night.
"You certainly could do that, young Herr Graf, and no one would dare complain, for you are master here. However, if you kill me now, you won't understand what has happened."
"Understand what, you treacherous bastard?" Trembling with rage, Goran leaned to collect one of his boot knives, lying on the ground by the stool.
"What happened to you last night, after you took the cup. You remember."
Goran passed his hand across his eyes. It was, to his relief, just a hand now, strong, brown and sword-hard, but simply a hand, with fingers and straight-cut, dirty human nails. He did remember—a lot of things–most of which he heartily wished he did not.
"As we said last night, sir, you are now der Held, the 'Hero' of this mountain. You have the mountain's power; you carry a mighty and ancient spirit. You will heal this land after the terrible years we've been through. You will make the crops grow and be our protector, a father to us all."
Goran laughed.  "As I may soon be, many more nights with your women like that."
He'd hoped to provoke the man, but Herman simply replied, "That is the midsummer way. It has always been so. We knew you would someday be Held from the day your mother gave birth to you and your noble sister. Your family has not carried the burden of the god for many generations, not since the time of your Great-grandfather Augustus. Even before Zigmund and your good mother died, our luck has gone bad. After the floods and the dark, cold summer came famine, renegade soldiers and plague. Some among us wanted to try to live without the old way, but we have all finally agreed it was long past time to make another Held, to take refuge behind him in this time of evil. When you appeared at our Midsummer festival yesterday, out of the blue, we all understood what was meant to be."
Herman paused to offer Goran a flask.  Parched though he was, Goran waved it away.
"It is only water, my Lord."
"It'll be a cold day in hell when I take anything from your hand again, Cattle Master." He began to stride away across the field, but it wasn't as easy for him to go bare foot as it had been last night. Herman followed him, keeping a few steps behind.
"You can summon the transformation whenever you wish."
"And why, in the name of Lucifer, would I do that?"  Goran turned, lunged, and caught his companion by the throat, realizing as he did that even his fingers throbbed.
"Herr Graf!" Herman gasped for breath, but he offered no resistance. "It is power–a gift! Now, your land and your people will thrive. Is this not what you, the Master of this place, most desire?"
Releasing him, Goran shook his head. Wondering if he was still asleep, or if he perhaps had died and had wandered into purgatory, he kept walking. After the strangled coughing behind him stopped, he heard Herman doggedly hurrying to catch up to him again.
It took more than two hours to reach the grounds of the manor, for Goran had walked a long way the night before. As they went, Herman talked and talked, spinning out more and more of his crazy story.
It seemed "der Held" could fight, and was invincible in that form, although his power waned when he left the Heldenberg. The Held could shift shape and the horned beast he'd been last night was not the only form he could assume.
"On this mountain, you are like a god—a ancient one, but a god, nonetheless."
"God? You call that a god? The Devil, more like! I should summon the priests to hang you—and the rest of your accursed village, too!"
"We are your servants and your protectors, sir, just as you are ours. No one born off this mountain knows the secret, and so it must remain. It is our blessing, and, yes, as you say, for some of us, our curse. The Held is a god who is visible to his people, as it was in the old days, ever so long ago, before the Christ came. As you well know, we honor the new gods and saints, too."
Goran made no more assaults. He was almost blind from headache, whether from mixing brandy and beer or from the foul potion, he didn't know.  He crossed the grassy approach to the house, ferociously signaling away the two servants who dared to approach.
Herman stopped on the lower reaches of the lawn, and Goran didn't care if he never saw him again. With as much dignity as he could muster, barefoot and wrapped only in that filthy old cloak, he passed into the house and mounted the stairs to his parents' bedroom. As soon as he shut the door behind him, the familiar scene tilted. Distantly, he felt himself hit the floor. He rolled onto his side, felt his forehead upon the cool smoothness of the smoke-dark oak planks, and prayed that to wake up from this nightmare.
***
Later, he came to in a sweat. He'd dreamed he was racing among the pines, chasing someone, a very dangerous someone whom he had to catch, and when he did—it would be kill or be killed, for this dark shadow had a power which equaled his…
It was impossible to go back to sleep in his parents' room. He got to his feet and staggered into the dim hallway. He was half-way along it when he realized he shouldn't have been able to see much of anything in the windowless darkness, but tonight it was illuminated with the same queer, greenish light he'd noticed last night, in the forest.
No, not exactly illuminated. The glow came from within, as if the furniture, the long table, the old chairs along the way, held an energy of their own. When he reached a mirror, he had a view of himself, also unsettling. Enclosed in that strange, other-worldly glow, he saw not Goran von Hagen, but a man on fire, haloed with flames, crowned with spreading horns…
With a gasp, he hurried away to the end of the corridor, to the last door. Seizing the handle, he went into a small room with a long narrow south-facing window. Through this, the bald gray peak of the Heldenberg loomed. It was the same mysterious presence which had overhung his childhood, for this had been his bedroom, where his nights were spent after he and Mina had been moved from the nursery room and separated.
The siblings had not taken to it kindly, this initial parting. Although they were male and female, dark and fair, and quite different in disposition, they were, first and foremost, twins. He remembered how Mina had wept and how he had howled and broken the chamber pot in a rage on their first night away from the nursery, away from the time when they had always been together.
He remembered how he'd sworn at the servants and pushed over a chair and how his father had come to him, telling him he was a big boy and a gentleman, and that true gentlemen did not take his anger out on servants who could not fight back. His father had picked him up and carried him to the window where they had looked out at the night, the moon reflecting on those great boulders which stood like sentinels where the high grass ended.
His father Christophe had stayed, holding Goran against his shoulder. It was one of the last times he could remember his father being so tender. Although Papa hadn't said much, it helped Goran resign himself to the inevitable fate of growing up. He would never get along well with his brother Rupert, the baby who'd come to stay in that much loved nursery room, although his sister, in one of those unaccountable female decisions, had quickly become fond of her new brother, had even carried him around and played with him. She'd liked the babies that had followed, too, Albert and Christian. Though he'd eventually learned to be a kind big brother, none of his siblings were as special or as close to his heart as Mina was.
Goran leaned his head upon a cool window pane. He heard the mountain breathing, a sort of low, rumbling purr. It seemed so natural that he only thought it odd that he'd never noticed it before.  Being in his old room, with the snowy, stony peak visible, brought a renewed sense of calm. Whatever he'd seen, done or dreamed it would wait until tomorrow. Exhausted, Goran extended his body upon that narrow childhood bed and fell into a deep sleep.