Blue Lioness – Chronicles of Kassouk Book Four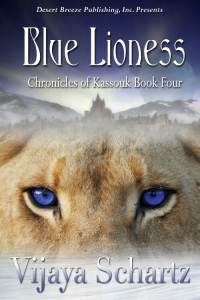 Black Sword Captain Ariela of Kassouk suspects the king's death is no accident. And the tyrant who usurped the throne looks guilty as hell. In the face of Human slavery, Ariela must do the unthinkable. Rebel against the Mutant regime. But she cannot do it alone.
Desperate for help, Ariela hopes Lord Starro, the handsome Crown Prince of the Star Children, can provide the technology the Human faction lacks. But can Ariela trust a spoiled, arrogant foreign prince who never fought a battle, and thinks he is destined to rule the universe? No matter how kind, handsome, or fascinating, Starro has frightening mental abilities. And this alliance is not safe, especially for Ariela's heart.
"Blue Lioness rips along at a great pace, and keeps you scrolling through pages on your e-reader, as fast as you can. Although it is part of a series, this one stands alone very well. Schartz has a very active imagination, reminiscent of JD Robb's 2060 way of life." – Manic Readers