Challenging Mountains (Settlers Book 3)
By Tricia McGill Leave a Comment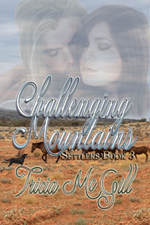 By 1840 the colony of New South Wales was expanding. Transportation of convicts to the east coast ended, and many free squatters set out to settle on lands to the south. In 1836, the Government in London authorized Governor Bourke to establish a settlement in The Port Philip District of New South Wales, and an Association was formed to make the district a separate colony.
Timothy, Tiger and Bella Carstairs eldest son has turned 21. Bored with his Government job and intent on seeking adventure and a new life away from Sydney, Tim decides to journey south in an endeavor to find this adventure, accompanied by his Uncle Carlos. Where else to find it, but in a newly formed settlement. 
In the 1840s the road south might not be as hazardous as the one across the mountains traveled by his parents when he was a child, but the month-long journey overland holds many dangers and challenges to be faced. Escaped and ex-convicts seek the easy life by forming gangs to take what they can where they can. Forced to fight off the intruders who take claim to the land they have cared for over many, many generations, the Indigenous people are faced with many trials and battles of their own.
Not the least of Tim's personal challenges is a young headstrong woman who, uninvited, takes it upon herself to join him on his travels.  When they reach their destination, their troubles have only just begun.
Chapter Excerpts
Chapter One
Tim watched the young ones as they romped around the garden. William, Uncle Remy's eldest at eleven, was chasing his brother Jeremy and the two girls, Emily and tiny Cathy. Cathy at four was a good match for her older siblings and screamed as she joined in the game. Their three dogs thought it a good lark and barked enthusiastically as they ran around in circles. Tim's dog, Bracken, stood back, surveying the younger pups with a regal eye.
Aunt Sara was expecting her fifth offspring in a month or two, so was well on the way to match Mama and Pa's eight children at the rate they were going.
"So, tell me Jo, why are you spending Christmas Day here with us rowdy lot and not with that crusty old Uncle of yours?" Tim asked the small female who sat beside him.
She pulled a face as she chuckled. "Uncle Horace does not believe in festivities. If I stayed at his side on this day, as on any other, he would ask why I am not out with my friends." She touched her pert nose with a finger. "I do believe he will spend the day at his account books. His favourite pastime in the whole world is counting money, and the awful truth of it is he has not one whit or notion of what to do with it."
"He treats you kindly though, doesn't he?" Tim often worried about the chit. Bushrangers killed her parents while they mined out Bathurst way just before last Christmas, hence she now lived with her one and only relative here in town. Tim's kind-hearted sister Annie, being of a similar age, had befriended Jo when she was brought into Bathurst by the local military after the killings. Luckily, Jo had time to find a hiding place, so escaped murder or worse at the hands of the ruffians who were after gold. Lord only knew how horrifying the experience must have been for the girl.
Mama and Pa offered her a home with them, but it was considered only right she go to live with her only relative. Mama and Annie ensured she had Uncle Remy and Aunt Sara's address, and of course, Aunt Sara welcomed Jo into her home whenever she wished and had even given her employment at the thriving emporium she inherited from her father on his death.
"Well, I have a notion he would rather not have me in his home." She shrugged. "But I am fed well, and he gives me a small allowance for my personal needs, so I cannot complain. I am not the type of person who pines for pretty clothes and fripperies, so I presume he is prepared to put up with me—if not show me tenderness." She set a small hand on Tim's arm. "Do not misunderstand me. I am happy. I can come and go as I please. There are many other young women of my age here in town who are harangued daily by their mothers to find a suitor, especially one with means to provide them with a large home and all that goes with it."
Tim had wondered at her lack of self-importance. Unlike most other girls here in Sydney Town she never primped or put on airs. She dressed quite plainly in fact and was happier romping about with the young ones rather than sitting around looking pretty and simpering. "Tell me something else, when you have such a pretty name as Josephine, why do you insist we call you Jo?"
She laughed at that. "My parents were not strict and let me run wild as a child. My father often said I was more like the son he wished he had instead of a girl. It was he who called me Jo, and it seems to have stayed with me. I spent most of my childhood at the mining site, so was used to the company of young men and boys." She pushed her long tresses back over her shoulder and smiled. "Papa said it was a safeguard. Some of the men were unruly and some convicts, and he thought it better if they regarded me as one of them rather than a prissy miss who craved attention."
That she certainly did not do. In fact, Tim had a feeling she had no idea of her attractiveness. With silky dark tresses reaching almost to her middle and a slender litheness that came from her love of activity, she was altogether a comely lass. This mane was secured back today by a simple ribbon, likely because of the heat. She often complained that it was a menace. Privately he hoped she never had it shorn.
Genre: Historical Romance, Romance