Creating Your Reality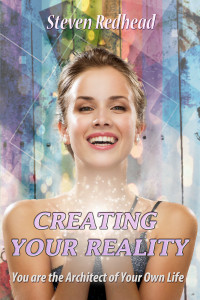 Life is the most wondrous journey, yet many have lost their way by not managing their life well. Creating Your Reality offers directions on how to return to your true life path, to finding your bliss, living a life that you truly deserve. Create a life of joy, contentment, happiness, peace, wealth, health; living your dream, creating the things you desires; gaining the knowledge of what life is really about. The book gives insight into the secrets of The Laws of Attraction; that you are indeed the architect of your own life; that by harness the power of creation within you can make the life that you truly desire. Creating Your Reality is a handy reference, intended to be a guide through life, through the journey of discovery to find out your true self.
Obtain ideas that will enable you to gain insight into how to deal with what may arise; then progress to start living the reality you truly desire and deserve; live life as it was originally intended to be. This is what life is really all about, giving your own meaning to life so that you can live a life of contented bliss. Make the changes to ensure your life is what you desire and how only you intend it to be. Learn to live and create your own reality rather than living that of others.
"Life was never meant to be difficult, it was meant to be wondrous adventure, we trade that ideal for whatever we have because of our complacency, or whenever we accept whatever comes our way," shares the author. "We can set ourselves free by removing or eliminating anything that is undesirable in our life, no matter what or how high the cost".
Backed with personal insights and well-research studies, Creating Your Reality will inspire and motivate readers as it offers thoughts to overcome life's issues, allowing one to live the life imagined by creating what is needed to live the life that is truly deserved.
Chapter Excerpts
FORWARD
Your life is the result of the accumulated choices you have made.
Create Your Own Reality
As the master of your known universe you are in numerous ways the creator of the world that you come to perceive and understand; being able to make life play out however you may want it to. All it takes to achieve this is the focused effort to clearly imagine what you want, then through ceaseless desire, linked to the belief that those desires are legitimate will therefore enable what you pursue to become true. The six pillars of creation are; imagination, clearly defined focused thought, desires, positive expectations, belief, and persistence, combined these elements of thought are able to create in reality the things that you desire.
Reality is based solely upon desires that are given perspective through imagination, and then the credibility to be brought to life by the firm belief in them. You create life from the pieces of reality that you bring together like a jigsaw puzzle. No matter how difficult it may be to believe this, you do indeed create everything that you experience; it is a fact that all you perceive is actually of your own making. Many don't or can't fathom this understanding of creation, that each of us create our own reality; that you do possess the power to make reality whatever you may wish it to be.
The quality of life is always governed by the effort you put into giving life quality and meaning. Many people live life as it comes, living day by day, following the tides of fate rather than creating their own destiny. You have the choice to either do nothing toward creating your future, letting others decide your fate; or take full control of your life, not tomorrow or next week but now. In life you have the chance to control your experiences though your desires, which make it is possible to create a life that is worth living; that is packed full of rich and wonderful memories.
Life is fleeting, delicate in many ways; sometimes situations can change 180 degrees without any prior warning. Allowing fate to dictate your life is a major mistake, as you will never be really sure what direction you are going, with literally no ideas at all of how things will really work out. Only through continually imagining what is desired, then pursuing those things unceasingly, backed with the belief that those desires will become true can you have any idea what your future will hold. Unless care is taken others will try to control your life and your desires with their own imposed wishes; without caution it is possible to end up doing the bidding of others, rather than following your own dreams.
In the modern world the trend is to be required to surrender your life choices more and more, sometimes for the supposed common good, giving autonomy over your destiny to others and society in general. Whenever free will is surrendered to others something precious is given away. Some will tend to try to impose their influence in many ways, basically in order to get you to do something that is of not for the benefit of yourself but for them, in one way or another. Avoid falling pray to the demands that others make upon you, especially if what they want is different from the choices or ideas you wish to pursue, or serves no benefit to you or society. Always aim to follow your own path in life and not that of someone else; for if you follow the desires of others then in the long term it will only lead to regrets and disappointment.
Life is the chance to take what is available then create a wonderful world, the best experience possible for yourselves as well as those you care for. The past can never relived, therefore to avoid regrets only pursue the things that you wish for the future. On analysis it will be surprising how others control much of your life. Everyone has numerous external influences impacting their life in various ways; therefore it is critical to ensure these don't affect you immensely, therefore always take sufficient care to reduce the impact of external forces upon you. Other people mostly have their own form of agendas to achieve something, but this doesn't mean that you need to follow them; you must always keep your own best interest at the forefront of anything that you do in life.
You Are A True Creator
There are many deities existing within the numerous religions of the world; from modern civilization right back through ancient beliefs of primitive tribes and cultures; each has their own revered immortal celestial supreme Godhead. All religions have their own creators who by default have control over the destiny of their followers. Whether these followers will have all they need in life, then find salvation upon their death, then to live happy ever after with their God, or be dammed for an eternity to their religions particular spin on hell is based upon some all knowing judgment of the particular life under review.
In this reality each of us are Creators in every sense, even the smallest thing you achieve or do is based upon your power to create, be that achieving what you desire through your actions or will power, changing the physical form of things, or bringing something new into the world through your efforts. There is a misunderstanding that we are Gods in some circles, Gods we certainly are not; but we are creators of our known world in numerous ways major or minor.
All things are indeed changeable or variable with effort, thus there is potential to always be in full control of the internal universe when you know exactly what you truly want, then applying the mental and physical energy to get it. You can manage everything once you decide specifically what you need, then with this goal in mind modify and mold reality to suit those wishes. Every element of the environment is pliable, changeable to meet your requirement; you do have the ability to change any circumstances you wish; everything that happens is as a result of a thought linked to a clear focused desire.
Elements Of Creation
Within nature you are able to find the defined system for creation that can work as a model, then relate that to your own creative abilities; you plant a seed in this case a desire into fertile soil of the mind, feed it with nourishment in the form of nutrients and water or in this case imagination, the resulting plant or desire will grow and blossom, then if looked after with care and attention will flourish. When creating it becomes important to fully understand these cycles of life; learning from the timing of the seasons, which demonstrate that planning then implementation of action to put your desires into play at the correct moment is necessary for success to be achieved in due course.
Nature is self-sufficient generating automatically the chain of events or change necessary in one form or another for its own continued survival. Whatever tries to ride the system without contributing something or demanding too much usually becomes extinct in time. Contributing to the general good is a significant factor in the creative process, as mostly the intertwining issues that drive reality need to be fully considered by taking the various factors into account. Therefore you should always focus on creating what is necessary rather than just some passing fantasy for something that is simply a short-term whim
Magic is not an element of nature, physics, logic and geometry are. The input of energy is always reflected in the output; therefore the limitations are the quantity and quality of energy available to drive the creation of a particular desires. All things that are created come into your sphere of influence then at some later stage leave; just as within nature things at some point wither and die; yet always there is rebirth and renewal, the continual cycle of life. The same occurs with the things that you wish to create, ideas are born, they come to fruition, and then as time passes they fade away from your consciousness and are discarded. There isn't anything living in the physical world that can avoid this constant cycle of renewal. Change is the driving force of the universe, everything is constantly undergoing some process of change, nothing stands still for long, but when it does then it risks becoming extinct. With everything in the Universe being in a constant state of motion; don't be the only thing standing still.
A Chance To Create
Life is an opportunity to see how the application of personal creative powers produces results. In life you can practice the power to create within your reality what has been conceived initially within the mind becomes manifests in your life. There is the opportunity to work on finely tuning the creative abilities until your desires can be accurately replicated within reality.
Everyone actually has the ability to create whatever they may want; whether you create with preciseness by achieving your desires depends solely upon the clarity and intensity that you are able to apply to bring these desires to life. Any gap between the intensions and the result obtained will most probably be due to a lack of correctly assembling the various elements within the imagination, those detailed thoughts necessary to create exactly what is required. Practice makes perfect, so the constant effort to create specific desires within reality will enable the gradual fine tuning of one's creative abilities; much like an ongoing project to gain excellence over time.
The maximum amount of thought possible must always be put into what is required in the form of imagination and belief, as both are necessary for creating what is expected to make the experience perfect. Making the effort to design your life in detail, then apply that design to reality is the best way to create the life need. Many don't realize the fact that the power of creation is the greatest gift that is always available, most people hardly utilize this ability at all; but even when some do they don't recognize the total implications of what is actually required, or the full potential possibilities. Belief often tends to be the missing component; when empowering creative desires with a strong focused belief provides acknowledgement that what is desired has the right to exist within one's own world.
There are many chances to create in life, ranging from how mundane issues play out to the success of life changing choices. The creation of scenarios within the mind, based upon the wishes for how things will turn out, becomes a habit once this technique of creation is fine tuned through trial and final success. Everyone has the chance during life to play with then fine tune the ability of creation. There are no limitations on what to wish for, do or create other than the ones self imposed upon oneself through disbelief or lack of commitment; you have the freewill that enables the potential to pursue whatever the heart and mind desires. This is proven by those who have had the willpower to pursue, then achieve what they desire, creating not only wonder but a lasting legacy.