Distant Mountains-Settlers Book 2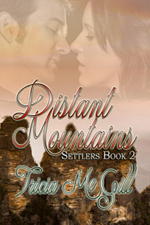 Even in the prospering colony of New South Wales, it would be far-fetched to think a convicted man could consider marrying the daughter of a wealthy property owner.
But Remy has larger problems to contend with than Sara's bigoted father. Forced to leave the woman he loves behind, Remy faces overwhelming odds and an ordeal that threatens to strip him of everything; his pride, his strength, his health—even his life.
Sara has many struggles of her own and when Remy finally thinks he has a future with Sara within his grasp, he is sent to a place where pain and suffering are everyday occurrences. Will the lovers ever find true happiness?
"I loved this story. It has everything. Happiness, tears, love, hate. I recommend it highly for all lovers of romantic adventure tales. Barbara M. Hodges  4 Diamonds ****
"The author has delivered an accurate and compelling story of a convict's life, touching on those of gold miners and the growing town of Sydney. The evocative writing and the increasingly dire straits that Remy and Sara find themselves in, make for an excellent read." Leanne Shawler for eBook Reviews Weekly 
Chapter Excerpts
Chapter One
June 1826
Freedom was sweet.
The air was pungent after a short spell of rain. It was cold, the chill air biting, but Rem reckoned he'd never really feel the cold again. Not in this country, where the sun shone more often than not; where the coldest day only called for an extra layer of clothing. He had almost forgotten the biting winds and bone-chilling cold of London. The thoughts had receded into some dark corner of his mind, along with the memories that still periodically invaded his sleep. Memories of hunger and desperation; days of despair when he had wondered if life was worth all the bother entailed to get through each day.
"Uncle Remy, where are you?"
Rem grinned as he pushed himself onto his elbows. His nephew had sought him out again. Not that he minded; the boy was good company, always ready for a new lark. Seven come September, Tim was mature for his age. Boys grew up fast out here in this new land. Here a lad like Tim learned early on as they all did that he had to work the land; put every ounce of his energy into it to reap the benefits.
"Over here, lad." Rem watched Tim, hair the color of ripened corn drooping over his forehead, trotting toward the riverbank. One of the sheepdogs, a black and white mongrel, loped at his heels. Tim always had a dog nearby and it would be strange to see him without one of his perpetual companions.
"What you doing sitting out here, Uncle Remy?" Tim squatted on his haunches by Rem's side. "Mama was getting all of a fluster because you were supposed to be working on the new barn, and the foreman said you'd disappeared."
"Not disappeared, boy, just taking a break. And, we both know your ma can get herself into a state over the simplest of things. Don't the air smell good?" Rem put his head back and sniffed appreciatively.
Tim nudged him, sighing. "Air doesn't smell, silly. The cattle stink, so do the horses after they do a business, but air hasn't got a smell."
Rem ruffled the golden hair. Pushing himself to his feet, he hauled Tim up with him. "Come on, let's go make my sister happy," he said, swinging Tim easily onto his back. He strode up the hill with his burden, the dog yelping at their heels. The boy gripped him about the middle with his knees and shouted encouragement at his mount.
His sister, Bella, four months along with her fourth child was at this irksome stage. Her husband Tiger was often off with his shepherds, laborers, or field hands, and at these times she liked to know Rem was near at hand.
Rem had been out here beyond Bathurst with them for a year now, and she still often stared at him as if she couldn't quite believe they were together. He wasn't surprised by that—he often had to pinch himself to prove it wasn't a dream. At times he dreaded he would find himself in the hellish hold of the transport ship. Or worse, at Newcastle where he could even now be with the gangs quarrying stone or working down the coal mine. Worst of all he could be with the lime-burners; the convicts who burned the seashells used to manufacture the lime used as mortar. By all accounts, it was the vilest job a man could have.
Tiger could be a hard taskmaster at times, never letting him get off light with any job. Not that Rem would expect to. He would be eternally grateful for Tiger's intervention on his behalf. Tiger had seen Rem released into his care when the authorities were just about to send Rem off to the hellhole Newcastle had become. If at times he got itchy feet and the tasks became tedious, Rem only had to recall the awful days spent on the treadmill in Sydney before coming out to Tiger and Bella's property here, west of the Blue Mountain range.
Tiger had built Bella a fine house of stone, with two floors and a veranda that went right around its sides. It sat proudly on the ridge facing the river, outbuildings now springing up in its surrounds. The barn Rem was supposed to be helping to erect was the latest of these buildings.
"Here you go." Rem helped Tim off his back as they reached the six steps that led up to the front porch.
"See you later," the boy yelled as he ran off, his dog at his side.
"Where you off to in such a hurry?" Rem called after him. But Tim was already out of earshot, likely in a hurry to escape his mother's schooling. Not that he would be able to do that for long, Bella was strict about his lessons and set aside at least three hours a day for that activity.
"Remy?" Bella's sharp call brought him up short as he turned toward the almost completed barn.
"That's me." Changing direction, he grinned and mounted the steps. His sister stood by the open door, wiping her hands on the apron covering the front of her plain blue woolen dress. Rem didn't think he'd ever get used to having such a beautiful woman for a sister. Those around her didn't notice the limp she'd had since a bolting horse trampled her in Stepney years ago.
Her rich auburn hair formed a loose bun at the nape of her neck, but tendrils had escaped and framed her expressive face. Her green eyes sparked with merriment "Where did you sneak off to again?"
"I was just taking in the air, love. Isn't it a fine day?" He half-closed his eyes, looking up to the sky, where not a smidgen of sun peeped through the gray clouds.
"Fine?" She made a disparaging sound in her throat. "You've got a vivid imagination." There was a soft chiding note in her voice. His sister knew more than anyone that any day was fine while they were able to walk free and breathe the air of free men and women.
Yes, he was still a convict, with five years to go before he could claim his ticket of leave, but compared to life before Tiger rescued him, this was the next best thing to being able to hold his head up as a free man.
Bella's nursemaid, Agnes, smiled shyly at Rem as she joined her mistress on the porch. Rosie, the eight-month-old and youngest of Bella and Tiger's brood, rested on Agnes' hip. Agnes, seventeen and a plain little thing, had been with Bella and Tiger since they set out on their epic journey across the mountains in 1824.
"Isn't it a fine day?" Rem asked the girl, knowing she would agree with him if he declared it was as hot as hell, and the sun had blistered his skin. It was flattering to be idolized. Bothersome at times, but nonetheless a wonderful thing to have a female willing to do anything he asked. Some devil inside him often wanted to see to what lengths she would go to please him, although his kind heart wouldn't allow him to do it.
"It certainly is," Agnes agreed, as he'd known she would. "'Tis a bit cool, but that's not to be sniffed at. Beats summer when the sun makes you shrivel."
Agnes didn't like the hot weather. She complained it burned her fair skin, brought her out in freckles, made her skin go blotchy, and made her feel weak as a dish rag. Although complained wasn't the right word to use; Agnes never did anything quite so definite. She was too mousy and insignificant. A small apologetic grumble was about as close to a complaint she dared to venture.
Bella nodded to Rem and went back inside the house. Agnes's skin turned to the color of a beet as she stared at Rem. Her eyelashes were so light they could barely be seen—this only added to her mouse-like appearance. She jerked the baby higher into her arms, and bobbed Rosie about on her ample hip until the child squealed. As if surprised at what she'd done, Agnes crooned soft words of apology to the baby.
Rem knew he shouldn't do it, but the girl begged to be teased. Moving within a foot of her, he gave her the smile more than one maid told him was appealing. "How's the little mother today?"
"I'm fine, and how are you?" She nibbled on her lower lip as her eyes adored him.
Rem shrugged. "Tell the truth, Aggie, I'm bored to my high teeth. There are few chances out here to ease the monotony. I know I should be grateful for Tiger taking me on and bringing me here, but I'm not made for the country life. I miss the noise and bustle of the city. Not that I wish to return to Stepney." When she shook her head and gave him a look of condemnation that he could be so ungrateful, he hastened to add, "But a bit of excitement would add spice to this dull existence now and then. If you know what I mean?"
"Seems to me the city life only brought you into more strife than a body needs," she scolded softly.
Rem moved in closer and ran a finger over the blush on her cheeks, chuckling at her huffy response. "True."