Double Fault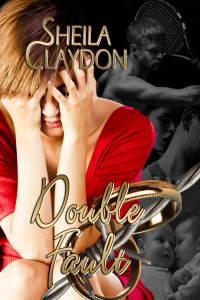 In Double Fault by Sheila Claydon, published by Books We Love, when Kerry Farrow falls for star player Pierce Simon, she doesn't hesitate when he asks her to join him on the international tennis circuit. She doesn't care that he isn't ready to settle down. In her experience happy families are a myth anyway. Then she discovers she's pregnant and her world falls apart. Unable to turn to Pierce for support, and disowned by her wealthy father, she is on her own.
Two years later Kerry is a single mother of twins. She works hard to keep a roof over their heads and is just about coping until Pierce comes back into her life. When he finds out the children are his, he gives her an ultimatum: either she can marry him or she can fight for her children through the courts.
What she can't understand is why he wants to marry her. She's lost her looks and her fortune, so why is he so determined to keep her in his life? It can't be for love because he already has a beautiful girlfriend, and if he thinks she's going to become part of a ménage a trios then he'd better think again. She will marry him because she has no choice but she won't be sharing his bed…except that sharing his bed is the one thing she wants to do.