Entangled Minds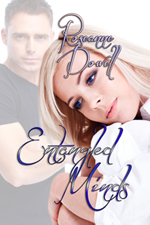 Strange, realistic visions and dreams invade Rebecca Brennan's mind. When she experiences someone's pain, she's determined to find out who shares her mind. Her search leads to a small town filled with Victorian homes and interesting people and puts her life in danger.
Chapter Excerpts
Reviews
Format:
Kindle Edition
|
Verified Purchase
Awesome, Awesome, Awesome!! I loved this book… I couldn't put it down… Pick it up today, you won't be disappointed!!
Entangled Minds.
For starters the whole supernatural thing is usually like white noise to me but I had no problem understanding and slipping into this book. It is a fast paced read which are my favorites because, well, I'm just impatient and have a low threshold for slow drawn out plots. I love a book that just jumps right into the action right from page one and this book definitely did that. Rebecca's journey was interesting, I found the character engaging and found it a light read, meaning it didn't bog me down in a whole bunch of details. The author allowed me to fill in many of the blanks myself.