Getting Her Money's Worth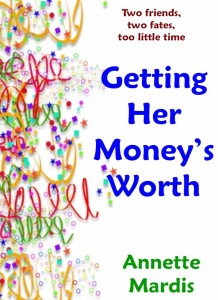 Life often has been unkind, and sometimes cruel, to Allie Charles, and she's determined not to be shortchanged and to live in the moment whenever possible.
She and close pal Shelby Martin want many of the same things: romance, fun, good friends and satisfying work. After meeting on a softball field on a frigid fall evening, they enjoy many adventures together: watching the piranha feeding at the National Aquarium; overturning their canoe in the deepest, blackest part of a river; getting stuck thigh high in mud on a golf course water hazard; winning tacky prizes at skee ball machines in Ocean City, Md.
Only one woman will see her heart's desires fulfilled, while the other faces the biggest challenge of her life. This touching, poignant and funny story will make you laugh, cry and go for the gusto in your own life.