Heartfelt Cases Book 3: The Davidson Case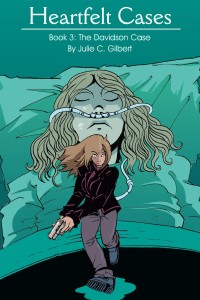 Somebody wants her sister dead …
FBI Special Agent Ann Duncan knows how to face down danger, but once again, she's not the target. Her baby sister, Joy Davidson, has stumbled upon a conspiracy and made some powerful enemies.
Luck and God's grace help Ann save her sister the first time, but she knows the bad guys will try again. With Patrick on a university tour and perhaps the most important case of her career weighing upon her mind, Ann must find the strength, wisdom, and heart to find out who wants her sister dead, what Joy discovered, and how to stop the conspirators. Ann instinctively knows that if she fails the Davidson case will only be the first of many tragedies.
Chapter Excerpts
Chapter 1 Day Off
Edgar Hoover Building, FBI Headquarters
Washington, D.C.
"No," Special Agent Julie Ann Duncan said firmly. Ann carefully set her expression to say give up. Unfortunately, the expression didn't quite reach her pale blue eyes, and therefore, George Baker was encouraged to pursue the subject.
Say no and walk away. Say no and walk away.
She hadn't even heard what Baker wanted, but his expression said quite enough.
If you wait, you're going to get dragged into some harebrained scheme.
Picking up the file she had come for, Ann neatly sidestepped Agent Baker and took two steps toward freedom.
"Did I mention your hair looks beautiful down?" asked Baker, spinning as she breezed past him.
"Flattery will get you nowhere, Baker," Ann said, pausing against her will. Nevertheless, her left hand brushed a bit of honey brown hair behind her ear. She grunted annoyance at the fact that Baker's comment had pleased her.
Get a life.
"This is my day off," Ann tossed over her shoulder.
"I know, I know, and I'll make it up to you, I promise. But—"
"But what?" Ann challenged, turning to face Baker. She gave a mock groan. The hand holding the forgotten file flew to her head in exasperation. "No, wait, let me guess. You've got a job for a woman and your new partner looks awful in the outdated dresses they like to
use for a disguise around here." She crossed her arms and leaned against the wall.
Agent Baker chuckled softly. "Uh-huh. I've got nothing against Dodger, but the man hasn't got a graceful bone in his body. Please, Ann, pleeeeasse! Look, I'm begging you." With that, Baker dropped to his knees and shuffled forward.
Have you no self-respect, man? You're lucky no one's here to see you beg.
Despite the fact that she was about to give up her day off, Ann smiled.
Oh, Baker, you really are a big baby.
Suppressed laughter emanated from a supposedly empty cubicle.
"Isn't there some secretary you could bother?" Ann asked as a last-ditch effort to divert Baker's attention.
"It could get dangerous, and I didn't want to send in someone without experience," said Baker, still kneeling.
What I wouldn't give for a camera, Ann thought, silently giving Baker a point for the smooth comeback.
After a long glare, she muttered, "You owe me big."
Baker jumped to his feet with a triumphant whoop. "Dodger, you owe us lunch!"
"So I do," said a cool voice. Special Agent Malcolm Dodger stepped out of a side office.
"All right, what's going on?" demanded Ann.
I've been set up.
She glanced between the partners, once again struck by the stark differences between them. Tall and blond, Agent Baker exuded energy while his short, husky partner possessed an eerie sense of calm. Dodger's dark eyes, big ears, and crooked grin always hinted at hidden secrets. His wavy dark hair hung over his forehead on the left side of his face. In the two months she had known him, Ann couldn't recall Dodger ever raising his voice. Even now, he adjusted his glasses with prim calmness.
"He said you wouldn't help us, but I knew I could count on you," Baker babbled.
"And what exactly am I helping with?"
"Bank operation," said Dodger.
His two-word answer reminded Ann of her husband, Patrick.
Before marriage, she amended.
After marriage, Special Agent Patrick Duncan conversed far
more openly.
Ann listened intently as Baker explained her role in the upcoming operation.
It should be straightforward.
Somehow, she got the impression that things wouldn't work out quite the way Baker envisioned.
***
Bank of America
Washington, D.C.
"This place looks busy," Ann commented, casually tugging at the Kevlar jacket under her oversized bodysuit and twenty-year-old flower print dress. She glanced at the file Agent Dodger had handed her then swept her gaze over the dozen or so people inside the bank.
"They're all ours," Agent Baker assured, "except for a few tellers."
"So, remind me. Why am I here?" Ann noted several women "customers" in the bank. Initially, they appeared to be normal shoe-tapping, watch-checking bank customers, but anyone looking closely could pick up on their apprehension.
"Agent D—" Baker began.
"Your valuable experience," interjected Agent Dodger.
"I see," Ann murmured. Something about his answer seemed odd, but she couldn't put her mental finger on it. Shrugging, Ann asked, "Who's in charge of this operation?"
"I am," Agent Baker admitted.
Ann gnawed her bottom lip to keep rash comments inside.
Vice, why'd you have to go and retire?
"When's the target arriving?" Ann inquired.
"Fifteen minutes," offered Dodger.
"Then you two had better be gone," Ann said.
Baker opened his mouth.
"Yeah, yeah, things can go to Hades in a hand basket. I'll be careful," she promised.
"Don't you ever curse?" asked Agent Baker.
"Not if I can help it."
"What if you drop something on your foot?"
"Um, 'darn' or 'owwie' might slip out."
"Wow."
"Why is that amazing?"
"I don't know. It's unusual …"
"Unusual or not, it's time for you two to go," Ann said. "Now shoo!"
Baker and Dodger disappeared into a back office.
Ann watched them leave. If things went smoothly, this would conclude a twenty-three month investigation into the activities of Ethan Vincher, a slick counterfeiter and check forger. Rumor had it that his illegal check writing career was merely a front for more sinister deals. Ann didn't like the operational set up. Too many things could go wrong and land people in the hospital or worse.
God, be with us today.
After a longer, silent prayer, Ann took up her post near a teller's booth and smiled at the woman. "This will be over soon," she muttered under her breath.
The woman frowned nervously.
"Smile. It'll make the charade more convincing," Ann encouraged, eliciting a dim, unconvincing grin from the woman.
Precisely on time, Ethan Vincher entered the bank looking surprisingly like his picture. His plain face resembled half a dozen men Ann knew, including her husband and Agent Dodger. Vincher wore his dark hair in a crew cut and had narrow, alert, dark eyes.
Ann watched him surreptitiously. As per the plan, the teller handed Ann an envelope and bid her good day. Ann thanked the woman, tucked the envelope into her purse, and turned to confront her quarry. Their eyes locked and things went wrong.
Glaring, the man reached into his jacket and pulled out a tiny, plastic pistol.
The teller screamed and ducked, and every agent gasped. Ann reacted instantly. Stepping forward, she caught the man's hand. A brief struggle ensued, but Ann won because five other agents expertly tackled both her and the target. Her breath left in a hurry.
Guns drawn and ties askew, Baker and Dodger charged out of the manager's office. It took half a minute to sort through the mess of arms and legs. In the end, the criminal was cuffed, and Ann had her choice of a dozen hands ready to help her to her feet.
"I'm sorry!" Agent Baker blurted before Ann had even caught her breath. "I—I didn't know. I wouldn't have asked if—"
"Calm yourself, Baker," Ann ordered. She grinned, having long since learned how to smile seconds after having a gun pulled on her. "It's not your fault, but your assessments of Mr. Vincher's behavior patterns need some reworking."
Baker nodded vigorously. "I'll get my team on it right away. Really, I'm sorry—"
"I'm sorry too," Agent Dodger added. "This is mostly my fault with the stupid bet and all."
"Really, guys, I'm fine. God hasn't decided He wants me home yet. Besides, it's not the first time I've been tackled on the job," Ann said, shrugging. "Listen, you can make it up to me by getting me a full report ASAP, okay?"
Both men nodded like agreeable boys.
***
Parker Residence
Kensington, Maryland
An hour later, Ann stopped by the Parker home to pick up her fourteen-month-old son, Joseph.
"Want to tell me what happened?" Rachel Parker asked, opening the door for Ann.
Wincing, Ann asked, "Do I look that bad?"
"You look … disheveled," Rachel answered. A crash from the kitchen startled both women. If Rachel noticed Ann wince again, she tactfully made no comment as they took off for the kitchen.
Ann stood back and watched as Rachel skillfully issued cleanup orders.
"Jason, grab that towel and stop the milk before it gets under the refrigerator. Andrew, stir what's left in the bowl."
"Can I help?" asked Ann.
Rachel shot her a harried grin. "Got a sanity pill? I've got this. Go grab the loud ones."
Finally noticing the racket, Ann carefully maneuvered through the playroom's plastic dangers to the nursery and scooped up Caitlyn. "Brothers make lots of noise, don't they, sweets?" she commiserated, gently rocking Caitlyn Rose Parker who wailed directly into Ann's ear. She didn't mind. Her son, Joseph Cale Duncan, possessed a healthy pair of lungs and often let her and the neighbors know it. He exercised those lungs that very minute. Ann held Caitlyn in one arm and leaned over the crib where Joseph lay. "I know, shhhhh, it's all right, Joey. Hush now. Everything will be right as watermelon in July." She continued cuddling Caitlyn and murmuring nonsensical sentences.
Within minutes, both babies succumbed to the calming tactics and fell asleep.
Such sweet children.
"How are they?" asked Rachel from the doorway.
"It's like nothing even disturbed them," Ann replied, turning so Rachel could get a good look at her slumbering daughter. "Joseph's ability to sleep always amazes me." They watched the babies sleep for a few moments before Ann asked, "How did the clean up go?"
"A quarter of the cookie batter was lost, but the rest is being transformed into dessert as we speak," Rachel reported.
Reluctantly, Ann put Caitlyn back in her crib. Then, she picked up Joseph and followed Rachel back to the kitchen.
"Hiya, Aunt Ann!" the Parker boys chorused. They looked dashing in cookie batter coated clothes.
"Hello. How are you fine young gentlemen today?"
"Good," they answered.
"We made cookies," added two-year-old Andrew.
"I can see that," said Ann.
"Everyone can see that," Rachel commented, wiping batter off Andrew's beaming face.
Ah, the little things …
"Would you like to stay for dinner?"
Ann hesitated. "No thanks, Rach. Patrick's going to call soon."
"I got a new car. You want to see it before you bolt?"
"I really should be going. I'm sure I'll see it sometime. Thanks again."
"No problem, see you around."
***
Duncan Residence
Kensington, Maryland
Ann took her son and returned to her quiet, two-story house. She expected her husband to call at seven thirty and wanted to have Joseph ready for bed by then.
Patrick's FaceTime call came at 7:25.
"Hey, Handsome, you're early."
"That a complaint, my love?" asked Patrick.
"Not at all. How'd it go today?" Ann thought he looked worn out. "You look tired."
"You know how these university speeches go. Blah, blah, I give my little spiel, wow the class with the spiffy presentation, et cetera."
Ann knew. She had spent the last two weeks touring campuses with Patrick, presenting the paper they had co-written on the Kiverson Case. They found carting a baby about and living out of a hotel too
stressful. After prayerful consideration, Ann and Patrick had agreed one of them should return to work on other cases. Patrick had reluctantly agreed to finish the tour alone.
"I missed you today," Patrick said. Love rang clearly through his simple words. "It was boring without you."
"I missed you too, but my day had some excitement."
Picking up on her tone, Patrick said, "Uh-oh, what happened?"
Leaning back in her chair, Ann crossed her arms and explained the bank takedown of Ethan Vincher.
"I don't like it," Patrick declared, looking concerned.
"I didn't either," Ann said with a grin.
Patrick shook his head. "No, I mean it sounds like the guy was aiming for you. Are you okay?"
"I'm fine."
"Good, but something feels wrong," Patrick said, leaning closer to the camera. An emotion flickered across his face too quickly for Ann to fully discern.
She sat up straighter. "What? I take it your day was more exciting as well."
"Yeah, something like that," Patrick replied. He paused a few seconds before continuing, "I received an e-mail threat this morning."
"Send it to me."
He complied.
Ann read the message aloud, " 'You never know when there will be an attack. Old cases have a habit of biting back.' Hmmm, as far as threats go, it rates fairly low on the Duncan danger meter," Ann said, trying to lighten the mood.
"I thought it was a college kid with too much time, but now, I wonder if there's something more to it."
"Do you think it's related to my eventful morning?"
"You said the man glared at you," Patrick pointed out, his tone suggesting loud thoughts.
Ann gave him time to think.
"Yes, it's a strong possibility," he murmured.
"Patrick, we can't get suspicious every time someone glares! Goodness, if that were a crime, we'd have to arrest the whole world. Besides, nobody knew I would be in on the operation," Ann argued.
"You were there. That's what counts."
"You're not suggesting Agent Baker set me up, are you?" she asked incredulously.
"Be careful, Ann." Patrick swallowed hard, no doubt running several harrowing days over in his mind.
Hey, it's me! Ann wanted to protest, but she didn't think that would go over well.
"I know, Patrick," she said with a sigh. "We're just going to have to trust the Lord for wisdom, strength, and peace of mind."
Chapter 2 Dangerous Secrets
Happy Paws Animal Clinic
Laytonsville, Maryland
Maybe I'm being paranoid, Joy Davidson admitted, gnawing on her bottom lip. She considered suspicion a natural side effect of being an FBI agent's younger sister. Ann would be suspicious, too.
"So would Patrick," Joy murmured, thinking of her brother-in-law's sharp instincts. As she held files featuring seven dogs with different, rare diseases, something indefinable nagged at her.
Snap out of it! As Chief Veterinary Assistant, you are responsible for each patient and the families who—
"Is there something you need, Ms. Davidson?"
Joy jumped, dropping the files. She scrambled to pick them up and clutched them tightly to her chest so the man couldn't read the file names. Her heart pounded so hard she expected her teeth to start rattling.
Yikes!
"No, thank you, Dr. Miles," Joy replied pleasantly. "I was just checking on a few files before I left for the day. Is there anything you want me to do first?"
Slow down! Show no fear!
Joy bit her tongue to keep more words from spilling out.
"No, my dear, you've spent long enough in this dreary place, said Dr. Brandon Miles. "Go home and get some rest. Tomorrow's schedule is booked solid."
Though only fifty-four, Dr. Brandon Miles's round face, gray
hair, and pleasant paunch made him resemble Santa Claus. Joy found his darting blue-gray eyes positively unnerving. Still, he treated customers fairly and genuinely cared for animals. In the three months on the job, Joy had learned little about his personal life, save that he had a teenaged daughter named Amy.
"Oh, yes sir, we've got appointments all morning, and Mrs. Nevish asked if she could bring Roger by at three for his monthly toe clipping—"
"Yes, yes, Joy, it will be quite a day. Now, go home so you can rest!" The normally quiet doctor was quite insistent.
After hastily putting the files back, Joy bid the good doctor goodbye, gathered her personal belongings, and headed for the parking lot. The photocopies she had made of the files practically burned a hole through her purse. Her fingers itched to dig them out, but she forced herself to calmly climb into her Toyota Camry. Half a block down the road, she realized she'd left her cell phone at the clinic.
Blast and blood blisters!
The memory of the crisis that had forced her to tuck her phone in an examining room drawer made her smile. Mrs. Blair's miniature poodle, Dennis, had clearly taken exception to getting a shot. Mrs. Blair, who had been holding Dennis, started when he howled in her ear. Suddenly free, Dennis tried to escape. Joy had tossed her phone in the drawer for safe keeping and expertly caught Dennis as he leapt for the sink. In the excitement, she had forgotten her phone. Since her budget precluded having a house phone and a cell phone, Joy needed to turn around.
Returning to the clinic, Joy parked her car and silently cheered the presence of Dr. Miles's car in its customary spot. That meant the doors would still be unlocked.
I thought he was right behind me.
Joy wasted no time getting to the side entrance. She hesitated, noting the quiet.
What'd you expect to find after hours?
Nevertheless, her heart beat faster.
I'll just get in and get out.
Joy tip-toed through the clinic's blank corridors, found the right room, located her phone, and turned to leave. As she reached the side entrance, the sound of Dr. Miles's angry voice stopped her.
"I told you I'd take care of it!"
Joy froze mid-stride. Hearing his voice raised like that scared
her. Mentally berating herself for eavesdropping, Joy strained to hear more.
"She merely looked at the files! It means nothing. I'm only telling you because you so nicely requested I tell you every time my employees dare to breathe!" His sarcasm accentuated his anger. "No! Everything's under control. I mean it. Look, this is getting us nowhere. Keep out of it!" Dr. Miles hissed.
Joy took that as a cue to leave. Her heart did double time the whole way to her car and didn't slow down until she was halfway home. Luckily, the remaining trip to her new apartment passed peacefully. Joy knew she should puzzle through the strange conversation, but she didn't want to deal with anything work related. Instead, she began preparations for a lonely dinner.
How did Ann stand living alone for so many years?
Joy thought of her sister's beautiful Golden Retriever.
Of course, she had Danny.
"I need a dog … or a man." Noting the order, Joy chuckled.
After dinner, Joy eyed the mounting pile of dirty dishes. "Might as well get this over with," she muttered, rolling up her sleeves. She didn't mind doing dishes. It gave her a chance to think. As she hung the microwave plate in the drying rack, the inscription caught her attention. She laughed as she read, " 'For microwave use only.' Ha!"
What else am I going to use it for?
"Wow, I really need to get a life." Shaking her head, Joy turned on the television and spent several minutes flipping channels. As usual, she found nothing even remotely entertaining. With a sigh, she retrieved the smuggled photocopies from her purse. Two hours and a lot of internet research later, she finally saw the pattern in the files.
I'd better call Ann.
***
Duncan Residence
Kensington, Maryland
Ann's phone rang, distracting her from watching her son drool on a rubber ring toy. Snatching up the phone, she glanced at the name. "Hello?" she asked, perplexed.
Joy rarely calls to chat.
Joy laughed, easing Ann's worry. "Everything's fine. You worry too much."
"Sorry," Ann said. Beneath the laughter, she heard an odd note in her sister's voice. "I can't help it. Blame it on Mom's genes."
Joy laughed briefly before awkward silence fell.
Finally, Ann broke the silence. "So, what can I do for you? You sound stressed."
"You might say th­—"
"Don't eat that!" Ann exclaimed. She knelt beside her son and dug a piece of lint out of his mouth. "Yucky."
He giggled as more drool dripped to the carpet.
You're like a leaky faucet, kid.
Noticing the phone, Joseph exclaimed, "Da! Da!"
"No, not daddy. Quiet, sweets. Mommy's talking to Aunt Joy."
"Huh?" Joy asked.
"Sorry, Joseph was doing his vacuum cleaner impression. I'm listening." Ann sat down by the baby with her back to the couch.
"That'll teach you to clean more than twice a year," Joy joked.
"Are you volunteering?"
What's on her mind?
"Heck no, but I'll watch the Handsome Devil if the price is right?"
"You'd put a price on watching your own nephew?"
"Girl's gotta pay her insanely high bills," Joy rejoined.
Girl's gotta open up to her big sister!
They talked a few minutes about inconsequential things. Periodically, a loud shout of "Muh!" or "Da!" would liven the conversation.
Finally, Joy burst out, "Oh, I don't know, Ann, something's not right!"
Where have I heard that before?
"Whoa, slow down, kid. You sound close to tears. Are you all right? What is it? What happened?" Ann consciously cut the flow of questions so Joy could answer. She heard her sister take several calming breaths.
I thought we'd be talking about Christmas gifts and holiday plans here.
"Remember I started my new job about three months back?" Joy asked.
"Uh-huh."
"I recently started noticing that several patients—all dogs—had rare diseases. I'm talking one-in-four-million-gets-them kind of rare. I tried to stop thinking about it, but I couldn't so I copied the strange files, did some research, and discovered that the dogs are on experimental medications. Normally, prescriptions pass through my
hands, but Dr. Miles never mentioned these."
"Sounds like you've been busy," Ann commented.
"That's not even the strangest part! Today, I forgot my phone so I returned to the office after hours. I overheard Dr. Miles talking and he sounded completely different."
"How so?"
"He sounded desperate, and he said things like 'I'll handle it' and 'she merely looked at the files.' What does that even mean?"
You sound a little desperate yourself, Joy.
Ann's breath caught in her throat. Part of her wanted to laugh, but Joy sounded genuinely frightened. "Do you think he was talking about you?"
"Yes," Joy said without hesitation. "There's only one other assistant and she's the sweet, naïve type who goes through life thinking the best of everybody. There's not a suspicious bone in her."
"And you're having doubts about Dr. Miles? What do you think he's up to?"
"I don't know! What do I do? Come on, Ann, you're the detective. Detect!"
Ann chuckled. "It's not that simple, Joy. Listen, I don't have weekend plans, and I've been meaning to visit you for a while now. Why don't I come over Friday night, and we can go through your files on Saturday, okay?"
"Really?" asked Joy.
"Sure. I'll even bring the Handsome Devil with me. He's grown a lot since you last saw him." Ann slipped in her hands-free earpiece and hooked her phone to her pants. Then, she wiped Joseph's face again, picked him off the floor, and stood up.
Bedtime.
"Thanks, Ann. I knew I could count on you," said Joy.
"I haven't done anything, and I'm not sure how much help I can be. It seems like you've done most of the work already."
The sisters chatted as Ann changed Joseph and dressed him in a nighty. She talked softly and rocked the baby until he fell asleep.
A few minutes later, Joy said, "I should get to bed soon. We have a big day tomorrow at the clinic."
"Oh, what's going to happen?"
"Nothing special, but we're booked solid for once."
"I see. Okay, sleep well."
"Goodnight, Ann."
When she got off the phone, Ann sat on the couch, closed her eyes, and mentally replayed the conversation. Her thoughts wandered. Feeling herself slipping into worry mode, Ann abruptly opened her eyes and put on hot water for late night cocoa.
Lord, help me not to worry. I know if I dwell on things I can't control I'll drive myself crazy.
She remembered reading a poem that dealt with worry. After preparing her hot drink, Ann searched her bookshelves for the poetry book. Five minutes later she found exactly what she was looking for.
Worry Won't Win Any Wars
It seems like this life is one tiny war after another.
Whether they be, mental, spiritual, physical, emotional,
At some point you're gonna have to fight them.
What weighs heavily upon your mind?
Are you worried that you can't pay your bills?
Are you worried that you can't feed your kids?
Are you worried that that person close to you
Doesn't seem to love you?
Are you worried?
Do not worry,
For worry won't win any wars right now.
What weighs heavily upon your mind?
Are you worried 'cause you just failed that test?
Are you worried 'cause you haven't got a job?
Are you worried 'cause your best friend's father died
And you just don't know what to say?
Are you worried?
Do not worry,
For worry won't win any wars right now.
When you get a free moment open a Bible
And find your strength in the written word.
As for the spiritual war that rages around us,
The weapons to win this war were given to us long ago.
When you get a free moment open a Bible
And find your answers in the written word.
Though worry won't win any wars right now,
We have a heavenly Father who cares.
So when you get a free moment open a Bible
And find your peace in the written word.
Thankful she could answer "no" to most of the questions, Ann fetched her well-worn Bible and curled up on the couch. She spent an hour reading and praying. Afterward, she felt tired yet lighthearted.
She peeked in on Joseph and found him stirring, so she read him a few of her favorite bedtime stories. When he stopped babbling and his breathing became regular, Ann called it a day. Friday was rapidly approaching, and she had a lot of work to do if she planned to spend the weekend with her sister.
***
Edgar Hoover Building, FBI Headquarters
Washington, D.C.
Thursday morning, Ann overslept by twenty minutes. She dressed quickly, ate a re-heated piece of ham covered in jelly, packed Joseph's travel bag, and flew out the door with child and car keys in hand. It was a typical workday beginning. She stopped by the Parker home and left her son in her friend's capable hands. Next, she stopped at the post office to mail a few letters and buy insanely priced stamps. Then, she fought morning traffic to reach the FBI building.
"Duncan, good to see you, and only five minutes late! It's an improvement," Agent Baker called out.
"Is that report on my desk?" asked Ann, ignoring his comments.
"Always straight to business," Baker said with a dramatic sigh. "Yes, ma'am, I placed the report in the center of what I think is your desk." He grinned impishly.
"Good," Ann said, sailing by him into her office.
"That's it? That's all the thanks I get?"
"What precisely were you looking for?—Wait, don't answer that. Remember you owed me for endangering my life on a day off." She didn't really want to pull that card, but Baker had it coming.
"I suppose," Baker said slowly. A mischievous grin appeared on his face. "Would you like me to read it to you? You see, I've got my trusty reading glasses here and I—"
"You don't wear glasses," Ann pointed out.
"Not normally, but these are special glasses," Baker asserted.
Ann stared, daring him to make a point.
Baker cleared his throat. "Okay, so they're Dodger's. He left them in my car."
"Doesn't he need them?"
"Guess not," Baker responded. "Oh, by the way, Morgan wants to see you ASAP. I think he's got a hot new case for you and your true-blue boy."
And you were going to tell me this gem of information, when? Baker, you can be irksome!
Ann exited her office and dashed toward Assistant Director Lance Morgan's office. When she got there, the secretary—Ms. Klinger—greeted her coolly. Ann smiled, amused that the woman held a grudge against her and Patrick for barging in on AD Morgan many months ago. Ann quietly took a seat, but she didn't have long to wait. Three minutes after taking a seat, she saw the secretary wave.
"Mr. Morgan will see you now, Agent Duncan," said the secretary in her nasally voice.
"Thank you," Ann murmured, her attention already on the inner office door.
What's this about?
Lately, she and Patrick had been surprisingly good about sticking to the stuffy rules.
"Good morning, Agent Duncan," Morgan greeted as she walked in.
"Good morning, sir. Agent Baker said you wanted to see me."
"Please have a seat." Her boss gestured to a chair in front of his desk.
"Thank you," Ann replied, gracefully sitting down on the oversized chair.
"I have a new case for you and the other Agent Duncan. I know he's busy and you both have a lot of cases on your plate, but this one's an exception. I want to keep this to as few people as possible. Are you aware of the Bureau's stringent application protocols?"
Ann nodded unsure of where this conversation was leading.
"Well, it seems some people may have slipped through anyway. Rumors say key government agencies, including the Bureau, have been infiltrated by terrorist sympathizers."
A chill crept down Ann's spine.
"Over the years I've come to trust your instincts. I need agents I can trust on this, so I'm starting with you and Patrick."
"We'll do our best, sir," Ann promised. "What are the facts?"
Morgan sighed and leaned back in his chair. His dark skin practically made him disappear against the chair's black leather. "Not much, that's the problem. Even the internal affairs people are being examined."
"How did you become aware of possible infiltrators?"
"We got the heads-up from the CIA. The frustrating part is in determining who can be trusted and who can't. We make one wrong guess and things could blow up in our faces."
Ann had to agree. This case already hurt her head, and she had been on it two minutes tops. "Are there any suspects?"
Morgan offered her a wan smile. "That's your job, Agent Duncan. Your first task is to generate a list of suspects. Happy hunting." He stood up, ending the interview.
Ann's mind reeled over the enormity of the case.
Lord, I'm definitely going to need wisdom on this one.