It's Only Make Believe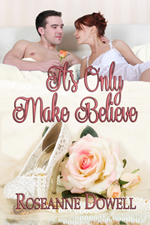 When Michele Markey is forced into marriage to the son of a long time family friend, the only stipulation she makes is he must remain faithful. Brad Lawson agrees, but faithful is one thing, celibate is another. Too bad Brad's assistant is determined to break up the marriage. Is Brad keeping up his end of the bargain on those extended business trips and late night appointments? Or has he taken up with his sexy assistant again?
=
Chapter Excerpts
Review
4.0 out of 5 stars A Classic Modern Romance!, November 28, 2007
By
Editor, Author, Publicist (Denver, Colorado) – See all my reviews
This review is from: Satin Sheets (Mass Market Paperback)
A classic modern romance! Michelle and Brad don't want this arranged marriage, but, as usual, allow their parents wishes to prevail. The merging of two important families is not what they had in mind for a future. But as the honeymoon begins, a magic that cannot be denied ignites sparks between them. Constant separations, interference from a female employee and misunderstandings keep them both guessing as to the other's true feelings. With each connection, their romance grows but neither accepts it at face value. This novel is a true page turner, urging the reader onward, hoping for that final crescendo of love.