Katz Against Pavlov: A Novel About Walking Part 1: Katz Wakes Up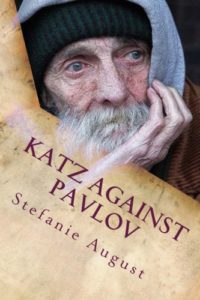 Charles Darwin Katz is an Investment Banker, poised to become a partner of the New York City based firm Lincoln Lester Wealth Management upon marriage to the daughter and sole heiress, Charlotte Denise Lester. He has worked his way up the ranks from coffee boy to become a highly respected and sought after banker for wealthy clients. By all appearances Charles has a dream life; residing in a pent-house apartment in South Street Seaport, copious millions of his own in the bank, the respect of the minions of Wall Street, and a beautiful, talented, if aggressive, bride to be. Still, he feels trapped.
Charlotte Denise Lester has been groomed from birth to be the heiress of the company although she yearns to be a writer. Her father promises to finance her writing career once she marries Charles, since he is confident that Charles can run the business on his own. Even though they are not suited for each other, Charlotte is cool and calculating in using Charles to gain her ultimate freedom.
Charlotte's father and owner of the company, Oliver "Old Man" Lester is a well-respected Master of Wall Street. Having married later in life and after the passing of his beloved wife, Jane, he is wholly ensconced in grooming Charlotte and Charles to take over the company as a team. He introduces Charles to his new client, Prince Samir al Mushadi of Dubai, an uber-wealthy westernized Arab who has broken away from his traditional lifestyle to become an investor in real estate and retail.
Prince Samir has purposefully broken away from his cultural traditions and struggles to engage in life apart from the dictum of his wealthy birth-right and Muslim upbringing. He also seeks a woman he can fall in love with and who can help guide his business. After meeting Charlotte, Samir realizes, as she does, that they are meant to be together.
Charles has an epiphany; realizing that he does not want to be part of the elite 1% even after all of his hard work. He abandons his first meeting with the Prince, leaving his office by sneaking out of the fire escape exit during a snow storm. He meets a homeless man name E. Willoughby Jones who has been living on New York's mean streets for five years, after having walked to New York from Georgia.
Willoughby is suffering from PTSD after the death of his older brother Grayson, an air-force pilot shot down in battle during the war in Viet Nam. Will is an affable Buddha, who introduces Charles to life on the street by taking him for lunch at a soup-kitchen run by Johnny, a former mafioso. Johnny's kitchen is populated with a unique cast of characters, each of whom have a story to tell about why they are part of the homeless community of Manhattan.
Kristal Ann Morgan, Charles' assistant of 5 years is sent out to find him after he deserts the meeting. She is the one person who understands Charles' personality and need for solace amidst the intensity of Wall Street. She is in love with him yet guards her feelings, maintaining a professional relationship with him at all costs.
The characters come to personal realizations during a snowstorm that makes the city inoperable for a few days. Will realizes that he must go back home to heal from the loss of his brother, inviting Charles to walk all the way to Georgia with him. As they pass through various states along the route from NYC to Georgia, a series of events occur that show Charles how the class-system in America has diminished, and how many people are living on the edge of what used to be a thriving American society.
Charlotte and Samir find love and solace with each other. Accepting their wealthy birthright and the fact that they will always be above the rest of society because of it, they plan to escape from their world of elitism so they can manifest love and find new meaning in their lives.
Old Man Lester finds himself determined to bring Charles and Charlotte back to fold even going so far as to enlist Kristal to travel around the country to find them. She is accompanied by Nino the company's limo driver as her escort as she attempts to find their whereabouts.
Willoughby is shot by a policeman who does not want him to feed the homeless as they walk through the country. Dying in Charles arms he gives him a pocket watch that belonged to Will's father, asking him to deliver it to his family in Georgia.
Will's death affords Charles the opportunity he needs to serve others; distancing him further from his life on Wall Street, yet making him realize that we are all connected in a deeper way.
The story is one of transformation both personally and spiritually as the characters interact, allowing each other to grow into their authentic selves.
Chapter Excerpts
Chapter 1: Dreaming of Freedom
Charles Darwin Katz was not having a good day. In fact, he was not having a good life, at least not the one he had lived up until six months ago. The top seller at a boutique investment firm on Wall Street; one Lincoln-Lester Wealth Management, Charles was engaged to the boss's daughter, the sole heiress to the throne of Lincoln-Lester, and poised to become a partner, having worked his way up from coffee boy in a two-bit brokerage house for low end investors, to being one of the most highly respected asset managers on the Street for over 20 some odd years.
After repaying all of his training fees to the hustlers who had paid for his licensing, taught him how to pitch, sell, close, and then sat back and reaped the rewards of Charles's hard labor by demanding 75% of his client book or cash up front to leave their establishment for higher ground; after years of dealing with the ups, downs, highs, lows, and everything in between of that which is known as "The Market"; after learning that he was going to be made partner of Lincoln-Lester as a wedding gift upon marriage to the company's heiress, Charlotte Denise Lester, only daughter to Oliver "Old Man" Lester, whom Charles had graciously bested in a squash match at the NYC Racquet club 10 years prior; after being taken into the fold by the Old Man because he liked Charles's ambition and the fact that Charles had listened to Oliver pontificate about his market trials and tribulations over copious martini's at Harry's Bar; after Charles had risen from scraping broker to being one of the top wealth management advisers on the Street with a portfolio of close to $900 million that he managed for his select clients; after having nearly a third of that amount in personal assets that he had meticulously invested; after all of this: Charles Darwin Katz was miserable.
Charles woke up on a dreary day in November to a cold New York drizzle. He was groggy, his head ached, and his ears rung. Tossing and turning all night, he had dreamed that the NYSE bell was ringing over and over again, as if he were stuck in a perpetual Groundhog Day movie. Opening his eyes against the gray morning light peering in through the slats of the electronic window shades, he stared up at the ceiling of his well-appointed bedroom trying to make sense of his dream. In the dream Charles had heard the NYSE bell ring, then had jumped out of bed realizing that he was going to be late for something – but late for what – he can't figure it out. In the dream he feels anxious and as the dream had progresses his anxiety grows.
He had opened his closet to pick out a suit, only to find a knapsack and a pair of hiking boots inside its cavernous depths. What had happened to all of his single breasted hand tailored bespoke suits and white shirts bearing his initials on the cuffs? Where were the 50 or so vintage silk ties in bright colors and patterns to go against the muted tweeds and dark pinstripes of his wardrobe that he had collected and worn as his personal statement pieces to show that he was man of success and talent; a taste maker and no dilettante to fashion – someone who exuded confidence and a flair for the creative – equally evident in how he cultivated his clients to how he invested their money. Where were his clothes that represented years of slaving away on Wall Street so he could retire at age 50 and do absolutely nothing?!
In the dream Charles searches his penthouse which is decorated by his soon to be wife, thinking that she had hidden his clothing as a joke. He calls Charlotte on his cell phone only to learn that that she not done anything to his wardrobe. He senses that he has been robbed – but of what? He becomes confused and angry – who had robbed him and why? Rummaging through the apartment, opening closets and dresser drawers, he goes back into his bedroom and stands in front of the closet peering at its strange new contents. Suddenly Charles realizes that perhaps his entire wardrobe gone missing is not important. A giddiness comes over him – the type of feeling one gets when they are about to lose control and shout out loud just for the hell of it. He holds up the hiking boots, noticing they are old and tattered with mismatched laces and a large hole in the right toe.
Feeling giddier, he dons the hiking boots, puts the knapsack on his back over his flannel pajamas flannel pajamas and leaves his apartment without locking the door. Walking to the elevator he watches it rise from the lobby 21 stories above the South Street Seaport. Suddenly he feels the strongest sensation to run. Turning away from the elevator, Charles runs down the hallway to the fire-exit, down 21 flights of concrete stairs counting the flights as he runs; out into the alley between the buildings that surround his ivory tower, out into the street toward the Holland Tunnel, up Broadway through the crowded streets of the stock market with business in full flourish; with people dressed to the nines scurrying like mice from one building to the next, while cabs and cars and buses jostle for movement in the packed streets of lower Manhattan.
Charles continues running down the middle of Broadway straight through the throng of people and traffic. As he runs he hears the bell from the NYSE ringing louder and louder. Each toll drives him to run faster; farther away from his future wife, farther away from his pending partnership and life of hard won acquisitions, farther away from his office, his health club, his wealthy clients, and the work that he has been mired to. Running until he can barely breathe, he senses that he must get through the Holland Tunnel before the bell stops ringing, otherwise he will be trapped.
In the dream Charles continues to run as if his very life depends on it – through the tunnel – jumping over cars and cabs, as horns honk and drivers open their windows to curse at him. Running until he is on the New Jersey side of the tunnel, with sweat covering his body, dripping from his face, his flannel pajamas soaked through, the knapsack a dead weight on his back; his bare big toe poking through the hole in the hiking boot. He slows to a trot, then a pace, then a walk, finally collapsing by the side of the highway to lie on his side in the grass attempting to catch his breath. Removing the knapsack Charles rolls onto his back. Still on the ground staring up at the cool blue mid-fall east coast sky, the bell in his head is silent. Unable to contain himself, Charles lets out a whoop of joy, then lies back on the grass smiling, realizing that he is free.
Chapter 2: Skidding into Reality
Skidding up Broadway to get to his 8:00 am. meeting, Charles Darwin Katz slipped along the sidewalk on his way to his office in the frosty November rain; his Burberry umbrella gripped tightly in one hand, his hand-tooled leather brief case in the other. He's scheduled to meet a new client, one of the top industrialists in the Emirates, an uber-wealthy Arab with billions in real estate and commodities all over the world. Oliver Holmes Lester, current sole proprietor of Lincoln-Lester and also known as the "Old Man" due to his expertise in catching "whales", a term used to describe those wealthy enough to exude millions if not billions, had been beside himself with joy when Prince Samir al Mushadi (better known as Sam to his friends and close acquaintances, and Your Excellency to all others), had been table companions at a luncheon during a conference on foreign investment in Dubai. The Old Man had listened attentively to the Prince complain that he could not locate a suitable firm to manage his copious American holdings, and had swiftly presented the Prince with his gold embossed card before any of the other 11 bankers at the table realized what was happening; watching the Prince's face light up as he read it; exclaiming it to be the will of Allah that they had met, and that Lincoln-Lester Wealth Management was to be his exclusive American investment firm.
The Old Man called this his Baker's Dozen coup – 13 at the table including himself, the Prince, and those 11 other (highly miffed) bankers – had brought him what he was certain would be Lincoln-Lester's most prestigious and wealthy whopper to date. Prince Samir had also explained that he was an avid student of Civil War history and was thrilled that the company bore the name of one of America's great President's; at least in the Prince's estimation. Oliver had explained to the Prince that his partner Earnest A. Lincoln (a joke bestowed on his long-time partner's parents; immigrants from Estonia who had worked their way out of the slums of the lower East Side to open a butcher shop in New York after years of slaving in the meat packing district), was now deceased, having succumbed to a massive coronary one week prior to his retirement. The company had retained Earnest A.'s name in his honor, explaining that the A stood for Adam, and that his partner had been a devout Catholic who had lived his life as a good old fashioned American as apple pie Republican, contributing most of his copious wealth to his Alma mater and church. After designating a small portion of what was left to charity, E.A. had left his heirs a few highly prized original oil paintings of museum quality, and several properties that if sold would sustain them for many lifetimes. The Old Man had assumed the company as sole partner upon Earnest A's demise, and was now in business with his lovely daughter Charlotte, and her soon to be husband, Charles Darwin Katz.
Assuming that the Prince was not a keen friend of Israel's, Oliver further explained that Charles was not of Jewish decent; that he had actually been raised as a Protestant by a hard working single mother, describing to the Prince how Charles had pulled himself up by his bootstraps to become a highly successful banker; now poised to take over the company, with Charlotte, as Lincoln-Lester's shining stars. The Prince had exclaimed that he was happy to be doing future business with a man who valued family, and included them in his money making activities, had shaken Oliver's hand firmly, then had signaled to one of his valets who stood discretely behind him against the wall, who in turn quickly moved to help the Prince from his chair to usher him out of the room, leaving those at the table bewildered and envious as to how the Old Man had captured a whopper like Prince Samir.
Standing, Oliver graciously bid his colleagues adieu by saying "Happy hunting, boys, see you around the club". Oliver had left the room holding back the urge to laugh out loud – especially since the story about Charles was made up – Katz was Jewish, non-practicing but Jewish none the less; a point that he would square with Charles once he told him about his soon to be new client, Prince Samir. Plus, in order to marry Charlotte and for the sake of future progeny, Charles had agreed to convert to Catholicism. He was being well groomed to take over the company, and by all outward appearances seemed content to do so. Prior to the conference the Old Man had read up on Dubai and the practice of conning poor immigrants from Pakistan, the Sudan, other third world countries, and even Americans with the promise of work and good salaries, only to be enslaved by the Emirates, forcing them into hard physical, domestic or administrative labor; confiscating their passports so they could not leave the country, and making them live like cattle in concrete dorms built like prisons, or in their cars if they were of a higher ilk like Americans who might have fallen victim to a cruel circumstance once a job ended or had a debt to pay; in 120 degree heat. Still, the Old Man's reaction to this information was that everyone made their own "deal with the devil". It was little concern to him if the deal went sour, for deals in his world were a part of the game of life.
A few days before their first meeting with the Prince, Oliver had presented Charles with a folder thick with research on the Prince and his holdings. He was confident that Charles would be able to handle the Prince's assets, telling Charles he was counting on him to make the Prince feel welcome in America. He had even taken a special line of credit and limousine service for Charles' exclusive use when entertaining the Prince. The Old Man was taking every step to ensure the Prince was treated with the deference and respect as befit his stature, and wanted Charles to show him a good time. Charles had not balked at the assignment – he was used to entertaining wealthy clients – but he too had done his research on Dubai and did not like what he had read. Deep inside Charles felt angry at the Prince for being so privileged while so many people were suffering at the hands of the Emirates. He was also angry at the Old Man for making him cater to the Prince. Still, his career and position at Lincoln-Lester depended on his doing what was expected of him, at least until he was made partner. So he had remained silent, burying his anger until it became a knot in his stomach that ached constantly, reminding him that something was amiss.
Chapter 3: Lula
As he made his way up Broadway past Trinity Church, Charles wondered what his life would have been like if he had remained poor himself. Would he have been someone other than who he was now? His mind flashed back to grade school to a meeting with his eight grade math teacher and his single mother, Lula. His teacher, Mrs. Boehmer, had told his mother that Charles was a genius at math and could probably win a scholarship to the high school of Arts and Sciences in Manhattan. Lula Katz had doted on Charles and given him everything his heart desired. His father had died when Charles was one. Lula always told Charles that his father had been the love of her life, even though he had been a drifter when it came to traditional work, leaving them penniless when he died. Fortunately, Lula had been very proactive in taking any type of work she could to support herself and her only son. She had taken a job as a waitress in a restaurant in mid-town where she made enough money to keep them in a tiny apartment near the East Village. Lula made a career out of being a waitress and as time progressed had earned excellent money, remaining in the same job until she died in her 60's from pancreatic cancer. She had never moved from her tiny apartment on Houston Street even when Charles had eventually earned enough money to buy her an apartment in Manhattan proper.
Lula had been proud of her son's accomplishments but prouder still that she had been able to get him into a good high-school and watch him build a career for himself without Charles going on to university. Charles had declined schooling beyond high-school. At age 18 he had been anxious to go to work on Wall Street so he could support Lula and allow her to quit working. Finding a company that was impressed enough with his ambition and mathematical skills, they put up the money for his training. He had aced his licensing exams and built up a substantial portfolio by the time he was 23, earning him the nick name of The Katzenjammer Kid – he was slam dunking high-net worth clients into his portfolio and making a return that made others who had worked on the Street for decades delirious with envy and anxious to find out his secret. The fact was that there were no secrets with Charles. Everything he did was for the good of his clients, and his clients, who were often wary of investment advice, especially from the plethora of up and coming sharks that hounded them constantly by telephone, at parties, or at their favorite watering holes, appreciated Charles' honest approach.
Lula had remained at work while Charles went through grade and high-school. She had been so proud of him when he landed his first job as a coffee boy and prouder still when he had joined Lincoln-Lester, a year prior to her passing. All through his career climb, Charles begged Lula to quit her job, telling her that he now had enough money for her to take it easy and do anything she really wanted to do or nothing at all. Lula would smile and pat his cheek, telling him what a good son he was and ask him what she would do all day if she didn't work. She had told him that her job was the one thing that kept her in shape. Lula kept track of how many miles she had walked on a daily basis while at work. She figured out that she had walked close to one million miles after years of carrying copious plates of food and cups of coffee to her customers, whom Lula said were really the ones responsible for his being so successful.
When Lula was 64 she began to slow down, even taking days off from work to rest, telling Charles she was "adjusting" to becoming a senior and that all she needed was a few less hours in her weekly work schedule. After months of nagging tiredness and Charles's insisting, Lula finally visited her doctor only to be diagnosed with pancreatic cancer. True to form Lula had remained upbeat even hiding the fact that she was ill until she could no longer work. The restaurant threw her a great farewell party and presented her with a life-time supply of discounted meal coupons as a gift; small recompense for so many years of service, still, Lula shared these discounts with friends; knowing that she would soon no longer need them.
Charles had watched his beloved mother go from a striking 125 pounds on her tall frame to almost 90 pounds as the cancer ate her alive. He had placed her in a good nursing facility and spared no expense to ensure her comfort in her last days as his way of thanking Lula for all she had done for him as his mother and best friend. When Lula died all of the investments Charles had made on her behalf as her executor where divided up between a few charities Lula had been interested in. Charles had plenty of his own money and felt it only right to give away that which his mother had worked so hard for so others could have an easier time of it. Charles missed Lula daily, her confident spark, the way she always stood by him in his decisions, her laugh, even the way she wore her hair bundled in a net while working at the restaurant. Sometimes he'd wander uptown to peer through the window of the old place hoping to catch a glimpse of her only to remember that she was dead and buried.
Chapter 4: Meeting with a Prince
Charles made it to his office at 40 Broadway with minutes to spare for his meeting. He walked swiftly past his assistant Kristal's desk with a wave of his hand, acknowledging her presence as she held out a sheath of messages. Kristal smiled and called out "Good morning to you, too." as Charles went into his office and shut the door. Kristal was used to his morning demeanor, having worked for him for 6 years. Charles was a quiet morning person, lost in contemplation most times and wholly unaware of his surroundings unless she presented him with a physical object like his message sheet or a cup of coffee. She took this as a sign of his being a genius at what he did, allowing him to be himself where other assistants had quit working for him due to his lack of communication, thinking him a snob.
Charles had hired Kristal after one meeting with her. He had felt an instant bond, especially when she had noted his extensive client portfolio and their holdings in their exact alphabetical order. Impressed by her due-diligence and confident preparations, he sensed she would be a discreet and experienced assistant. At $75,000 a year plus bonuses and a full benefits package, Kristal Anne Morgan, formerly of the cramped three bedroom Bronx home she had grown up in, currently of her spacious NYC studio that she shared with her black angora cat, Stella, doted on Charles and made his life easier by being alert to his moods and needs. She had a secret crush on him which she discussed with her gay friend Max over cocktails, on those Fridays after a busy week of none stop activity. Max had urged her to give Charles some head under his desk to make him fall for her, yet Kristal believed in keeping the bounds of their relationship professional, and took to day-dreaming about what it might be like to marry a man like Charles, first for love, then for everything else. She never let him know how she truly felt about him and worked hard to ensure he was comfortable and functioning at top-form during office hours.
Slinging his hat and coat onto his desk, Charles quickly straightened his silk tie, flattened down his unruly hair in the gold-leaf framed mirror that hung on the back of his office door, then went back into the reception area to speak with Kristal about his pending appointments for the rest of the day before making his way to the conference room. Kristal handed him a folder of information that she had carefully organized on Prince Samir, remarking that Charles had his "hands full with this one" and offering him a sly smile, the type that passes between people who understand each other without speaking much. Charles's stomach began to ache, a reminder that he has not eaten breakfast – or was it something else? In return, he offered Kristal a rueful grin and turned to make his way down the long carpeted hallway to the conference room, past the pictures of Earnest A. Lincoln and Old Man Lester in their pre-salad days, past the head-shots of himself and his soon-to-be wife Charlotte, Kristal, and the other members of the concern, past the letters of accommodation from investors, presidents, senators, movie stars, and socialites, almost to the end of the hallway where stood a large picture window facing Broadway.
Charles peered out at the dark skies and pelting rain. He imagined taking a flying leap through the window while growing large wings, soaring through the glass, unscathed by shards, flying high-above Manhattan to a faraway never-land where he could sit on a beach and do…what….? Shaking himself out of his reverie, Charles walked to the imposing wooden double doors of the conference room, put on his game face, turned the large brass door knob and stepped inside. The Old Man stood at the banquet table pouring a cup of coffee into a white and gold rimmed china cup with the company logo emblazoned on it, a gift from a long standing client. Oliver enjoyed using the good china service when new clients of a certain net worth were being entertained. He turned to greet Charles, giving him a once over with a discerning eye.
"Straighten that tie out, son, and let's get down to brass tacks, the Prince and Charlotte will be here any moment" "Coffee?"
Charles accepted the cup of steaming black brew the Old Man offered him. Personally, he preferred his coffee with cream and sugar, but the Old Man took it as a sign of indulgence. He had once told Charles that cream and sugar in one's coffee coddled the mind, causing weak decision making during meetings, so Charles had acquiesced and drank his coffee black, at least when the Old Man was present.
"Today marks a unique day in the history of Lincoln-Lester, Charles. I am proud to have you on the team as the chief liaison and investment strategist for Prince Samir. He's tough, he's wily, and he knows a thing or two about investments. He also likes to talk in parables so listen to him carefully."
The Old Man stepped forward to adjust Charles's tie, and placed his hand on Charles shoulder. He was a slight man in height yet large in his thinking. Larger still in his reputation as a Master of the Street with many years of expertise.
"Son, I am giving you full reign to invest and manage the Prince's assets as you best see fit. I wouldn't have invited you into this firm if I were not wholly confident in your abilities. You've read the Prince's file?"
Charles responded affirmatively as the ache in his stomach grew more intense. He was nauseous from the strong black coffee and breathed deeply to quench it as the Old Man continued.
"If there are no questions then, I will call for the Prince. He is waiting in my office with Charlotte."
Charlotte Denise Lester was the Old Man's only daughter and heiress-apparent to Lincoln-Lester Wealth Management. Her pending betrothal to Charles had been carefully manipulated by herself and her adoring father. Charlotte's keen interest in the fact that Charles and she had the same initials in their first and middle names made Charlotte certain that they were born for each other, even though when Charles first met Charlotte he showed no interest in her other than a professional one. Charlotte, however, was one for intuiting signs, signs that things were going to go well or not so well; making her a great asset to the company. Charlotte could also keep up with Charles during a raucous game of squash; coupled with the fact that her Daddy liked him, assured Charlotte that Charles was the best man for her.
She was tall and lean like her mother Jane had been; a strong woman of means and grace who had married the Old Man more out of pity than love at first, admitting to Charlotte before she had passed away that she had found him slightly boorish when they had first dated, yet somehow he had grown on her. The Old Man had been so wrapped up in his work that he had not taken time out to marry or start a family. At 42, he realized that he was missing a companion and perhaps a child. He had gone to a high-end matchmaker who had set him up with some of New York's wealthiest socialites and sophisticates; woman who had worked their way up in their fields of business and who carried enormous influence in their work and charitable causes. The Old Man had fallen hard for Charlotte's mother who owned a lucrative vanity press and was hailed as a champion of woman's rights in the workforce.
Charlotte's mother, who had been 28 at the time, had thought the Old Man a trifle old for her, given that she was still somewhat of an "It Girl" on New York's social scene, due to the nature of her business and her age. She had found him a bit stodgy and at first pretentious when he told her of his business acquisitions and how the damned Democrats were turning the country Socialist with their continued restrictions on Wall Street and their allegiance to the poor. The Old Man had hailed from an average middle class family and had worked his way into his money, so he was adamant that everyone else should, too. Jane would listen to his tirades wondering if she should dissuade him or just nod and agree, since the matchmaker had warned her that he was a bit set in his ways and ideas. She had taken a chance over their third dinner and inferred that perhaps the poor were the way they were because they had restricted access due to the American class structure. The Old Man had looked at her hard, taken a long shot of his Maker's, and asked her if she liked to rumba. They had gone to Roseland and danced the night away on a wintry Tuesday night in Manhattan, where the only other people on the dance floor where the paid instructors and the wait staff. The Latin swing orchestra had blown through two solid hours of rumbas, bossas, cha-chas, and meringues. They had danced well until after 2:00 am., drunk on adrenaline and the fact that they had discovered that they possessed at least one thing in common; they were both terrific dancers.
Afterward they had waited for a cab, under a quarter moon on that cold night in January, caught up in their own thoughts and wondering what would come next. The Old Man, who was a trifle shorter than Jane, had climbed the base of a lamp pole to swing from the street light pretending that he was Cheetah in Tarzan, saying that Jane brought out the animal in him. Laughing, she had told him that he was adorable as he swung there scratching at his armpits making chimpanzee type noises and wagging his tongue at her. As he dropped to the ground she had caught him by the shoulder and they had fallen into an embrace, hugging there on the street corner in that silent thank you that kindred souls give each other when silence is all that is needed. Six months later they were married in an elegant private affair at the Waldorf Astoria. One year later Charlotte had been born.
On their 25th wedding anniversary Jane announced to the Old Man and Charlotte that she was going to produce a book about chimpanzees in the Old Man's honor saying that its title was going to be "Me, Jane" and that she was going to go to Africa on an excursion with her writing team. She never returned, having succumbed to the Ebola virus while in Africa; dying in a hospital run by nuns who made her last days as comfortable as possible without the aid of any vaccine – there had simply been none in their storehouse of medicines and it was too late to administer it to her when it had finally arrived from another medical compound several hundred miles away. Jane's passing had left the Old Man stoically heartbroken and Charlotte the bereft beneficiary of all he possessed, until Charles had fallen into their lives and begun to fill the void of losing Jane.
In the way of the wealthy, Charlotte maintained a cool and capable demeanor. Always impeccably tailored and up to date in her fashion sense, Charlotte was considered a style maven by those with an eye on the up and coming elite of Wall Street; the darlings of New York City's social events, and potential patrons of a myriad of charities and arts groups. In reality Charlotte disdained finance. She wanted to be a writer of romance novels in the style of those bodice rippers that were so popular amongst the bored house wife set. She held an under-graduate degree from Barnard in English and a Masters in Finance from NYU courtesy of Mummy and Daddy who had argued incessantly, if courteously, over what Charlotte's chosen profession would be, since she showed a great aptitude for creative writing and mathematics. In the end they had both won. Being that she was the heiress to Lincoln-Lester, the Old Man wanted to ensure her ability to run the company, hence, Charlotte had studied numbers after creative composition in graduate school. Charlotte had received excellent grades, had an uncanny knack for predicting the market's fluctuations, and was now the second in command after the Old Man. Upon the demise of his partner Earnest A., the Old Man had been anxious for an equal and Charlotte was as close to one as Earnest had been – in large part because she had been born to and groomed for it; until Charles had appeared. Now the Old Man had two successors, one who had a truly fixed commitment to and ability of the Market's intricate workings, and one who bore his name.
Charlotte had at first resented the Old Man's "acquisition" of Charles; calling Charles a cut-rate operator; one who by sheer luck had made his way up the golden ladder. How she ranted and raved to the Old Man over every investment decision and new client Charles brought to the company, needling him until he had explained to her that with Charles in tow she would eventually be free to establish herself as a writer, perhaps following in her mother's footsteps to operate her own publishing concern that he, the Old Man, promised to finance in full. Charlotte's considerable ego had taken the Old Man up on this offer, even committing him to writing it down in an irrevocable contract. Shifting her tactics to gain Charles' attention she had begun to dress slightly more provocatively at work, wearing elegant business suits with a hint of decollete and encasing her feet in sky high heels that she swung casually from one foot as she and Charles met to discuss daily business. They worked in close proximity, sharing Kristal as their administrative support, along with two research assistants to ensure that they were in the know of each others activities.
Charles always maintained a professional demeanor while Charlotte chatted away about anything and everything: the theater, the weather, her night out with her copious girlfriends, and more. She would stand close to Charles as he reviewed red herrings, urging him to read them out loud; saying that she enjoyed hearing him describe them in detail. Charles continued to remain aloof, knowing exactly what Charlotte was after, yet declined her every move to get him to open up to her. She made him feel uncomfortable. She was bright, talented, exceptionally pretty, and extremely rich. Not that he wasn't rich, but he had worked his way up to his wealth, while Charlotte had been born to hers. She could have any one of the eligible young or not so young turks that visited the office or walked the halls of 40 Broadway. Even the Old Man got into the game, taking Charles aside to offer advice on how to treat Charlotte, saying that he knew she was ambitious and could be slightly over-bearing. Finally, the Old Man had revealed to Charles that Charlotte had had her heart broken by a fast talking Wall Street Romeo and was in need of a fix; a good male friend who could get her out of her slump and back into the game of romance. This of course had been completely fabricated by the Old Man and Charlotte in an effort to get Charles to spend time with her outside of the office.
So as not to offend the Old Man, Charles had asked Charlotte out for dinner. To his surprise she had at first declined him, saying that she did not like to mix business with pleasure; another fabrication of course. Charles had reported his attempt to the Old Man who urged him to keep trying, telling him that what would win her over would be tickets to the symphony, or better still, a good play. After a few weeks of hemming and hawing, Charlotte finally agreed to accompany Charles to a small off-Broadway theater to see a revival of Ibsen's A Doll's House. As they sat next to each other in the darkened theater watching the actors recreate Ibsen's powerful drama about life as a housewife with a dark secret, Charlotte had gripped Charles' hand in the darkened theater, holding it throughout the entire performance. Afterward they had gone for a drink at a quiet pub in lower Manhattan where Charlotte confided that she felt like a bird in a gilded cage, yearning to write instead of making investment decisions, knowing that she was destined to own Lincoln-Lester, and that she was not happy with her lot in life. This was not the Charlotte who sat next to him during meetings, playing up to new clients the value of investing with their company and how their personalized attention would help them achieve their financial goals. This Charlotte was not so cool and calculated – she appeared to Charles to be a child in need of attention and time away from the stresses of Market life. What harm could it do to befriend her?
So Charles continued to buy tickets to theater productions and musical events in an effort to do just that – or so he thought. In some ways it had a similar effect on him and he found himself confiding things in her that he normally would not have confided to anyone else. He told her how much he missed his mother Lula, how he could never get over losing her before being able to give her a comfortable life. He told her that he always felt as if he were on the outside looking in, that life on Wall Street had been exciting at first but now felt rote – as if something were missing – he couldn't put his finger on it. He told her he had never been serious about any woman because he just had not had the time for it. Charlotte had laughed at him calling him a chip off the old block, just like the Old Man. Charles had looked at her smiling at him with her perfect pearly white teeth and for a moment wondered what it might be like to kiss her. They were becoming friends and he was not in a hurry to interfere with their burgeoning relationship.
Unbeknownst to him, Charlotte reported his every move to the Old Man with frustration, telling him that Charles had not yet made his move to engage her in anything other than friendly discourse and nights out to the theater. The Old Man took Charles aside and asked him what he thought of his daughter. Charles said that he was happy to have such a good friend and thought her to be an elegant, smart, and talented young woman – one who would make the right man happy. The Old Man had told Charles point blank that Charlotte believed that he was not interested in her beyond friendship; that she had even shed a few tears thinking that perhaps she was not up to Charles' standards. This too was a fabrication on the Old Man and Charlotte's part in an effort to get Charles to romance her.
On Charlotte's 30th birthday, Charles took her to lunch at La Grenouille, an exclusive French restaurant in mid-town Manhattan, replete with all of the glitz and glamor fine French dining could muster. He chose lunch so he would have his evening free, and so as not to let the date stretch any longer than lunch provided. It had been a chilly day in early March with winter clouds rolling across the sky threatening snow. They had sat in a small booth in the back of the place well after they had eaten, sipping demitasse and absinthe – a treat that Charlotte reserved for special occasions. She told Charles how much she appreciated his friendship, moving closer to place her graciously long legs encased in sparkly black Wolford tights to keep them warm next to his equally long ones. She had snuggled in and placed her head on his shoulder –seemingly content to sit there and day-dream as Charles – somewhat flustered – sipped his absinthe and starred out of the window at the darkening sky. Later on it had begun to snow, then to blizzard, and as the sky turned gray and no cabs could be found, he had held her up as they skidded across Central Park to her apartment on Madison Avenue. Why women wore sky- high heeled boots in the dead of winter was something he would never comprehend. Yet Charlotte had prepared for this day and as they took the elevator to her pied-`a-terre, she had pressed into him, giving him a long, deep kiss, pulling back to look up at him and take his face in her hands. "I adore you, Charles – you know that don't you?", she told him as he stared straight ahead into the mirrored interior of the elevator compartment. She had then led him by the hand down the corridor to her apartment and unlocked the door. He had languished in the hallway leaning against the doorjamb wondering what to do next, until she had called to him to come inside to help her take off her boots. Charles knew his fate had been sealed. 6 months later they had become engaged.
Charlotte made her way down the long carpeted hallway from her office to the conference room with Prince Samir in tow. The Prince was dressed elegantly in a Western style suit and traditional Arabic headdress. In deference to his culture Charlotte was dressed in a long, demure black skirt suit that reached the top of her high-heeled boots so no skin was revealed. Still, the suit was form fitting enough to show off her curves and The Prince, who was no stranger to Western fashion and appreciated women with good taste in clothing, had complimented her approvingly. They chatted amicably; discussing everything from high-finance to the latest art exposition at the Met. Charlotte assured the Prince that he was placing his investments in capable hands, and that Charles would serve him with the utmost experience and discretion. As the future owner of Lincoln-Lester she too had a stake in ensuring that the Prince was well served, especially since his holdings topped several billion – with 25% of it liquid. Handling the Prince's account would give Lincoln-Lester a leg-up on the competition and establish them as one of the premier boutique wealth management firms in the country. Charlotte had no qualms about having the Prince as a client, even after she and Charles had argued about it. Charles contended that the Prince's wealth had been earned on the backs of the poor while Charlotte argued that the Prince was a shrewd business man, concerned with the development of his nation with job creation a primary focus. His wealth was merely a by-product of his interests, and he had invested nearly a quarter billion of his own family inheritance into his real-estate development business, making him, as Charlotte had so eloquently put it, "a sincere and vested participant in the outcome of his investments, one who values job growth and stability; not just in the Emirates but in the States as well." "Look at the numbers, Charles", she had said, glossing over the fact that much of his money had been poured into shopping malls and high-rises that were filled with people of a similar bent as the Prince.
Charles had felt the familiar ache in stomach, knowing that he could not win in an argument with Charlotte, and wondered why he had ever proposed. He was fond of Charlotte and found her attractive, but was not excited by her constant need for control or the fact that she was a spoiled Daddy's girl who got what she wanted merely with a pout of her beautiful full red lips. Even their lovemaking was now limited to when Charlotte was in the mood or wanted to get Charles to do something for her or agree with her way of thinking – he felt cornered every time she shed her expensive, well-tailored clothes to stand naked before him; her long, lean body with curves in all of the right places beckoning his flaccid penis to rise to strict attention. Damned his penis! It had a mind of its own.
The first time they had made love was on her birthday – it had not been unpleasant, although Charles found her somewhat daunting as she mounted him wearing her sky high black boots and nothing else, the same one's she had asked him to remove. He had gone into the apartment on that fateful night only to find her naked sitting on her white leather sofa wearing nothing but those boots. She had urged him to sit next to her, then to lie down as she undid his belt removing his trousers and briefs while he retained his overcoat, suit jacket, shirt, and silk tie. She had expertly taken him into her red lipstick stained mouth, moving up and down on his shaft until it was hard and erect, then had shifted her position to straddle him, lowering herself all the way down onto his generous manhood. Suddenly they were moving in sync, bucking, writhing, and panting as Charlotte moaned that she had wanted him for the longest time, digging her heels into his sides leaving small red marks as if to remind him that she was in control and was taking what was rightly hers. Afterward she had gone into her bedroom and returned wearing a thick terrycloth robe as Charles lay suspended in post coital confusion wondering what to do next. She had gotten him up from the sofa and had led him to her bedroom, helped him to remove the rest of his clothing and tucked him into her spacious queen sized bed amidst mounds of satin pillows and 300 count thread Egyptian cotton sheets under a thick designer quilt, where he had instantly fallen asleep. He had awakened close to 3:00 am. in a panic wondering where he was, as she lay next to him breathing softly, curled up like a child holding onto a pillow. He wondered if he should get up to leave until she had opened her sleepy eyes and given him her cat like smile. They had made love again, this time less frenetically with Charles on top and Charlotte wrapped underneath him, as her bare feet propelled his taut buttocks to take her more deeply with every thrust. Afterward, they lay spent in each others arms, with Charlotte smiling triumphantly to herself and Charles feeling more agitated and confused, yet somehow not surprised.
As they entered the conference room, the Old Man greeted the Prince like a returning war hero, clasping his big hand to shake it vigorously, and welcoming him "home" to America, as Charlotte moved to get him some coffee, giving Charles a cursory good-morning. The Prince then took it upon himself to engage Charles in a handshake, saying that he was pleased his accounts would be managed by someone with Charles's excellent reputation and business acumen. The Prince, too, had done his due diligence on Charles, rattling off several of those acquisitions and investments Charles had done on behalf of other clients, investors not unlike the Prince, who preferred their holdings in tidy bundles spread out around the globe where tax shelters for the wealthy allowed them copious advantages, throwing off interest that gave them enough liquid capital to live quite comfortably.
The Prince enjoyed a reputation among his social set as being generous with gifts and lavish parties for his select group of friends and followers. Those in his personal circle were chosen with care. "Sam's Circle" included the CEO of a large American oil firm, a real-estate mogul, a shipping magnate, and a gorgeous American socialite with ties to Washington's and Hollywood's elite. The Prince and the socialite spent many hours alone on the shipping magnate's yacht; made available by the shipping magnate to the Prince for his personal use whenever he was in town. The socialite helped the Prince arrange his calendar, and continued to instruct him in the ways of Western culture as befit a man if his largess. It was rumored that they were lovers which they both adamantly denied by appearing in public separately, she with her well-respected surgeon husband, and the Prince usually with his valet or with a carefully chosen companion for the evening. Groomed for inculcation into Western society, and after attending University in London, the Prince was used to being bombarded with petty conjecture about his personal life, the type best read in The News of the World or New York Post. He was rich, not unattractive, and could have any woman he wanted, although he chose to spend time alone contemplating global politics and carefully researching his next acquisition. For the Prince, life was a series of acquisitions, from the people allowed access to him, to his constant purchasing of land for development that sat fallow on the New Jersey Shore or Long Island Sound, tied up in real estate court proceedings protesting his converting densely populated ecological areas into shopping malls.
For the Old Man and Charlotte, the Prince was a feather in their cap – a "coup de grâce" as it were amongst wealth management professionals. Even with his "technical difficulties" as he so delicately put it to them in confidence as they reviewed his extensive portfolio, his other holdings were fully established; giving him a hefty annual return, since they were numerous and spread out all over the United States, the Middle East, Asia, and Europe. These included several hotel chains, a series of movie complexes, a dozen or more retail complexes in high-end locales, 20 apartment buildings catering to mid and upper-level management types, a sports complex and a race track. The Prince was no dummy when it came to understanding what the public aspired to in its living, shopping, and entertainment needs. His own net worth nearly topped the worth of his portfolio, since he had inherited most of it and invested it wisely, sheltering large sums of money in off-shore opportunities and other sundry ventures. As the Old Man had put it to Charlotte and Charles in private, the Prince was Lincoln Lester's "golden goose" and he, the Old Man, aimed to ensure that the goose came home to roost!
Charles was not so sure of the Prince's diverse assets, especially when it came to his investments in retail and real-estate – the foundations of which could crumble with any severe, extended market downturn in these sectors. Times were hard for many Americans and Europeans, too. He was sheltered as were the Old Man, Charlotte, and Prince Samir, due to the fact that they were of a privileged set who understood the intricacies and delicacies of the Market and its inner workings. But what about the regular blue-collar Joe who worked a custodial job in one of the city's office towers – grateful to be earning at least minimum wage and benefits while supporting his also working wife and two young children; dreaming of a house in the suburbs? Or the young woman who after graduating from college with a hefty student loan shared an apartment with two other graduates to save money and pay off the debt, just as Kristal had done before coming to work for him. Good jobs were scarce too, and Charles felt that most people were skating on thin ice financially.
His stomach churned again from the black coffee as Charlotte's dulcet voice brought him out of his reverie. "Charles will give you his private cell phone number so you can reach him at any time, your Excellency. Please don't hesitate to use it – Charles is available to you at any time of day or night – isn't that right, Charles?" Available? Now he was being made available — as if he too were a mere commodity and not the soon to be partner and son in law to the entire kit and caboodle! He felt his face flush as anger rose in him, an anger he had never experienced before. It rose from that deep ache in his belly driving him to want to scream. His head began to throb as he broke out in a cold sweat at the back of his neck, the way he used to right before his mathematics exams in high-school. He felt sure he would swoon, as he braced himself against the conference room table. Still he remained cordial as he handed the Prince his card, then excused himself from the meeting, saying that he needed a folder from his office and would return shortly.
Chapter 4: An Affable Buddah
Exiting the conference room, Charles moved swiftly down the long carpeted hallway toward his office, past the pictures of Lincoln Lester's illustrious personages, past the tall glass doors that led to the reception area, past the kitchen and restrooms toward his office suite at the end of the hallway. He had been given an office near the building's staircase and emergency exits next to a large plate glass window that overlooked the back of the building – 7 flights above the world of Wall Street. As he drew closer to his office suite something compelled him to move toward the emergency exit door. His breath felt constricted and he needed fresh air. Looking behind him down the empty corridor he moved swiftly past his office suite door and entered the emergency exit hallway which was kept unlocked during business hours. He walked down the concrete stairs bracing himself against the railing, moving silently at first until he reached the 6th floor. Leaning against the metal railing Charles peered up at the shaft of concrete stairs that extended another 7 floors above him, wondering if he should go up and jump, or go down and run. He felt trapped and alone; not able to make a sensible decision. His located his breast pocket hand kerchief to wipe the sweat from his neck. Still nauseous; his heart raced.
A buzz went off in his jacket pocket – it was Charlotte texting him with two words "We're waiting!" Suddenly he could no longer contain himself and as he fled 6 more flights from a world of ostentation and pretense for the sake of the almighty dollar, 5 more flights from selfishness earned through copious years of investing for others, 4 more flights from the world of privilege and elitism, 3 more flights from what he fully realized was his death sentence, 2 more flights from the death of his soul, his heart, his mind, body, and being, 1 more flight as he pounded his body against the heavy metal space bar out into the alley between the buildings; gulping the cold, frosty wet air, and feeling the sweat on his neck turn to ice, Charles wondered what to do next. At one end of the alley was Broadway, at the other close to where he had exited the building, two large metal dumpsters were placed to contain the refuse that was tossed in black trash bags down chutes from the building. Felling light headed and in need of rest Charles made his way down the icy alley toward the dumpsters. He found a spot on a concrete ledge behind them where no one could see him from the street or windows in the building above. Squeezing himself behind the dumpster closest to him, he was surprised to find a pile of dirty blankets and a pair of worn out hiking boots next to them. The blankets looked like a mound of trash, perhaps discarded by some homeless person, one of many who took refuge in the city's alleyways seeking shelter from the cold harsh winds that blew up Broadway from Battery Park.
Late fall and winter were especially difficult for the homeless in this lower corridor of Manhattan. The streets were basically empty from Friday night through the weekend, since most of the Exchange and the surrounding enterprises were closed. A few merchants on Nassau Street which lay a block east of Broadway kept their doors open on Saturday hoping to gain the tourist trade that ventured by bus, subway or foot down to where the Twin Towers had originally stood. Most came to gaze silently at the spot where now stood the beginnings of new ones. Those who could fathom the depths of the tragedy that had occurred on that fateful day in September 2001 could be seen standing silently holding hands or each other; with tears streaming down their faces. Others came wearing t-shirts and baseball caps emblazoned with the American flag or other patriotic logo, to gawk, take pictures, and then walk on down to the Battery for a trip out to Statue of Liberty. Only those who worked in the district or had had a connection to someone who had died there understood the enormity of the loss and the new buildings being constructed over the spot where the Twin Towers had once stood. Charles had once made the unfortunate mistake of remarking after a few martinis with Charlotte that he felt the new towers were ostentatious and inappropriate. Charlotte had rankled; admonishing his sentimentality, telling him that he was as big a contributor to capitalism as anyone else and did he think that the cost of doing business in the greatest country in the world came without a price? Their argument had been somewhat heated, and after all was said and done, Charlotte had spurned his attentions for several days telling him that she was rethinking their pending nuptials. She wanted to be married to someone aligned to her way of thinking. She thought Charles had been namby- pamby, even socialistic in his comments, and wondered if he truly understood what was expected of him as a future partner at Lincoln-Lester, and as her husband!
In the end the Old Man had threatened to retract his offer to finance Charlotte's future as a writer, telling her that she could expect a lonely life of operating the company without Charles with no time to write. He demanded that she make it up to Charles, so she had done just that; showing up at his apartment unannounced wearing her knee-length red vinyl Chanel overcoat, sky high black leather boots with nothing on underneath – a token of her acquiescence to his way of thinking, or rather, his dick's way of thinking! Charles did not know if he trusted her, still, he had made a promise to the Old Man to repair any damage before it got too out of hand, so they had had intercourse right there in the foyer of his apartment with Charlotte's gorgeous naked ass sitting on top of the marble entryway table; her long legs wrapped around him as he took her roughly, listening to her gasp and moan as she clung to his broad shoulders, while he watched himself in the large mirror behind her that reflected his angry face. He hated himself for wanting her so much.
Charles found a stray piece of cardboard lying behind one of the dumpsters. Placing it on the ledge he sat down and blew on his bare fingers, realizing that he had come out of the building wearing only his suit coat. A cold breeze was beginning move up Broadway as light snow fell amidst a cold drizzle. Charles sat there, gulping in deep breaths of air with his hands buried in his suit coat pocket, alternately stamping one foot then the other in an effort to keep his feet from freezing. He felt the way he had when Lula had died, afraid and lonely, with no one he could go to for guidance. He didn't want to squire the Prince around town like his trophy American investment manager. He didn't want a Lincoln-Lester partnership or marriage to Charlotte or any of it – he realized he had bought the entire kit and caboodle – and now he had to get out of it – somehow. But how? Where could he go where he could think, where no one would ask him what he thought of the Renumbi black market in China or how the Euro had lain waste to Capitalism, creating an equal playing field in those countries utilizing it as a form of currency to devalue the Almighty Dollar.
"Damn it, damn it damn it, damn it, damn it!" Charles stomped his feet in angry frustration against the trash bins, then leaned back to peer up at the windows of the building, hoping no one had heard him.
"What's all the ruckus!?" a muffled voice sounded from somewhere, startling his thoughts.
Charles looked under the trash receptacle, then stood up to peer inside of it. He swore he had heard a voice – but where had it come from? Suddenly the heap of dirty blankets began to move, causing Charles to lean back against the wall of the building to ensure his safety. A partially gloved hand came out from underneath them grabbing the hiking boots as a muffled voice said, "Damn it yourself, man! I was having a wonderful dream about me and Carmen Miranda getting cozy on a tropical island. She was just about to give me a bite of her fruit!"
Charles stared as the blankets were thrown back to reveal a grizzly bearded man wearing a stocking cap pulled tightly over his ears, a tattered overcoat that was several sizes too small for him, held closed by a length of rope over a filthy pair of pants and a flannel pajama top, layered over several tee-shirts that were equally filthy. One of his gloves had the fingers cut out to allow them access to picking things up from the street or out of a trash can. The other glove was a complete mismatch to it.
"Can't a-body get a good day's sleep around here?!" the stranger said, sitting up on the pavement as he wrapped a blanket around his shoulders to put his boots on. As the man held them up to place the boots on his feet, Charles saw that the soles bore large holes in them and were patched with sheets of cardboard in an attempt to offer some dryness and usability. There was also a large hole in the toe of the right boot, patched with several layers of duct tape.
The man peered up at Charles through squinted eyes from his place on the ground, rubbing his slack jaw and moving his chops to get his mouth working. He finally opened his eyes wide, looked at Charles and said "It's a good thing you woke me up. My jaw was beginning to freeze shut! What a catastrophe that would have been!". The man yawned loudly, opening his mouth wide to reveal a full set of beautiful white teeth. Charles stared at the hobo's mouth, unable to comprehend how someone so blatantly dirty could have such gleaming teeth. Responding to the amazed look on Charles face the stranger said, "Don't let the choppers fool you, son – their fake! Easy to keep ém clean too!"
He whisked out the uppers to run a gloved finger over them, making sure to remove the faintest hint of debris. Then he replaced them and did the same to the bottoms until he was satisfied with their cleanliness. Replacing them he remarked, "Only problem is that I'm out of Poligrip and the shelter ain't got a dental clinic for another ninety days. Hard to eat a dirty water dog when your dentures are sloshing around in your head!" He smiled up at Charles like a Bodhisattva who had just revealed the secrets of the universe. Charles did not know what to say. The hobo extended his half gloved hand upward and said, "Give me a hand up off this pavement, friend. My legs is stiff with cold."
Without thinking, Charles got off the ledge and leaned down to assist him. The stranger felt almost light as Charles gripped him by one hand while supporting him under an elbow with the other. Once the man was standing, Charles could see that he was tall and much too lean for a man of his height – he towered over Charles by at least two feet. The stranger reached into his coat pocket to withdraw a wad of tissues, blew strongly clearing his nostrils of sleep, then offered his hand to Charles in a friendly handshake. "Right neighborly of you, friend."
Charles noticed that his speech had a slight accent, almost Southern in flavor. "That's alright", Charles responded, almost unaware that he was speaking. Friend? Charles had not been called friend since his best friend in high-school had gone off to University.
"Name's E. Willoughby Jones" the hobo offered. Formerly of Georgia. He bowed low then stood up wearing a goofy grin. "The E. stands for Eustice, just like my pappy and his pappy before him – I'm Eusitce Willoughby Jones the III! We're in onions – them great big Vidalia onions – the type that grow ripe and brown with a silky skin and taste sweet – raw or baked- makes no difference!"
He reached into his worn coat pocket and pulled out a tattered picture. It was of a young boy standing next to a man appearing to be in his early 20's. They both wore overalls with no shirts, were barefoot, and squinted at the camera. They were almost identical in appearance except the younger one was leaning on a hoe while the older one pulled close into him with his arm around the smaller boys' shoulder. "That's my older brother Grayson – he was a heck of an onion farmer until that damn Vietnam war called him up and there he went off to join the air force and got himself shot to pieces. He always wanted to be a pilot. "Damn it", Pappy would say – "Grayson you ain't got no more business bein' a pilot than Dumbo's got flying around by his elephant ears – you're a farmer, son, and born to it!".
The hobo took a breath and got a sad look on his face before continuing. "Grayson was supposed to inherit the farm after Pappy died, then my next older brother Marion, then me. The air force sent my mama this picture of us along with Grayson's helmet and a purple heart – seems he got blown up trying to save some Army fellows in a sniper attack by them Viet Cong – took out every one of them Cong fellows and rescued a whole platoon of our boys – his plane stalled and down he went right into enemy territory. We ain't heard hide nor hair of him since – he'd be 68 right about now." The hobo stood looking up at the sky as snow fell on his face. "I wonder if he's still got them strong shoulder's he used to butt me with when we'd play football as kids?"
Charles stared at Willoughby wondering if he should interrupt him. He was freezing and feeling as if he should find a warmer place to stand. As if reading his mind Willoughby leaned down, grabbed an old tattered blanket off the ground, and wrapped it around Charles, making sure it covered him from his neck to his hips. The blanket fit Charles like a well-worn scarf.
" Ït's right cold up North, ain't it, friend?" By the way what does your mama call you?"
Charles looked at Willoughby as he sunk into the warmth of the blanket. He felt a kinship with this man – something he had not felt in years. "She calls…my mother called me Charles. She's dead." Charles responded.
Willoughby patted Charles' shoulder sympathetically. "I know how you feel, Charles. When my mama died it broke my heart – she was such a kind, carin' woman. Marion was her name. They named my brother Marion after her – he's the spittin' image of her too. It was sort of a joke on my folk's part calling him Marion. It made him tough in school since all the other boys picked on him and called him a sissy – but he ain't. He's married now with three girls – all the spittin' image of his wife Judy Rae; prettiest girls you ever seen, too. They run the onion farm; Marion got it after Grayson passed. You got any wife and kids, Charles?"
Charles shook his head then added, "I'm engaged".
"Ï bet she's pretty – all these New York City women are real pretty – even the ugly ones!" Willoughby guffawed loudly opening his mouth widely, then shut it quickly to keep his loose upper denture from slipping out. Mushing his chops together he said. "Come on, Charles let's go get us a nice hot cuppa somewhere and chew the fat. Mama always told me to have a nice hot cuppa with a friend daily – said it makes life more enjoyable getting to know someone that way."
Charles wondered what a cuppa was, then suddenly realized that the man must mean coffee. Willoughby gathered up the rest of the belongings; another tattered blanket and small worn black duffel bag, and picked up a large piece of cardboard he had been using for a mattress against the cold ground. He wrapped his things into the blanket, stuffed that into the duffel, then tossed the cardboard into the large trash receptacle.
"Mama taught me to keep things tidy. I always pick up my trash to throw it away – not like some of these other fellows out here on the street. Lord, they act like they never had mamas at all the way they leave a mess behind!"
Taking Charles by the elbow, he propelled him toward the front of the trash receptacles. A cold breeze blew into the alley as snow began to fall heavily. Willoughby looked up at the sky, opening his mouth to taste a few flakes. Turning to Charles he said " It doesn't snow often in Georgia – it's hot and it rains some but I don't seem to recall much snow. You ever been to Georgia, Charles?" Charles shook his head acknowledging that he hadn't.
"Well, you'll just have to go sometimes – in fact, I been thinking about going back to see how Marion and Judy Rae, and the girls is, but I ain't got no money for the bus fare, and I ain't one to beg for it. I never did understand some of these guys out here begging – I find whatever I need in the dumpsters – people in this city can be so wasteful – and if I need a good hot meal there's plenty of churches and soup kitchens here. You ever been to one of them soup kitchens, Charles?"
Charles shook his head no again. Willoughby asked, "What day is? Without waiting for a response from Charles he added excitedly, Ïf it's Wednesday, it's Prince spaghetti down at the kitchen on the Bowery. Johnny who runs it makes a heck of a Bologneesee! Not too many of the kitchens get good meat but the chef there is a former Mafioso."Willoughby offered this piece of information in a soft voice, ensuring that only Charles could hear him, then continued.
"Johnny told me that while he was doing time for money laundering, the Virgin Mary came to him in a dream one night to give him her secret Bologneesee recipe. She told him that he was a good boy, and that he was gonna get of prison soon, and that when he did he was supposed to help the poor. After Johnny got out of prison he divorced his mob wife, sold his five-bedroom house in New Jersey, bought a small restaurant with a few apartments above it and opened the kitchen for us homeless types. He serves us every day – even on weekends when other kitchens are closed – everyday, Charles! He added this last bit of information and looked up at the sky with his hands pressed together as if offering a silent prayer.
"Johnny's one of the good ones – he even let's some of us sleep inside one of his apartments and let's us use the shower when the shelters are too crowded or its too cold to sleep outside."
Before Charles could respond, Willoughby pulled a small date book out of his coat pocket, fished around in the other and produced a pair of fake horn-rimmed reading glasses, the type purchased in the Dollar Store that magnify small words yet make one's eye appear larger than normal. Placing them on the tip of his nose he thumbed through the book until he came to the day he was looking for – sure enough it was Wednesday. Charles could have told him that – in fact he could have given him the date and time on five different continents just by reading his $8,000 stainless steel and rose gold Gruen watch that had worked its way down over his right hand tucked deep into his suit jacket pocket to keep it warm. Yet something compelled him to remain silent. Willoughby was fascinating; way too interesting to interrupt.
Charles peered over Willoughby's shoulder, noticing that the calendar was filled with hand written notes and dates carefully checked off in pencil. Indeed: it was Wednesday, or "Prince" spaghetti day as Willoughby had so eloquently put it. "Hot dang! Willoughby nearly shouted, turning to peer at Charles through his frog-like eyes made larger by the cheap glasses. It's time for lunch! Come on Charles, let's go get us some good vittles!
Chapter 5: Lunch with the Mob
Snow began falling thick and fast as Willoughby and Charles made their way out of the alley toward Broadway. The normal hustle of the mid-week lunchtime had been replaced by a few cold, disgruntled delivery men from local haunts making their way through the snow, carrying large bags of sandwiches and hot soup to the myriad of workers who populated the buildings in lower Manhattan. Traffic was almost non-existent, or moved very slowly as it wended its way through the icy streets, giving the unlikely pair an opportunity to walk straight up the middle of Broadway heading North.
Seeing that Charles had no hat, Willoughby suggested that he wrap the blanket around his head to keep it warm, just as he had done. They moved up Broadway like two lonely desert travelers in search of their private oasis. Willoughby continued to chatter away as Charles listened, ignoring the persistent buzz of the latest version of the I-phone in his breast pocket, knowing that it was Charlotte wondering where he had disappeared to. Charles knew Charlotte and the Old Man would be furious at him for deserting the meeting, still, he didn't care. He felt light, lighter than he had in years walking along the snowy streets of the city with this stranger who called him friend, and who wanted to take him to lunch for a change.
"Friend, you are in for the best lunch of your life! Johnny is generous too – there's always seconds and sometimes thirds, depending on how many folks show up. And sometimes Johnny gives us red wine and garlic bread – mama mia – we'll soon be eatin' like regular Eyetalians!" Willoughby pronounced conspiratorially, smacking his lips together while picking up the pace. "Come on, Charles, we don't wanna miss lunch!".
Like salmon swimming upstream, the pair slipped and slid up Broadway toward Canal Street, past slow moving traffic and equally slow moving pedestrians, past the entrance to the Holland Tunnel, until they reached the corridor leading them East onto Canal Street toward Chinatown. Merchants along the row had pulled in their wares to reduce damage from the now swiftly falling white precipitation that fixed Manhattan like a large snow globe, making it clean and quiet in the soft beauty of the wintry flakes. As they reached Mulberry Street a cab came skidding down Canal heading west, its brakes squealing as the driver cursed them for walking in the middle of the street. 'Got outta they road, you friggin' bums!"
Bums! Willoughby swept low as the cab passed, bowing in deference to the driver, shielding Charles with his considerable height. "As you wish, kind Sir, and a good day to you too!", Willoughby shouted after the cab as it skidded past them. "Them cabbies can get pretty upset when you walk up their turf, Charles, but pay them no never mind, most of them is right generous when it comes to needing a cuppa or a lift to a shelter." Come on, Charles, we are almost there!" Willoughby picked up the pace again as Charles followed, slipping behind him in his now almost ruined $1,500 John Lob shoes. He wondered how Willoughby kept walking so fast without falling, being that the soles of his boots were almost paper thin.
"Got to get me a new pair a boots someday soon, friend," he had pronounced as he had laced them up with string. "Maybe we'll go over to the shelter after lunch to see if they got any good clothes to hand out today. Them shoes your wearing won't last more than a few months out here full-time!"
Charles pondered Willoughby's words, wondering what it was like living on New York's mean streets day in and day out. He wondered how long his new friend had been on them, too. From the looks of it Willoughby appeared to have been homeless for a long time. How he remained so affable was a mystery to Charles; perhaps living without a home, job, and the other encumbrances of life was easier. He could also be a mental case, Charles had briefly considered, but Willoughby did not strike Charles as someone who had lost touch with reality. To the contrary, Willoughby seems alert, bright, and happy to be alive.
Rounding the corner at Bowery and Broadway, the new friends encountered a line of people, including a group of men wearing layers of mismatched clothing to keep warm, two older women lugging suitcases filled with their hard won treasures from dumpsters, and memories of another life, and one wheel-chair bound individual sunk low into the chair holding a small dog on her lap, with an older woman in a long coat and wool hat standing behind her. Charles could not make out if this person were male or female since they were swathed in blankets up their nose and wore protective goggles over their eyes. Willoughby was greeted heartily by several men in the group.
"What it is, Will.", a toothless black man wearing a large black garbage bag over his clothes to keep dry smiled broadly at the pair "Who's your new buddy?" "This is my good friend, Charles, Ronnie. I brought him along for some of Johnny's good sauce!" One of the older women cackled behind yellow tobacco stained teeth then said, "Sauce and then some – Johnny's home-made vino is the best! But don't give out the secret, young man otherwise we'd have every wino, and their relatives showing up here for a taste! Tee-hee", she cackled coquettishly into her glove, looking at Charles and batting her eyelashes. She reminded him of one of those women who might have been a dancer with the Rockettes. Her makeup was immaculately done as were her fingernails, and even under layers of grimy clothing he could see that she bore an elegant stature.
"When are we going dancing, Flo? Willoughby swirled her around in his arms under the snow that fell heavily now, covering everyone in line with a wet powder. Flo leaned into Willoughby's shoulder and let him lead. "Oh, you charmer! I ain't been dancing since they replaced the girls at Radio City with them non-Union Barbie doll types. When management gave me my walkin' papers after 45 years of high steppin' saying they were replacing us with a younger lineup even after the Union tried to keep us working, I told them they could stick those papers where the sun don't shine, didn't I Mimi!"
The other woman peered at Flo through thick glasses that were frosty with cold and held up a tattered-gloved hand. "We were the belles of the ball back then!", Mimi responded, then did a pirouette on the sidewalk falling into Charles as she slipped across the wet snow. Catching her before she landed, she looked up at him with flirting eyes and said, "Hello handsome, been to this soiree before?"
The men in line chuckled as the two women danced around Willoughby, who held them by their hands as they attempted to show off their high-kicks under layers of thick clothes; cackling and slipping across the sidewalk. Someone began to keep time on a tin can with a pencil, adding an elegant rhythm to their dancing as others clapped in time. Finally, a large metal door on the side of the building swung open revealing a stout, swarthy man wearing a fishnet over his well-groomed pompadour, and a large white apron over his burgeoning girth. Charles assumed this was Johnny.
"Bon giro-no you'se guys – what a day for some good hot Bolognese, eh? Johnny greeted each person in line as if they were customers at the Ritz. "Ah, the bella's Flo and Mimi, he exclaimed kissing each of their gloved hands as if they were royalty. "Madonna mia, come in ladies, and get warm by the heater. Hey, Alfred, you'se lookin'better after that 'bout of flu you had last month, tank, Jesus! Harvey, where ya been hidin — it's been two weeks since I last seen ya!", and so on until Willoughby and Charles stepped up in line. Willoughby bowed to Johnny then stood to face him with a goofy grin "Whose your buddy, Will?", Johnny eyed Charles from his expensive shoes to the filthy blanket now covered with wet snow.
"This is my good friend Charles – he don't talk much, but then who can get a word in edge wise around me!", Willoughby guffawed. Johnny took Charles by the shoulder and said, "Come on in Charles and get ya some good home cooked food. The Virgin Mary's' recipe is just about ready!!"
A sharp bark came from behind them, emitted by the small dog which appeared to be a long haired dachshund being held by the figure in the wheel chair. "I ain't forgot about you Bowser, or Miss Bunny and Sister Mary!", addressing the other woman standing next to the wheelchair. "I got seats right next to the kitchen just for you where it's nice and warm! Go on in fellas and get comfortable!" Johnny said to Will and Charles as he moved out into the street to push the wheel chair in from the snow as the tiny dog jumped out from under the blanket it was sheltered in, wagging its rear end and yapping in greeting.
"Bello, Bowser – yes, good boy, I got a special treat for you too. Ushering Sister Mary in before them, and pushing the wheel chair through the door, Johnny turned briefly to pull it shut against the cold afternoon sky that was growing dark and threatening more sleet. He looked up at the dark clouds, crossed himself, then pulled the door tightly shut behind him, sheltering his motley guests from the lonely world outside. Lunch was served.
Charles took a seat at a long table covered with a red and white checkered cloth, replete with candles in tall glass jars featuring pictures of Jesus, and of course the Virgin Mary. The candles burned brightly in the dimly lit room. Several bottles of what appeared to be wine were set along the table, as were baskets covered with white linen napkins. The baskets held loaves of fresh, hot Italian bread slathered with butter and garlic. The odor of the garlic made Charles' mouth and eyes water. Sitting between Willoughby and Ronnie, Charles half listened to their conversation as he took in the company sitting at the table. Some of the men had removed their hats and coats. They were dressed in old faded sweatshirts, frayed sweaters or flannel button down shirts. Mimi and Flo retained their hats and scarves worn over layers of dresses and thick tights. At the end of the table, Johnny was un-wrapping a long scarf from around Miss Bunny's face. As he un-wrapped her, Bowser stood on his back licking Johnny's hands. Finally revealing her face Charles was taken aback. Underneath the scarf appeared the face of a beautiful child-like doll with deep brown eyes, a pert nose, rosy cheeks, and porcelain skin. Tiny hands reached up to take Johnny's large ones. Charles noticed that the fingers on the hands of this doll appeared webbed; almost claw like. Observing Charles take in the scene Willoughby leaned in to explain in a whisper.
"Miss Bunny has dwarfism and a form of arthritis that make her hands almost useless. She's been attempting to get her disability benefits for years but because she has a pre-existing condition no-one will insure her, so documentation from a doctor is almost nil for what Social Security requires since she goes to a free clinic. Johnny made sure she was housed with The Sisters of Perpetual Mercy over at a convent in Little Italy when he found her sleeping in her wheelchair in the alley behind the building here. The Sisters take care of her and Bunny is able to live in relative comfort. They think she's an angel sent to them from heaven to teach them humility and service. She looks like a tiny doll with her brown eyes and chestnut hair, doesn't she Charles?"
So as not to appear as if he were staring, Charles took in Bunny with a few sideways glances. As Johnny removed her hat he saw her shake down her brown curly hair. It appeared lustrous and fell to her shoulders. Miss Bunny looked up at Johnny with large soulful brown eyes, smiling at him like a beaming child would at her father.
"Thank you, Johnny.", she said in a small squeaky voice placing his hand against her pink rosebud mouth to kiss it.
"Ah bella, Madonna mia!", Johnny, as he crossed himself – "You'se is my angel, Bunny!" Then turning toward the gathering at the table Johnny announced, "Everybody listen up – we got us a new comer today – his name is Charles. We wanna welcome him as a friend to our table!"
Charles felt his face grow flush. Everyone at the table bent forward from where they sat to offer a handshake or a name if they were not in reach of him. There was Ronnie, Harvey, Flo, Mimi, Bowser and Miss Bunny, with Sister Mary sitting to his right, while Willoughby, Tom, Frederick, Harold, and Monty sat directly to his left. It was a small group that had been hand selected by Johnny for meal assistance in his kitchen. Others who were not so fortunate to be at the table received the help of the Sisters. Johnny gave the Sisters cash every month to go out into the street to minister to them, offering food, clothing, blankets, and other essentials in an effort to give some comfort to the homeless crowding lower Manhattans alleys, churches and subways tunnels. Johnny had also set up a special program for the many disabled homeless veterans who after being dropped off the cliff by the government upon their return to the U.S. from one of the ongoing wars, had taken up permanent residence with the bottle on the Bowery. When Johnny had discovered that Willoughby had lost his brother in' Nam he had invited him to his kitchen. It was not just the soldiers who were casualties of war. Willoughby talked about his brother Grayson as if his life depended on it, causing Johnny to speculate if Grayson's passing had sent Will over the edge. Why anyone would walk all the way from Georgia to live on New York's mean streets was a mystery to Johnny, but that's just what Willoughby had done -claiming that he had always wanted to tramp around by foot and see the country – which had been umpteen years ago. Will had made it as far as New York, found Johnny's kitchen, and never left.
"Since Charles is here for the first time we will share our bread and our hearts. Who wants to say the blessing today?", Johnny asked. Willoughby stood up swiftly and said – "Please, allow me, Johnny. " He removed his skull cap revealing a bald head covered with pocked marks and little bits of hair. He had contracted lice sleeping in a shelter and had been force to shave off his hair. After that, he no-longer slept in the shelter, figuring it was cleaner sleeping in the city's alleyways. The other men at the table removed their hats to reveal hair in equal states of disarray. So as not to be the only man at the table with his head covered Charles lowered the blanket he had wrapped around his head to reveal his well-trimmed but matted hair and neat sideburns. The others stared at him without saying anything. Their expressions lacked judgment or reproach. No-one ever asked another what their true circumstances were, at least not in public and never in a group. Everyone's reason for being on the street was a private affair known to them alone, and the person or persons they chose to reveal it to.
Johnny surmised that Charles was running from something but wasn't yet certain what it was. He appeared too dapper and clean to have been out on the street for very long. Perhaps he was in the throes of a mental break down after a divorce or even a job loss. Johnny would talk to him privately to get the story – if not today then soon. Right now he had a meal to serve and a sumptuous one it was going to be.
Addressing Willoughby, Johnny said, "Please go ahead wit' da the blessing, Will.". Willoughby held his skull cap between his large hands and spoke, "Dear God, I guess you're up there because today you answered my prayer by sending me my new friend, Charles. If it wasn't for him I might not have woke up in time to get here for lunch today, so I am mighty grateful to you for sendin' him my way."
The group at the table remained silent as Willoughby continued. "I know you have your hand on Johnny, God, and will keep him in good stead while he takes care of us lost souls out here – we ain't bad, no Sir, – we're just a bit confused, and in need of someone like Johnny to keep us fed. In all of this crazy world, God, thank you for bringing us all together as a family. And bless this good food that we are all gonna get fat from! Amen."
"Amen", the group responded in unison as Johnny added, "Ecola, Mangare!"
Chapter 6: Kristal's Dilema
The Old Man and Prince Samir sat sipping hot coffee, discussing the latest Market events as Charlotte once again texted Charles. She had called Kristal on the conference room phone to see if he had gone into his office. Kristal had been surprised to receive the call since she assumed that Charles was in the conference room. After hanging up with Charlotte, she had gone into his office to see if he had possibly slipped past her while she had gone to the break room for some coffee. His cashmere overcoat and Burberry scarf were on his desk where he had left it; his umbrella stood open in one corner of the office drying by the heater. His unopened briefcase sat next to his mammoth desk chair – a giant brown leather contraption that had belonged to Earnest A. The chair's well-oiled skin shone against the lamp light on the credenza behind it, against the window looking out into the alleyway.
It was very unlike Charles to go out without his overcoat and umbrella in bad weather. He had a tendency to catch cold easily and attempted to keep himself bundled up at all costs. Even in the summer when the air conditioning was on full blast – he'd sit at his desk reviewing prospectus' and spreadsheets while Kristal served him piping hot tea with lemon and honey as he sniffled into his initialed linen handkerchiefs. She thought it endearing that he used a handkerchief even after Charlotte had asked him not to reuse it in public, saying that it was unsanitary. Charlotte could be very resolute when she made her mind up about something, so Charles had begun to keep a packs of disposable tissues in his coat pocket; saving his handkerchief for private use.
Kristal approached the window just right of the credenza behind the equally mammoth tiger oak desk to peer through the filmy glass, darkened by the sleeting snow against the cold November sky. She could just make out the office across the way in the building next door, where a young man sat with his back to her hunched over his trading screen quickly taking notes as the numbers flew across it. Then just as quickly, he stood up with his pad and ran out of his office, leaving the door slightly ajar. Kristal got a funny feeling in the pit of her stomach – she sensed that Charles had left the building but was not sure why he would do so without his coat. The phone on Charles's desk rang suddenly bringing her out of her reverie – it was Charlotte demanding to know what was going on.
"Have you found him yet, Kristal?", Charlotte spoke menacingly into the phone.
Kristal responded "His coat and other things are here in his office but there is no sign of him. I was just going to check the men's room to see if…" The phone on the other end was hung up abruptly. Kristal moved to get out of Charles' office to meet Charlotte in the hall way.
Charlotte graciously excused herself, telling the Old Man and the Prince not to get up that she would be back soon. She made her way swiftly down the long corridor toward Charles's office cursing him under breath "Damn that man, and his sensitive stomach – I will throttle him when I find him!"
Kristal appeared at the end of the hallway looking bewildered. "He's not in the men's room either.", she said, as Charlotte moved past her; walking into the men's room to make her own assessment. Her high-heeled boots clicked across the floor like daggers. As she came back out into the corridor she moved close to Kristal and said in a menacing tone, "I know you would do anything to cover for him so you listen to me, Kristal. If you want to keep your job here, you better find him in the next 15 minutes or you are on your way to the unemployment office."
Kristal moved slightly away from Charlotte and took a deep breath before responding – she had seen Charlotte this high-strung before and knew that the threats were empty – she just had to keep her cool while she thought of what to do next. "I will find him, Charlotte." Why don't you tell Mr. Lester and the Prince that he is on an emergency call with an investor, cannot be disturbed, and sends his apologies – he will return to the meeting soon."
Charlotte stood fuming before Kristal wondering why she had not thought of this first – damn Charles for hiring someone so quick on her feet and likable, too. "Humph – just make sure you get back to me when 15 minutes are up or else." She wagged her long well-manicured finger in Kristal's face. "Get security on the phone to check if they saw him leave the building. I'm going back to the conference room." Without a thank you Charlotte spun around, quickly marching down the long corridor, her chestnut pony tail swinging high on the back of her head, reminding Kristal of a horse's mane.
Kristal stuck out her tongue behind Charlotte's back as she receded down the corridor. She did not like Charlotte and knew she was using Charles. She wanted so much to protect him from her and the Old Man, knowing that Charles was a pawn in their game. She had contemplated quitting several times, but as fate would have it each time she got up the gumption to do so Charles would give her a special assignment that required her to spend time with him, and her heart would get the better of her. How she had fallen for him she did not quite know. He was very different from the men she dated, and the boys she had grown up with – loud, boisterous, working class men who were decent and kind but lacked substance and grooming, at least for her. Charles was well groomed, quiet, and introspective – they could talk about almost anything with ease, and she never felt as if she had to hide her working class background from him. She did not know much about his upbringing or how he had gotten to where he was – she just sensed that they were very similar.
Kristal sat her desk dialing building security, asking if Charles had signed out at the front desk. When they answered that he had not, a sense of foreboding gripped her belly causing her to shiver. Something was definitely amiss.
Chapter 7: New Friends
After Willoughby's grace, everyone dug into salad and hot garlic bread while Johnny walked around the table lading serving large portions of cavetelli and Bolognese. The sauce was steaming and rich with fresh tomatoes, onions, garlic, loads of beef and pork, with a touch of homemade red wine. A carafe of the wine was also passed around the table, and for those who could not or would not drink, Johnny had some sparkling water. Johnny knew that wine was not served in other kitchens since some of the homeless where there due to alcohol and drug issues, but in his kitchen his clients did not have those issues. Besides he contended to himself, a glass of red wine was good for the heart, and warmed up these folks on a cold day. With the heavy food the effects would wear off soon after they ate their rich creamy tiramisu and drink a hot cup of coffee for dessert.
Will poured himself a healthy slug and then poured one for Charles. "Here's to ya, friend." Will raised his tumbler to Charles then drank down the wine in one swift gulp, heartily, smacking his lips and pushing his pearly white upper denture back into his mouth as it attempted to slip out. "Ah, that warms ya all the way to the toes. Have a sip, Charles. It'll get your blood thicked up again!" Will guffawed at his own comment then just as swiftly changed from affable clown to reverent Buddha, closed his eyes, bowed his head, and said his own silent prayer over his plate of steaming food before digging in.
Charles looked around the table watching everyone doing the same. Hunkered down over their plates most of the men held their arms around their plates, protecting them as if this might be their last meal, while Mimi and Flo nibbled and picked from each others plates, wrapping up items that would keep in napkins to take outside with them for later. Johnny walked around the table asking everyone if they wanted seconds, making sure the wine and water glasses were full, inquiring as to various people's states of health. He noticed a dirty band aid over Harvey's eyebrow and discovered that he had cut himself when he slipped on an icy street trying to run out of way of traffic. Harvey's right hand was also swollen and bruised making it hard for him to hold his fork even though he was making a valiant attempt of it. Going into the kitchen Johnny came out with some warm wet towels, antibiotic ointment, and a sling for Harvey to wear under his make-shift coat so he could keep his arm elevated to allow the hand to heal more quickly.
"You'se ain't boxing for a while wit dis mitt!" Johnny quipped as Harvey let him wrap his hand in some bandages that had been warmed in the microwave. Johnny expertly wrapped the hand, leaving enough of Harvey's fingers showing so he could hold his fork more comfortably. He gave Johnny a grin, briefly showing a mouth missing several front teeth. These too had been knocked out in a similar accident last year, but Harvey figured it was easier living on the street with less teeth since he could not afford a dentist.
At the far end of the table sat Miss Bunny. She wore large goggles that made her eyes look cow like. Willoughby had whispered to Charles discretely that due to Miss Bunny being partly albino she was very sensitive to light. Johnny had purchased her goggles when he first found her on the street and immediately took her for glasses which were equally thick but which Bunny found difficult to wear unless someone helped her on with them due to her webbed fingers, so she preferred to use the goggles, especially in inclement weather. Today she had been wheeled over to Johnny's kitchen by one of the nuns, Sister Mary, who sat at the other end of the table next to Bunny, ensuring that she would be taken home safely. Bunny attempted to feed herself with her crippled fingers, while every now and then Johnny, who sat on her right or the Sister on her left, would lean in to assist her. Bowser sat quietly on Bunny's lap in a half-slumber with one eye open in the event Bunny dropped any food, which was frequently. Bowser would scarf it up and feign sleepiness until the next tasty morsel of Johnny's good Bolognese hit the towel that lay across Bunny's lap.
The Sister enjoyed Johnny's hot meal in silence with a slight grin on her face as she took in the proceedings. Lisa Gilliam, now known as Sister Mary, had been near homelessness herself after her marriage to an abusive husband had finally ended. She had no children and felt the need for deep contemplation and a new meaning to her life. Her job as a legal secretary paid the bills but had been taxing. She had taken to going to the church during her lunch hour to find a bit of solace. The nuns always prayed at mid-day and Lisa had enjoyed sitting in the back of the chapel observing them, feeling a strange sense of comfort and union with them. After several months, she had gone to the Mother Superior to ask her how she could join the order. In a moment of ecclesiastic revelation, the Mother Superior who had been in need of a good secretary, interviewed Lisa without hesitation and within a month Lisa became Sister Mary. Even though she was far behind the other Sisters in her learning of the prayers for masses and other religious observances, Sister Mary earned the admiration of older nuns who had been devout for decades and marveled at her ability to memorize her devotionals so rapidly. Mother Superior had assigned the care of Miss Bunny to Sister Mary when Miss Bunny needed to travel outside of the convent, since Sister Mary was well aware of the legalities surrounding their disabled ward; plus, they enjoyed each other company. Mother Superior was certain that Sister Mary was a true gift to her from God.
Charles sat stupefied taking in small bites of his meal as the 11 people before him sat around the table enjoying the warmth, companionship, and of course Johnny's good cooking. He rarely felt at ease in social situations, preferring to dine alone or with one or two companions, a hold-over from his childhood and many nights of eating supper alone while Lula had worked. He never seemed to mind eating alone, but now felt somewhat overwhelmed as if he had been missing out on something for many years. He caught snippets of conversations between Harvey and Will who joked with each other, while Mimi and Florence expressed their satisfaction with the food between bites, and the rest of those present were urged to "mangare" as Johnny got up to refill plates, glasses, pass bread, and generally urge everyone to enjoy their full.
Stopping behind Charles' chair, Johnny placed a hand on his shoulder in a fatherly way. Charles almost jumped out of his seat then realized that Johnny's touch was friendly – when had he become so wired for defense? "You'se ain't eating much, Charles. Dig in – it's a long time before the next meal sometimes."
Johnny pulled an empty chair up to the table to angle himself between Willoughby and Charles. Charles looked at Johnny with a lopsided grin then dug into his plate of pasta realizing just how hungry he was. He hoped that Johnny wouldn't ask too many questions since he wasn't yet ready to revel himself to anyone, at least not yet. Johnny sensed that there was more to Charles than met the eye, even noticing his expensive shoes when he came in, John Lobs that gleamed in the dull glow of the florescent overhead lights. Johnny had owned several pairs of them when he had been into his game, but had given them away to some worthier wearers after he had opened up his kitchen. He knew Charles was running from something, but what? He didn't seem to be the type who was into some bad game like Johnny had been. No, Johnny sensed Charles was too gentile to get himself mixed up in any mob stuff. Perhaps he was running from a dame or had just flipped out. Sometimes the stress of life on sensitive types proved too much.
Johnny looked over at Willoughby who was chomping down on a giant piece of warm garlic bread in between sips of his wine. Will was one of those sensitive types. Losing his brother in 'Nam had driven him over the edge and Will had never made it back. He frequently talked about going home to see his family but never seemed to get up the gumption to do so. Johnny never questioned him, allowing Will to wax poetic about farm life in the South and how beautiful his nieces must be, like sweet Georgia peaches blossoming in the warm sunshine. Johnny felt that Will and Charles would be good for each other, so for the moment he kept his curiosity to himself.
Chapter 8: Into the Storm
Kristal stood before the heavy oak doors to the conference room, drawing in her breath before knocking. She had searched the office suites that encompassed the workplace of Lincoln-Lester, and had asked security to do a walk -through of every men's room in the building. She had also called Harry's Bar and the Racquet Club to see if Charles had perhaps gone there to cool off, as he did when something bothered him or he needed a place to sit and think about his work. Charles was devoted to his work and peculiar in his habit of need of solitude when contemplating an investment – not one prone to bellying up the bar for a few quick belts during the lunch rush when brokers and traders would meet up to exchange tips in the short break before the close of market day, leaving their phones on vibrate in their smock pockets to respond to their assistant's texts if a tip was stirring up the Market so they could rush back to trading floor. Rather than sit in his expensive office and watch the Bloomberg ticker set into the wall opposite his desk above the leather sofa replete with brass studs and scroll arms which he found pretentious yet realized was part of the appearance, Charles would go out for coffee at Harry's to review a red herring or to think in the quiet before the lunch crowd rushed in, watching the Market news on the TV above the bar with the sound off before returning to the office. Still – he always let Kristal know where he'd be if needed, and this is what worried her. She knew that he was quirky and admired his ability to isolate himself in the fast paced world that was the Street so he could make decisions based on fact and research and not conjecture, as his well-performing client portfolio proved. Kristal, too had taken some of his advice on those stocks she thought she could afford, adding steadily to her own investments as she learned the ins and outs of the Market first hand from Charles.
She had stood at the large plate glass window looking out over Broadway, tilting her head slightly to the left to catch a glimpse of the top of Trinity Church and sent up a silent prayer that Charles was fine wherever he was, before making her way to the conference room. Knocking before entering she opened the door and caught Charlotte's attention. "Excuse me Ms. Lester. Mr. Katz has asked me to inform you that he is on the telephone with a client overseas and will return to the meeting as soon as he can. He sends his apologies to His Excellency. Is there a message I can give him?"
Charlotte looked at the Old Man who nodded his head slightly and spoke, "Since it's almost noon please tell him to meet us at the Club at 12:30 for lunch, Kristal. We'll be dining in our private booth. And do ensure that he brings the outline of investments he was going to present to His Excellency during this meeting." Turning to face the Old Man and the Prince, Charlotte coolly suggested they head to lunch to continue their meeting before the streets were over-run with the lunch trade. "That will be all, Kristal, thank you." Charlotte dismissed her with a tone Kristal recognized, it was tinged with a hint of warning that Kristal's job was on the line and that she had better produce Charles by lunch time or else. Kristal closed the heavy door and walked back to her desk outside of Charles office.
She checked her phone to see if he had called and then looked at the cell phone in her purse. She noticed a text message, hoping it was from him. It was from her girlfriend, Cindy, who worked for another investment firm down the street asking Kristal if they were going to meet up for drinks that night. It was Friday and Cindy was always raring to go by 11:00 am. knowing that the work week was coming to a close. Cindy had hopes of landing an investment banker for a husband and always made sure she was perched at the bar of Harry's or in the lounge at the Lower Manhattan Marriott on a Friday night after Market close for the cocktail hour when the Street's young lions came in to prepare for the weekend with a few cocktails and war stories from their week. Trim and pretty with long blonde hair pulled back into a pony tail for work that she wore loose at the bar, Cindy was the perfect eye candy for any one of the up and coming mavericks seeking a good-looking wife with brains where they should be she liked to quip. She had a few steady dates but never let them turn into one night stands – she was holding out for the right man, one who would place a rock on her finger the size of an egg before she let him into her honey pot. She and Kristal were well known on the circuit for being assistants to top performers, so they were always treated with respect. Kristal texted her back saying she'd let her know in an hour; that things were busy and she might have to stay late. "Bummer", Cindy texted back, " But you know where I'll be, so hope 2 C U later."
On a whim Kristal texted Charles a short message "Where r u?" She was hoping he'd answer and placed her phone on vibrate in the pocket of her well-tailored wool blazer. Seating herself at her desk she checked her emails then got to work typing up a proposal that Charles had been working on to a non-profit agency offering job support and training to indigenous populations, who wanted Charles to manage their growing holdings. Charles had seen this as a challenging opportunity to guide the agency toward realizing some long term capital for ongoing development and had offered to waive his fee unless their portfolio realized a certain level of return. Charlotte had pitched a fit, saying that he was throwing good money away after bad, but Charles had stuck to his guns telling her that he'd appreciate it if she'd allow him to use his sense of serving others for someone's benefit beside his, hers or the company's, which had gotten him to where he was at present. Charlotte had stomped off to her office and slammed the door in her usual temper tantrum, giving Charles the cold shoulder unless she absolutely had to interact with him, going so far as to pass messages on to him through Kristal until she had stopped being angry at him.
Lunch was over and the guests at Johnny's table were preparing to go back out on the street. Johnny was handing out plastic shopping bags filled with sandwiches and fruit to hold them through the night, into the next day in the event they did not make it back to his place for tomorrow's meal. Sometimes one of his famiglia would wind up sick in Bellevue Hospital where they could rest in a clean bed as a ward of the state, or trundle over to another part of the city spending all of their hard won earnings through begging or measly public assistance benefit that was just enough for them to purchase some toiletries or other personal items.
Charles watched his new friend Willoughby don a pair of dry socks that Johnny had given him, then line his boots with thick wads of cardboard. His phone buzzed in his pocket so he surreptitiously looked at it. Recognizing Kristal's number, he almost asked Johnny if he could use the restroom before heading into the snowy afternoon with Will, but thought better of it. He trusted Kristal, but was not yet ready to let her know where he was. He wasn't sure what he was going to do, but felt liberated for the first time in many years and wanted to stay in the moment. Perhaps it was the wine combined with the good food and warmth of the room, but he suddenly felt sleepy and in need of a nap. Yes, a nap would be great. Perhaps he'd go home to his warm apartment to sleep for the rest of the afternoon. Sleep was the great leveler his mother had always had said. Sleep allowed the mind and body to clear out the cobwebs; to start with a fresh slate in one's mind. Yes, a nap would allow him to think clearly about what to do next.
Johnny stood in the doorway, watching giant snow flakes fall from the gray afternoon sky. "Mama mia, it's gonna be a cold one out there, friends. If any of you'se needs a place to spend the night you'se come back here and ring da bell. I got an apartment open with two bedrooms upstairs and a few extra sleeping bags laying around in the back there. Flo, Mimi, where is you ladies staying tonight?"
"Oh, Johnny, we've got reservations on the floor of the YMCA gym on 23rd street. They let us use the showers and show classic movies after they clear out the hoi poi loi, don't ya know", Mimi quipped.
"Yeah," Flo added, "and they got the cutest desk clerk on at night. Reminds me of the stage hands at Radio City, all brawn, and sweet as sugar. He even saves an extra blanket for us, callin' us his grand dames! We wouldn't miss our night at the Y for nothing!"
"Well you'se better get yourselves close to there now before it gets too hard to walk." Johnny said as he reached into his pocket, taking out a wad of bills. "Better yet get on the subway and whole up at the public library on 34th. It's warm there and no one will bother you if you sit in the back of the stacks. " He shoved the bills into Flo's coat pocket, making her promise that they'd stay dry for the rest of the day.
"God bless you Johnny, and thank you for the great meal as always." Mimi said, as she and Flo kissed him on each of his cheeks then made their way out into the blowing snow holding onto each other and the shopping cart they shared that held their suitcases. Miss Bunny, Bowser, and Sister Mary had left in advance of the storm getting heavier, as had the other men, leaving Will and Charles alone with Johnny.
Willoughby stood, adjusting his too short pants and thanking Johnny for the new wool socks that stuck out from under the pant hems just above his ragged boots. "These socks sure are great, Johnny. I can feel my toes again! Just what I needed on a day like this. And the food was so good too, Johnny. Man, you treat us so well."
Will looked as if he were going to cry and Johnny patted his shoulder saying, "It's nothing big guy, just stay warm and come on back here if you'se ain't got no place to sleep tonight." Turning to Charles he asked if he had worn a coat then realized he had come in wearing a blanket as one. "Hold on a minute, friend. I got something for ya." Johnny stepped into the back room and returned with an old winter jacket a few sizes too big for Charles but still too small for Will's tall frame. In the pocket was a wool cap similar to Will's, and a pair of thick gloves, worn but adequate enough for warmth. "Put these on and give me that blanket. I'll wash it and give it back to you'se tomorrow unless you need it tonight."
"You can wash it, Johnny, if you don't mind. It's been a while since I been to the laundromat." Will interjected sheepishly. Johnny held the coat for Charles who exchanged it for the blanket. He felt a lump in his throat – it had been a long time since someone had cared about his well-being, someone who did not have an ulterior motive, like Charlotte. He was used to fending for himself – but Johnny's act of kindness left him speechless. Johnny placed his hand on Charles' shoulder.
"I hope you will come for lunch again Charles, you is always welcome at our table." Then turning to Willoughby, Johnny placed his large paw on Will's shoulder adding, "And keep an eye on this guy to make sure he's okay – he gets lost once in a while and I gotta send out the malamutes to find him!" Will guffawed then hugged Johnny from behind, picking him slightly up off the floor. Putting him down, Will turned to Charles and said "Come on friend, the sled is about to take off for the great white north!" They moved into the fast whirling snow, leaving Johnny looking up at the sky as he once again crossed himself and stepped into the building closing the heavy metal door against the growing storm.
Charlotte stood in front of Kristal's desk wrapped in a floor length mink coat, replete with fur earmuffs, impatiently taping her stylus against her IPAD, reading off phone numbers of places she thought Charles might be or of people who may have seen him: Harry's, the Racquet Club, his apartment building manager's office, all places that Kristal had already thought to contact. Kristal remained silent; ready to take down any number Charlotte threw at her. When Charlotte was in hyper-action mode it was best to do as she said and let her think it was her idea.
The red glow of Kristal's phone line signaled a break on the action. She clicked a button on her head piece, hastily interrupting Charlotte before answering, "Lincoln Lester Wealth Management, Charlotte Lester's office." "Hi, Kristal this is Nino from the limo service, can you please tell Ms. Lester that her car will be waiting at the usual spot?" Kristal slowly let out her breath, thanked Nino, then pushed the button on her headpiece to off. She suddenly felt spaced out and in need of rest. Her thoughts were interrupted by Charlotte's demanding voice. "Well, was it him?" "No, it was Nino, he's waiting in the car at the usual location."
Charlotte's high heeled boot kicked the front of Kristal's desk, bringing her back to full attention. "Damn that Charles, just wait until I get my hands on him." Charlotte hissed through her perfect teeth. Pointing a well-manicured finger at Kristal she added "Find him. I don't care how you do it, but do it!" Kristal stared at Charlotte then noticed the Old Man and The Prince walking up the hallway toward her desk swathed in their winter coats; ready to descend into the windy cavern know as Wall Street.
"Yes, Ms. Lester. I will certainly take care of it as expediently as possible", Kristal said non-pulsed as she stood to acknowledge their presence. The Old Man introduced Kristal to the Prince as Charlotte quickly composed herself. Kristal had been trained to project deference to all clients and greeted the Prince with "It will be my pleasure to serve you as Ms. Lester's and Mr. Katz's assistant, your Excellency. Please let me know if you are in need of anything while you are in town."
"Enchante'!" the Prince responded looking Kristal over approvingly. Then addressing Charlotte, he added, "I am happy to see that you have retained such a cultured and attractive young woman to be your assistant, Ms. Lester. I am of the mind that one's representative should always be of outstanding caliber; do you not agree?" Charlotte grudgingly acknowledged that Kristal was indeed of an "outstanding caliber", then forcing a smile she added, "We'll be at the 21 Club, Kristal, if that item I am waiting for turns up." Then taking the Prince's arm she guided him to the private elevator with the Old Man following close behind.
Kristal held her breath until they had boarded the elevator and the door shut securely behind them. Charlotte had glared at her menacingly from inside, as the Old Man stood chatting with the Prince. Kristal pulled off her telephone head-piece, grabbed her purse, then went over to the hallway closet to put on her heavy winter jacket, scarf, and gloves. She needed some fresh air and time to think away from the office. Knowing that the Market numbers could be followed from any bar or restaurant in the local vicinity she thought perhaps a walk around the neighborhood would lead her to Charles. She had not anticipated the weather being what it was, and reaching the end of the hallway to walk down the 7 flights of stairs for exercise (as she did coming up) she stood before the large plate glass window at the end of the hallway, contemplating where she might start in the storm that had blanketed lower Manhattan with several inches of slick white snow. Zipping up her jacket she drew up her hood to let the fake fur envelop her elfin face. She had a fleeting moment of comfort knowing that Charlotte, the Old Man and the Prince would most likely linger over a long lunch, hoping this would give her enough time to locate Charles. She turned her head slightly to take in the top spire of Trinity Church, now coated in soft wintry powder; offering her silent prayer again that Charles was safe inside somewhere, before stepping into the chilly concrete fire exit hallway of 40 Broadway to head out into the frigid afternoon.
Charles and Willoughby held each other aloft as they slipped and slid their way down Canal Street heading toward the Holland Tunnel. The sky had darkened as snow fell thick and heavily, making it difficult to see more than a few feet in front of them. Traffic was at a near stand-still with cars skewed this way and that in an effort to get out of the city before driving in the storm became impossible. A strong howling wind pushed he two men against the sides of the buildings as they trudged forward.
Willoughby shouted over it saying" Did ya ever see such snow, Charles? I ain't seen this much snow since I was a kid back in Georgia and we had a freak spell of cold weather that left all of the onions frozen. It's a good thing my Pappy had insurance otherwise we might'a well been put out of our farm that year. My Pappy was right smart to have that insurance…" Willoughby's voice trailed off as he pulled his dirty coat tighter around him and leaned his tall thin frame into the wind.
A strong gust blew him back knocking him against the stairway to the subway. Charles grabbed him to help him regain his balance then motioned that they should go down into the subway to get out of the weather, at least until it cleared up. Willoughby nodded then grabbed Charles' arm for stability as they made their way down into the deserted subway station. Even though it was lunch hour, a storm like this would have most New Yorkers enjoying their lunch at their desks, with most restaurant owners calculating their earnings before the hour was through. Business always sky-rocketed in delivery sales during storms, as did tips for the delivery men; those over-worked, underpaid souls who eek-ed out a living carrying bags of food five days a week regardless of the weather, to those workers who eek-ed out a somewhat more substantial existence toiling for those few with the coveted positions that netted them large salaries, bonuses, and the private car ride home in weather clement or not.
In the station a few feet from the turnstiles was a bench. Charles and Will sat to catch their breath. Will's ears poking out from under his skull cap were red with cold. His nose leaked slightly as a chill settled into his bones. He hugged himself for warmth and sneezed. "Darn, I think I'm catching a cold, friend." he said through chattering teeth. "Wished it weren't so damned crazy in them shelters, otherwise I'd go hole up in one for a few days and layup on one of them mats they call a bed. Which shelter do you stay at, Charles?" Will asked, oblivious to the fact that Charles had fortunately never had to call one home.
An image of Lula popped into Charles's head bearing a large bowl of chicken broth. She'd do this frequently when he was a child since he had been susceptible to colds. Lula's remedy for every aliment had been chicken soup. Charles was brought out of reverie by Willoughby coughing so hard he nearly slid off the bench they were sitting on. He looked pale and sweaty as he shivered steadily. Grinning sideways at Charles, Will said in a crackly voice, " Friend, I wish I could walk to Florida today to lie on the beach to soak up the sunshine! All's I need is a warm place to lay my head and I will be fit as a fiddle in no time."
Willoughby attempted to stand up but his legs buckled on him and he almost fell into Charles lap. Catching him, Charles allowed Will to rest against his shoulder. He felt Will's forehead which was hot to the touch and wondered where he could take him to get him out of the cold.
Suddenly feeling ashamed of himself for not being forthcoming about his status as a "homeless person" he realized that the only place that would be safe and warm was his own comfortable apartment near South Street Seaport. They could take the train to the stop closest to his building and go up to his apartment in the service elevator so as not to bring attention to themselves. Charles helped Willoughby to his feet, explaining that he knew a warm dry place nearby where they could go. As they moved toward the turnstiles a voice from the token booth called out over the speaker
"Hey you bums, do you have tokens? Don't make me have to call the transit police on you for jumping the turnstile." Charles dug around in his suit pocket for his wallet. Inside was the monthly bus pass he carried. He took it out and hoisted it into the air to show the clerk that he had a pass then swiped it once in the slot, pushing Will through the turn-style and then again for himself just as the A train pulled into the station heading south.
Kristal stood at the door exiting out of the emergency stairwell of 40 Broadway. She was determined to find Charles even if it meant going out in the heavy snow that was blanketing lower Manhattan with a thick rich coat, which would soon turn to mud as cars and cabs rolled over it. Bundled against the cold in her fake fur lined coat, matching gloves, and head-wrap, Kristal was glad that she had kept a pair of snow boots in the office – a holdover from when she had to trudge several blocks in all types of weather from the subway to her home in the Bronx, before she had been able to afford her studio in Manhattan which was conveniently located near her subway stop, just one block away. She had forwarded all of her office calls to her cell phone just in case Charles or Charlotte called. It began to vibrate in her pocket as she made her way down the stairs; a text from Charlotte that read "Any news?". Kristal leaned against the cold banister, blowing out a frosty breath in the frigid stairwell texting back "Going out now to check gym, and Harry's, may be out for a while – all calls are forwarded as per usual – are you still at lunch? Charlotte shot back a one word response of "yes" then added separately "find him!" Kristal was used to Charlotte's curt responses but today her demanding tone even in text made Kristal angry. Sticking her tongue out at the phone she shoved it back into the inner breast pocket of her jacket and quickly stepped out into the blustery day.
Chapter 9: The Handkercheif
Kristal looked up and down Broadway hoping for a glimpse of him or a sign of anyone – the streets were deserted except for a lone delivery man hunched into his jacket and woolen cap running with his back to her up Broadway with two large plastic bags of food. He disappeared from site as he turned the corner several block up from where she stood, making Kristal's heart drop. She was certain that Charles had meant to disappear – but to where and why?
Pushing Will around the corner into the alley next to his building, Charles made a mental note to get some brandy into him as soon as they were safely ensconced in his penthouse. Reaching the middle of the alley, Charles leaned Will against the wall of the building and removed his gloves. With half-frozen fingers he punched in some numbers on a keypad that was hidden under a box next to the door. The door was flush against the building and was not easy to see unless one knew it was there. Charles had made a deal with the building's superintendent, Andres, who lived on the ground floor in the back of the building, to let him use the service entrance since he preferred to walk up and down the stairs or take the elevator directly to the penthouse rather than be stuck in the main lobby elevator where so many residents would corner him for Market advice, or invite him to meet their just divorced socialite cousin as he politely nodded or listened without remarking much.
Andres never questioned him as the buildings "star tenant" who was very generous with holiday bonuses, and rarely need any maintenance in his suite of rooms, so he had assigned him a special code that was linked to a buzzer on his intercom so as to alert him that it was Charles coming into the building; allowing Andres to remain in his comfortable easy chair where he often sat watching the afternoon novellas drinking strong coffee. This had turned out to be one of the cushiest superintendent jobs in Manhattan and for Andres it proved to be a great place for him to regroup after his marriage of 15 years ended in a nasty divorce. His son thought he was Superman when he took them up to the penthouse then back down to the lobby again in the elevator without stopping between floors and his ex-wife enjoyed the steady child-support payments. Fortunately, she had remarried "up" and did not require alimony.
Andres heard the intercom buzz three times and realized it was Charles. He looked at his watch and saw that it was only 1:00 pm. Wondering why Charles was home so early in the day, Andres got up from his comfortable easy chair to look out of his apartment window. His ground floor studio apartment faced the alley. Snow was piling up high. Cursing under his breath, Andres realized he would have to get out and shovel soon to keep the front and back doors to the building including the emergency entrance Charles had just entered clear. He moved swiftly toward the hallway closet to don his snow suit and boots, since now seemed to be as good a time as any. Zipping up the snow suit he grabbed a large metal snow shovel that stood next to the door and stepped out into the hallway, pulling the apartment door behind him.
Andres entered the hallway just as Charles pulled the alley door shut. Will leaned up against the wall, too faint to speak, and out of his mind with fever. Andres eyed Will suspiciously before speaking. "Mr. Katz, do you know this guy? I don't know how he got in here but I can get him out of here quickly before he bothers you." Andres moved in to grab Willoughby by his raggedy coat but Charles stepped in between them. "No, Andres, this is my friend Willoughby Jones and he's sick. I'm taking him upstairs to lie down until he feels well."
Andres sniffed the acrid odor that came with Will's excessive sweating and body odor from not showering frequently and almost gagged but thought better of it. He knew that Charles was eccentric but bringing this homeless guy into the building was out of character for him. Andres had never seen Charles enter the building through the back door with anyone else. The only person Andres had ever seen come into the front entrance with him was his sexy girlfriend, that rich banker bitch that he was engaged to. It had been a hot summer night the first time Andres had seen them together, close to midnight on a Saturday. He had just finished painting the trim to an apartment that was due to be rented the following Monday and had seen them together in the lobby. Charlotte's plump, round ass perched on long slender fit legs showing from beneath her slim mini skirt worn over sky-high black open toe pumps had made Andres grow hard the first time he saw her standing by the elevator next to Charles. He had been glad to be wearing his painter's outfit so they could not see his rigid woody. He had rushed passed them with a quick "good evening" so as not to embarrass himself, gone into his apartment and immediately relieved himself into a cloth towel; orgasming so strongly he nearly fainted against the bathroom sink before hopping into a cold shower. Many a lonely night had been spent there after thinking of how he would make love to Charlotte wearing nothing but those high heeled shoes.
The smell emanating from Will awakened Andres from his memory just as Charles was moving him toward the service elevator. "You sure you wanna take that bum upstairs Mr. Katz?" Andres queried.
This time Charles spoke through gritted teeth, partially from the bearing the weight of Will's now almost faint body and partially from pent-up anger at everyone who had referred to Will as a bum. "This is my friend Andres, he's not a bum, and yes I am taking him upstairs." Charles tone surprised Andres who stood silently for a few seconds before stepping into the elevator to help Charles hold Will up.
Outside the cafe next to Charles' building the blizzard raged. Kristal sat sipping her coffee and brandy until she was finally defrosted enough to put down the hood of her heavy winter coat. She had made her way down Broadway in the deepening snow after stopping at Harry's and the Racquet Club on a whim that Charles might have gone home. Sitting alone in the cafe except for the bartender, she had glanced briefly out the window at two figures who appeared to be homeless men as she was being served her steaming hot coffee and brandy. She felt particularly grateful to be inside and to have a warm home to go to on a day like this. She had recently been doing some serving at a soup kitchen in her neighborhood when she was not working, and knew how difficult it was for the homeless in the winter in New York. There were too few shelters, too little food at the kitchens to feed the growing population, and too much red tape to get them the help they desperately needed; never mind the stigma of walking around in filthy clothing smelling like a trash can. Once in a while Kristal would sit and talk to some of the folks who came in for a meal to get to know them; asking them how they were feeling and making sure they got a referral if they needed one from the Pastor's office at the kitchen, to one of city's over-worked social service agencies, depending on their circumstances. Her father too had told her not to worry about the homeless people she saw on the street, that most of them were not dangerous and each of them had a story to tell as to why they were out there. He urged her to treat them with respect but to walk away if they grew agitated, and to never call them bums, for that was far from what they were – they were people who had gone through some trauma or some great loss – perhaps of a job or loved one that might have thrown them over the edge.
Kristal stared out the window into the thick swirling snow as she took the last swig of her brandy. She thought she might text Charlotte but knew that they were probably just having their meal at the 21 Club after appetizers and cocktails. The Old Man was a stickler for his afternoon martini and always took long client lunches that sometimes stretched into the close of the Market day. Charlotte only drank white wine during lunch; her energy was so high that it burned off right after food and a strong demitasse. She would come roaring back to the office regardless of the hour to check her copious messages and trade results, sometimes keeping Kristal at her desk well after 6:00 pm., typing letters and sending emails. Fortunately, there was paid overtime and a good bonus at year's end, so Kristal dutifully complied by staying at her desk until Charlotte dismissed her with a curt, "That will be all, Kristal.", before leaving the office for the night to meet her friends or go to an elite social event. Charlotte often kept Charles waiting for her on those rare occasions they were going to dine together as a couple soon to be married. Kristal knew that Charlotte was not the right woman for Charles, still, she hoped that they would find some common ground in their arrangement as husband, wife, and business partners.
A taxi cab came skidding up to the curb throwing slush up against the side off the building and parked. The driver got out and ran into the cafe. He stood in the doorway shaking off his boots on the doormat before taking a seat at the bar. "Man, its brutal out there.", he spoke out loud getting the bartender's attention. "Looks like it's getting worse.", the bartender added before placing a steaming mug of coffee in front of the driver. "You finished for the day? "Nah, the driver said, I need one more fare to at least make my numbers. There's no-one on the street today. I got two kids in college now and my wife is a stickler for me bringing home the bacon, rain or shine. College ain't cheap!" He smiled a large toothy grin at the bartender, then noticed Kristal in the mirror over his shoulder and turned to address her. "Excuse me Miss, do you need a cab ride home? I still got the motor on and the cab's nice and warm, much better than the cold subway platform!'
"I've got to check in on a friend who lives next door, Kristal replied. "If he's not home I may take you up on it. Are you going to be here for a few minutes?
"Sister, I ain't leavin' till you say so. He fished around in his pocket for a pen to write on a napkin. "Here's my cell phone number. Just give me a heads up if you need the lift. " The cabbie walked over to where she sat to hand her the napkin.
Kristal stood up, pocketed the napkin, left a $5.00 bill on the table as a tip for the bartender, put up her hood, and made her way out into the blowing torrent of snow.
Charlotte was feeling sleepy after the heavy lunch of thick split pea soup, freshly baked rolls and a Cesar salad; much more than she normally ate for lunch if she ate at all. Her head swam in the warmth of the restaurant and her mind was restless. She was angry at Charles for leaving her in the position of having to squire around her father and the Prince. Her afternoons where always very planned out with client calls, reviewing trades and potential acquisitions. Now she would be hours behind in her work with a very busy agenda over the next few evenings, the opening of a new gallery where she was a patron of one of the artists, a cocktail party for a friend who had received a substantial promotion at work, and other sundry meetings and appointments with clients she could not connect with during normal business hours. With the holidays approaching she felt tapped out having to attend social events with or without Charles in tow. She was in high demand as an investment analyst and had a full client list of some of the city's top investors who could be demanding of her time and attention even at parties. Damn Charles, she thought to herself, why did I ever agree to marry him? The Old Man's voice brought her back to the present.
"Don't you agree Charlotte that Dubai has many more investment possibilities than we give it credit for, especially in real-estate?" "Indeed your, Excellency", Charlotte addressed the Prince. Considering the retailers who have taken up residence in your shopping malls and the high-end clientele that patronize them, I'd say that continued development should be positive."
"The problem is service, Ms. Lester, finding qualified people to service the clientele. This has been a dilemma. We get many young women from emerging countries who speak several languages and have knowledge of retail but not enough Americans to add that modern touch to our retail outlets and shops. I for one appreciate the edge that New York's fashion dilettantes bring to the forefront of style." He stopped to sip his cognac adding, "My compliments to you, Miss Lester for your tasteful fashion sense. Perhaps you would like to be my guest someday soon in Dubai to see how far we have come in our fashion sense. It is always hot weather and never snows."
He pointed to the small window set into the wall a few feet above their table. The 21 Club was home to a sacred order of well to do patrons, mostly old-money who preferred to dine in privacy without gawking passersby staring in through large picture windows like so many other eateries in the city. The Old Man had booked it for Charlotte's sweet 16 party and then again for her 21st birthday party. It held a special place in his heart; he had proposed to her mother Jane at the oyster bar, burying a large pearl and diamond engagement ring in a raw oyster. He had arranged for champagne on the house if she said yes, and all of the wait-staff had stood around silently hoping she would. That night had been one to remember lasting well into the early morning with champagne and the tips flowing.
I've been thinking your Excellency, that it would do Charlotte well to get out of this cold weather and take a trip. She is one of the rocks of our company, next to Charles., the Old Man interjected. Next to Charles! If it wasn't for her analysis and due diligence Lincoln-Lester might have floundered years ago. Before he came along she was sole heir to the company. Now she had to share it! Charlotte found her face growing flush with anger. She excused herself from the table and went to the restroom to cool off and to text Kristal. If Charles had not been found she would take Kristal to task!
Kristal had made her way into the lobby of Charles high-rise, head down against the rising wind blowing in from the seaport. Normally there was a doorman who stood outside to greet anyone who came to building but today he was sitting behind the desk, several feet away from the main entrance. He saw her approach on a small TV screen that alerted him to people at the door, and pressed a button to allow her access. As if by magic the door opened and Kristal scurried into the plush lobby out of the cold. Recognizing her as Charles, assistant, Stan greeted her with surprise.
"Hello, Miss Kristal! Did you walk all the way down here from the Market on a day like today? "
"Yes, I did Stan. Has Mr. Katz come in? He left the office during a client meeting and no one can locate him?" Suddenly Andres appeared in the lobby carrying his shovel. Overhearing Kristal questioning Stan and before Stan could respond he jumped in.
"No, he's not been in yet Miss Kristal. Have you tried his club or Harry's?" Kristal's heart sank as she responded that she had. She thanked Andres and Stan, asking them to please have Charles call her if he did come in. She felt deflated and tired as she left the building; worried now that something unfortunate might have had happened to Charles. The handkerchief she had found in the alley lay crumpled and damp in her coat pocket.
Making her way back to the café, she took the cabbie up on his offer. In the back of the cab heading uptown to her apartment her cell phone vibrated. It was Charlotte demanding in text to know what was going on. Kristal looked at the words glowing like hot embers on her cell phone screen before shutting it off without responding.
Andres fingered the $100 bill that Charles had handed him after they had gotten Willoughby into Charles bed, hoping that he did not have body lice and that Charles knew what he was doing with this homeless guy. Andres had sworn he would not let anyone know where Charles was, at least for the time being. Charles had said that if he kept his word there would be more cash forthcoming and Andres was no fool when it came to money. Christmas was just around the corner and his kid wanted big ticket items, plus he had begun dating again. His lady, Gloria, a petite blonde with a knock out figure and a mouth that could shuck the husk off of a corn cob would expect an elegant night out on New Year's Eve. She was sweet on Andres' Latin machismo, doting on him when they were together, ensuring he was pleasured in and out of the bedroom; she deserved a nice time over the holidays. No sir, he would not let Charles' secret out to anyone, besides what did he care if Charles wanted some stinky hobo to stay with him? He was eccentric and entitled to do whatever he wanted to in his place and with his money. Perhaps this was his Christmas gift to the guy – whatever. Andres needed the cash and Charles secret was safe with him.
Charles had taken all of Will's filthy clothes and thrown them down the garbage chute into the incinerator, but not before ensuring everything had been removed from the pockets. There was a ragged wallet containing a Georgia license bearing Willoughby's likeness, that picture of him and his older brother Grayson when they were kids, a few subway tokens, and a pawn ticket dated a few days prior to their meeting each other with a note scrawled on it that said, "Get Pappy's watch back soon!" Charles realized Will had hocked the last of his possessions just to stay alive. He stuck the items and ticket in a drawer on a small writing desk in his bedroom, then made his way to the kitchen to see if he had any brandy. He wanted to give some to Willoughby when he woke up, and he too need one to warm up.
Will had allowed Charles to remove his clothes and tuck him into bed not knowing if he was dreaming and not much caring. His fever was beginning to spike as he fell into a deep sleep, thrashing about and mumbling to himself as the fever took him on a journey in his mind. One moment he would be standing next to his Mama in the kitchen of their Georgia home on a hot day as she pulled hot peach cobbler out of the oven leaving it on the windowsill to cool, the next he was fishing with his Pappy, wading hip deep in a cool clear stream pulling up trout as big as frying pans as his pappy applauded and patted him on the back; next he was sitting behind his brother Grayson in the cockpit of a fighter plane, watching him slump over as bullet took him in one eye and the plane began to spiral down into a black cavernous sea. "Grayson, oh no come back come back, please Grayson, Grayson!"
Willoughby screamed in his sleep and sat bolt upright, startling Charles out of his light slumber in the easy chair he had pulled up to the bedside so he could ensure his new friend was okay. Charles got up to ease Will back into the pillows soothing him and telling him everything was fine. He brought a snifter of warm brandy to Will's lips and made him sip slowly. Some off the brandy spilled out of Will's mouth as he drank in his fevered stupor. Then he curled up on his side in a fetal position and slept without further incident in a warm bed for the first time in many years.
Charles dozed fitfully in the easy chair, dreaming that Kristal was his wife and that she adored him and that Willoughby was their child. He dreamed of Johnny and Miss Bunny, Mimi, Flo, and the other people he had met at Johnny's kitchen; they were all neighbors of his and everyone treated each other kindly and with respect. He saw Charlotte walking away from him toward an older man with a gray beard who appeared to be very wealthy, and as they embraced in a passionate kiss he felt relieved.
He woke up around 6:00 pm. Will was dozing peacefully, so he wandered into the bathroom to relieve himself then got into a hot shower to wash away the remnants of sleep and sooth his sore muscles. He was stiff from sleeping in the chair and from bearing the weight of Will up the subway stairs. He had been grateful when Andres had offered to help him get him into Charles apartment, giving him money and making him promise that he would not tell anyone where he was, at least for the moment. He needed time to think and Willoughby needed time to rest.
Getting out of the shower, he wrapped himself in a thick cotton robe. He checked his cell phone, reading three texts from Charlotte that were angry rants and two from Kristal wondering where he was and saying she was worried about him. He thought he might answer Kristal's text at least to let him know he was alright but did not know what to say to Charlotte. He hesitated then texted Kristal to let her know he was okay. His phone rang immediately. "Thank God you are alright! I have been sick with worry, Charles. What happened? Where are you?"
Kristal sounded close to tears and he felt sorry that he had caused her grief. He wanted to explain to her how he was feeling but couldn't put it all into words. Apologizing for making her worry he explained that he had not been feeling well when he left the office, had begun to take a walk to get some air and had come home thinking he might nap and fell asleep. He couldn't bring himself to tell her about Willoughby and Johnny's kitchen or anything else.
"I was at your building a few hours ago and Andres and Stan said they had not seen you.", Kristal stated. He explained that he had come in through the service entrance, assured her that he was alright and promised he would call her tomorrow. Being that the next day was Saturday he said he would call her around noon, told her get a good night's sleep and stay warm. "Alright, Mr. Katz." Kristal hesitated hanging up. "As long as you are safe at home I can rest."
Charles had always felt awkward being addressed by his formal name by his staff, yet Charlotte had insisted it was good protocol and kept them remembering who was in charge. Still, who was he to be above anyone, especially someone as concerned about his well being as Kristal obviously was. He took a deep breath before thanking Kristal again for her concern, then softly added, "Kristal, please call me Charles."
Tears of relief flowed down Kristal's cheeks as she hung up the phone. She hugged her pillow close as she let out a sob. She had never felt this way about any of the men she had dated, never dreamed she would fall hard for someone like Charles who was aloof and eccentric, caring yet distant, until now. Perhaps he was coming to his senses about Charlotte – about being her and the Old Man's "boy". It seemed obvious to Kristal that they were using him to keep the company going. Yet who was she to say anything; a $75,000 a year secretary with bonuses who could juggle more than one ball at a time and keep things organized for him and Charlotte.
The more Kristal thought about it the harder she cried. We are all pawns in somebody's game, she thought, bending to the will of others for money or love or attention. She knew that she too, was just there for the money at least that was how it was when she first took the job, knowing it would be a lot of work, but desperate to prove to herself that she could do it. Now she was not so sure. She loathed Charlotte and loved Charles – that was what her heart was telling her. Her mind told her to be careful, to not make any sudden moves; reminding her that it was not everyone who got good jobs on Wall Street. She told herself to stay cool; have her cry in private but to remain in control.
She grabbed Charles' handkerchief that she had rinsed out in her bathroom sink with hot soapy water and dried on the radiator near her cozy bed, the bed that she had purchased with her first bonus check 6 years ago. It was a giant mahogany queen sized sleigh bed replete with 300 count thread cotton sheets in the summer and warm flannel ones in the winter with an ivory eiderdown that she had gotten on sale at Nordstrom. Buying this bed had made her feel grownup and accomplished. She moved to turn off the lamp her grandmother had left her which stood on a small round table next to her bed. It featured two porcelain figures – lovers dressed as an English Lord and Lady of the manor, sitting on a bench holding hands under an apple tree. The male figure leaned in to kiss his fair lady's hand while she smiled at him with knowing eyes. It made Kristal think of what it might be like to belong to someone that way, to know that a mere kiss on the hand would allow her to open her heart wide to him. She looked at the initials embroidered on the corner of the handkerchief held tightly in her hand and whispered "Goodnight, Charles." before switching off the light.
Chapter 10: A Silent Communion
Charlotte, the Old Man and the Prince stood in the foyer of the 21 Club after a long lunch waiting for the limo to pick them up. Traffic moved very slowly in the mid-afternoon rush to exit the city before the blizzard forced those who lived beyond it to take refuge in one of its high priced hotels. The street lights wrapped in Christmas gilt made the city look like the inside of a crystal snow globe. Staring out at the swirling snow, Charlotte found herself lost in the memory of a Christmas many years ago. She had gone to a matinee performance of the Nutcracker at Lincoln Center with her parents. Afterward, they had decided to walk across Central Park back to their brownstone on 5th Avenue. Charlotte recalled being borne by her parents happily swinging her in tandem by her arms, all of them laughing gleefully as they moved through the park. It had begun to snow and the Old Man had hailed a hansom cab to take them the rest of the way through the park to their home. Snuggled under a warm thick wool blanket between her parents with her hands tucked into a small fur muff, Charlotte had imagined that she was princess and that her parents were King and Queen of Manhattan; for indeed they were, within their own circle. When they had reached their building the doorman had come out to help her mother and Charlotte out of the cab, hoisting her high up in the air and giving her a deep bow after setting her down.
After she had grown up she had purchased an apartment a few blocks from where she had grown up while the Old Man remained in the same building he and Jane had bought into years ago. Everything about their home as a family made Charlotte yearn for her mother, from the expensive fine art on the walls purchased throughout her parent's marriage, to her father's study filled with photographs of her as child and he and Jane when they were first married. There was even a rare photo of her parents dancing at Roseland wearing silly hats on a New Year's Eve, as the King and Queen of Rumba after winning a contest held by the club. Perhaps it was this photo that had imprinted the sense that she was a princess on young Charlotte's heart. That and the fact that she had been spoiled rotten from birth as the daughter of rich, well-heeled, socially respected parents.
The car finally pulled up outside of the 21 and their driver, swiftly got out of it to usher them in. Nino had been working for Lincoln-Lester for close to 10 years and was well versed in what was expected of him. He was of Argentinian descent, short and stocky in build, but not unattractive. He had cultivated an air of sophistication through observance of the high-powered clients he shuttled around the city. The Old Man was all business with clients that were old money who expected a certain amount of deference. Nino had for a brief time worked for one of those shops on Wall Street that catered to the newly wealthy, a group that had been fond of hard work being rewarded with hard partying. Champagne, cocaine, and high-class prostitutes had been the norm with that crew. Many had been the time when Nino had driven around a pack of these young wolves with a girl or two; watching through the rear view mirror as the party went from gentility to an abandoned frenzy of sexual deviancy as it progressed. The money had been good but had taken its toll on his sense of morality. He hated how these men used the women like high priced life sized Barbie dolls just for their gratification. He hated how the women gave themselves to them for money, a few snorts of good coke, and flutes of champagne. He had been ready to quit and was just about to buy into a cab company, when he learned that the driver for Lincoln-Lester had been fired for using the car on his own time and that they were looking for someone to replace him.
Nino had leased a town car one day and waited for the Old Man to appear at the doors of 40 Broadway on his way to the Club at his usual hour of 11:30 am. for lunch. The Old Man was legend on the Street and everyone from the shoe shine stand operator to the newspaper stand man knew of his comings and goings. Nino surmised that offering him a lift to the Club as a courtesy might be a good way to begin a relationship and introduce himself as the person to take over for the company driver. The Old Man had been impressed with Nino's graciousness and ingenuity. After waiting patiently at the curb for the Old Man for two hours while he dined with his cronies, Nino had been hired on the spot. It had proven to be an amicable relationship all of these years, one that was not likely to end soon.
Moving to open the back door as he held a large black umbrella over their heads to keep them from being pelted with the heavy sleet that had been soft snow earlier in the day, he had offered his usual greeting. "Good afternoon Mr. Lester, Your Excellency, Ms. Lester. I hope you enjoyed lunch." The Old Man had ushered the Prince into the car first then Charlotte. Turning to Nino he had said, "I think I'll ride up front with you Nino.", giving him a wink that meant he wanted the Prince and Charlotte to get to know each other without his interference. Opening the passenger door, he tucked himself into the front seat as Nino tucked Charlotte and the Prince into the back seat of the limo. Trotting around to the driver's side, Nino got in, waited for a spot to open up, and after few minutes expertly maneuvered the car into the slow moving traffic.
Charlotte leaned forward to address Nino through the window between the front and back seats. "Nino, have you seen Mr. Katz today? He was supposed to have met us for lunch and was detained at the office."
"No, Ms. Lester", Nino responded in his thick Argentinian accent. "I haven't seen Mr. Katz since I drove you both to the Whitney two nights ago."
Charlotte leaned back into the well-cushioned limo maintaining an air of decorum, yet inside she was fuming. She remembered full well that night at the Whitney Museum, one which was to have been a relaxing time for her and Charles, that had turned into an argument about doing business with the Prince. She had told Charles in no uncertain terms that he was to treat the Prince with the respect that befit his ilk, and did not care what Charles' ideology was on Dubai or the poor or any of it! Charles had been angry as they argued in hushed tones while attending a cocktail party during a retrospect of Rothko paintings, smiling at friends and associates as they approached the golden couple to say hello, only to resume their argument when they were left alone, pretending to look at paintings. Charlotte had dropped Charles off at his apartment building that night and as Nino had driven her uptown to her own suite of rooms on Madison Avenue, she sat in the back of the car wondering why she was going to marry him. She felt trapped in her position as heiress to Lincoln-Lester but was uncertain how to proceed. She and Charles were so far removed from each other politically, socially, even in how they worked. Charlotte operated at a fast and furious pace while Charles took his time making decisions; pondering every detail to ensure success for his clients. Call it dumb luck or genius on her part, she was always able to predict the way an investment would go. She had been born with a sixth sense that had made her one of the most sought after analysts on Wall Street; not just because she had been born to the business. Her detractors at other firms called her the Witch of Wall Street mostly because they were jealous and incapable of understanding how she was always spot on when it came to knowing which way the market would turn; continuing to earn her clients and Lincoln-Lester a pretty penny. When Charles had come on board Charlotte had breathed a sigh of relief anticipating that she would be free to follow her true bliss of being a full time writer. With Charles operating the company that would have proven to be true – but now she was not so sure.
She stared out of the car window at the heavy sleet and slow moving traffic, feeling as gray inside as the darkening afternoon sky. Instinctually she pulled her phone out of her purse to see if Kristal had responded to her text. The screen was blank and she tried to hide her dismay. The Prince sat to her left, watching her from the corner of his eye, sensing a change in her calculated and cool exterior. She was beautiful even when angry, with flawless skin and dark rouged lips that pouted slightly; belying her feelings.
"My dear," he offered gently. "Do not worry. It is not the first time that an investment manager has had second thoughts about working with me. I know I come with a reputation." He hoped that his words would engage her in conversation and that she would relax – at her young age the worry he saw on her face would cause creases too soon. "I am having no second thoughts in doing business with your company and hope that you will continue to think of me as a worthy client."
Charlotte turned to meet his gaze, then suddenly felt shy. She had not fully realized how handsome the Prince was for indeed even at his age he bore the years well. At 53 he had never married and was not prone to living the traditional life of his ancestors, that of having several wives and scores of children. He came from a line of Arabs who had earned their living in retail selling fine art and carpets across the globe, he had little interest in oil, and was not often fond of the way his countrymen did business, with a callousness for others who they considered beneath them, even though their own wealth as Emirates had been manufactured by centuries of fighting over land slated to be ravished by oil rigs and pockmarked by derricks.
His own wealth had been handed down to him and he had consciously chosen a different path – one of real estate development. Curiously he had never invested in his own country. He had little faith that Dubai would last any longer than the sand it was built on. He lived there because that was where his aging parents had decided to spend their last days, otherwise he might have remained abroad. He was considered somewhat of an outcast in his community- a dutiful son, yet a reminder to more traditional Emirates that he stood apart from them as a matter of course, which made many of his equally wealthy compatriots disdain him and call him a traitor to his culture. He hoped to sell the building his parents owned once they passed away and leave Dubai behind forever. He had even thought of tearing it down so that no mark of shame would fall on his family from the ignominy that was Dubai.
Returning Charlotte's gaze he offered a conciliatory grin, took her slender gloved hand in his and spoke. "Perhaps you will manage my investments?"
She was surprised by this gesture but did not pull away. She felt a warmth move through her that allowed her ramrod spine to relax. Sinking deeper into the limousine's heated leather seats, she took a few a deep breaths, then leaned her head back into the cushions as her body collapsed with the burden of being who she was and what she had been born to. She felt in her core that the Prince was a kindred spirit – one who bore the burden of wealth acquired through birth-right. She felt him looking at her but did not feel the need to speak, sensing that he could talk to her without words. She suddenly felt tired and closed her eyes against the fading light, holding hands with a stranger 15 years her senior, not caring about a thing in the world except the peace she found in their silent communion.
Chapter 11: Peaceful Slumber
Willoughby was still curled up in Charles' bed with the blankets piled over him in a mound, just as he did when he slept on the street for warmth and protection. He was having a dream about going to the pawn shop to collect his pappy's watch. He was walking through mountains of snow wearing his hiking boots and nothing else, yet the cold did not seem to permeate his nakedness. He felt blissfully free and eager to regain the treasure his father had given him. It was the one thing that linked him to his beloved family. He felt that he must retain the connection to them and wanted to have the watch back for that purpose.
Coming to the doors of the pawn shop he found them to be locked with a notice on the door that they were out of business. In the dream he felt his heart race and his head spin – it was gone – his only connection was gone and he had no way of getting it back save for going home, back to Georgia. But how could he go home again with Grayson, Mama and Pappy six feet under, and Marion with his own dear family? How could he face Marion now that he had lost Pappy's watch? He needed to find the watch, but where? He began running through the streets of the city stopping at the doors of every pawn shop he could, yet all of them appeared shuttered or out of business. He felt angry and let out a scream at the top of his lungs. He bolted upright in bed, causing Charles who was dozing in the chair next to him wrapped in a quilt to awaken with a start. Will looked around frantically and began to get out of bed as Charles leaned in to sooth him, pushing him back into the thick pillows. He was hot to the touch and obviously feverish.
"It's okay, Will. You were having a dream" Charles said. "Will licked his parched lips and spoke softly. "I was dreamin' of my Pappy's watch. I need to get it back. I've got the ticket in my wallet." Taking little notice of his surroundings he struggled to right himself again but fell back into the bed weak from fever and his ensuing dream. Charles gave him a cool drink of water and sat on the side of the bed wiping his face with a damp cloth. "Don't worry, friend, we'll get your pappy's watch back. Sleep now and we'll talk about it in the morning."
Will looked at Charles with sad, tired eyes, speaking in an equally tired voice, "I've got to go home soon, Charles. If I go home without the watch Marion will be mad at me."
"We'll make certain that you get the watch back and get home safe and sound. Rest now and I'll help you tomorrow." Will took a deep breath and coughed raspily. Charles had not noticed it before and grew concerned. He went into the kitchen for more hot brandy but by the time he returned to his bedroom Will was fast asleep with the covers pulled up tight over his head leaving just enough room for air, with his bald head poking through slightly. Charles left the brandy on the night stand and resumed his guard in the easy chair.
Drifting in and out of sleep, Charles too was besieged by dreams. In one dream he was walking alongside Willoughby who kept looking at his pappy's pocket watch. Inside of the watch was a tattered picture in black and white of a woman wearing an old house dress; her face looked care worn yet she was smiling slightly. A small boy peeked around from behind her legs. As Charles looked at the picture he sensed that this was a picture of Will and his mother taken many years ago. In another dream he was talking to Charlotte on the phone telling her he was never coming back to the office. He heard her voice grow angry telling him that he was worthless and the angrier she grew over the phone the larger the phone grew until he could barely hold it. He sensed himself growing anxious and as the phone grew larger he rushed to a window and hurled it thorough the glass. He then found himself flying over Manhattan dressed in an old overcoat and a pair of tattered hiking boots – the wind in his face was cool and he felt deliriously happy. A beautiful bird with multi-colored wings flew by him and as he looked at it, its face morphed into Kristal's face and it mouthed the words "I love you".
Suddenly he found himself standing on the hard ground on the edge of a crowd of strangers dressed in black. He felt scared and attempted to rush through the crowd to see what was wrong. As he pushed his way through he found himself standing on the edge of a clear blue lake and looking into the lake he saw the image of his mother Lula smiling at him, beckoning him to dive in. He stood naked at the edge of the lake having removed his overcoat and boots and suddenly dove in. He woke with a start right before hitting the water feeling scared and disoriented. The dream brought on a memory: he had never been an exceptional swimmer and had almost drowned as a young boy in the pool at the YMCA when Lula had taken him for swim classes. She had been so upset with herself for making him take those lessons that she had vowed never to make him do anything he was not prepared to take on naturally ever again.
Charles awoke and peered at the lights of the Bose LCD clock on his night stand and saw that it was just after 3:00 am. He had not eaten since the meal at Johnny's kitchen and wondered if the brandy on top of the homemade wine had caused such crazy dreams. He stood up quietly so as not to disturb Will who was still wrapped in the blankets, snoring slightly. Wrapping the blanket that he slept under around his shoulders, he wandered into the kitchen. Going to the cabinets he took out a tall glass and stood in front of the refrigerator to fill it. There were three spigots on the door labeled water, juice and milk, with a small light above each spigot to alert him as to when they needed refilling. He placed the glass under the milk spigot filling if halfway and drank thirstily. Milk had always been his go to drink when he felt anxious and he was glad that Serena his housekeeper kept it filled.
Serena was a doe eyed light skinned Caribbean woman, somewhat older than Charles who doted on him, cooking him unique meals that she left labeled in the refrigerator or freezer for him to heat and eat, and ensuring his apartment was kept immaculate. Serena would show up on the day she was due to clean and they would share a cup of coffee to go over his list of requests before he headed to the office, leaving Serena to do her work at her leisure while he was gone. This was the only time they really spent together, yet Serena sensed Charles was lonely and in need of some mothering, hence, she had dubbed him her "chile" and made sure he was well taken care of. She loved bragging to her friend about how well her "chile" was doing at work; how if it wasn't for her he'd have no one to look after him. She secretly considered Charlotte a mean voodoo woman and prayed fervently that Charles would find real love and happiness.
Charles stood wrapped in the blanket at the picture window of his apartment that looked out over Manhattan, watching the snow that continued to fall heavily. He imagined that the snow must be very deep by now and hoped that the people he had meet at Johnny's were tucked away safe somewhere; Flo and Mimi at the Y on 23rd street and the others in a shelter or one of Johnny's apartments. He thought of Miss Bunny and her care-giver Sister Mary, wondering what would have happened if Miss Bunny had not been rescued from the alley she had been found in sleeping in her wheel chair – if she would still be out there on a night like tonight or dead from living as a disabled person on the street. He imagined her frozen in her chair with her little dog on her lap sitting watch over her as the cold squeezed the life out of her small fragile body. He saw her webbed fingers cramping into fists, then finally releasing as her spirit left her body and she flew to a place where there was no more pain; where she could live in the warmth of a loving embrace. Charles was not one to think about God frequently, but looking out of the window at the frozen white city and since meeting Willoughby, he felt that he was part of something greater – greater than the work he was doing, greater than all of his hard won wealth and the privileges associated with it, greater than anything he had ever experienced in his entire life.
The moon was partly hidden behind a cloud and as he gazed at it he felt he could not bear the sense of responsibility of being married to Charlotte, taking over the company; remaining in their private Idaho that distanced them from the world down below. He felt guilty and angry at himself for being drawn in by the Old Man and Charlotte, for being another cog in their burgeoning empire, one that he would never have entered except by sheer luck of the draw – yes, he had the skills and came with his own list of well thought out attainments. Still, if he had not meet the Old Man he would not have met Charlotte, or Kristal for that matter. He thought back to the first time he had met Kristal; how he had felt an instant connection with her, something that was very rare for him. She had been easy to talk to and listened intently at that meeting. He wasn't certain but he sensed she might have a crush on him even though she had kept their relationship very professional. Yet tonight something had touched his heart when she had called back after his text and he had told her to call him by his first name. Suddenly feeling tired he walked over to his 8-foot-long mohair stuffed sofa wrapping the blanket even tighter around himself to lie down. In a half sleep he dreamed that Kristal stood naked over him kissing him gently on the lips, her mouth lush and moist as he held open the blanket allowing her to lie next to him. He felt her warm skin against his cool body and as a surge of heat rose in him he fell into a deep, peaceful slumber.
Chapter 12: A Visit from Jane
The mid-afternoon ride through Manhattan had proven impossible with the weather being what it was. After nearly an hour in traffic, the Old Man had suggested that Nino park the car and they all walk to the Waldorf which was where the Prince was staying while in town. The Old Man held half a floor of suites there, the same ones he had utilized during the weekend he had married Charlotte's mother, Jane. One had served as a dressing room for Jane, others as rooms for those friends and family who had been hand selected to witness their nuptials. When Jane died the Old Man had gone to the iconic hotel and after giving the management a hefty deposit to reserve it indefinitely, the suites had been held by the Old Man in her memory.
They arrived looking like lost travelers from Alaska, covered in snow and ready for hot drinks. Nino was given one of the rooms for his use. Given that he had not worn an overcoat that morning, he declined joining them for drinks. It was a rarity for him to stay in a hotel like the Waldorf and he was looking forward to a long hot bath, a good Cuban cigar, ordering in room service, then a good night's sleep in a luxurious bed. The Old Man had slipped him a crisp Benjamin too, as a tip for helping the Prince maintain his footing on the icy streets, which his expensive leather boot soles could not withstand. Nino had half carried the Prince by the elbow with one arm around his waist, excusing himself every time they slipped a bit under each others weight. The Prince was spry yet unaccustomed to wintry weather unless he was doing business in Europe or America. The Prince had secretly hoped to escort Charlotte but the Old Man had insisted that Nino be his escort until they arrived at the hotel. He was glad that Nino had held him up since he slipped and slid so much he would have been embarrassed if he had assisted Charlotte. How she was able to keep from falling in her sky-high heels was a marvel to him. She had deftly crooked her arm into her father's elbow and together they had power walked their way to the Waldorf several feet ahead of Nino and the Prince, their heads leaning down into the blowing snow and gusty wind like a double force of nature against another. Charlotte towered over her father yet it was obvious from how he held her arm close to his body that he was strong enough to support them both.
The Prince admired their father-daughter relationship and how Charlotte obviously deferred to her father's wishes, even though, he imagined she could be petulant, like any younger woman who required guidance and lots of kisses on her voluptuous mouth. Dare he think of her as a woman who might be interested in him? Her hand had felt so small and tender sheathed in her expensive leather glove. He had held it until they had pulled over to get out of the limo. Watching her in repose in the darkening light of day with her eyes closed leaning back into the seat, he found himself struggling to keep his thoughts pure. Certainly he was not meant to be intimate with a woman he had just met, especially one of a different culture. Even though he had been European educated and was not as traditional as some of his cohorts, he still observed the decorum necessary between men and women; not just as a quasi-observant Muslim but as a gentleman. He had never been one for fast women nor did he find attractive those women in his culture who were destined to remain slaves to their religion.
There were a few who had escaped the rigors of a Muslim upbringing, his younger sister Imani for example, had married well outside of the culture. She had met the heir to a Greek shipping company when cruising one summer, instantly falling in love with Takis who had proven himself to be a wonderful husband and father to their two children. They resided in Portugal where the dictum of being Muslim and Greek Orthodox were not required; they were happy, well-off, and adored each other. The Prince longed for the same thing, someone who adored and understood him; someone he too could adore, pamper and love. Charlotte was beautiful, cultured and sexy, yet also smart and cool under pressure. These last two traits were what intrigued him – he had met many women who possessed class and beauty, some sexier than others, but this was not what he was seeking in a partner so much as someone who could hold their own in business and help to guide his. He was very Western in his thinking that his wife should be an asset and not shackled to their home, children, or religious predilections.
After toweling off in his room and changing into a fresh shirt he met Charlotte and the Old Man in the hotel lounge for cocktails. Lunch had been heavy and no-one wanted dinner. Even with slightly damp hat hair, Charlotte looked exquisite in the dim light of the lounge and his mind had wandered to thoughts of what it might be like to have her as his own. Now he lay in his bed wide awake with Charlotte in the room next door, wanting her more than any woman he had ever encountered.
Charlotte lay wide awake staring at the ceiling of her room, still angry that she had not heard from Charles and exhausted from the strain of the day. Lunch with the Prince and her father had been long and tiresome – she had wanted to get back to the office, find Charles, and give him what for. Why would he take off without letting her know where he was going? It was after 3:00 am. now and she felt confused. She got up and went to the window wrapped in a sheet. The room was warm and she had hung all of her clothing up to dry, rinsing her panties in the sink for the morning. Even though it was Saturday and she could sleep in, she adhered to the ritual of hanging up her clothes and having clean undergarments for the next day. Outside of her window the city was covered in a thick blanket of white snow. Small flakes swirled under the street lamp outside of her window and she knew it would be a several days before the streets would be clear.
Her mind wandered to when her father had first suggested that she and Charles might be suitable for each other. She had balked at his presumption, telling him that she would not marry Charles if he were the last man on earth. Yet her father had been persistent, even offering her an opportunity to quit the business to settle down to write once Charles was ensconced as head of the firm. Now she was engaged to him and miserable in knowing he was not the man she was destined for – the man she was destined for lay in the room next door, wanting her as much as she wanted him – she could sense it from his touch in the car earlier and over drinks when he had looked at her, she had felt herself flush and grow demure. It had never been like this with anyone else – even with Charles it felt distant. She longed for the warmth of someone who was willing to be strong and tender, who could sweep her off her feet with a glance and bring her to her knees with a look. The Prince with his salt and pepper hair, lean physique, and slightly accented voice was attractive to her, as were his intelligence and business savvy. He was a dynamo in what he did, but was not arrogant or showy – Charlotte was much more flamboyant than he was, but it was part of her artist's nature combined with her flair for the dramatic and the fact that she was always "on". How she wanted to turn "off" for a while, to close her eyes and hold the hand of someone who loved her without being afraid of her strength. The few moments in the back seat of the limo had given her that feeling; holding Samir's hand while they were stopped in traffic. It had felt warm and solid even against her glove which she had wanted to remove so she could feel his hand in her own.
A chill suddenly swept through the room and she felt compelled to go lie down. She knew it was Jane visiting her deceased mother often did when Charlotte was lost in contemplation. She had a tendency to remain impregnable until something disturbed her – she had been this way as a child; now as an adult, even more so. Her mother had been a gentle guiding force, relieving her of her heavy thoughts while tucking her into bed and telling her that a good night's sleep would help to ease her mind. In these intense moments she felt her mother's presence and understood that she was there to tuck her in so she could finally rest.
Oliver Lester slept the sleep of a man lost in his own country – his star employee and soon to be partner had failed him. The Prince was his coup with Charles set to attend to his every need – and what had he done – he had bailed – walking out on his opportunity, leaving them wondering where he was. Perhaps he was not the man for Charlotte after all or for a partnership with Lincoln-Lester for that matter. Perhaps Charlotte could be persuaded to run the company without Charles. Yet without an heir who would run the company after Charlotte? Watching the Prince and his daughter over lunch he realized that they had much in common; a similar drive and ambition that Charles lacked – not that he was incapable as he had proven time and time again; he was not as intensely engaged in the game. Charles seemed to plod while Charlotte soared.
At first the Old Man had thought that they would balance each other but now he was not so sure. He wondered if the Prince might be good for her – and had deliberately sat in front of the limo to give them time alone together. The Prince was 53 and Charlotte at 38 was nearing that time when she should bear a child or two. He would continue to observe their relationship and move them toward each other if it seemed the right thing to do. He rolled over to look at the clock on the night stand, it was little after 3:00 am., the time when he might have taken Jane in his arms and made love with her then fallen back to sleep before having to get up and work the Market. He missed his wife who had been the only woman he had ever allowed himself to love more than his work – until Charlotte had been born and he had fallen in love with her as the father of a perfect girl-baby would do. He suddenly felt sad and missed Jane terribly – she had always been able to sooth his worry and gave him the support he needed. Now he relied on Charlotte and tried not to meddle too much since she needed her own life, realizing that she too would soon be taken way from him to through marriage. Suddenly he wasn't certain who he'd be able to count on outside of their relationship at work. A breeze pushed past him and he sat up in the warm room wondering if the window were ajar. He stood up then walked over to the window to check. After doing so he stood there looking down into the street at the street lamp. He had stood under that street lamp some 35 years ago looking up at this very window knowing that the woman he was going to marry was sleeping soundly inside. He had wanted her so much then that he ached and knew that she felt the same way. Oliver suddenly felt warm around his shoulders and tired – was Jane coming to tuck him onto bed as she used to when he could not sleep pending a large business deal? He walked over to the bed, got under the covers, and holding his pillow in an embrace he whispered to the air, "Thank you, Jane.".
And so they slept; their lives having converged and changed in the course of one brief day. Snow fell silently on Manhattan coating the streets in pure white frosting that would eventually give way to gray slush and patches of black ice. The city gleamed like a giant crystal – elegant and glacial – shimmering under the florescent glow of the street lights that cast giant shadows off of the tall buildings onto the cavernous streets.
A lone figure made its way past the Waldorf huddled inside a ragged overcoat carrying a garbage bag full of their belongings over their back like a large sack of toys dropped from Santa's sleigh. In the dark, one could not make out if this person were male or female. The figure walked heavily carrying their belongings through the snow down the middle of the semi-plowed street. Stooping to pick up a lost glove that had frozen in a pile of snow the figure shook off the rag that had been wrapped around one hand to keep it warm, put the glove on their bare hand and slung the sack back over their shoulder. A plow truck moving up the street almost knocked the figure over causing the stunned driver to disturb the silence with a curse: "You friggin' bum! Watch where you're going." The figure pulled back toward the curb silently letting the plow go by. Underneath the hat that was pulled low over the figure's face to keep their ears warm came a soft reply that only the wind heard: "I ain't no friggin' bum. I'm a human being." Then re-establishing a course down the middle of the street, the figure continued its lone journey into the burgeoning light of another wintry New York morning