Laurel's Gift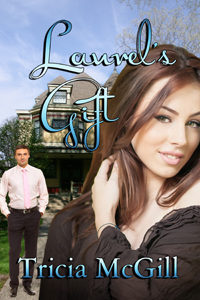 The plaintive singing of a ghostly child in the night sets off a chain of events that lead to Laurel learning the dark secrets that dwell in her Great Aunt Maggie's house in a Melbourne suburb. When Eli comes into Laurel's life, instead of instantly uncovering the secrets that have been buried in this house for many years, their joint efforts lead them to discover even greater mysteries.
Eli's past is tied up with the ghost of the child who haunts the house, and there are many hurdles to cross before he discovers just why he also sensed strange vibes in the old house as soon as he entered.
In their search for the answers to an extraordinary mystery they uncover a passionate love affair shared by the people dear to them or those who dwelt in the house at one time of another. Despite their shared psychic abilities can the couple also find such a love?
Chapter Excerpts
Elli
Like two sentinels the cats were waiting in the centre of the entrance foyer, their tails looped around their legs. Laurel took her jacket off and gestured to the powder room. "I'll just be a minute—if you want to wash your hands or anything the room's there."
"I'm fine."
She nodded, went upstairs and along to the main bedroom. After placing her jacket on the bed, she picked up the photos and the notebook. For a moment she stared down at the top photo with the shadow in the background. An overwhelming sense that her life was at a crossroads, and would change irrevocably from this moment, came over her.
When she looked over the balcony Eli was nowhere to be seen. Laurel went down the staircase. The kitchen door was open, so she went in there to find Eli staring out of the window into the dark garden. Charlie wasn't there.
He turned, smiling at Laurel. "I let the little dog out—was that all right? She seemed to have urgent matters to attend to."
It occurred to Laurel that Charlie had been unusually quiet when they came in. "Thanks, that's fine." Suddenly jittery, she nibbled her bottom lip. "Would you like a drink, or coffee?"
"Coffee will be good." He pulled out a chair and sat with ease at the kitchen table.
Laurel placed the early photograph of the children in front of him, saying, "I found this and these others among some things in a box in the basement last night."
His eyes lit with enthusiasm as he ran a finger over the faded picture.
"This was in the box with the photos." She handed him the notebook. While he carefully went through the pictures and turned the yellowed pages of the journal, she made him coffee and tea for herself.
By the time she placed his cup in front of him he was looking at the back of the last photo, staring down at it thoughtfully.
"What do you think?" she asked.
"Do you mind me asking what you were doing in the basement?"
Why was he always asking questions that dumbfounded her? Uncertainly she eyed him. "Would you believe I was guided there by a child I heard singing?" she said in a low voice.
He slapped a hand on the table. "I knew it!"
"Knew what?" This man was exceptionally unusual.
"I told you this house was filled with energy, didn't I?"
"Yes…"
Pushing the chair back, he began to pace around the kitchen. Charlie let out a soft bark and absently he opened the door to let her in. The dog joined the two cats who sat staring at the humans as if they were also involved in this strange conversation.
"Do you think the boy in the pictures is your uncle?" Laurel asked, when it looked as if he wasn't about to say any more. His way of going quiet for long stretches was very disconcerting. It hit Laurel that she shared that trait. Quite a few males she dated in the past accused her of being in a world of her own, and she surmised it was her going off as if in a trance that worried them.
"Extremely possible." He sat again, his hands on the table in front of him, his gaze intent as he stared at her. "A coincidence that these kids are very much alike." Another long pause. "Does it strike you as odd, that you found the box containing all this…" he gestured to the photos now lined up on the table. "…in Maggie's house—well, were led to it. Then you learn of your great aunt's love affair with my uncle. Then we meet because of their long ago affair. Is it my imagination or do we seem undeniably similar in character?"
"Perhaps," Laurel agreed slowly.
"Are you engaged to this man who sends you flowers on Valentine's Day?" he stunned her by asking. What had that to do with anything?
"No. Ben's my boss at the advertising company. I've been contemplating moving in with him—but then my great aunt had her accident so I was forced to move in here to care for the animals." Laurel gestured to the threesome who seemed spellbound by the conversation between the humans.
"Fate plays some strange hands at times," he mused. "Ditch him. He's not the man for you."
"I beg your pardon?"
"You heard. Have you told him you have special talents?"
Laurel nearly choked on the last of her tea. "How do you know?" she spluttered.
His grin held a touch of triumph. "A calculated guess. I've never told any of my female acquaintances or lovers either. It's the sort of thing that's guaranteed to send them running in fright, isn't it?"
"Yes."
"There has to be a very special reason Fate directed us into each other's orbit. What a shame we had to wait so long to meet." Rising, he walked around the table, pulled her gently to her feet, cupped her face in his beautiful hands, and kissed her.
Bells chimed, angels sang, and Laurel floated on a cloud of bliss.
When he pulled back a fraction, smiled into her eyes and then wrapped her in his arms before kissing her again, Laurel knew he was right. Fate, or a special force, brought them together.
The telephone's shrill ring brought her out of her daze of pleasure. He released her, and as Laurel stepped back she noted he appeared to be as bewitched as she.
"You'd better answer it," he suggested.