Love Forever After Boxed Set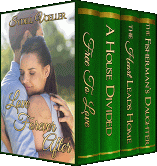 Four complete novels. One Low Price. Contains four romances, all 4 and 5 star reviews from award winning romance author Sydell Voeller.
Free to Love
One year after Joanna Sullivan's husband Kyle, a fireman, dies after saving two young children while fighting a house fire, Joanna makes a desperate attempt to start over. She moves to a new town, embarks on a new career as a field guide at the local coastal aquarium, and attempts to refurbish the dilapidated duplex she's purchased. Then Austin, her husband's brother, visits unexpectedly. He offers to stay and help her with the much needed repairs. Joanna soon discovers, however, that Austin's presence is proving more disturbing than helpful. His resemblance to Kyle is uncanny, thwarting her resolve to put her husband's memory to rest. Worse, she is strongly attracted to Austin. Austin, a veterinarian, shares Joanna's love of nature, and the two find much common ground as they team up to help clean up the beaches and save the native birds and wildlife from the encroachment of civilization. Can Joanna let go of her grief and love Austin in his own right? Or will he always remain the ghost of her husband?
A House Divided
Rebecca Lorenzo, the young widow of a Hollywood actor who was killed by a crazed fan, is struggling to raise their young daughter, Wendy. Rebecca is embittered that God allowed her precious husband to die. She has turned her back on Him. Rebecca and Wendy move from L.A. to Rebecca's hometown on the Oregon coast. Due to a miscommunication, Rebecca mistakenly believes she can buy a Victorian house there. She hopes to cocoon herself in the security of her "safe" hometown. Rebecca meets the handsome, enigmatic homeowner, Mark Simons, and learns of his plans to tear down the house. Mark, a psychiatrist, is attempting to raise money to build a halfway house on the property, and he is admittedly a workaholic. He believes this project is God's will for him. Mark refuses to budge when Rebecca approaches him about selling the house. As Rebecca and Mark struggle to battle their individual demons from the past, they also struggle to resist their growing love for each other.
The Heart Leads Home
Sarah Pendleton, a first grade teacher in Portland, Oregon, feels duty-bound as she returns to her hometown of Mistletoe Valley–and to her conflicted past. While growing up in her small, rural community Sarah lived with her grandparents, who served their community well–especially her grandfather, a pastor. Yet Sarah despised being the "perfect preacher's kid" in a small town where everyone knew everyone else's business. Rebellious, she fell for a stereotypical "bad boy" during high school and after graduation, they married. When they learned she was pregnant, he left her for parts unknown. Unable to support the baby, Sarah gave her up for adoption, yet ever since, guilt has consumed her. She believes she doesn't deserve to have a second chance at being a mother again.
The Fisherman's Daughter
Psychology professor Vanessa Paris receives word that her father has disappeared from his fishing boat in Puget Sound and rushes to her childhood home in the San Juan Islands to try to help find him. Tragedy has been no stranger to Vanessa–years ago her mother died and more recently, her brother. The possibility of losing her father now is almost too much to bear.
But when Vanessa arrives at the family owned tourist lodge, she meets Lowell Maxwell, who offers to help her search for her father. Back in high school, Vanessa harbored a secret, unrequited crush on Lowell. Now, he's a tough, jaded cop on leave from L.A., working for her father as a carpenter on a temporary basis, and even more dangerously appealing.