Matters Familiar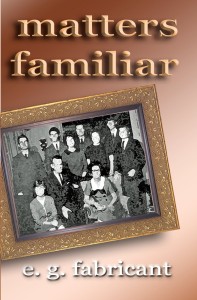 Matters Familiar is an anthology of short stories, offering 12 tales from inside complex contemporary relationships featuring parents; kids; convicts; hustlers; lawyers; politicians; and other undesirables:
A small girl, suffocating in the growing culture of fear around her, struggles to take the high ground.
A recently-divorced father sharing custody of his young son learns about parenting in an unlikely place–Death Row.
Adrift in his own life and desperate for a belief system, a young man finds direction and purpose from a surprising source.
Two brothers try to make sense of their lives after their domineering mother's death.
A girls' softball team rebels and instructs parents and coaches in the true spirit and value of competition.
A retired cowgirl, her best friend, and a colorful collection of co-conspirators resort to drugs, kidnapping, and interstate flight to escape the nursing home and reclaim their lives.
A vignette, after infidelity was declared an Olympic sport. [Sexually explicit.]
An amnesiac accident victim recovers more than his health among strangers in a small Southern town.
Two boys, one mother; two lives, lived together, but separated from birth.
A stressed-out, top-dollar attorney complains about the bill and unwittingly becomes his plumber's Zen pupil.
Worried about his sickly nephew's future, a dutiful mob soldier finds inspiration an ocean and an age away.
A scandal-plagued politician contemplates suicide, but checks in with his estranged cousin, a journalist, to try to sort things out first.
Chapter Excerpts
"Ashley Alert"
Ashley Butterworth, precocious six-year-old, from Ashley Alert:
She pushed her ginger curls away from her ear and laid it carefully against the door and listened. All right! She clapped her hands and squealed, thought better of it and almost as quickly shushed herself. She sailed into the room and onto her trundle bed, one knee aboard and a straight leg trailing. She glimpsed the lacy blouse, pinafore, and Mary Janes on her image in the mirror and frowned. I hate me! Why do I have to be so girly all the time?
"Boys Will Be Men"
Chad Wilcomb, local beat reporter and single father, from Boys Will Be Men:
"Can Mommy come live with us again?"
Chad Wilcomb's shoulders sagged as he switched off the coffeemaker. He turned. His six-year-old's eyes shimmered above his cereal bowl like tiny blue Christmas balls. "Chuckie, we've been over this a million times in the last three years. No; Mommy's not going to live with us anymore."
Chuckie frowned into his milk. "I don't like two houses and Mrs. Sherwatter–she smells funny. Mommy has day care; she doesn't need no babysitter at night."
"Chosen"
Halston Kohlfeldt, life- and morality-challenged human, from Chosen:
Halston sighed, slung his backpack, and headed for the door, dogged by the usual exchanges of nudges and murmurs. Adrianna Wong caught him by the elbow in the hallway. "Hey, Aristotle! Gonna pick up from last year and start the fall semester of '97 as the designated deep-thinker of the Class of '99?"
His wan smile breached the embarrassment. "Yeah–I guess."
"Gemini"
Jim and Cary Ellison, self-imprisoned siblings, from Gemini:
Jim looked at Laura, the baby, as his little brother, Cary–all six-and-a-half feet of him–embraced the rostrum. The meadow of blue, gray, and oddly strawberry heads that had known them all as children stirred slightly, as if anticipating a chilly gust–fed, no doubt, each by their own recollections of the rocky history between mother and son. Laura's chrome-blue eyes summarized her, and their, concern.
"Intentional Walk"
Tiffany Queensberry, budding athlete, from Intentional Walk:
"Drills. Camps. Videos. Special coaching. The rants. 'Trophy, Tiffany. ' 'Scholarship, Tiffany.' 'The Olympics, Tiffany.' It's not bad enough that we play half the year…" She drifted away, lost in her laced fingers… "What if I'm not that good? I mean, like they all want? What then?"
"The Jewel of Genoa"
Pearl O. Mutter, retired cowgirl, from The Jewel of Genoa:
She walked around the other, vacant bed and stood behind the half-closed door, finding herself in the full-length mirror. Even after all this time, she still couldn't believe her eyes. In another glass she'd seen a strong, brown woman with auburn locks, eyes that danced over a nose that drew more breath awake and alive than asleep, and a grin-prone mouth. Sturdy frame in a faded denim shirt, Levi's, and rough-out boots. A woman more familiar with the essences of lime, sweat, and just-singed cowhide than with those of Paris. Sinewy forearms and gnarled hands with the veins, knots, and calluses standard on the wife of a working cattle feeder. All she could find now were the eyes, if she allowed it, and the hands, which she couldn't help. Where did she go? Pearl asked herself. Well, I'm going t' find her again, and the lookin' starts now.
"Medalists"
[Decline-to-State], sexual athlete, in Medalists:
He feigned interest in the pool rules as she lowered herself into the sanitized froth. Their heads and eyes moved in non-synchronous orbits. Wait. Wait. Now. Discreetly, he tucked in his TYR Heatwaves Male Racers to accentuate his genitals. He stood, grasped the handrail and climbed, hesitating on the top step. Slowly, his eyes moved to her fingertips, lingered at her tennis bracelet, and glided up her arm into her pupils. Violet–real, or lenses?
"Meridian"
"John Doe," accident and amnesia victim, in Meridian:
John sagged at his armpits over the parallel bars, panting and aching from every pore; the area between his hip sockets and slippers was jelly.
"C'mon, John; two more steps and we'll call it a day." Coretta stood at the end, beckoning him with both hands.
"Oh, Jesus, Coretta–it hurts so bad…"
Coretta flushed and straightened up. "If you'd call His name in a helpful rather than a hurtful way, you'd be dancin' by Friday night, I guarantee."
"Pallbearer"
Hank and Harry Martz, sentenced to life as brothers, from Pallbearer:
Harry clamped his arms around Hank's waist as much as their bulky clothing permitted and sucked in a breath. He buried his cheek in big brother's shoulder blade, knocking his leather visor askew and filling his inside eye with a damp lambs-wool earflap. He knew he'd be mocked, but it would be worth it. He liked the sensation of falling blind but was desperate for the closeness.
"Pipe Dream"
Jay Johannesen, big-time L.A. divorce lawyer, from Pipe Dream:
"I'll make you a deal." Jay shaped the offer with his hands. "Spend Thursday with me; audit a practice day, and show me some Zen techniques I can use to lower my emotional temperature. I'll pay you my hourly rate. What do you say?"
"Robbin' Hood"
Pettirosso "Petey" DiCappello, small-time Jersey soldato, in Robbin' Hood:
The furrows above Pettirosso "Petey" DiCappello's mono-brow plotted all his meager concentration, intent on the fiberboard tray between his porcine hands. His lips formed unuttered words as he left Italian People's to cross Butler. Lemmesee–two milk, one sugar; one cream, no sugar; one double-mocha, half-caf… He blinked. That Billy. What a fessacchione–coffee is coffee, right?
"Term Limit"
John Quincy "Jack" Quisenberry, officeholder under investigation, in Term Limit:
Jack resumed his dark reverie. How did it come to this? he wondered. Military combat pilot. High-concept marriage. Business credentials. Three Assembly terms as a journeyman moderate. Elected and re-elected to a third-rail office, to which I brought management skills and, God forbid, results. Now I'm probably a fortnight away from being run out of Sacramento–and without benefit of electorate, unlike the other guy.