Meretneith Book 1 of the Protectress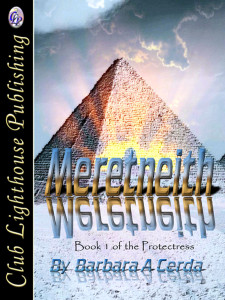 This romantic thriller is about a beautiful 5,000-year-old female warrior known among her kind as the Protectress. Meretneith covertly leads the remnants of a civilization destroyed by Earth's catastrophic land shifts over 500,000 years ago. Her highly evolved culture thrived long before humans walked upright.  A warrior that fought in the ancient deserts of Kemet, the beauty now travels the world as a business leader and death dealer in Northern African deserts.
The first in a series of novels that chronicle the events that shape then define the evolving relationships between the female warrior Protector Meretneith, her lovers and human kind. In accordance to their ancient tribal traditions, it is her brother the god Ptah. Until the emotionally cold and beautiful middle-aged giant, Saul Ben Israel enters their lives.  He is the Chosen One…come to lead in the war against the primordial evil, the Hyksos or Oldest of the Old.
Chapter Excerpts
Chapter Three Penultimate
CHAPTER THREE
Penultimate
SAUL'S NERVES FELT RAW.  Gathering his calm, he stood staring down at the Chicago River. Obviously, the leaders of the Neith Foundation understood that he possessed untapped resources.  No one had ever attempted a financial project of this magnitude.  Implementation of Saul's visions for a reengineered global economy would change billions of lives, over countless generations.  Yet he was doing business with people he personally knew little about.
The Neith team were strangers to him.  Meetings were handled by Sarah and Jesse at the Foundation's request.  He couldn't shake the feeling that there was so much hidden in this.  Before going into Jesse's offices, Saul quietly watched, the river taxis and vacationing yachts slowly meandered up and down the green water.  The riverfront cafés were beginning to fill.  He offered up prayers.  He hoped that today's meeting would suggest further insight as to who truly steered the Neith Foundation. Glancing at his watch, he had two hours to get to the meeting and in twenty minutes there was his tailor.  He called his father.  The cell only rang once before he heard the familiar voice on the other end.
"Son don't let your nerves get the best of you."
"Dad, I'm on my way to the tailor's before the meeting.  Any last minute words before I present the final bid?"
There was a short silence, "Is Sarah or Jesse going with you?"
"No.  Remember that the board made it clear that only I would attend.  Sarah isn't very pleased about that."
Saul sighed.  "I'm sure she isn't" He could hear the tension in Samuel's voice.  His father had never really trusted or liked Sarah.  He and Ruth entertained her on few occasions; his father's demeanour always cordial and with its usual grace.  For a moment, Saul wished that his father would attend this meeting with him.  Samuel Ben Izrael was a gifted diplomat and a supreme poker player.
"What time is the meeting again?" his father asked.  Then added,
"Wear your poker face"
Saul threw his head back in laughter.  "I love you Dad"
"Same here son"
Saul thought how his father never said the words "I love you" But he knew Samuel well – and he knew that Samuel Ben Izrael loved his youngest son Saul greatly.  Glancing at his watch, he walked back to his desk to dial the receptionist.
"Monique I'm on my way out to the meeting."
"Yes Mr. Ben Izrael. There's a call waiting for you. It's the Neith Foundation confirming your appointment for today at twelve."
"Cool. You can confirm for me.  Anything else?  I'll be out for the rest of the day and my cell will be off.  If anything comes up give it to Sarah or Jesse.  I'll touch bases with you in the morning.  Good luck tomorrow and leave me a message when you get your test results. "
"OK.  Will you be in tomorrow?"
"I don't know.  I'll keep you posted."
Entering the adjoining offices of Sarah and Jesse, he got his first look at Sarah for the day. She and Jesse sat reviewing the finished proposal and looked up as he entered.  She was dressed in her usual simple lines and subdued colours that set off her tall slight figure and Nordic blonde good looks.  In this case, it was a dress.  With long legs crossed, she sat in a leather wingback stationed in front of a glass wall.  The sun streamed through the highlights of her platinum bobbed hair.  The huge doll like blue eyes revealed at first annoyance then softened when their eyes met. Unwinding beautiful legs she stood and approached him just as his smartphone beeped.  Notification of the receipt of the final proposal had been received, no looking back now.
He looked at Jesse, "Well this is it. I'll call you guys later; I'm on my way to the tailor."
Jesse smiled, "We've worked hard on this Saul.  It'll be good. Don't get edgy on me, treat this like any of your other big deals"
Saul started for the door then paused to give Sarah a kiss. He stared at her beautiful small pink lips that parted suddenly to give him a brilliant white smile.  She met him halfway, leaning her heart shaped face up to him she welcomed a tiny bit of his tongue.  Looking up over her shoulder, he saw Jesse patiently waiting for acknowledgment.
Jesse complained.  "Wish we could go with you"
Saul smiled back at his handsome young face. Jesse Isaacsons was a close family friend.  Saul's father and Jesse's were childhood companions.  He had joined the firm right out of school.  He was as young as Sarah and was Saul's best friend.   Saul noticed an uncomfortable tension had developed between them.  Sarah was ruthless and always played to win.  Saul understood that, and had to often remind himself of what an asset she had become to the firm and to him.
He and Jesse's eyes met in a meaningful way, "I wish you could too buddy."  Being groomed to fill Saul's shoes one day Jesse had become his right arm.  Something, he was grateful that Sarah didn't know.  It was what his father wanted for Jesse. Saul was fully prepared to make Sarah a full partner as compensation.  With a healthy increase in stock options and salary, she would be rich and happy.
Sarah turned to smile at Jesse, "He'll be fine.  Shall I pick you up after the meeting?"
"No, I don't know how long this is going to last and I want to use every opportunity to learn as much as I can about the Foundation. I'll call you when I'm done and if I'm free you and Jesse can meet me for dinner".
Saul knew every facet of his firm's massive proposal.  It was maintaining the secrecy of its contents that had become a major challenge. It was the unknowable "what ifs" and the subtle nuances that always accompanied economic changes that worried him.  Projecting that far into the future of global growth was difficult, if not impossible.  How does one predict the subtle predilections of sovereign politics?
Saul re-entered the heat of the summer street to find his Jag motor running and waiting curb side. As routine Monique had called security to have the dark green sedan waiting. The traffic on LaSalle Street was building as normal.  Getting to his tailor, only a few blocks away, took longer than he anticipated.  The couturier was housed in one of the city's old elegant hotels on South State Street.  Arriving at its entrance, he jumped out of the rebuilt roadster.  Tossing the keys to the door attendant, he walked quickly through the intricate brass and glass revolving doors, into coolness. Bypassing tourists, tradesmen and vacationers, he strode across the giant expanse of lobby covered in thick red oriental carpeting with rich gold detailing. It graced the majestic grand staircase. Lit with magnificent crystal chandeliers, it was abuzz with porters responding while transporting luggage. He headed for a recess containing a winding staircase leading to the lower level shops.
Standing atop a raised dais, a little spectacled man hovered over the giant.  Small wizen fingers gingerly moved over Saul's broad back and shoulders checking his artisanship, reassuring himself of the perfection in stitchery.  The seaming and fabric choices were superb and the pride in his work was evident.  Twinkling blues smiled from behind rimless glasses. Saul assessed his look in the broad three-way mirror.  The dimples deepen indicating his approval.
An hour later Saul's big frame emerged from the hotel lobby unbuttoning a longer length casual fitted suit jacket. Fine white cotton collar and cuffs with silver knot cufflinks peaked from the suit. It was created in the colour of black linen and silk over matching trousers. His bare feet sported a pair of hand stitched black loafers. His generous lips were set in a purposeful smile.
Arriving curb side his Jag appeared and a young carhop jumped out.   Hand low at thigh level he placed a generous tip in the youngster's hand in passing before sinking into the leather interior.  Checking the rear-view mirror, he peeled off from the curb to turn left on to North Michigan Avenue.  He was off to his meeting with the Neith Foundation.
With a few minutes to spare, he arrived at the entrance of the centuries old high-rise.  Reaching over to the passenger seat, he quickly gathered the silver acknowledgement notes addressed to the Foundation board, stuffing them into a leather valise. Tossing his car keys to the waiting valet, he walked immediately into the crowded cool black marbled lobby.  Approaching the concierge, he asked for directions to the boardroom. The tall elegant female unwound herself from behind the desk to escort him to the penthouse elevators. The conveyors were at the end of a long empty corridor that angled sharply to his right.
An inlayed geometric marble pattern themed the flooring then applied to the walls and ceiling, paving his path to a set of floor to ceiling ornate brass elevator doors.  Fingering the rich carvings before he pressed the illuminated button on the sidewall, mirrored doors silently slid open. Stepping inside he was surrounded by wood paneled interior.  The lit panel over the button clearly read "Penthouse".  He had no way of knowing how high up he was ascending, but the car moved swiftly.  He could hear the soft whine of air rushing.  The elevator came to a gentle stop. The door panels slid open to the harsh reality of bright daylight.  Colourful prisms of sunlight streaked the highly polished white marbled entranceway.
Bright blue cloudless sky heralded through glass walls terminating in smaller sections progressing to a pyramidal ceiling, and its eighteen-story apex.  A striking young man stood smiling in greeting.
"Hello Mr. Ben Izrael, I am John one of Ms. Neith's assistants.  The Neith board is waiting for you."
Tall and slender, his skin was deeply tanned with blond hair framing a face with large wide blue smiling eyes.  Offering his hand in greeting, Saul handed him the valise filled with board member acknowledgements then followed the young man through the doors. Brilliant indigo carpet comforted his steps toward the boardroom doors.  Saul could hear the sounds of hushed voices emanating from beyond as they quickly walked down the wood panelled corridor.   Saul's pulse quickened as he entered the room and thought… so the performance begins.
At its center hung a huge glass sculptured chandelier.  It was suspended over the focal point of the room, an immense oval table of inlayed inlaid wood.  Eight people rose to greet him, except for a young woman who sat at the far end of the table.  Her back was to a bank of windows composed of three large arched sectional panes overlooking Millennium Park.  The sunlight framed her silhouette.  The moment Saul's eyes met hers he noticed little else.  Taking him by surprise a tall young African American woman introduced herself as Ms. Neith's North America Director of Operations, Aisha Davenport. Absently he acknowledged each board member.  Then finally came time for the deep bronze coloured beauty to be introduced. The stunning face burst into a brilliant smile.
"Mr. Ben Izrael" the Director continued, "This is Meret Neith, Board Chairperson."
Saul walked to the end of the table where she sat.  Reaching out his hand, she took it in both of hers clasping them firmly, smiling up at him.  A soft aroma seemed to rise from her unlike anything he had ever smelled.  Beautiful almond shaped green feline eyes stared back into his.  The long straight nose ended with nostrils slightly flared, as if she too was admiring the scent of him.  Long tight waves of dark hair hung loose disappearing behind her shoulders.  It shimmered as if gilded in shades of gold that shifted in sunbeams streaming through the windows.  The voice coming from full red lips was deep and husky with a soft accented smoothness that seemed familiar.
"I am happy to meet you at last Mr. Ben Izrael.  We're all anxious to hear your proposals on how to get this project going.  Our families have waited and planned for this day for generations"
He answered, "I look forward to launching the first stage and getting to know you and your team.  Shall we begin?"
It was hard for Saul to take his eyes off her or dispel a deep curiosity about her remarks.  He reluctantly turned from her to return to the opposite end of the table.  Pausing for a moment before sitting, he flashed a brilliant smile.
The meeting was filled with animated conversation and vigorous debates.  Saul starred at the stunning woman sitting opposite him.  She had little input yet never took her eyes from him.  His heart and mind were racing.  The questions came furious.  An older woman with sharp angular features challenged his arguments about the infrastructure portion of the project.
"How would it pay for itself within ten years in countries included in the first phase?"  She questioned the feasibility of whether the additional tax base could generate the needed revenue.  Feeling emboldened by the confrontation others on the board piped in.  Saul had planned for this and the answers came smooth and reassuring.  Four hours later, he finished the first portion of the board meeting.  He knew that many more were to follow.
The sun was at a new angle, casting its rays across the table when he heard doors swing open behind him. The blond youth re-entered accompanied by a compliment of white coated wait staff pushing white linen covered carts.  Atop it sat silver domes filled with the sweet, savoury smell of spicy foods.  The little parade progressed to the sideboard and began to present the feast.  Saul heard Meret Neith's voice from across the room.
"Thank you Mr. Ben Izrael. Your leadership in this our first board conference is greatly valued.  Our project seems to be progressing better than we hoped.  I'd like to offer my board members time to digest all of this information before we reconvene in London tomorrow.  My brother will want to review it before meeting with you as well."
Saul's heart was racing, he was stunned. There was no mention of her brother's needed decision in their correspondence.  She approached seeming to tower over him.  Her shoulders were broad before tapering to a hand span waist where hips flared full and sensual.  The exquisite figure was draped in fine black fabric.  Cinching the fabric tightly a little off center at the waist was a sterling broach shaped in the image of the Eye of Horus.  The high neckline draped and accentuated her large opulent breasts. The skirt of the dress draped effortlessly to long beautiful bare legs that ended in black high-heeled pumps.
Again, the voice from the full lips came husky and sweet to his ears, "I will call my brother this afternoon and would enjoy your company for dinner tonight."  The statement came as an announcement rather than a request.
"I will expect you at eight."  Her manner was that of a queen accustomed to but unaware of her power.  Saul wanted to touch her, his pulse was racing.  "Of course, I'd be honoured." Fascinated he watched the sway of her full hips walking away.  Her stride was slow and sure as if aware of his gaze.  Just before passing through the doors, she turned to look back at him.
He returned the stare.  She confirmed the invitation, "I'll see you then at eight.  John will give you directions.  My home is in the top floors of this building."  She left the room.
Recovering quickly Saul heard two of the board members at his elbow with more questions.  After checking his watch, he entered a lively discussion while a waiter filled a white plate with steaming fragrant rice and meats.  The remainder of the afternoon went quickly.  The memory of his first meeting with Meret Neith filled Saul's veins with warm anticipation. Never had he been so impressed.
He became familiar with each board member.  He soon learned that several of them knew his father well and had business interests in common.  Some held seats on other boards as well as being actively involved in the G20.  Saul was pleased with his accomplishments this day, and more than pleased with the politics of the new company he was keeping.  First meeting wrap ups with individual board members lasted well into early evening.  This left him just enough time to check in with his father and go home for a quick shower and change.  The camaraderie had begun and the exchange of information was copious.  He was beginning to enjoy being the center of this universe.