Murder At The Space Hotel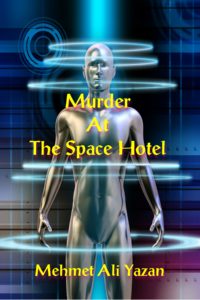 When a man is murdered on a Space Hotel, it is up to Detective Herry Mortimer to solve the case. As he travels into space, along with Scott Yvensen, his assistant on the case, Mortimer prepares to ask some tough questions.
Why would someone bludgeon Novell Chamberlain to death? Who were his enemies? And is the murder all that it seems?
Chapter Excerpts
Scott answered, "To be honest, it's not that good so far. We still haven't found any clues after interrogating two suspects."
"I hope you find what you are looking for. Come here. See the magnificent beauty of space."
Both detectives went to the telescope. First Mortimer, then Scott, watched the wonder. The view was constantly changing because the hotel revolved. Mortimer added, "After watching this kind of beauty, why would people kill each other?"
Courtney smiled. "My dear friend, ambition or
fear."
Mortimer nodded, then mentioned, "Should I tell
you that we all need to be careful, because there is still a murderer inside this hotel."
Courtney told him, "Don't worry, Detective. I have special alarm system that I can trigger anytime I don't feel safe. All the robots will come and help me. I don't know if you have realized, but two robots are always with me. If they see me in danger, they will move and help me. I think it's you who should be careful."
Mortimer smiled. "I think you are right." They left the room and headed back to their own to get some rest.
Room service woke them up at 9am the next morning. Breakfast would be in twenty minutes. If they proceeded with the regularly scheduled day, they would have a small trip to the moon. However, because of the murder, everybody stayed where they were until the investigation ended.
When the detectives arrived at breakfast, everybody stared. There were the security specialists, Courtney, the robots, and the robot specialist on their table. Mortimer looked at the robots around them. Except their faces, their bodies all looked human. Everyone could understand the distinguished faces. They made them like that purposely