Night Shadows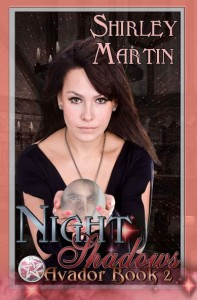 Fianna flees home to escape an unwanted suitor. Desperately hoping to evade capture, she journeys to a city far away. There she meets Gaderian, a man of mystery.
Forced to support herself, she works as a fortune teller in a tavern, and there she meets Gaderian again. She is caught between three different men who want her, each for his own reason.
The demon, Stilo, wants her as his sex slave. Angus, the man she refused to marry, won't give up in his search for her. And in a realm where vampires and demons battle for supremacy, she is trapped in a dangerous game, where someone is bound to die.