Recreation – "Yes, you do look a little familiar…"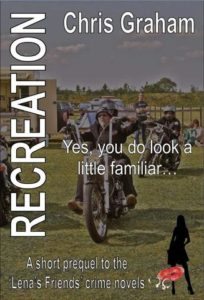 A short story prequel to CHRIS GRAHAM'S series: the 'LENA'S FRIENDS' crime novels. ('Recreation' is an introduction to the series and can be bought from Amazon, but is available free from my publisher's website: ex-l-ence.com )
The year is 2004. You are about to meet Lena Fox for the very first time.
Lena sells herself. She works as a high-class escort. In essence, she is a prostitute. A very good one, and a very successful one. Lena enjoys her work immensely and has done very well from it.
Lena's real passion, though, is not one that reflects the Champagne lifestyle of her wealthy clientèle. Lena's passion has wheels. Lena prefers to wear well-worn jeans, Doc Marten boots, and an old black leather jacket that had once belonged to her late father.
Her father had given her the passion for riding motorcycles.
At a bike rally, Lena gets involved with helping the victim of a crime and also meets up with Tony, someone she had previously met in a 'professional' way… Despite initial worries that her business and private lives should be kept separate, it soon becomes obvious that Tony was definitely going to be one of 'Lena's Friends'…