Ring Around the Rosy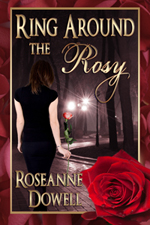 Harassing phone calls from a killer terrify journalist, Susan Weston after her first big byline.
Detective David Morgan investigates the calls and the fact Susan's bracelet was found at the murder scene. Sparks fly between them in more ways than one. To make matters worse, someone is leaving roses in front of Susan's door. Is she being stalked by a killer?
Chapter Excerpts
Reviews
5.0 out of 5 stars A Charming Romance/Mystery With a Lot Going For It August 22, 2012
By Heather Haven
Format:Kindle Edition|Verified Purchase
Step aside Nora Roberts and make way for Roseanne Dowell. Here's a lady who knows how to mix romance and mystery in the most delightful, ghoulish way. Start with nursery rhyme murders committed by a serial killer, throw in an independent but flawed heroine, add a gorgeous but doubting hero, and mix for a fun, diverting way to spend an evening with a book. Dowell is an accomplished writer with an easy, readable style.