Secrets, Lies, & Love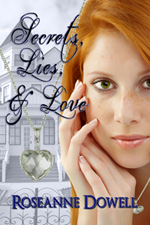 When Meghan Shelby inherits the family home, she returns to her hometown after a ten year absence. Not only does she find the house is in a rundown, dilapidated condition, there's a dead body in it. She also discovers a heart-shaped locket with a picture of a man and a journal that reveals secrets and deceit from years ago and learns why her parents never returned.
Intriguing romance January 22, 2012
By S.A. Martin
From the first page to the last, "Secrets, Loves, and Lies" draws you in and won't let go. This romance has everthing, a very moving plot, an enchanting love story, and mystery, not to mention interesting characters. There is not a dull moment in the book. Unhesitatingly, I give it 5 stars.
Chapter Excerpts
From the Author
I've always had a thing for Victorian houses, especially Queen Anne style. In fact they play a part in almost every book I write.
The idea of Secrets, Lies, & Love came to me in Charleston, SC. We were in a small pub eating lunch and our waitress's name was Meghan. I loved the spelling. Although my character doesn't look anything like the waitress, the name kept swirling in my head and I knew I had to use it.
Funny, how just a name can give you an idea for a story.