Talon, come fly with me
By Gigi Sedlmayer Leave a Comment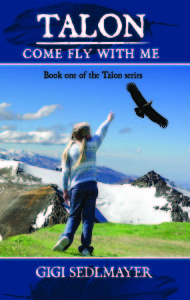 Nine year old Matica lives in a remote village on a dry plateau in the Andes of Peru with her Australian missionary and schoolteacher parents. Matica has a growth handicap and is trapped in the body of a two year old, causing her to be rejected by the local people, who do not allow her to play with their children. With patience and a sense of adventure, Matica befriends a pair of condors. A strong bond and love develops between them. She rescues the egg the condors, Tamo and Tima, are trying to protect from poachers and nurtures it to hatching. The egg hatches on her 10th birthday. She names the new fledging Talon. This is the beginning of many incredible adventures with Talon and Matica. It is a story of hope, determination and love.
Chapter Excerpts
Looking for a Food Gift
Matica, where are you? Ah, there you are. What are you doing?'
Four-year-old Aikon, Matica's very clever and bright brother found her crawling under the big tree near their hut, trailing a small cloud of dust behind her. Putting his hands on his hips, he accused her, 'You're not looking for a food gift for Tamo, are you? So, what are you doing?'
Close to tears, she answered, 'Y-e-e-s, I am looking, but I can't find anything, not even the tiniest worm.' She hit the dusty ground beside her with the flat of her hand. A small dust cloud rose up and tickled her nose and throat. She coughed then sneezed. Not looking out, she wanted to sit on the only little spot of grass under the tree.
Cluck, cluck-cluck, cluck, cluck-cluck-cluck. With flapping wings, a chicken ran away. Matica sat down awkwardly.
Laughing, Aikon scooped up the chicken and held it in his arms, stroking it. 'Look at her, how cute she looks. Tsk, tsk. You don't want her to end up in the pot, do you? Poor thing. She's not ready for the pot yet, you know. Mum needs her eggs.'
Matica pulled a face.
Still laughing, Aikon let the chicken go. 'Here you go,' he said to her then looked at his sister, saying, 'Was she helping you?'
'Hmm, she tried for the last ten minutes but hasn't found anything either. She liked being with me, though.'
'She likes being with you?' He looked after the chicken. 'All right, then. Come on, we'll find something now.'
Aikon crawled away from where Matica was sitting. As he passed her, she saw his sparkling eyes – like a glow-worm, she thought. He must have played with Emelio before, his best friend. These two are one of a kind, they really are. If only I … She stopped; she didn't want to fall into self-pity now.
Matica crawled after him. Her long, wavy, sandy blonde hair fell over her face, so she brushed it behind her ears. She was dressed in a blue and white traditional short dress and looked gorgeous with her skin golden brown from the scorching sun high up in the mountains of Peru where they had now lived for the last four years. Aikon also had that golden brown skin.
A colourful dragonfly flitted past Matica and sat on a leaf beside her. 'Aikon, look!' Matica pulled his foot. Fascinated, they both examined it. 'What a beauty, hey? But I won't catch it for Tamo. It's too nice.'
Stretching her hand to tap it with her finger, she wrinkled her forehead and said impulsively, really falling into self-pity now, 'Some
animals are so small and, and … some humans are as well,' she grumbled very softly. 'But others can be so big.'
Aikon looked at her seriously for a few seconds, not cracking a smile. Finally he said, 'You mean your condors, Tamo and Tima, and you as well?'
'Hmm, big, Tamo and Tima, small, me.' She sighed. 'I feel smaller than them. Why do I have this growth problem? Why can't I be like you – normal?'
Aikon shrugged his shoulders. 'Matica, don't say that. If you think that, you'll be sad, so stop it. We can't change you. You have to stay the way you are.' He lifted his hands. 'I wish you were the right size and not smaller than me, but Emelio has never said anything bad about you.' His brown eyes sparkled with truth.
'Why do you have to be so smart, Aikon?'
He stood up and stretched himself then tapped his chest. 'Because I am.' He fell down beside her and grinned.
She smirked. 'Okay, thanks for your kind words, but …' she paused a little, 'I really wish I didn't have that … that challenge. It would be so much easier for me.'
'I know.' Aikon put his hand on her arm. 'Do you know that I … oh, no.' Aikon snapped his fingers and dropped his shoulders. He looked dully at the ground. 'I can't have forgotten that word already. No, no, I never forget new words.'
Matica waited and frowned.
'Mum told me a new word this morning. It starts, I think, with an "a" and a "d" … "ad" … yes, got it. Admire. Yes, I do admire you having the condors, but —'
'Really?' Matica interrupted him. Surprise and disbelief glowed in her green eyes. 'You really mean that?'
'Oh, yes, I do.' He nodded.
'And, like always, you're fond of big words.'
'Yeah.' He grinned slyly, then his expression changed to annoyance. 'But we haven't found anything for Tamo yet.' Brusquely he turned and crawled away.
Wondering about his mood swing, Matica followed him, then she heard him mumbling, 'For two years, every day we have to find something for Tamo. Humph!'
'Hey!' Matica called. 'Are you complaining? You don't need to help me, you know. I can find something myself. Besides, I thought you liked to help me.'
'Yes, I do.' He sighed. 'It's only sometimes I'm not in the mood.'
'Like now, I see. Is Emelio waiting?'
'Yes. I told him you would probably need my help.' A smirk split his face.
'Wow,' Matica said, stunned.
'What's the matter now?'
'You looked just like Dad.'
'Yeah?' he said, cheered up and with big, round eyes. 'I like that.'
Matica, looking sad, said, 'Aikon, you said you admire me having the condors. I admire you having friends.'
Aikon crawled towards her and kissed her on the cheek. 'Don't I count?'
'Yeah, but still … you know.'
'Did you find something?' came a small voice from behind them.
'Would this do?'
Aikon looked at Emelio who was holding a live and clucking chicken under his arm. Aikon started to laugh but shook his head.
'You don't mean that, do you?'
'Well, isn't it better than nothing?'
'No!' Matica called out. 'We can't give Tamo a live chicken. No way.'
'Okay.' His voice was cheerful as he let the chicken go. It fluttered to the ground clucking and ran away, happy to be free. 'Can I help finding something dead, then?' Emelio's black, oval eyes were pleading with them. Short, straight, black hair surrounded his pleasant, round face. He wore bright blue shorts and a yellow shirt. It suited him well with his dark golden skin.
'Come on, then,' Aikon invited, laughing.
Happy to help, Emelio crawled in the dust with Aikon and Matica.
Shortly after, Emelio whirled a dead lizard triumphantly over his head. He gave it to Matica and both boys ran off.
The Great Advantage
Matica was almost asleep when a thought struck her like a lightning bolt. Her eyes popped open. She jumped out of bed so fast that she nearly fell into Aikon's bed.
Aikon propped up on his elbow and rubbed his eyes, looking sleepy. 'What's the matter?'
Matica shook her head and sat down again. 'Aikon, you saw me flying, didn't you? It wasn't a dream, was it?'
Aikon shook his head. 'If you mean flying on Talon, then no, it wasn't a dream. It was real. You flew on Talon. I saw you.'
'Then it's true,' said Matica.
'Of course it's true.'
'No, I don't mean flying on Talon, I just had another thought.' She burst out laughing. All tiredness was gone as she did a cartwheel to the door, hitting Aikon's arm with her leg, then ran to her parents.
Aikon followed her, rubbing his arm.
'Mum! Dad!' she yelled, breathless and skipping around her parents.
'I just realised something!'
'Hey,' Mira said, 'I thought you were fast asleep, but what do you mean?'
Matica didn't answer, so Mira looked at Aikon. 'What's the matter with her, Aikon? Did she say anything to you?'
Aikon shrugged. Matica looked from one to the other. 'But don't you see?'
Everybody shook their heads. 'No,' Mira said, 'we don't see, and we don't know what you mean. What's this all about?'
'My advantage, of course!' Matica paused, letting it sink into their heads.
Mira's eyes went wide then she knocked at her forehead. 'Of course.'
'Finally,' Matica went on, 'finally I know and understand why I'm so small. It all has a purpose, right? You told me that, and you also told me that I would find an advantage in being so small. Now I have found it. Even a b-i-i-i-g one, the biggest ever. If I had been as tall as I should be for my age, I could never have flown on Talon, right?'
Mira put her hands on both of Matica's shoulders then hugged her. 'I didn't realise that,' she said. 'Yes, I always said there would be a good reason for you being so small. It wasn't even that long ago that I said it to you again.'
'Thank you, Lord,' Matica said. 'The Indians can't tease me any longer. They have to see that I'm special, because no one else can fly on a condor.'
Lifting her chin, Matica showed two rows of white teeth and her eyes sparkled like green fire.
'But Matica,' her mum said, 'I thought the Indians weren't teasing you any more because of Talon. You even talk to them now.'
'Yeah, that's true. Since Talon, they have accepted me, but now they will think I'm special too, right?'
As she raced with outstretched hands around the room, Matica said, 'Not even Aikon can fly on a condor; he's already too big and too heavy.' She hugged him. 'Sorry, Aikon.'
'That's okay. That's for you, only for you.'
Matica hugged her father. He whispered into her ear, 'Keep flying.'
She mouthed: 'But what about Mum?'
He mouthed back: 'Don't worry about her.'
Matica grinned, happy.
Back in her bedroom, she thought the world was wonderful. And what adventures would she have with Talon? she wondered.
In the last seconds before she fell asleep, she murmured, 'I always thought there must be more to life than to only eat, play, learn, sleep and work … and to grow – or not grow, as it is with me.'
Aikon was listening. 'Yes, there is,' he whispered, nodding. 'You forgot fun – to have fun as you will have now with Talon. That is life.'
Yes, that is life, and also another story.
Genre: Children's Books, Literary Fiction, Science Fiction & Fantasy