The Countess' Lucky Charm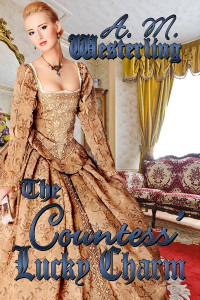 Saucy pickpocket Simone Dougherty relies on her nimble fingers and quick mind to work London's streets. However, using her wits to survive in the East End is one thing. Using her wits to pose as the wife of the attractive Lord Temple Wellington is another thing altogether. Especially when her rebellious heart refuses to listen to reason.
Restless and bored with the life he's carved out for himself, black sheep Lord Temple Wellington determines to turn over a new leaf. Somehow he never imagined embarking on a new life would involve marriage to a fetching thief with a penchant for trouble. A thief with mysteries of her own.
When Temple unexpectedly becomes the new Earl of Leavenby, will both his and Simone's dark pasts rise up to haunt them? Or are they strong enough together to fight for their happiness?