The Mystery of Skunk Hollow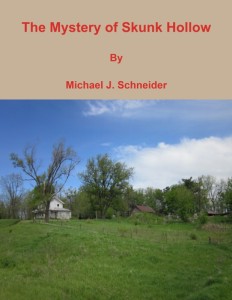 When Ralph Morgan, a retired plumber discovers his rural water well contains cyanide he finds himself aided by a gorgeous redhead, Denise McLaughlin and a stunning graduate student from Kenya, Lala Ngigi, in determining the source of pollution. Their investigation leads them to a criminal network involved in industrial pollution, illegal immigration, and tobacco smuggling.
Chapter Excerpts
Chapter 1
Ralph Morgan ambled down the corridor of the 4th Floor of the building housing the North Dakota Department of Health. He was searching for the plaque that identified the Office of Water Quality. He ran his fingers through his rapidly graying mop of hair. At 59, nature was beginning to take its toll on him. Most days his knee joints ached, he was overweight, and his posture sagged from years of hard labor.
Ralph was having some difficulty reading the labels identifying the offices. His photo-gray glass lenses hadn't quite adjusted from the bright sunlight outside to the dim lighting of the corridor.
"Damn energy saving lighting," he quietly cursed to himself.
Then he spotted his objective, opened the glass door and walked in. Looking around Ralph noted a large open area with about half a dozen desks, all equipped with desktop computer work stations. Only one was occupied. Ralph glanced down at his watch. It was 12:10, apparently he'd arrived at lunchtime. A middle-aged, rounded face of a woman appeared from behind a computer monitor.
"May I help you?" she asked in a pleasant but somewhat intimidating voice.
"I'm looking for Denise McLaughlin."
"Did you have an appointment?" the woman queried.
"Not exactly," Ralph began, "I called yesterday. She said she'd be in the office all day. I suppose I caught her out to lunch?"
"Oh, I think she's still here, her office is the middle one," the woman responded, gesturing with her thumb toward a row of three closed doors. She then disappeared behind the computer monitor again, apparently preoccupied with what she was doing.
Ralph strode across the carpeted floor and knocked on the middle one.
"Come in," a sweet sounding voice replied.
Ralph opened the door and stepped in. His eyes immediately fixed on the scene of a woman doing sit-ups on a sit-up board. Dazed, he slowly took in the figure in view. He scanned the body before him, from feet to head, noting a pair of firm, shapely legs, clad in running shoes and socks as well as a very brief pair of red running shorts. Her upper torso was bare except for a red halter top and a red sweatband kept her scarlet hair from falling over her eyes. A sensation of pleasure shot through his body at the sight of such a beautiful woman.
"I'll be with you in a minute, I only have a few more to do," the woman huffed. She continued with her exercise, not even attempting to look toward Ralph.
Ralph said nothing. He just stood there, mesmerized by the exquisite body before him. He mentally noted the well-defined abdominal muscles that protruded under a very thin layer of white flesh. In a few moments the lady stopped. She unbuckled the strap that restrained her feet, rotated nimbly 90 degrees and stood up. She reached for a towel draped over a nearby chair, and gently mopped her brow, face and arms, in that order.
"Sorry to keep you waiting, but I wanted to finish the set. I often fight the "Battle of the Bulge" at lunchtime.
"Not a problem," Ralph responded. Then he added: "But I fail to see any bulge to worry about. Uncomfortable, Ralph immediately regretted the second statement.
"Thank you for the compliment," The woman responded. "But I'd better put some proper clothes on."
First she advanced to within an arm's length of Ralph and extended her hand.
"I'm Denise," she said as Ralph shook her hand.
"Ralph Morgan," he replied noting she had the most inviting hazel eye.
"What can I do for you?" she asked as she released his hand and strode around to the rear of a large wooden desk. Behind the desk was a leather chair with a high back. Draped over the back of the chair were what appeared to Ralph to be women's garments.
Denise pulled off a light gray blouse and started to put it on.
"Well I think my water well is being poisoned."
"Really, what makes you think so?" she asked. She hesitated after buttoning the second button on her blouse.
"In the last month I lost a couple of chickens and a goat. I had a vet examine them to see if he could determine what killed them. He said they had all received lethal doses of cyanide."
"Wow!" Denise responded. She plopped down in her chair, apparently stunned enough that she stopped dressing. She looked at Ralph observing the flannel shirt and blue jeans and smelling what seemed to be an odor of manure and stale cigar smoke. The she questioned:
"Are you a farmer? Where do you live?
"Oh, I only have about 20 acres, about 30 miles west of here, in a place known as Skunk Hollow." Ralph began to explain, then resumed. "I've lived there about 10 years. I was a plumber that worked construction projects mostly. I made good money; but when I took a fall about 10 years ago, I injured my back. The Doc said recovery would take at least 6 months, so I took some of the money I'd saved up, bought the place in Skunk Hollow, some chickens and goats, and invested the rest in the stock market. The livestock and a vegetable garden, together with money gained by manipulating my stock investments, allow me to be my own boss; but my income is pretty modest."
"I'd like to see what records we have on ground water resources in your area," Denise interrupted. "Do you have a legal description or an address?"
"I don't have a legal description with me; but, since all the rural areas now have street addresses, I can give you that."
"Good," Denise responded. She seemed intensely interested in Ralph's problem. Then she stood up and started around the desk toward him. "I have access to the necessary records on my computer; but when it comes to maps, my screen in inconveniently small. Let's go find a computer with a bigger screen."
The appearance of Denise's sexy legs protruding from the shirttails of her partially buttoned blouse caused Ralph to stare downward. Of course Denise noticed this. She glanced at her bare legs, rotated her knees together and pulled on the bottom of her blouse in a gesture of embarrassment.
"Oops, I'd better put my skirt on. We do have an office dress code." She chuckled. Then she went back to the chair, retrieved her skirt and pulled it on. All buttoned and zipped up she headed toward Ralph again. Ralph mentally noted she looked very sharp in that outfit; but he was more pleased he had seen what was underneath.
Denise led Ralph out of her office past the open office area and into the hall. One door down was a closed wooden door with the label "Conference Room". Denise opened the door and with a sigh of relief announced: "Good it isn't being used right now."
Ralph followed her into the room, noting the lights automatically switched on. "Personnel detection," he thought. "Energy savings again."
The room was longer that it was wide, with a long conference table aligned with chairs in the middle. At the far end was the largest TV screen Ralph had ever seen. Off to one side of the screen, was a menagerie of equipment which Ralph concluded were high-tech controls.
Denise moved rapidly to the controls and sat in a chair apparently set aside for an control operator.
"Pull up a chair," she entreated.
As Denise performed the process of logging on and selecting the appropriate software application, Ralph pulled over one of the high backed conference room chairs.
He adjusted his position to get a good view of the screen, while staying near Denise. He watched as the big screen came to life and Denise began clicking her way through a series of menus. Then she stopped and asked: "I'm ready for the address."
Ralph gave his address to her and was soon amazed that an aerial photograph appeared in which he could make out the top of his house. Denise continued to zoom in on the image showing more and more detail. When she stopped, Ralph could make out not only his house but the chicken coop, fencing and even count the number of goats.
"Wow, that is amazing," he said.
"Look familiar?" Denise prodded.
"That's my place alright."
"Good, now we'll see what sorta data we have."
Denise then brought up a smaller screen containing a menu with a number of labels, and selected one identified as water well data. This opened a third screen with a table containing a lot of data most of which Ralph couldn't identify. Denise studied the data for what must have been 20 minutes. Ralph sat silently fantasizing on what it would be like to kiss the precious lips of gorgeous redhead before him. Then he thought back to Ruth, another redhead he'd known many years ago.
It was when Ralph was working a remodeling job for a high school. His boss sent him to the administration office to see if anyone at the high school had received some working drawings on the plumbing system being modified. The prime contractor was supposed to have sent them directly to the mechanical subcontractor; but the secretary who mailed the drawings mailed them to the high school's address by mistake. Ralph, being an apprentice plumber at the time always got the "gofer" jobs. Ruth happened to be the receptionist at the principal's office at the time.
Ralph was infatuated the minute he spoke to her. First, it was the gentle, polite greeting she gave him. Then, as she spoke, Ralph observed her angelic face. It was round and dotted with a few light freckles. Her azure eyes seemed to beckon and were surrounded by charming natural eye lashes. She wore no make-up, projecting an image of pure innocence. Oddly though her crimson hair was short and curly unlike the more popular long locks most women wore at that time.
Ruth obediently searched through the recent incoming mail, but reported she couldn't find anything that looked like a packet of drawings. She also informed him that it was early and the next mail delivery wasn't expected for several hours. Could he come back later?
Ralph was delighted. It would give him time to summon the courage to ask her out. He returned to the job site, hoping his boss wouldn't send anyone else to retrieve the drawings.
Ralph's boss was miffed when he heard the news. The boss was forced to send his plumbing crew to a different job; but kept Ralph there and assigned him the task of cleaning some existing piping and straightening up the work area. The boss told Ralph to check on the drawings again later. Then the boss left. Glad to be free of observing eyes, Ralph went to work. As the day progressed he kept going over and over what he might say to Ruth that would convince her to date him.
When the time came to check the mail again, he returned to the administrative office. He was happy to see Ruth was still at the reception desk. She saw him approaching. By the time Ralph arrived at the desk, Ruth had extended her arm to him with large manila envelope in her hand.
"I believe this is what you are looking for," she announced.
Ralph took the package. He examined the address and verified it contained the name of the subcontractor they were working for. With a "thank you" Ralph turned to leave. He took a few steps, hesitated, and turned back. Ruth asked:
"Is there something else?"
"Would you like go to a movie with me?" he asked.
Ruth blushed a little and looked down.
"Well …. I don't know …when?"
"How about tonight?" he asked.
"No, I'm afraid not. I'm taking some college courses and have to study." She replied.
"How about Friday? Nobody studies on Friday nights." Ralph pressed.
"I guess so," Ruth responded. Ralph was disheartened by the reluctance in her voice.
She gave Ralph her phone number and told him to call her the night before to arrange a time. This was discouraging. Ralph strongly suspected she was buying time to come up with an excuse to cancel for Friday night.
Ruth did keep her date. They went to see Summer of '42. Ralph was embarrassed he chosen that movie as he thought it a little risqué for girl like Ruth. When the time came to say good-night at her apartment, Ralph leaned forward to kiss her. She responded with a cold "Good night, Ralph" and turned to open the door.
Ralph said "Good Night" and headed for his car. He was depressed. The only girls he'd dated before were Australian girls he'd met while on R&R from Vietnam. They had shown much more affection.
He didn't give up though. He called her again a few days later to discover she agreed to a second date. This courtship lasted several months. In that time they went a variety of places together. Ralph introduced her to his family and she hers. Her family consisted of three sisters, two older ones and one younger one. Both her parents were deceased. On one occasion Ruth invited Ralph to her apartment to enjoy the swimming pool there. To Ralph's surprise he learned Ruth didn't know how to swim. Furthermore, she shared an apartment with her next older sister who couldn't swim either. Ralph offered to give them a lesson. The three went down to the pool. During the course of giving the lessons, both girls managed to slip off the wall into the deep end and Ralph found himself frantically trying to tread water while holding a girl up in each hand. He managed to get them back to the wall; but that was the end of the swimming.
He continued to date Ruth that summer; but then he made what he now looks back on as the fatal mistake. He asked her to marry him. She put him off saying:
"We'll see."
After the proposal, the relationship began to drift. While on one of their dates, Ruth mentioned something about one male high school teacher taking her on a trip on his motorcycle. Ralph tried dropping in to see her once in a while at work; but she was hesitant to talk to him on the job. The day finally came when Ralph called Ruth for a date and she announced she had "other plans." Ralph took that to be the "death blow" to their relationship. Before the job ended at the high school, Ralph noticed that Ruth often sat with the same male companion at a picnic table on the school grounds at lunch time. He had lost Ruth to a more mature man.
He dated several girls after that; but none seem to measure up to Ruth. Over the years, he decided to become a confirmed bachelor. Now, his rural life with the attendant chores kept him busy. For companionship he had two ageing horses, his goats, and a brown and white Cocker Spaniel named Freckles. He'd drop in to a bar now and then; but the women who frequented these places clustered around both ends of the age spectrum he considered out of his range. Now this Denise ….
"There's not a lot of well data in your area, and no reports of cyanide." Denise announced.
Denise's voice brought him mind back to the present.
"What's my next move?" Ralph asked.
"Well the lack of reported cyanide doesn't mean it isn't there." Denise began to explain. "Usually water quality samples are only tested for suspected contaminants, like certain pesticides or nitrates. Our office usually determines the most probable contaminants for a given water sample and tests for those. There are many chemicals which could be in a water sample but it would be prohibitively expensive to test for them all. Samples are required for all new wells; but what we test for varies significantly with the location of the well. When your well was installed we didn't test for cyanide."
"So what's the next step?" Ralph pressed.
"You bring in a sample from your well and we'll test for cyanide. Of course you will have to pay for the test. If the tests show cyanide concentrations above Maximum Contaminant Level (MCL), my office will conduct further investigation."
"What should I do while I'm waiting for the test results?"
"Drink bottled water."
"That's fine for me, and I probably can afford it for the chickens. But my goats consume 1 gallon a day each and I have 11 of them. My two horses each need 6 gallons a day. That's 23 gallons." Ralph protested.
"I'm afraid I don't know what to tell you," Denise responded.
Ralph noticed as Denise's face contracted in a frown. She stood up, took Ralph's left hand and touched his back in a gesture of consolation. Then she continued:
"From what little I know, I think the goats are the most susceptible. If you mix say a gallon of bottled water with their other water is will reduce the risk as it will lower the concentration."
"Yes, I'll do that," Ralph responded. Then he continued. "I'll bring in that water sample tomorrow."
Denise released his hand and the two walked into the hall from the conference room. Ralph took a couple of steps down the hall, but stopped when Denise spoke again.
"Oh, I probably won't be available when you come tomorrow … lot's of meetings. But you can leave the sample with anyone in the office. They'll see it gets to the lab. I'll call you when we receive the results."
Ralph gave a short wave of the hand and continued down the hall. As he was leaving the building, he thought about how pleasurable it was to feel Denise's hand on his back. He had forgotten how good the touch of a woman felt. He was also disappointed that he might not see Denise again.
On the drive home in his old blue pick-up truck with over 100,000 miles on it, Ralph pondered upon the chances he could get a date with Denise. "Slim and none," he laughed to himself. There was the age difference, and, of course, he was nothing to look at with his large belly and all.
The traffic on the highway was moderate; but Ralph got stuck behind a semi-trailer truck. Being on a two-lane road, he had to wait for an opportunity to pass. Unfortunately, the vehicles in the opposite lane were coming at intervals that wouldn't allow him to pass the semi.
"Damn," Ralph cursed. Then he saw the truck's right turn signal start blinking. The truck was turning off on a gravel road that led up into the hills above his homestead.
"What would a truck like that be doing on that road?" Ralph wondered to himself.
Ralph had no idea that there was a connection between that truck and his cyanide problem.