The Partisan's Wife: "The Serpent's Tooth" trilogy, Book 3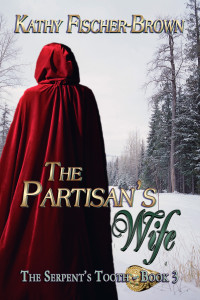 Faced with an impossible choice, Anne Marlowe is torn between her husband's love and the hope of her receiving father's forgiveness. As American forces follow up on their tide-turning victories over the British at Freeman's Farm and Bemis Heights, Peter is drawn deeper into the shady network of espionage that could cost them both their lives.
Is his commitment to "the Cause" stronger than his hard-won love for Anne? Will her sacrifice tear them apart again…this time forever? Or will they find the peace and happiness they both seek in a new beginning?
The Partisan's Wife follows Anne and Peter through the war torn landscape of Revolutionary War America, from the Battle of Saratoga to British-occupied New York and Philadelphia, and beyond.
5 Stars "This is the last book of the trilogy. The historical research is outstanding. Kathy does a great job with the characters and story, everything is very believable. The whole trilogy is a read I would recommend to any one that loves historical fiction." — Goodreads Review
4 Stars "The story itself was wonderful. It was beautifully told with lots of detail and exciting pace. I found myself staying up late at night just to see what was going to happen next, and in the moments that I couldn't read I was always thinking about it. The Serpent's Tooth Trilogy is an excellent read that you shouldn't let pass you by!" —Unabridged Andra
4 Stars "…the author wrote such descriptive details of the surroundings that I was able to paint a vivid picture of what each of our characters endured. Overall this was a very different type of romance story. The author had a unique idea and created a compelling story around it…. I really enjoyed these books and am glad Anne finally understood what it is she wanted and was able to move on." —Romantic Historical Lovers
4 Stars "I absolutely loved this book! The attention to detail was incredible…. From the actions and speech patterns of her characters to the way the settings were depicted, I could feel like I was living during the Revolutionary War, watching the story as it unfolded…." — Once Upon a Book
Chapter Excerpts
Chapter 1
The pattering on the cabin roof had diminished into irregular rhythms, the rain now nothing more than residual dripping from the leaves. Birdsong filled the silence, and light brightened the oilcloth window coverings.
Anne extricated herself from Peter's arms, the letter from Major Ellerdine still clenched in her fist. How she wished she could remain wrapped in his embrace, safe and warm and protected. But he made no effort to recapture her, his mouth set in a taut, unforgiving line, his blue eyes smoldering. Hugging herself to ward off the sudden chill, she turned to the sandy haired man dressed in a linsey-woolsey hunting shirt and buckskin breeches.
Zacky shifted from foot to foot, his eyes lowered, as if embarrassed by the sight of her rain-drenched clothes clinging to her body like second skin. Standing beside him, Peter's oldest friend, Rene LeClair regarded her with dark, knowing eyes.
"It ain't safe to travel. For no one." Zacky transferred his uneasiness to the floppy round hat in his hands. "Enemy soldiers and heathen Injuns…they're all over the roads and in the woods. Just the other day a swarm of 'em passed by south of here. Heading east, they was. Foraging. No telling when they'll be back this way."
She retrieved the blanket from the floor at her feet and wrapped it around her shoulders. Still she shivered, but only partly from cold.
Her father was in New York City. He had braved a sea crossing to find her…his ungrateful daughter. There it was, proclaimed by the words Major Ellerdine had penned, her chance for redemption. The hope had been dangled before her like forbidden fruit, so enticing and—beyond all imagining—well within her reach. And in the very next moment, before her mind could begin to grasp its consequences, the hope was snatched away by threats of the ever approaching war.
"I have taken no side in this conflict." Her voice sounded strange to her, calm and steady despite the dryness in her mouth, the constricting of her throat. She opened Ellerdine's crumpled note and considered the words once more. "General Burgoyne is not a monster. I will appeal to him for aid if I must."
Peter made a dismissive sound, like an animal growl. "And how do you expect to make your way back up to Fort Edward? You can't honestly think one of us would be foolhardy enough to give you escort. We might as well just kill ourselves here and now and get it over." He stomped to the window. There he placed a hand on either side of the frame, and leaned heavily, his back to the room. "I, for one, cannot risk it."
"I'll go alone if I must."
"No one's safe on the roads, miss."
"Don't try to reason with her, Zacky," Peter said without turning. "She's as pigheaded as the day is long."
Perhaps she was pigheaded. Perhaps she was foolish as well to think she would make her way to New York and, once there, find her father. But those blissful days with Peter, following years of suffering and separation, had provided her with a glimpse into a future she would never have believed possible. Until now. For four years, she believed herself undeserving of happiness. Due to her own indiscretions, she had believed Peter dead, and then, against all logic and expectation, in a wild and foreign land about to explode into war, she found him again.
How cruel of Fate to issue such a directive. To force her to risk everything she had ever wanted and needed for the chance that somehow she would find forgiveness.
Foolish as it was, she had already made her choice. There could be no other way. The aching in her heart and soul told her that the glimpse of her future with Peter provided no assurance that such contentment could ever truly be hers. Her conscience would never abide it. Filled with demon dreams, not even sleep would allow it, not until she atoned for the grief she had caused. For promises not kept. For her cousin Emma's death. For Peter's anger. For her own stubborn willfulness. Not until she had knelt before her father and received his forgiveness…and his blessing, would she be worthy. Only then would she be absolved of the guilt that tormented her. Only then would she be free.
"There is only one sensible solution," LeClair spoke softly, his almond-shaped eyes leveled on her as he strode past Zacky. "You must come with us to camp. Wait until this present conflict is resolved…one way or another."
"By then it will be too late!"
"And she will bear the blame for that!" Peter pushed himself from the wall and turned to her. "Have you considered that it might already be too late? Have you not thought that he might have given up by now and gone back to England? Maybe, after all these months of searching, he's concluded that you don't want be found."
She bristled at his patronizing tone. "That I intend to discover for myself!"
LeClair laid a hand on her shoulder. "No one will fault you for doing what must be done. You risk your life otherwise."
"He's right, miss." Zacky nodded at her. "You won't find him if you're dead."
"But there is a reward!" She whirled around to confront Zacky. "My father is very rich. I'm sure he will―"
"If you find him." Peter spun her back to him, his face tense. "That is, if you succeed in making your way to New York with your scalp intact. If you aren't raped or killed—or both—along the way." He snatched the note from her and squashed it in his hand, then hurled it into the hearth. "It's madness," he said tightly under his breath as he laid his hands on her shoulders.
She tossed off his hands. "Don't talk to me of madness! Unless you think it's perfectly sane to risk getting yourself shot…or hanged as a spy."
Peter grabbed hand and pressed then kissed it. "No chance of that, my sweet." With a wry grin, he cast a glance at LeClair. "I have been favored with a guardian angel. Besides, I'd be risking my neck as a deserter to go with you. Then you'd have that on your conscience as well." He chucked her under the chin. "Why can't you be reasonable?"
"Come with us," LeClair spoke softly. "There we will make plans. We will find a way."
The conviction in LeClair's voice and the steady, forthright way in which he stared into her eyes calmed her racing thoughts. Patience had never been one of her virtues. At the very least, she could force herself to be sensible. Hard as it was to admit, all of them had spoken the truth. She would miss their little squatter's cabin in the woods, where briefly she tasted a bit of happiness. She turned fully to Peter and forced a smile. "Then I will go with you, Captain Marlowe and I will stay as long as I must."
"How very reasonable of you." Peter smiled and took her into his arms.
She nuzzled against his shoulder and breathed a sigh. "I love you, Peter. You know I do. But you must know that I am bound to go…with or without you. Or else I will go mad."