The Secret of Sangre de Cristo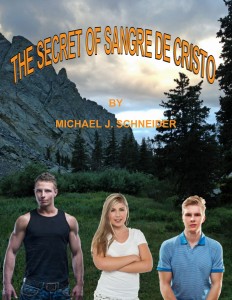 Sometimes the Fates are even kind to teenagers. Cliff is an average 16 year old; but with no particular dash to lure the girl of his dreams, Darlene. She has everything: beauty, brains and a brute of a boyfriend named Rocky.
Mr. Edwards, the Physical Science instructor, starts a chain of events that will vastly alter Cliff's life. Mr. Edwards teams Cliff with Darlene on a mineral searching expedition in the Sangre de Cristo mountain range. Together, Cliff and Darlene discover much more – a treasure left by a 17th Century Spanish explorer.
Finding the treasure is one thing. Cliff and Darlene learn that cashing in on it is quite another matter. They soon find themselves in conflict with the Federal Government and the Mafia, and Cliff has to face Darlene's powerfully strong boyfriend.
Will the discovery and subsequent conflict form more than a bond of convenience between Cliff and Darlene? Are they doomed to perish at the hands of the Mafia at the site of their discovery, with their bodies to be found by some other high school expedition some 400 years from now?
Chapter Excerpts
Chapter 1
Cliff held his breath along with the rest of the Physical Science class.  He drummed his fingers nervously on the black marble lab counter.  The booby trap was set.  It was carefully rigged to explode when the teacher opened his top lab drawer.  Tension so predominated the room that Cliff felt he could bounce off it like a trampoline.  The same tension gripped his nearly sixteen year old body.  What would happen when it went off?
Five seconds, 10 seconds, 30 seconds, a full minute, time continued to pass and now it seemed the teacher wouldn't show up. All had been carefully planned.  "Rock Head Ed" would get his, all he had to do was show up.
Finally the familiar form entered the room.  Only 5 foot 10 inches, the teacher wasn't a tall man. Cliff figured, however, he was so lean and muscular that he would sink like a bag of lead bricks in a swimming pool.
"Afternoon class," he greeted them as he slung a canvas backpack on the counter.  The numerous threads hung from the pack, indicating the pack was a veteran of many years of faithful service.
"OK class, he started with a smile beaming under the jet black mustache which formed two symmetric oblique triangles on his upper lip.
"Today we will talk about several of my favorite things: gold, silver, and other valuable metals.  We will talk about the processes, which create the formation of these minerals, and where to look for them in nature; then, I have a surprise for you.
"And we have a surprise for you," Cliff thought as he shifted his six foot frame in his seat and scratched the back of his sandy colored hair.  Cliff was the only one among his two parents, brother and sister who had a blonde tinge to his hair.  He figured there must have been a Scandinavian somewhere in his ancestry.
Cliff breathed out and in heavily.  Mr. Edwards started to reach for the drawer; but stopped.  He decided first to pull the projector down in front of the blackboard.  The rest of the room exhaled.
"Ms. Jensen, would you like to hazard a guess?  In what type of rocks do we usually find gold?"
Cliff looked over at Darlene Jensen.  She pulled back the straight locks of her nearly white blond hair in preparation to respond.  This motion revealed a golden face without a blemish.
"Igneous, often in a vein of quartz which flowed and solidified in a mountain fracture," Darlene responded.
Cliff sat absorbed by the wonderfully delicate sound of Darlene's voice.  He loved Darlene.  He wished she felt the same way about him; but he couldn't think of a time when she said as much as two words to him.  Cliff figured he was too plain looking, too clumsy and lacked the muscle definition of the athletes.  Although he had a clear complexion, he had a roundish face with no predominate characteristic that he felt would attract women.  As he was pondering his lack of physical endowments, the rest of the class inhaled again.  Mr. Edwards was reaching for the drawer.  The loud pop pierced the tension of the room.  Following the noise, several dozen tiny paper ribbons reached the top of their trajectories and fell back toward the lab counter and floor.  A half a dozen of these landed on Mr. Edward's head and shoulders.
Mr. Edwards straightened up after involuntarily ducking from the unexpected blast.  Cliff watched as the taunt muscles of Mr. Edwards face relaxed as the teacher regained his composure.  Then, Mr. Edwards slowly opened the drawer completely, anticipating it seemed, a second booby trap.  When none exploded, he reached in and extracted a bright orange envelope.  Holding the envelope delicately between his right thumb and index finger he raised it high for the class to see.
"Is it safe for me to open this?" he asked.
When no one answered, he continued, "Well here goes."
He reached in the drawer and pulled out a knife.  He quickly sliced along the flap, then extracted a card.  He took several minutes to examine it thoroughly.  The class sat in restless anticipation.
"So this is all a birthday surprise," Mr. Edwards looked up.  "The signatures on this card further indicate that all of you were partners in this conspiracy to give your Physical Science teacher a coronary.  How do you plead?"
"Guilty, Mr. Edwards," the class shouted back in unison.
"OK you delinquents, now I'm not sure if I should let you in on the surprise I have for you."
"Aw, Mr. Edwards," Rocco (Rocky) Baltus blurted out.  Rocky was big enough to intimidate most any one in the sophomore class.  His massive chest and biceps revealed he'd spent long hours in weight training.  Cliff liked Rocky though because Rocky seemed to have an inbred sense of fairness.  Instead of using his strength to bully others; he was more likely to intimidate anyone he deemed to take unfair advantage of others.  For Cliff, the only problem was Rocky also really liked Darlene.
"Well, if you insist, Rocky," Mr. Edwards answered him.
"OK class here's the deal.  As you know, the high school tries to provide one field trip each year for the physical science and biology classes.  Well, this year I decided to see how well you've learned your earth science section.   We are going to spend 3 days in the Sangre de Cristo Mountains."
Cheers, whistles and expressions like "all right" and "yeah man" interrupted Mr. Edward's speech.
"Before you get too excited … before, before you get too excited," Mr. Edwards had to repeat himself several times before he regained the classes' attention.
"First, we will be going to a somewhat remote area.  This means all of you will have to do some serious hiking."
"Aw Mr. Edwards that's no problem," Rocky broke in.
"Well Rocky, you may be in good shape; but climbing up the side of mountains at the altitudes we'll be working in is a little more than the average teenager is used to.  Now let me talk about some of the other arrangements."
"What kind of arrangements," Cassandra asked.  Cassandra was the type to worry about details.  Not infrequently, did Mr. Edwards have to admonish her for painting her nails or combing her long auburn hair in class.
"Well Miss Russell, if you give me a few minutes, I'll try to explain.  Each of you will be paired with a partner.  You and your partner will receive the same grade for the tasks I will give you.  Therefore, it will be to your benefit to help each other as much as possible."
"Great," several of the students blurted out.
"Don't get too excited," Mr. Edwards started.  "I've had you for almost a whole school year now.  I know who hangs with whom, and I've decided to make things a little more interesting.  I'm going to assign partners.  I intend to see how you do with a partner you probably wouldn't choose on your own."
Amidst sighs and groans, Mr. Edwards began to read off the list of pairs.  Cliff had to smirk when he heard Rocky was paired with Cassandra.  What an unlikely pair he thought.  Rocky was only an average student; but he did his homework.  Cassandra, on the other hand, often neglected to do hers.  She was not the type to let homework interfere with a trip to the mall or the debut of a new film at the theater.  It appeared to Cliff that Cassandra was constantly engaged in an "Out of body" experience.
As Cliff was trying to picture Rocky and Cassandra on the mountain; he almost missed Mr. Edwards next words.
"Clifford Barnes and Darlene Jensen"
He was paired with Darlene?  Cliff shot a glance at her.  She didn't appear to share the excitement he felt.  Three days with Darlene, the anticipation overwhelmed him!  Now he listened attentively as Mr. Edwards continued.
"Even though I have partnered some boys with girls, we will segregate the sexes into separate groups of tents for sleeping arrangements.  Naturally, I will need a chaperone for the girls.  Miss Dexter, who many of you have had for one history class or another will accompany us.  She will also give you some instruction in the methods of archeology."
Mr. Edwards then passed out a letter for the parents.  While he was doing this, Cliff tried to picture Miss Dexter on the mountain.  He had trouble.  He'd never seen her outside of American History class.  He guessed he figured she'd learned all about history in a library somewhere.  After all, she wore thick-lensed glasses.   Nevertheless, something about her really attracted Cliff.  He first felt this attraction one day when she told him to remain after class because he'd been talking during class.  She liked to "get in your face" while scolding you.  While she was scolding him, all Cliff could concentrate on was her taut, blemish-free face and azure eyes.  He had this overwhelming urge to lean a little farther forward and kiss her full on the lips.  He didn't, of course; but many times later he'd wished he'd been bold enough to follow through on that urge.
"Mr. Barnes," the physical science teacher interrupted Cliff's daydream.
"Yes," Cliff answered.
"Will you take this note down to Ms. Dexter?  She's probably in the teacher's lounge."
"Sure, Mr. Edwards," he responded and popped up out of his seat.  Taking a yellow slip of paper from Mr. Edward's hand, he headed out the classroom door.
Cliff couldn't resist reading the message on the note as he walked down the hall.  It only said: "Brigid please come up to Physical Science Lab now if you are available."  It was signed "Scott".  Evidently they were on a first name basis.  Jealously pulsed through Cliff's body.  He didn't like the idea of Mr. Edwards and Miss Dexter being so "friendly".
When he entered the teacher's lounge, he saw that Miss Dexter was the only one there.  She was curled up in the corner of a couch reading.  She wore a white frilly blouse and a brown pleated skirt.  The skirt covered most of Miss Dexter's legs.  She sat with her legs bent at the knee back towards her behind.  Cliff couldn't even see her feet.  She was so absorbed in what she was doing, she didn't notice Cliff until he stood right next to her.
"Miss Dexter," Cliff spoke.
Startled, Miss Dexter pushed her glasses up on her face and looked up.
"Yes Cliff, what are you doing here?"
"Mr. Edwards asked me to bring you this note," Cliff answered as he handed her the note.
She read it quickly as Cliff started for the door.
"Wait a minute, Cliff, I'll walk back with you," she responded.
Cliff watched with delight as she slipped her delicate feet into the pair of laceless shoes and stood up.  She brushed her skirt down and straightened the collar on her blouse.
"Everything look in place?" she asked Cliff.
"Beautiful," Cliff blurted out without thinking.
"Excuse me?" Miss Dexter shot back incredulously.
"I, I mean you look fine," the words came stumbling out.
"OK," Miss Dexter smiled the kind of smile which said she'd heard him the first time.  Then she asked:
"Would you help me carry some things to my car?"
"Sure," Cliff responded eagerly as he grabbed a stack of her books.  As they walked down the locker-lined halls, Cliff decided to try to find out more about Miss Dexter.
"Do you like being a teacher?" he asked.
"Yes, most of the time," she responded.
"Why did you pick our high school?"
"Well, I applied with the school district and they assigned me here."
"Do you have plans to go somewhere else?"
"No, I like it here.  Do you want to get rid of me?"
"No, not at all," Cliff said, overcompensating in enthusiasm.
They burst through a pair of double doors and into the parking lot.
"It's that old Dodge Colt over there," Miss Dexter pointed to a white compact.
Cliff noted the hatchback of the car had several bumper stickers with phrases like: "Live simply so that others may simply live."  Cliff recognized these statements as imploring the saving of rain forests.  Apparently Miss Dexter was an avid environmentalist.  When she opened the hatchback on the car, Cliff set the books he carried inside.  She then placed her notebooks and briefcase in and closed it again.
"Why did you decide to teach history?" he asked.
"Oh, I've always loved history.  I became a teacher so I could get paid for studying it," she answered.
"What kind of history do you like best?"
"Actually, I don't have a favorite period; but right now I'm studying the Spanish exploration and settlement in the American Southwest," she answered.
"Like Coronado's expedition in the 1540's?"
"Why yes, and later expeditions as well as the Spanish settlements," Miss Dexter answered.
"Are you going to be teaching us about the Spanish explorers on the field trip?" Cliff asked.
"No, what we will be doing is field archeology.  We will be searching for any kind of artifacts we can find.  In the area Scott, I mean Mr. Edwards is taking you I doubt we will find any evidence of early Spanish explorers; but who knows?"  With this statement Miss Dexter gave Cliff's left shoulder a little shake.  Cliff savored the gentle pressure of her fingers on his shoulder.  He wished he were 8 years older, maybe then she would be willing to date him.
When they got to the physical science lab, the students were busy trying to identify a rock sample Mr. Edwards had given each of them.  Mr. Edwards face beamed when he saw Miss Dexter enter the room.  Cliff was now sure they were going together.
"Class, give me your attention a minute," Mr. Edwards began.  "Miss Dexter will give you a quick run-down on the field archeology program she plans to conduct during our field trip."
Cliff took his seat and listened for about 15 minutes while Miss Dexter outlined what she planned to do during the field trip.  Just as she appeared to be winding down her talk, the bell rang.  As the class began to file out of the room, Mr. Edwards shouted after them.
"Don't forget to bring back the permission slips tomorrow."
As Cliff was about to pass through the doorway, he heard the sweet melody of Darlene's voice behind him.
"Wait for me in the hall," she insisted.
Cliff stepped through the door and sidestepped a couple of paces to his left.  Darlene followed.  She then took 4 or 5 steps more to lead Cliff away from the rest of the crowd of students.  When Cliff caught up to her, she looked up at him with her delicate blue eyes.
"Cliff, would you come over to my house tonight?"
She spoke the question in such an enticing manner that she could have asked Cliff to run in front of a semi-trailer truck with her and he probably would have agreed.
"Where? When?" were the only words he could muster.
"Seven o'clock, 1014 Packwood Lane, can you make it?" Darlene responded.
"Sure"
"See you later then," Darlene said with one of those perky smiles Cliff noticed she usually reserved for her boyfriends.
Seven o'clock couldn't come soon enough for Cliff!