Time to Love Again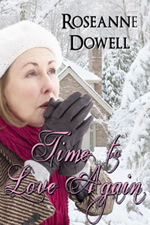 The man next door, his granddaughter, and her sister's ghost help bring Rose Asbury out of her seclusion.
Fifty-eight year old, Rose Asbury knows people think she's a recluse, but she doesn't care. She just wants to be left alone. She doesn't need anyone and no one needs her and that's just fine. At least she didn't until this year. For some reason this year is different. Suddenly, she's melancholy and discontent with her life.
And the man next door doesn't help matters. He insists on speaking to her. So her stomach tumbles every time she sees him, that doesn't mean anything. Hunger pangs, nerves, she just wishes he'd leave her alone. Or does she? To top it all off, his granddaughter and her friends insist on playing in her yard, sledding, building snowmen and throwing snowballs at her house.
When her sister's ghost shows up, Rose's life changes drastically.
Chapter Excerpts
Reviews
This is an unusual romance novel, because both the hero and heroine are much older than traditional romance characters. There's a lot to like in this simple story about love and family, friendship, holidays and traditions, commitments and how things change as years go by and children grow up.Not the least of which questions of how we view ourselves and our place in the world.
The book will probably seem a little dull to readers who like their romances steamy, but for fans who like sweet romance and emphasis on family values, this one's a nice treat.