writer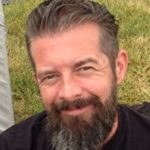 @stevenhague
active 9 months ago
My latest fast paced crime thriller, The Beholder, will be available shortly in paperback format on Amazon.
View
Writer Information
Bio
Steven spent ten years churning out copy for one of Europe's largest investment companies before he decided to pursue his lifelong dream of becoming an author.  He is 44 years old and lives in Norwich with his wife, Lisa, and their chocolate Labrador, Murphy.  He loves reading crime fiction and he's also a big fan of rock 'n' roll – everything from early Elvis right through to the Foo Fighters.
His first novel, Justice For All, introduced Zac Hunter, an uncompromising ex-cop who's on a one-man mission to clean up the mean streets of Los Angeles.  In the sequel, Blood Law, Hunter's search for a missing child leads him into dangerous territory and he soon finds himself caught in the middle of a gang war.  The Beholder is Steven's third novel, and this time Hunter must face off against his most dangerous foe to date, a psychotic serial killer who's out to settle an old score.