When Night Falls (Regeneration Series, Book 1)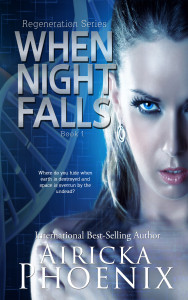 Earth as we know it no longer exists. Humanity has destroyed itself and with it any chance we may have had of returning.
What had started as a six month voyage through the stars becomes a nightmare when the passengers are stranded in space without hope. With Earth gone, the crew and passengers of The Dawn Light are left wandering the galaxy in search of a new planet. After years of searching, one is found, but no one is prepared for the terror that takes claim of the Galaxy Cruiser when one by one the people begin to turn, mutating into flesh eating monsters.
For Scarlett, Hunter and Rolf, this means being trapped in a sardine can full of piranhas. Their only hope… to get the hell out before they're next, but someone on the ship wants to be the only survivor to reach the new planet and will do anything to stop them. But just how far are they willing to go?
Death no longer has a limit.
Chapter Excerpts
Chapter One
The world ended in fire.
It ended in an inferno of its own greed and stupidity.
It was a theory that the innocent lives lost never felt the blast. Never felt it coming until it was too late. No one knew for sure, because the small handful that survived hadn't been on Earth to experience it; but Scarlett liked to think her parents died not feeling the nuclear wave ripping the skin off their bones. She liked to think they died cuddled in bed, thinking of her and the last gift they would ever give her. But she would never know for sure. None of them would.
Leaving Earth had been their idea. A six month voyage through space—the first ever—what a great experience, they thought. The galaxy cruiser had everything. Twenty levels of the finest foods, entertainment, and one of the leading replacement programs in the galaxy that helped with career training. It should have been a sign when they couldn't afford it. Of course, they couldn't. Her mom got a pathetic monthly parental allowance. Her dad made up the rest with the 4k credit chips he got a month from his electro diagnostic technician position. They barely made by, but they'd been determined to get Scarlett on that ship. Sometimes, she wondered if maybe they knew the world was about to end and did all they could to get her off planet.
It was beautiful. There was no denying the quiet serenity that perpetually guarded the passengers of Dawn Light. There had once been a time when man longed for the opportunity to travel through the stars unhampered. Those dreams had waned as times changed and technology made everything from walking to traveling space a possibility. Those with the credits were no longer chained to the impossibility. Now, they were chained by impenetrable glass and no future. There was nothing out there for any of them. They were but a blip in an endless galaxy. How tedious.
"Scarlett?"
She turned away from the wall of twinkling stars to watch as Hunter sprinted over to her. His sandy-brown tresses flopped over the round, silver frames of his glasses, and she made a mental note to cut his hair later.
"What are you doing here?" He stopped next to her and glanced at the window looking out into the infinite unknown. "You left in such a hurry this morning. I didn't get the chance to see you before I left for work."
"I'm sorry." She rubbed the sweat off her palms onto her plaited skirt. "I just needed … it's the anniversary today. I just…"
His arms went around her, pulling her into the warmth of his chest. He rested his chin on the top of her head when she tucked her face into the hollow of his throat.
"It's been three years, Red," he murmured. "You can't keep doing this to yourself."
She knew he considered her guilt ridiculous, and it was. The world exploding had nothing to do with the fact that her parents had gotten her those tickets. Her staying wouldn't have stopped the nukes from going off. The only thing that would have changed would have been her location. She would have died along with them.
"I know."
He drew back and looked into her face. "It's not your fault."
She knew that as well. It was the United Council's fault. The New World Leaders and their false promises of a world united order. There had been no order, no unity. Society tore apart. They destroyed cities, polluted waters and killed anyone that opposed them. War was imminent. It was expected. But only for those who profited from the countless deaths. Not that it helped them in the end. All the credits in the world couldn't save them from the disaster they created.
"I just wish they were here," she said and pulled out of his arms. She turned to the window. "I miss them."
The only response to her comment was the rustle of his navy-blue novice operator's uniform as he twisted to study the stars with her.
Scarlett reached for his hand. She squeezed his fingers.
"I'm sorry," she whispered as she did every time discussion of their families came up.
He rolled his head to the side to peer at her. "Why? For saving my life? I'd be dead down there if you hadn't asked me to come along."
As true as that was, she always wondered if he resented her for it, because she wasn't the only one who lost her parents that night. But at least she still had her grandmother. Hunter had no one.
"Hey." He shook her hand, pulling her attention back to him. "Stop it." He gave her a lopsided grin. "Come on. Give me a smile, Ginger."
"Ugh!" She punched him in the shoulder playfully. "I hate it when you call me that." But she laughed and he pulled her in for a tight hug.
"I have to get back to the control room," he said a moment later as he pulled away. "Kreuk's in a pissy mood as it is. Gave Margo Polla a citation for accidentally deleting an algorithm."
She gave his biceps a gentle squeeze. "You didn't have to track me down on your break."
He shrugged, rolling his green eyes heavenward. "Yeah, well, I wouldn't have to if you wouldn't run away every year on your birthday like that was the reason they died." His face lost all its humor and he peered into her eyes with serious concern. "Beating yourself up isn't going to bring them back."
Scarlett shook him off. "No, but they died today."
"Which still doesn't make it your fault, Scarlett."
"I know that." She dropped her face into her hands and rubbed. "I just feel like I should have pushed harder to make them come, or I should have…"
"What? Stayed? They wanted you to be here. Besides," he took her shoulders lightly and squeezed. "your grandma only had three tickets. They couldn't have come even if they wanted to. Unless you regret asking me."
"No!" She grabbed his hand. "I wanted you to be here with me. I wouldn't change that for anything."
He searched her face before giving a slight nod. "Okay then." He glanced at his wrist unit. Cursed. "I have to go, but I'll see you at the refectory for supper."
Scarlett nodded. "I'll be there."
With a wave, he started to jog away when the communicator on his wrist unit blipped and a gruff, male voice barked through.
"Forester!"
Hunter paused mid-stride and raised the communicator to his mouth. He pushed the button on the side and spoke, "Forester here."
"Don't bother coming back," the man muttered. "All systems are on lock until Polla's stupidity has been corrected. We will commune at O-nine-hundred tomorrow."
"Yes, sir." Hunter broke communication and turned to Scarlett. He grinned. "Looks like I have the rest of the day off. You know what that means."
She did.
"You're incorrigible." She chuckled. "But I have to check on Grams before we do anything."
With an eyebrow wiggle, he reached over and took her hand. Together, they made their way through the corridors towards the glass transporter shafts. She rested her hand on the data scanner and felt the warm hum as her identification was scanned.
"Identify yourself." The instructions poured out melodiously with a female voice.
"Scarlett Mose. Identification one-nine-seven alpha. Destination, vendor level. Deck ten."
There was a moment while the computer confirmed and traced her voice pattern with the one in the system. Then, "Scarlett Mose. Access granted. Proceed to deck ten. Vendor level."
The doors slid open and they slipped inside. There was a commercial playing on the projection walls. The pretty blonde was recommending a luxurious day getting pampered in one of the ship's many exclusive spas and salons as she smiled, her skin glowing radiantly. The sweet scent of orchards pumped through the recycled air as the image spanning across the curved walls melted into the image of blooming cherry blossoms and a beautiful brunette running joyously amongst them as a handsome man sprinted after her.
"Enjoy a romantic getaway!" the commercial insisted. "Visit our simulation pod and go anywhere."
Hunter slipped his arm around Scarlett's shoulder and drew her into his side. He pressed his lips to the side of her skull. "Ooooh, a romantic getaway. We could visit the rings of Uranus."
It was the same stupid joke he made every time that commercial came on; which it did a lot since the ship was only equipped with a thousand commercials and, after three years, they'd seen them all several dozen times, yet she still laughed.
She elbowed him lightly in the ribs. "You have issues."
He oomphed and doubled over, but kept his arm around her shoulders as the transporter climbed to their destination.
On deck ten, they came to a fluid stop and the doors popped open. They shuffled their way out and followed the red strip of neatly placed bricks through a maze of charm. Bulbs glinted overhead on strings of light, showering the picturesque scene of quaint little shops of the olden days lining either side of them. Each was surfaced with rough brick and colorful awnings. Round tables were placed beneath shops that catered coffee and biscuits. Fake shrubbery, clumps of bushes and rail thin trees lined the path, giving the wanderer the illusion of being outside. The plaque that Scarlett had read a million times depicted that the idea for the Vendor section had come from Paris in the sixteen hundreds. Back when the world was simple, she supposed.
The corridors were remarkably empty, considering there were a little over seven thousand passengers aboard the Dawn Light. The soft tinkle of a piano weaved through the recycled air and followed them past the shops. Most were closed due to lack of supplies, but the majority remained open due to sheer necessity. Grandmother's House Bakery no longer offered the sweets and treats it once had; but people still came to her for bread and the odd, sugar and frosting-less birthday cakes.
The mouthwatering aroma of freshly baked bread greeted them at the door and propelled them deeper into the small space. Scarlett tried not to think of how that smell had once been laced with the scent of warm honey glaze and melted chocolate. She also tried not to glance at the gleaming wall of glass behind the counter. The shelves were bare now where there had once been rows of dainty delicacies so sinful, people couldn't get enough. But those days had ended months ago when supplies became scarce and everything they had they were forced to ration.
"Grams?" she called over the tinkle of bells from above the door.
"Back here!"
A moment later, the kitchen doors swung open and Grandma Josephine bustled through, carrying a steaming tray of fresh loaves. She set the tray down on the counter and wiped her flour-caked hands on the potholders.
There were streaks of flour on her papery cheeks and in her cap of curly gray hair. Bits of dough clung to the front of her apron in the shape of careless handprints and spills. Scarlett tried not to chuckle.
Brushing well over seventy, Josephine Mose was a small woman with round hips and a round face stubbornly void of wrinkles. She once clung mulishly to her auburn curls, but artificial coloring was one of the first few things to go extinct on the Dawn Light, along with sugar, coffee, and chocolate so she had allowed it to fade. She took the change as she did everything else, by acting like it had been her idea all along, just like she claimed she would be sixty until the day she died.
She stood over her baked goods, swiped a curl off her brow and sighed. "Not my best," she said, shaking her head. "But it would be a waste to, well, waste." She pinched her lips, smacked the potholders together and dropped them down next to the tray with deep exasperation.
Scarlett didn't bake. She didn't even cook. No one was stupid enough to trust her alone or unsupervised in the kitchen. So to her, the loaves looked fine, but she wisely kept her comment to herself; Grandma Josephine would only scold her for it.
"Anyway, what are you kids up to?" She dusted her hands on the front of her apron and raised her celery-green eyes to Scarlett, then Hunter. "Shouldn't you be at work?"
Hunter nodded. "One of the other novices deleted an algorithm. Nothing to do until the coding's repaired."
Grams ah'd as though that made perfect sense. "Well, I suppose the two of you are off to do something special?"
No one celebrated birthdays anymore. There was really no time or opportunity to do so. Before the supply shortage, Grams would make her a cake, but with every passing month, there was less things to celebrate. There was something remarkably morbid about rejoicing yet another year aboard their prison. Scarlett couldn't say she didn't prefer it. She hated her birthday enough without being forced to put on an act for those she cared about. Unlike her, they didn't recognize the day for what it really was—a bad omen. Bad things happened on her birthday.
"We're probably going to catch a movie or something," Hunter said.
Grams nodded. "That sounds like fun. Just be sure you remember you have chores to finish today."
"I won't forget," Scarlett assured her. "I'll go right after."
Seemingly satisfied, Grams went about the task of transferring the loaves from the pans to a cooling rake.
"We should go if we want to catch the next showing." Hunter took her hand and tugged Scarlett back towards the door.
They said good-bye to Grams and made their way back to the transporters.
"I thought you said we were—"
"And we are. I couldn't very well tell your Grams where we were really going."
Scarlett snorted as Hunter placed his hand on the data scanner and declared himself to the computer. "Right, because Gram hasn't been there, done that herself."
"Be that as it may be, I'd rather if your Grams didn't know we were sneaking off to…"
"Watch hot, naked boys sweat?" she finished for him with an arched eyebrow.
The doors slid open and they stepped inside. Hunter waited until it had sealed shut behind them before speaking again.
"Exactly. Don't think she'd appreciate me corrupting her sweet, innocence granddaughter. Besides," he gave her a wicked grin, "there's something naughty about sneaking around."
Scarlett laughed, shaking her head.
The twenty levels aboard the Dawn Light had once been spacious and glowed with life and parties that ran on for days. But most had been abandoned due to the chemical explosions and riots. Others were used for storage. The more important ones like the vendor strip, the harvesting levels, and the leisure center were kept open for daily use. There was also an entertainment strip on deck eight with seventy bars, pubs, restaurants, and movie theaters. But after the alcohol supply began to run dry, most only went for the dancing or to watch the same eight hundred movies. Scarlett had no favorites, but very seldom did she willingly venture into the leisure center. She got enough exercise as a novice harvester working the fields. Plus, only those with careers in peacekeeping ever went out of their way to use the facilities and only because they were required to maintain a certain number of hours working on shaping their bodies.
Their ship was broken into sectors and each sector had its own commanding leader, their mentor and their novices. Mentors were in charge of training the novices to one day take their place. Each novice graduated their training by the age of twenty and became mentors, responsible for assisting the future set of novices. There were only a few commanding leaders. They oversaw the ship and its workings. They were privy to information only the captain would be aware of. They were also the only ones with full access to every square inch of the ship.
The distinct clang of metal on metal pierced through artificially cooled air as they ascended through the crowd. Glassed walls opened into cavernous chambers lined with machines and toned bodies. But they bypassed the work stations to reach the last set of doors at the far end. Scarlett took a deep breath as they passed over the threshold.
The oval room always reminded her of the Gladiator arena she'd seen at the Academy on the holo-projections. There was a circle of stairs that doubled as seats all the way around a large arena at the bottom where people went to pit their strengths up against monstrous machines and each other. Scarlett had never liked the feeling of sweat cooling on her body, but she certainly appreciated it when some of the boys did it.
One boy in particular.
"Let's find a seat in front!" Hunter motioned to where a small cluster of girls sat, evidently having had the same idea. But they weren't making it quite as obvious. They'd had the sense to bring along books and pretend like they were reading, while stealing peeks over the top and giggling. There were other small groups scattered throughout the chamber. Most of them girls, but there was the odd boy. Hunter waved at a group on the other side. The girls there waved back.
"Come here often without me?" Scarlett teased, picking her way carefully down the marble steps.
"Only when you're working and I need a … distraction."
Scarlett rolled her eyes, biting back a chuckle. Hunter was a shameless flirt, which would have been fine if he wasn't abnormally charming to boot. It was impossible to deny him anything when he flashed those adorable dimples. Scarlett had never been attracted to him in the way some of the girls at the Academy had been, but she could see what drew them to him.
He was tall and lean for an operator. It annoyed her that he never worked out, yet had the body of someone who spent hours either getting surgically altered or sweating on a workout bench. When you took that into account and added his wavy, light brown hair and dreamy green eyes and those dimples … it was a recipe for danger. And Hunter had a bad track record for breaking hearts. This week's obsession was Jack Wick, a tall, masculine boy with a headful of glossy black hair and eyes too blue to be real—which they probably weren't. They could have easily been enhanced. It wasn't unheard of. Most people from his class could once afford the body upgrades and modifications. Scarlett had always wanted to get her blue eyes lightened to green and her auburn hair darkened to black, but the credits were too high. It just wasn't worth the cost when there were more important things to worry about, like clothes and food. Her grandmother worked too hard for her to go squandering the little they made. And Hunter barely made enough as a novice. What he did make, he used to help pay for the necessities they needed. Scarlett brought in what she could from the few hours she worked in the fields, but harvesting was one of the no-brainer careers. Just about anyone could do it with a little muscle and it was the one that everyone applied for because it was so easy. Due to the overflow of applicants, the pay was lousy and Scarlett really couldn't do much else. She could never be a marshal or an operator. She had no upper body strength to speak of, or talent for computers. Harvesting was the only career that required only the most basic skills and that was all she had.
The metallic clang of barbells jolted her back to the present and the reason behind her presence there. She let her gaze roam the oval chamber, spotting all the different uniforms and sashes labeling most of them as novices. The majority, she noted, were vendor class, clad in their gray trousers and blazers. There were the odd operators in their navy blue uniforms and harvesters in their black outfits. Then there were the marshals. None were in their brown uniforms, because they were the ones keeping the spectators entertained in the arena. They were the ones in black sweat pants, their bodies a work of art drenched in perspiration. They put on a good show for their guests, stretching and pulling the muscles on their arms, the roped planes of their backs, their broad chests and limber legs. Every practiced motion was fluid and somehow much slower than it should have been if they weren't doing it to get a reaction from the crowd. The only one who seemed to actually be working out for working out purposes was the one person Scarlett couldn't stop watching.
Rolf Gray.
The first time she'd seen him was three years ago as they stood deck, waving goodbye to their families. Her mother had forced her into a lacy white dress with a bright, red ribbon in her hair, even though Scarlett had been fourteen and not four. Scarlett had wanted to put up a fuss about it, but it seemed like such a small thing considering she wouldn't be seeing her parents for six months.
Rolf had been standing at the railing several feet away from her, focused on a pretty brunette with brown eyes and a little girl of seven with a riot of blonde curls and enormous blue eyes. A man stood with them, but he had his back to the ship while he talked rapidly on his commu-link. Scarlett had guessed they were his family.
He hadn't noticed her. At least, she had assumed he hadn't until a week after when he'd cornered her in an alcove, holding her ribbon.
The thing had been snatched from her hair by a breeze the morning of the launch and she'd given up hopes of ever finding it again, yet there it was, fluttering from between his two fingers. She'd started to thank him, when he reached out and took her hand. She'd watched in stunned silence as he wound the ribbon around her wrist, all the while peering unwaveringly into her eyes. His thumb had skimmed her knuckles before he drew away. With a slow grin, he'd inclined his head and walked away without ever saying a word.
That was the one and only time she'd ever seen him smile.
But now, he was draped over a leather bench, no longer a boy, but a man of nineteen, hoisting a metal bar over his head while Jack stood over him, spotting him. He wore a mask of pure concentration, somehow managing to ignore the murmurs and girlish giggles surrounding the room. Scarlett wasn't sure how he was able to do it; the low, irritating buzz would have driven her crazy.
But that wasn't what had her stomach in knots.
A loud crescendo of giggles rose around her. She turned in time to watch as Rolf relinquished the bar to Jack and sat up. He snatched a towel off the ground and dabbed at his face, his neck and chest. A harmonious chorus of sighs floated through the air. Scarlett merely stiffened, torn between the panicked need to escape and the undeniable urge to melt.
She was vaguely aware of Hunter abandoning her and making his way down the steps. Her attention was fixated on the man unfolding himself from the bench. He was still staring down as he wiped the sweat from the back of his neck and ran the towel over his hair, sweeping the dark, shiny strands back from his square face. Casually, he slung the towel around his broad shoulders, said something to his friend and then looked up, straight at Scarlett.
Every inch of skin, hair, fiber … freckle prickled as if he'd physically caressed them. Piercing eyes the warm shade of untainted tea—a soft, golden brown with just a hint of red in the light—bore straight into her very soul from amongst shaggy black fringes, and Scarlett nearly choked on the wisp of air she'd stupidly attempted to draw in. She watched as he broke away from the pack, away from his adoring fans, and climbed the steps towards her, his movements graceful, beautiful, the riveting motions of a predator. At last, he reached her and stopped, one step below hers yet he still somehow managed to tower over her.
"How are you?" he murmured in a voice designed for hot moments in dark corners.
His eyes burned into hers, pools of fire against a face crafted for sin. Scarlett felt herself melting in all the places his presence always stirred awake.
Miserable, she wanted to tell him. Lonely.
Instead, she nodded slowly. "I'm okay." She ran a tongue over her lips. "How are you?"
His gaze searched hers and traced the lines of her face before resting on her eyes once more. "I'm okay."
Slowly, practically stripping her with his eyes, he took her in, everything from her black flats to her bare legs under her pleated grey skirt to where her black t-shirt was a bit too tight around the chest. He lingered there a moment before lifting his gaze to meet hers. His hands fisted around each corner of the towel draped over his shoulders, his knuckles white with his restraint.
Slowly, while she had the chance, her gaze rode over him, following the valleys and grooves of his sweat-kissed body. Every dip and groove was a road map she wanted to follow with her fingers, her lips … her tongue. She wanted to trace a path from the lush folds of his mouth, to the hollow of his throat, all the way down the hard plates of his breasts to the deeply etched ripples of his abdomen. It was all so perfect, every toned inch of him.
"I have patrol tonight," he said at last, reminding her just how inappropriate her thoughts were when they were surrounded by onlookers.
She was excruciatingly aware of the eyes on them. Hunter's included. She could feel every hot jab like a knife piercing her flesh. The hatred and anger brewed with curiosity and hung as thick and bitter as the stench of sweat, moldy gym socks, and polished leather. She wondered if he felt it, too. If he cared. No. He didn't. His focus, his entire focus, was on her.
For a moment she couldn't remember why she was restraining herself from jumping him, why she never allowed herself to fully fall for him as she so desperately wanted. Then a long, pale arm slipped through the crook of his and she remembered all too well as a petite figure moved to stand at his side.
"Rolf?"
Dainty like a beautiful flower, Kiera Hash smiled up at him with eyes much too large and blue on her oval face. Her long, blonde hair was braided down her slender spine and stopped in a thick plait inches from the back of her knees. Scarlett resisted the temptation to grab a fistful of all those silky, rich strands and shake the girl like a maraca.
"Are you finished?" she asked, blinking her scary-doll eyes up at him. "You promised to walk me back to my chambers."
A different, stronger prickle of heat swept through the pit of Scarlett's stomach. She stifled it by folding her arms across her abdomen and cupping her elbows. Her gaze dropped to the delicate hand resting small and pale against the crook of Rolf's arm and she had to look away.
"I should get back to Hunter," she murmured, gesturing with a random nod in her friend's direction.
Rolf's brown eyes flickered in the direction of her nod. Something sparked in them before they made their way back to Scarlett.
"I won't keep you then." He took a single step back and it felt infinite, like he'd pressed both hands against her chest and shoved. It struck her like a physical rejection, which made no sense. But then nothing about her elusive relationship with Rolf Gray made sense.
"Be safe on your patrol," she said for lack of anything better.
Rolf inclined his head before gradually allowing himself to get tugged away. He never glanced back.
"What was that about?" Hunter asked when Scarlett joined him on the step. "Since when did you and Rolf Gray become buddies?"
That was a good question. She'd wondered about it herself countless of times. Had it been the morning he returned her ribbon? Or was it the night they both wound up at the disposal hatch with the same idea in mind? It was hard to say when they never really spoke. The single night they spent together every year never consisted of talking. They met in the cloak of darkness by the same hatch. Then they just sat there until dawn. The rest of the year was spent stealing glances and the occasional murmured greeting, but nothing more. Him approaching her as he had was a surprise, even to her.
"I don't know," she answered.
"You mean he just woke up this morning and decided to talk to a complete stranger?"
Scarlett frowned at him. "We're not exactly strangers, Hunter. We've been on the same ship for three years and he's a marshal in my sector. I see him like every day."
"So you've spoken to him."
She rolled her shoulders in a shrug. "A couple of times."
He was staring at her like she'd just told him she'd been on the moon. "Not sure how it could get stranger than that."
It killed her that she couldn't tell him the truth, couldn't tell him how they'd saved each other and continued to save each other every year on the night of her birthday. It somehow felt like a betrayal to confess that Rolf was the only one she felt remotely sane with on that night. Hunter would be crushed. He'd be so angry and hurt. He wouldn't understand.
"Attention all passengers!" The captain's cold, brusque voice shattered the tension like a fist through glass. "Report immediately to deck eighteen for an important announcement. I repeat. All passengers report immediately to the conference room for an important announcement!"
Scarlett, who had never cared either way about Captain Isabella, felt a surge of gratitude for the interruption. It was just enough to pull Hunter's attention away from her encounter with Rolf and focus instead on getting them to the meeting. But it wasn't enough to keep the self-loathing from eating her up alive.