A Love We Deserve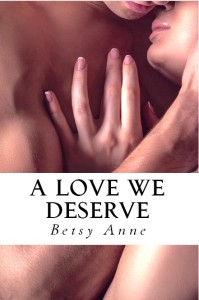 In this sequel to Mine, Not Hers (Book 1 in the True Love series), we find funny Georgia girl Melanie at her breaking point.
Melanie's husband Chris has come home for the last time smelling of a cheap mistress. She's finally had enough. She kicks him to the curb once and for all, but now what?
Bearing witness to the love her best friend Katie shares with her husband Jason, has opened her eyes to see that she deserves more than what she's settled for. Problem is, where to begin? How does she meet someone when she's so jaded and distrustful of men?
After fumbled attempts with bars, dating websites, and personal trainers, she's had enough. Swearing off men altogether, she throws all of her energy into making her life better, and working for a cause she believes in. When she least expects it, she meets a handsome, muscular stranger whose enraptured by her. Even though she's drawn to him by an intense attraction, she pushes him away, knowing that Mr. Perfect will be next in her line of failed relationships.
Is he strong enough to break down the brick wall she's built around her heart or will he protect his own which hides deep secrets from his past?
A page turner from the beginning, Melanie's sad, funny, steamy, and sweet story will envelope the reader until the very last page.
Chapter Excerpts
Chapter 1
Chapter 1
I can't believe how much he reeks of her, whoever 'her' may be this time. White Diamonds cologne, I think my grandma wore that, and a very foul smelling hootchie. God only knows if she's diseased. Good thing he and I haven't had sex in…well, I actually can't remember when the last time was. I just wish he showed me a tiny bit of respect by at least showering the sex smell off before he comes home. Benny, our Golden Retriever, smells it on him too. His nose is up in his crotch as soon as he walks in the door. He used to care more about hiding or destroying the evidence of his trysts, but recently it's like he's trying to slap me in the face with it.
What can I say? I was once the 'other woman' too. Of course, I was unaware of that status since the subject of a wife at home never came up. Isn't there an old saying once a cheater always a cheater? I guess it's true. I feel so stupid.
"Nice of you to call, Chris."
I huff as I rise from the sofa and head to the kitchen to refill my wine glass. He looks indignant, as usual.
"I told you I was going to be late. You were aware that, so no need to call to tell you something you already knew. Big client meetings all week. I'll be late again tomorrow as well, so I won't need the third degree from you then either."
Asshole. I guess his big meeting with the grandma with gonorrhea went so well, he has to go back. Whatever. I made my big lonely bed; I guess I have to lie in it. One of these evenings, I'll get the courage to tell him to go straight to hell and don't bother calling when you get there. If it weren't for our boys, I would have been gone long ago. Who am I kidding? If I hadn't gotten pregnant, we wouldn't have lasted longer than a few weeks. Telling a man your pregnant after only a few weeks of screwing isn't the easiest thing in the world, but when he comes back with an "I'm married" that's even harder.
He heads up to bed, and hopefully to shower, and I plop back down on the sofa; wine glass full to the top. I feel like calling Katie, but I don't want to disturb her and Jason this late. Katie is my neighbor and best friend in the world. We only met a short time ago, but I feel as if I've known her my whole life. She and her family moved into the house two doors down from us. An elderly woman had lived there for fifty years. After she died, her son completely remodeled the house from top to bottom, inside and out. Jason snapped it up pretty quick. Our neighborhood is beautiful, but there aren't all that many kids around and it's hard when the boys just want to run and play.
The day I saw the moving truck, I was so excited. A minivan was following the truck, and I saw two kids, a boy and a girl, get out. My boys ran right over and introduced themselves. That gave she and I an excuse to talk right away. I offered to let her kids stay at our house while the movers did their thing. We've pretty much stayed by each other's side ever since.
She and her husband Jason were high school sweethearts. Whenever I'm around the two of them together, I can feel the love between them. It's a very intimate relationship. He adores her like nothing I've ever seen before, and she him. They just went through a terrible time this past year. A crazy woman was stalking Jason for quite a while, and it all came to a head. He had been trying to protect Katie and the kids, but this woman wouldn't take no for an answer. Poor Katie went through hell trying to find out what was going on. The two of them made it through and are even closer than they were before. I know for a fact that my marriage could never have survived such a nightmare. I wonder most days if my marriage can survive another week.
Chris barely spends time with our boys as it is, but if he were out of the house, that would be it. I know they would never see him again. He is so self-absorbed, that unless you're right under his nose, he forgets about you. I guess that's how he can cheat so easily. No guilty conscience to get in the way. I struggle with the divorce decision everyday. Is it better to have a 'dad' whose barely around but is still married to your mom, or one dedicated parent no longer making lame excuses for the other one? Boys are so impressionable, and as they get older they may begin to notice the details and mimic his lying and cheating. Boys want to be like their dad, even when their dad's a complete jerk. I just don't know what to do.
For now I head to the guestroom, which is now my bedroom, to try to get some rest. The wine has made me sleepy, but has also given me a major headache. I pop a handful of Advil PM and pray for sleep. Asshole…
Ooooh… When I wake up, my head is pounding even harder than it was last night. I don't think I ate dinner last night come to think of it. The boys went to my sister-in-law's house for pizza and a sleepover around 6. All I remember is waiting for Chris. He never told me that he was going to be late, he's so full of shit. I was hoping we would have a chance to eat, just the two of us, and talk. He's been on the road continuously for about three weeks, and he never calls from the road. I don't think we've had a conversation that has contained more than five sentences in months. I've hit my limit.
I go upstairs to freshen up and see if he'll sit down with me for coffee. I open the door to the bedroom, and he's gone. What the fuck. Gone? It's Saturday fucking morning, where could he have gone. I call his cell, and he picks up quick.
"Mel, what do you need?"
Cold as a rotten, stinking fish.
"Where are you? I thought we could spend some time together today?"
"I told you Melanie, I have clients here. I have to go now." Click.
His voice was dripping with condescension. My name oozed out of his mouth slowly like he was speaking to someone who couldn't compute two plus two. He clearly has no respect for me anymore, and why would he? He's been so obviously trying to get me to leave him, and I just haven't taken the bait. Well, today must be his lucky day.
A strange sense of calm washes over me. I've made the decision to leave my husband, and I know it's right. I've pled for years to go to counseling and spend more time together. He resisted all of it. Truth be told, he thought he was screwing a young assistant and would wash his hands of it when he'd had his fill. I know he never envisioned a house in the suburbs, three kids, and a second nagging wife. Definitely never in his life plan. I ignored all the red flags that were waving in my face trying to warn me he wouldn't be in it for the long haul. I wanted so badly for it to work, I fooled myself for way too long.
I need to talk to Katie. I skip calling, and run over to her house. I knock on the back door, and Jason answers.
"Hey beautiful, what's up?"
I realize he's being sarcastic, especially since I know I look worse than whatever that was on our porch the cat puked up, but I know it's just in fun. He has a huge, perfect teeth smile on his face. He is one of the most gorgeous specimens God ever put on this planet. Katie's not jealous, we kid about it all the time. Woman gawk at him like crazy, everywhere we go. I'm trying hard not to stare because he's not wearing a shirt and his body is like one of those Greek god sculptures. Jesus Christ.
Katie gets up from the table, and swats his butt.
"Go put some clothes on before she melts on our garage floor, will you?"
We all laugh, and she gives me a giant bear hug. Right away she knows something's wrong. Her face is full of concern.
"What's wrong Mel? Tell me, I can see it in your eyes."
She pulls me in the house, and I see Jason come back downstairs with a shirt on. I can't help but laugh.
"Don't worry sweetie, your safe with me."
I give him a little wink, and he laughs.
"It's me I'm worried about when you're around babe!"
He pretends to clutch his heart, and fall back. He laughs again, and gives Katie a huge kiss.
"I'm going for a run sweetheart. You girls look like you may need some privacy."
He kisses the top of Katie's head, and pats me on the back. Jeez, can't they clone this one? Katie turns her attention back to me.
"Okay now, what's going on?"
"I've decided to leave Chris. I can't take it anymore, Katie. The lies and indifference are killing me inside. He came home last night smelling of twat so bad it almost made me sick. God help me, but I have to get out. If my boys learn to treat women like their dad, it would kill me. I, no, WE, deserve more than that asshole."
I manage, somehow, to get it all out before the waterworks begin. She scoots her chair closer to mine, and holds my head while I cry. I'm not sure how long my boo-hoo session lasts, but at the end I feel all cried out. I'm determined to never cry over him ever again.
We discuss the 'how to do it' for a while, and I know that I should treat it like ripping off a Band-Aid. No apologies, no excuses. Pack him up and throw him out. One and done. Now's the perfect time since the boys are at their aunt's house. I adore Chris' sister so much. She talks more crap about him than anyone. She knows what a jerk he is, and I'll know I'll have her support.
Katie and I go to my house to start packing his things. He has some clothes, and a few books but everything that means anything to him is in his office. He never helped me decorate this house. I look around and don't see one item I think he would actually want. She and I carry three large suitcases down the stairs, and set them by the front door.
"Now I just wait, I guess. I have no idea what his plans are today."
She looks at me with such sadness. There's not a moment when she and Jason don't know where the other one is. They are so kind and respectful of one another. I would kill to have a fraction of that in my life. As luck would have it, the front door opens. Timing is everything.
"Forgot my glasses. Hello Katie."
He says with as much warmth as a polar bear's ass. His foot catches the first suitcase, and he looks down. The expression on his face indicates he understands exactly what's happening. He looks like he's won the lottery. He catches himself, and rights his expression appropriately. Now he appears stunned and upset.
"Is this what I think it is? Are you leaving me?"
"Take a closer look Chris, those are your bags. Technically you're leaving me. I want you out as soon as possible."
He pauses for a short moment, then walks over and kisses my cheek.
"Okay. You can have the house. I'll draw up the papers."
That was it. That's all he had to say. I guess he's had that stored in his mind for when the time finally came. He didn't mention the boys, or custody. I think we both know we won't be seeing a lot of each other from this point on. My heart is breaking. Not for the loss of his sorry behind, but for three great kids whose father doesn't even give a shit enough to mention them. They deserve so much better. Sadly, their lives really won't change much. They rarely see him now anyway.
He picks up his bags and walks out. I look over at Katie and tears are flowing down her face.
"Why are you crying?" I ask her as she's staring off into the void Chris just left.
She looks over at me, horrified.
"Oh Mel, that was the hardest thing I've ever had to watch. Doesn't he care at all?!"
She comes over and hugs me tight. I feel great. I feel the smile on my face forming already. She pulls back, sensing that I'm happy.
"Are you okay? You look a little crazy right now with that joker smile on your face."
"I'm really okay Katie. I can't believe I waited this long to free myself. I'm going to be just fine."
Chapter 2
Chapter 2
Katie offers to stay with me, but I feel like I need to be alone. My kids are out of the house, and my husband is gone. I feel like I should check the floors for skid marks, he left so fast. Crazy how life can change so rapidly. In the blink of an eye, you can give the illusion of a happy marriage, the perfect family, the ugly truth then rears it's head and the people closest to you are looking at you with pity. I don't need or want pity right now. I need strength and resilience.
I've only had two serious relationships in my life. Chris, and my boyfriend Jeff in college. They both ended eerily similarly. Jeff and I met our sophomore year at the University of Georgia. We had an English lit class together. He was really good looking, and I had noticed him day one. I didn't think he even knew I existed until one day after class he approached me. He was very direct and said that he thought I was pretty, and he'd love to take me out sometime. I hadn't dated very much in high school, so when he asked me out I was thrilled.
We were both from small towns in Georgia, and loved the same music and movies. To me, that meant we'd be together forever. I thought that was the way life worked. You met your future spouse in college, got married right after graduation and lived happily ever after. At least that's the way it was in my family. My parents met at U of G, my cousins, and my friends. The only exception that I knew was my younger sister Becky. She moved to New York right after high school graduation to be an actress/model. She made fun of all of us with the boring, southern suburban lifestyles. She changed her name from Becky Grubbs, my gross maiden name, to Rebecca London. I know she'll make it big. She's very talented, and being a knockout redhead with a killer body doesn't hurt either.
Jeff and I were inseparable all the way through to graduation. Looking back, I would have mixed in some more friendships with girls. He liked me to be with him all the time. He would get insanely jealous if I went out with my roommates, so I just didn't bother. He was offered a job in Chicago after we graduated. I had always planned on going to business school for my MBA, and Chicago had some great schools. I thought it would be perfect. Of course, I imagined us returning to Georgia, no one ever leaves for good.
We moved and got a small apartment in the city. He was working for an engineering firm, and making good money. I got an administrative assistant job at a high profile investment bank while taking classes. Everything was going great. Until…
I got sick at work one afternoon, bad Lo Mein, and left early to go home. I heard noise coming from our apartment as I neared the front door. No mistaking what the noises were. My hand was shaking so hard that I dropped my keys twice. My stomach was cramping and I needed to get to the bathroom immediately. I got the door open, and ran past our bedroom into the bathroom. I heaved and wretched so hard, I could feel blood vessels swelling on my face. In my sickness haze, I saw Jeff and a woman standing naked at the bathroom door staring down at me. They had tried to cover themselves with the sheet from the bed.
"Uh… you okay?"
That was the only thing he could say. I guess asking if I was alright was the proper thing to do. After I slammed the door closed in their faces with my foot, he called louder through the door.
"Melanie, what's wrong? Can I help?"
"Go fuck yourself Jeff!"
I screamed through the door with the last bit of strength I had. I heard some hushed whispering, then the front door closed softly. I cried myself to sleep right there on the bathroom floor.
When I woke the next morning, I was feeling a little better. I climbed into the shower, and let the warm steam refresh my aching head and body. Jeff heard my rousing, and knocked on the door.
"Baby, can we talk when you're finished? I can explain everything."
Yeah, I'll just bet he could. Jeff was a master at word play. Five minutes into any argument he could make you believe everything was not only all your fault, but that you should apologize to him for getting upset. He really missed his calling to go into law. I wrapped myself in two towels, and another one around my wet hair. I didn't want him seeing any part of me. I still hadn't looked him in the face since all this had gone down.
I opened the door, and found him in the living room at his desk. He slowly rose and walked over to me. He didn't look sad or upset, just a little scared.
"Are you alright? Can I get you anything?"
"No, I'm okay. Just some bad Chinese I think. So… what's up?"
I was trying to stand up tall and fierce but I just couldn't pull it off. My poor body was wrecked, and my head hurt. He looked down at the ground, before he started to speak.
"I'm in love, Mel. Her name is Meghan. She works at my firm. I met her when I first came up for the interviews, and something just sparked between us. I can't explain it any better than that. We thought it was best to follow our instincts and see where it would lead. I didn't want to change our plans to move here together in case it turned out to be just a fling. I feel strongly enough about her to let you know the truth. I want to marry her."
To say I was floored would be putting it mildly. I didn't know what to say to that. What does one say to something that cruel? No apology, or at least a heads up to me before I moved eight hundred miles away from all my family and friends. All I could think about was where was I going to live? I had a job and was in the middle of my MBA program. I couldn't face the harsh reality of what he was saying to me. I just needed a place to go. I got dressed and went to school. On a corkboard in one of the outdoor kiosks, was a flyer for a roommate needed. I called her right away. It was a great set up. She needed someone to sublet her former roommate's room while she was studying abroad. She was rarely home herself because she was a med student with crazy hours. It was like I had a place of my own.
I went back to our place only once to get my stuff. I completely ignored his calls and never told him where I moved. I heard years later that they did get married, then divorced pretty quickly there after. His mom tried to get my mom to contact me on his behalf because he wanted to get back together. She told me that she told his mom to "Eat Shit" in her perfect southern drawl and hung up the phone. I just wish I could have been there to see it.
So there I was. In a still unfamiliar town, stuck with school and a job. I didn't want to return to my hometown with my tail between my legs. I had way too much pride for that. I resolved to finish my degree, and move to Atlanta. It was close enough to home, but large enough to lose myself in. My plan was rock solid. No dating, no social life, nothing but school and work. I needed a break from men. I was looking forward to it.
Six months flew by, and I was content. Not really happy, but not entirely unhappy either. I felt a little like a prisoner scratching out the days on the concrete wall of my cell until I could move to Atlanta. My job was great. The office was frenetic which helped my days fly by. My classes were all in the morning, so I was at the office by lunchtime everyday. I relieved another assistant who only worked mornings. She and I were floaters, doing any job needed by one of the partners. They didn't want traditional secretaries; they wanted grad students because they could order us around under the guise of 'learning the business world', which essentially made us their slaves. They yelled, we jumped. I was learning a lot though, and not all of the partners were rude.
One of the senior partners was working on a very large merger. He requested that he be able to use one of us full time during the transition period. He was one of the rude ones. I happened to be walking by his office one afternoon and he shouted at me.
"Excuse me, you. Go make me a hundred copies of this and make it quick. I also need a late lunch for ten in an hour."
He barked it so fast and shoved a piece of paper into my chest. I stood dumbfounded for a minute. He looked at me like a small child.
"I'm sorry, do you work here or not? Was that a difficult request for someone who wants to continue to work here? Because if you can't handle it, I'll get someone else who can."
His tone made me snap out of my stupor.
"Uh, yes. Yes sir, I got it. Anywhere specific for lunch catering or my choice?"
I gave it back to him as sharply as he gave it to me. He seemed impressed. I saw a slight grin, very slight, and he waved me away. Turned out, after that meeting, he'd requested that I be assigned to be his assistant on the merger. I'd hoped to learn a lot. Experience like that goes far in the business community.
His name was Chris Kennedy. Senior partner, 42 years old, and super hot. Salt and pepper hair, with bright green eyes. As far as I could tell, under his suits he seemed to have a pretty good body. He wore custom made fitted shirts with French cuffs, and finely made trousers. His only accouterment was a large platinum Rolex. He commanded the room when he was present, and didn't take shit from anyone. We worked well together. He was all business, and I
wasn't interested in anything but getting the job done. No flirting, no nonsense. It was just what I needed.
We finished that merger, and he requested that I stay on to help him with some research and development he was doing. The guy was a workaholic like I'd never seen. He slept most nights in the office, and even had a shower in his bathroom. He had enough clothes in a large storage closet to last him a month. There weren't any personal photos in his office so I assumed he didn't have any family. I felt for him a little. He was in his forties, and no wife or kids. He seemed a bit sad on the rare occasions he put his guard down.
We became friendly enough for him to drop an occasional joke or jibe my way. I was a mere few months away from getting my MBA, and my big move back to Georgia. If I could continue to work for him exclusively, he would write a glowing recommendation and any job I wanted in Atlanta would be mine. I was the happiest I'd been in a very long time. I was 23 years old, and I had my plans.
I was helping him with a very large acquisition of a freight company. The details were changing on a daily basis, and required exhausting amounts of revisions in the contracts. One Friday evening in particular, we were informed at 5:30 that by Monday, about four hundred pages of the contract had to be re-written. He and I ordered in dinner, and hunkered down for a long winter's night of work. I was stretched out on the large couch in his office, while he was sitting in a huge leather swivel chair in front of me. He rattled off the changes and I typed as quickly as I could to keep up.
He stopped talking. I was waiting for him to continue, when I noticed he was staring at me.
"What?? Are we stuck? What's wrong?"
He continued to stare at my face in a way I had never seen from him before.
"Are you happy, Melanie?"
What? When does he give a shit about whether or not anyone is happy? I wasn't sure what to say.
"Yes, of course. I've learned so much under your tutelage, I just hope I've been able to be a help and not a hindrance to you."
Assuming, of course, that he was talking about work.
"Not here, not the job. Are you happy in your life? You never leave here, and I've never heard you speak of a boyfriend. Do you go out? You're too young to be foregoing any fun just for work."
Whoa. Never saw that one coming.
"Well, I had a boyfriend, but that's long over. I'm just dedicated to learning what I can right now. I'm not interested in dating or going out."
He turned his deep green eyes on me. He had thick dark lashes I'd never noticed before. His muscles were straining against his tight dress shirt. Jeez, how had I not noticed that either? He was smoking hot, and it was all coming out full force in my direction. He stood and reached for my laptop. He closed it and placed it carefully on his desk. He slowly walked back over toward me, never taking his eyes from mine. I was frozen in place. Way too many thoughts were swirling around in my head. What is he doing? Will I get fired if I reciprocate? Is this a colossally bad idea? He knelt down on the floor next to the couch, and was just inches away from my face.
"Your stunning Melanie. I noticed you a long time ago, but never thought I would act on it. I respect you as a smart, capable woman. If you don't want anything to happen between us, it won't and we'll never speak of this again. I'm drawn to you, and I want to feel your lips on mine."
In the following second we were on each other like a head-on collision. Our mouths crashed together with passion I had no idea he felt. For that matter, I didn't realize just how much I felt for him until that moment either. I was falling down a hole, and I didn't ever want to land. Our hands were all over each other; I couldn't seem to get enough. He paused only for a moment to go lock the door. I quickly reassembled myself, fixed my mussed hair and tried my best to look alluring. He crossed back over to me in two long strides. He knelt back down beside me, and took a deep breath.
"Are you sure about this? I'll understand if you don't want to confuse things between us. I have to be honest though. I'm very attracted to you, and I've been fantasizing about this moment for quite a while."
His eyes were dark and wide as he spoke to me. I felt my entire body betray me, as my skin flushed and a deep warm sensation spread. I'd never been that turned on before in my life. Jeff and I had a very vanilla sex life, not much passion. The feeling took over my senses, and I wasn't sure if I could speak. I slowly nodded my head up and down. Message received.
He stood up, looming over me, and grabbed my ankles. He yanked my body down the couch so that I was lying completely flat. The couch was long and wide, wide enough for the both of us. He covered my body with his, and I felt his hard erection through the sheer fabric of his trousers. He was trying to slow things down a little. I felt him take a very deep breath, and his exhale was a warm, slow, sweet torture on the nape of my neck. Every hair on my body stood on end. He took a long inhale with his nose in my hair, and he moaned.
"Your scent drives me wild. Every time you've been near me, your delicious smell gets me hard. Do you know how difficult that's been, working so closely with you? You've made my life a hell on earth. In the best way possible…"
I felt his lips move against my neck as he spoke. He had soft stubble on his face that was tickling me, and driving me wild.
"I had no idea you felt this way. Why didn't you tell me sooner?"
I tried to make eye contact as I spoke, but he nuzzled into my nape even deeper.
"I've never crossed this line at work. My professional reputation is very important to me, but tonight I thought if I didn't do something, I was going to explode. Can I make love to you?"
He pulled back and stared deep into my eyes. His swollen lips, the sweat on his brow, and his rapid breathing told me just how much he needed me… wanted me. I didn't want to believe that he was just horny, and that it had been a long time since he'd had sex. It felt like so much more than that. He had lust in his eyes, but he also had tenderness in his movements. The way he touched me, the way he spoke. He made me feel like we could be more, and for the first time in a long time, I needed that feeling.
I gave him the go ahead with another slight nod of my head. My body was wet with perspiration, and I shivered as he removed my clothes. He took his time and appreciated every inch of my body. He began with my pants, and worked his way up until I was only in my bra and panties. He quickly shed his own clothes and grabbed the large throw that was artfully arranged on the end of the sofa. He lowered his warm body back atop mine and covered the two of us with the blanket.
"Did you forget something?" I looked down at my bra.
"No, not yet. I want to savor this moment. If I see you completely naked right now, I won't be able to control myself and I want this to last. Just let me feel your beautiful skin against mine. Let me warm you up first."
Warm me, he did. I had been shivering from being sweaty and bare, and he made me warm and pliable with his muscular body. He was very careful not to lay his entire body weight on me. I felt his hips begin to move very slowly against mine. His large erection was the center of attention for sure, but he took his own sweet time exploring my body. He felt my breasts through my bra, which, thank God, was one of my sheerest and prettiest. He pressed his lips on each one gently like he was kissing something fragile. His warm lips made their way down my stomach to my panties. He slowly kissed his way down to the wet, hot spot. The thin fabric of my underwear let the wetness of his lips penetrate right through. I was on fire and the teasing nature of his kisses was fanning the flames. He clamped down on the top of my panties with his teeth, and yanked them down aggressively. I could feel his heart beating faster in his chest against my skin, and I knew he was reaching his boiling point.
"I need to fuck you, now. Can I fuck you?"
He growled through tight lips as my panties were still between his teeth.
"Yes, please. Please fuck me!"
I was ready. More than ready. I knew as soon as he entered me, I would come. He rose up and threw off the blanket covering us. He ripped open my bra, and began licking and sucking my nipples like a starving man. He shoved his face into my crotch, and assaulted my over sensitized skin with his tongue and mouth. He brought his glistening face back up to my mouth and kissed me sloppily. I had never had a man do that to me, and it was so sexy. He slipped under me somehow, and flipped me so I was straddling him. He grabbed my waist and lifted me up over his large cock. He shoved me down forcefully and let out a very loud groan. If anyone were still in the building, they would have heard him for certain.
I moaned at the same time he entered me, and with two hard thrusts I could feel myself heading to the edge. I'd never had an orgasm like that before. It began to rise from deep inside me, and it pulsated around him. I felt his cock swell even bigger, and he started to shake. Another loud groan, and he stilled. He poured himself into me deeply. He was holding my body down hard against him so that he was completely inside me up to his balls. I felt him throb and release against my insides, over and over again. He pulled me to him and we kissed, a long, hard, open mouth kiss.
We both lay spent, exhausted. Not just from the sex, but the release of pent up emotions. Little did I know when I went to work that day that my life would be turned upside down. I pried open my make-up smeared eyes, and stole a peek at him. His breath was soft, and he had a look of pure contentment on his face. I didn't think I'd ever seen him that relaxed before. Now that I was semi-conscious, my mind started to race with so many questions. I was so scared that I really screwed up by doing this. He said he respected me, but how many 23 year olds hear that everyday from guys that want them in bed? He seemed so sincere, but I just wasn't sure. I needed to let him determine the next move.
He struggled in our tight space to roll over onto his side. His eyes popped open and we were nose to nose. He smiled like the Cheshire cat and wrapped his arms around me tightly. I was stunned. I really thought I would get the old awkward excuse that he had to get up early, and maybe I should go then the next day arriving at work only to discover I'd been transferred to the mailroom. I couldn't have been more thrilled. It never dawned on me just how attracted I was to him. I guess all the cynicism from my previous relationship had clouded my perception of my daily life. I felt like the floodgates had opened, and I was awash with hope for the future. Maybe all men weren't like Jeff. Maybe I could have love, or at least some really great sex. Either way, I was in.
"Hi there sexy. That was incredible."
He looked into my eyes as he said those words. Smile still permanently tattooed on his face. He leaned in to kiss me, and it was the most loving, gentle kiss I had ever experienced. All my senses were finely tuned to him. We kissed for the longest time, slowly and with purpose. He eventually rolled over on top of me, and I could feel his desire once again. As we continued to kiss, he slowly entered me. We moved slowly in perfect rhythm with one another. He opened his eyes and we locked in on each other as we made love. He never once looked away from my face or closed his eyes. He kept his pace slow and deliberate until I came, then he released himself for the second time into me. I had been thoroughly loved twice by a man who just hours before I was a little scared of.
I'd never had feelings that strong for anyone before. I felt liked I loved him. I knew better than to confuse sex and love, but my feelings for him were powerful. I wanted to stay in our private bubble for as long as possible. He winced as he broke our bond and stood. He reached for my hand without saying a word. I put my hand in his and he led us to the bathroom. He turned on the shower, and led me in. We hugged and kissed in between trying to get clean. He washed my hair, and lovingly washed every inch of my body. The morning light was a beautiful orange-pink coming through the window. I had to be dreaming.
A stark realization broke through my trance. Very soon, people, a lot of people, would be filing into the office. Even on a Saturday, this place was very busy. That was all I needed was gossip about me hooking up with the boss.
"Um, Mr. Kennedy? I think we need to hurry. The office is opening soon."
He looked at me like I had just sprouted horns.
"Mr. Kennedy?? Really?? That makes me feel pretty creepy. You know my first name Melanie, please use it."
He smiled his sweet smile at me, and grabbed my butt. He did get the message though, and we finished up our shower. Thankfully my clothes were still clean, but it would be very obvious that I had been there all night. We got dressed, he wore fresh clothes from his stash, a bit more casual for a Saturday, and I made do with my day old outfit. He came over and wrapped his arms around my waist and snuggled into my neck.
"Let's go out for breakfast before everyone gets here. You can go home to change, then come back later so we can actually get that damn contract finished."
Wow. Damn he smelled good, and looked even better. I felt like a person who just got glasses for the first time. Everything was crystal clear, and seemed new. He was new to me. Even though I'd known him for months, this was the first time I actually saw him as a man, a super hot man, and not just my boss. I noticed details now in his face. His gorgeous, speckled green eyes, his small smile lines outside his eyes, and his knockout body. Jeez, I had to have been in a serious fog to be blind to all of this right in front of me everyday.
We hurried to escape the building before any one else arrived. We walked hand in hand over to the diner across the street. We ate and talked so comfortably with each other, it was as if we'd been together for years. I could tell he felt it too. He frequently touched my hand or my face throughout the meal. He told me all his stories, and I gave him as many as I could. I didn't really have much of a life before I came to Chicago so there wasn't a lot to tell. He boldly kissed me in front of our building before we parted ways. I couldn't believe he wasn't the least bit worried about co-workers seeing us together. I couldn't say the same. I didn't want anyone treating us differently, which I knew would happen. I hugged him once more, and headed back to my apartment to change clothes and freshen up. My feet never touched the sidewalk.
* * *
Those memories are bittersweet. The first one with Jeff left me bitter, and the second was sweet. For a blink in time it was at least. That was more than ten years ago. May as well be an entire lifetime.
I've blamed myself for Chris' cheating over the years. Well, not his cheating, but the karma that came back to me. I never would have allowed anything to happen between us had I known he was married. He gave nothing away. To this day, I still don't know how his wife was as shocked as she claimed to be that he was cheating. In our marriage, Chris has done all but brought his flings home and ask me to do their laundry. When he explained to me how he and his wife were unhappy because they couldn't have kids, it seemed like a logical explanation. I believed him when he told me that he really did love me, and that he and his wife just didn't belong together.
Never did I allow myself to think that he was just a cheater. At first, I denied it. No wife wants to admit that her husband is stepping out, no matter how many glaring signs there are. The problem is that you begin to de-value yourself. I allowed his actions to alter my own perception of who I was. Instead of placing the blame where it belonged, on him, I kept telling myself that it was me. I'm the one who drove him into the arms of other women by something I did or didn't do.
His ex-wife, Suzanne, wanted nothing. No alimony, no lump sum, not even her car. She wiped her hands clean of him completely. That's why I never fully bought the idea that our fling was the first time he had cheated on her. Those actions seemed like a woman who had just had enough. Last straw sort of deal. He won't be getting out that cheaply with me. I know he has more money than I can even count, and God knows his sons and I will get it. I'll make sure of that.