All in the Family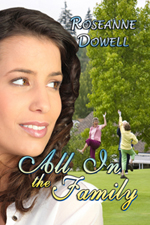 Taking over the police chief's job in her hometown should have been easy for Callie Johnson. At least that's what she thought. After working in a big city, small town crime would be a breeze. What a surprise when she arrives to find her grandmother, the judge, accused of murder. As if that wasn't enough she's attacked while walking to her car. Between criminal investigations, her nutty family's antics and her Aunt Beatrice Lulu's matchmaking, Callie definitely has her work cut out for her. Will her grandmother be exonerated? Can Callie ward off her aunt's unsuitable suitors? What other surprises were in store for her? More importantly, can she find the person who attacked her?
Chapter Excerpts
Reviews
5.0 out of 5 stars
All in the Family
, January 13, 2014
This review is from:

All In The Family (Kindle Edition)
What a delightful book. The mysteries were quick reads, but solvable. The family members were portrayed as frustrating, caring, and lovable. I would recommend this book to those who would like a mystery that is also fun.