Another Day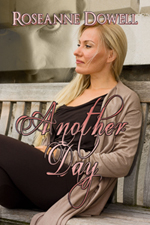 Never one to act impulsively, 40 year old Meg Baldwin succumbs to the seduction of the young, sexy bachelor next door.
Guilt-ridden, ashamed, and afraid her family will find out, she tries to convince him it was a mistake.
Refusing to be rejected, he begins to stalk her. Can she keep her secret?
Chapter Excerpts
Review
5.0 out of 5 stars Another Day, The Struggles and the Joys
By Heather Haven
This is the 4th or 5th story I've read by the author, Roseanne Dowell. This book offers more than romance to the reader. Real life is given a prose treatment that becomes a full-bodied, truthful story with layers and dimensions. Ms. Dowell has a way of getting into the heart of her protagonist and this read is no exception. You cannot help but root for the characters and feel their deepest yearnings and fears. You are driven to turn the pages until you find out what happens to them.