Betraying Innocence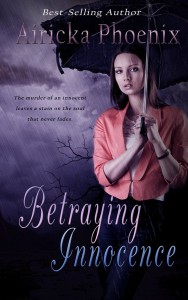 October 31, 1983, seventeen year old Johnny Baits vanishes without a trace, leaving the slumbering town of Chipawaha Creek, British Columbia reeling with his mysterious disappearance. Twenty-nine years later, The French family moves into his home, never realizing they're not alone in the house.
For seventeen year old Roseanna French moving to a strange new town is a problem she can handle. But even she's not prepared for the evil that has been sitting dormant for years… waiting. When seemingly harmless noises and creeping shadows at night leads to the murder of the people closest to her, Ana has to find a way to stop the evil before it can consume her completely and she can no longer wash the blood from her hands.
Rafael Ramirez is battling his own demons. Unlike Ana's, his has been haunting him for years. But running isn't an option. He has a mother, a brother and a sister looking to him to keep them safe. He doesn't have time for pretty girls with issues, even if the sight of her makes him hope for things a guy like him doesn't deserve. But when Ana asks Rafe for help, what can he do except give it? But what happens when the evil comes after his family? Can they stop it before it's too late or will it claim them the way it had claimed Johnny?B00GB3FTD8
Chapter Excerpts
Prologue
October 31, 1983
Forgiveness.
His mother always told him to forgive. It was what a good person — a good Christian — did, he forgave those who wronged him. Still, he didn't think he had it in him as yet another blow snapped the delicate curve of his ribs. Fingers of pain curled into his heaving gut, bringing with it the urge to vomit, but the energy to follow through evaded him. Instead, he prayed for the black arms of death to wrap around him and take him from the torment stifling his soul. He prayed for eternal sleep.
He prayed … he prayed for revenge. He prayed for the day when he would be the one bathed in their blood. Nothing short of their death would satisfy him. He clung to that desire like a child to a favorite blanket, even as the curved blade sunk home into his flesh.