Blood Links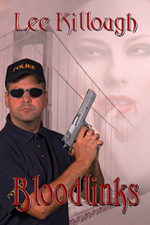 Vampire Garreth Mikaelian thought he had his life organized. Since resigning from the San Francisco police to track down and destroy Lane Barber, the vampire who made him a vampire, too, he is now a cop working the night shift in the police department of the small prairie town where he confronted Lane. He works nights and takes blood only from cattle, which he can do without harming them. Then a writer shows up, supposedly writing about World War II and a local woman in Europe at the time. But the woman was Lane Barber, and the writer's questions dig at topics Garreth would rather remain buried. Worse, Garreth's old partner calls to tell him they think Lane Barber is back in San Francisco. Is she not destroyed after all? Perhaps not, and she wants revenge. For when he goes to San Francisco, there are new deaths … with evidence that makes Garreth a suspect.
Chapter Excerpts
Chapter One
He dreamed of death, and Undeath. Homicide Inspector Garreth Mikaelian pressed against the wall of an alley in San Francisco's North Beach, held by the hypnotic gaze of glowing red eyes. Red light glinted in the vampire's hair, too…not a beautiful woman, but Lane Barber used her clothes, body language, and long legs — seeming even longer in high-heeled boots that made her tower above his five-eight — to appear beautiful.
"You're going to like this, Inspector," she whispered. "You'll feel no pain." She tipped back his head and her cool lips moved down his jaw to his neck, sending a wave of pleasure through him, even when the kisses became bites pinching his skin in hard, avid nips. "You won't mind a bit that you're dying."
Her mouth stopped over the artery pounding in his throat. She bit harder. A distant sensation told him her teeth broke his skin, but he felt no pain, only a slight pressure as she sucked. A spasm of intense pleasure lanced through him. Catching his breath, he strained up against her mouth.
Presently, though, as cold and weakness spread through him, concern invaded the ecstasy, a belated recognition she was sucking his blood. Sucking his blood! At least two other men connected to her had died of exsanguination. He tried pushing her away, but to his dismay could not move. Her body pinned him against the wall despite his greater weight. The fear sharpened to panic.
Use your gun, you dumb flatfoot, a voice in his head snarled.
Her grip blocked him from reaching the weapon. Abandoning pride, he sucked in a breath to yell for help, but her hand clamped over his mouth. In desperation he sank his teeth into it…bit deep. Her blood filled his mouth…scorching tongue and throat as he swallowed in shock at the liquid fire of it.
The vampire sprang away, ripping his hand and throat in her retreat. He collapsed as though drained of bone as well as blood.
She laughed mockingly. "Goodbye, Inspector. Rest in peace."
Her footsteps faded away, leaving him face down in his growing pool of blood….listening helplessly to heartbeats and breath that slowed, stumbled, and stopped.
Garreth woke shaking.
Shit. What made him dream that? As if the memory always lurking in the back of his mind while wide awake were not enough.
Memory, not mere dream.
And a year and a half since that 1983 attack had blunted none of his remembered terror, nor the horror that followed.
Waking up in the morgue.
Realizing Lane made him a vampire, too.
Struggling to hide it from everyone else.
Then worst of all, being responsible for the near fatal shooting of his partner Harry Takananda…because he could not enter a dwelling uninvited, not even that of a murder suspect.
He had Lane's blood on his hands, too, though he killed her in self-defense. Learning her real name, Madelaine Bieber, he had tracked her here to Baumen, the little Kansas town of her birth, to arrest her, only to have her come after him with a bow and arrows. Arrows, after all, being wooden stakes. It had been as terrifying and desperate a night as being in that alley. And surviving had to be followed by manipulating the evidence to hide Lane's identity and sex and have her buried without an autopsy as a John Doe.
Now… Garreth folded his hands behind his head and lay staring at the ceiling. Destroying Lane — Mada, rather, as he was careful to call her here — had not magically restored his humanity. So now he lived on. Hiding what he was. Making a tolerable life for himself and even still managing to be a cop.
A uniformed officer again, true — a glance across his studio apartment above Municipal Court Clerk Helen Schoning's garage found his tan shirt, dark brown trousers, and ballistic vest hanging in the open closet — but patrolling from 8:00 pm to 4:00 in the morning suited him just fine.
His father accused him of burying himself. Maybe. There were far worse places to be buried than Baumen…where they attributed his oddities to being from California, and the surrounding hills pastured cattle who never missed the blood he took to fill the quart bottles in his bar fridge.
Some vampire lore was myth. He did not have to drink human blood.
So what made him dream about Lane's attack? A conscience afraid of complacency? Despite every swallow of blood, every lung-paralyzing whiff of garlic wafting from the Pioneer Grill, and every dawn reminding him he lived a lie. Daylight did not fry him as happened in the movies, just — contrary to the weightlessness its name suggested — tried to crush him.
Speaking of which, not an ounce of it remained outside. He felt only darkness beyond the apartment walls and blackout curtains…and heard none of last night's rain that accompanied him to sleep at dawn. If only winter's early sunsets and long nights could last all year.
Thirst tickled his throat.
Garreth swung onto his feet, smoothed the sheets over the flannel mattress pad with its thin packets of earth secured by the quilting, and folded up the sofa bed.
In the bathroom he shaved without turning on the light to keep his eyes from turning red in the mirror. Vampires did have reflections. But while familiar grey eyes and sandy hair looked back at him, the face could still catch him by surprise…a stranger's, thin and boyish instead of the square one he spent so many years seeing.
As he pulled on his uniform, the tickle in his throat flared to full-blown hunger. He filled a coffee mug, noting he would soon need to refill the bottles, and leaned against the counter sipping the blood. Grimacing. Blood should be blood, yet animal blood lacked something…like drinking watered-down tomato juice when Hunger wanted the peppery zing of a Bloody Mary.
Hunger he forced himself to ignore. He could not give in to it, would not turn people into cattle as Lane had! Though the Hunger never gave up. Could that be the source of tonight's dream, an attempt to shake his control?
"Well it won't work! This is all you get. Ever!" He emptied the mug in a gulp and rinsed it out. "Accept that."
If only he and the Hunger could.
Beyond the landing outside his door, dripping oaks in Helen's back yard and swamped low areas beneath told Garreth the rain had continued most of the day. A clear sky stretched overhead now, however, with a silver dollar moon in the east. And in a twist typical of Kansas's capricious weather, instead of the wintry reminder in last night's temperatures they had air warm and balmy as spring.
So…a beautiful March evening…no need for his winter jacket. He snagged his slicker before locking up, however — being Kansas, before the end of the night they might have more rain — and walked the three blocks to work with the slicker over his shoulder. At the police department's end of City Hall, the keypad by the rear entrance admitted him to the hallway between Chief Danzig's office and the locker room. After a stop in the latter to buckle on his duty belt and collect his briefcase, he continued on into the office.
Lingering uneasiness from the dream gave way to contentment as he surveyed the room… desks, files, form rack, radio rack, cork-panels on the walls shingled with notices and wanted posters…smelled familiar odors: the smoky taint of Lieutenant Kaufman's cigarettes, coffee simmering down to tar, faint scents of urine and disinfectant that managed to leak down from the four cells upstairs. Layered, today, with the smell of wet boots rather than the aroma of chocolate chip cookies Sue Ann Pfeifer, their dispatcher, usually brought but had given up as she tried another diet. No matter that he smelled her blood scent and that of the one officer present, Sergeant Nat Toews — pronounced Taves — here he stopped being a fraud. He was home, just what he claimed to be, a cop.
Nat, long and lanky, easy to imagine on horseback at the head of a posse, raised a hand in greeting without looking up from his typewriter. "Be with you in a minute."
To brief him on wants and warrants and the day's activity.
"Not yet!" Sue Ann called from the far side of the communications desk separating this section of the office from Dispatch and the front counter. "Garreth, babysit the radio for me while I go to the john!"
She headed for the locker room.
Garreth piled slicker, briefcase, and ball cap on a desk and circled the far end of the communications desk to Sue Ann's chair. "So, what's today been like?"
"Very, very soggy until about five." Nat pulled a report from the typewriter and zig-zagged a finger down it, proof-reading. "A fender bender at Dillons, some traffic violations, a forged check at the Sport and Spinner, a couple of domestic disturbances — neither very serious — and a bicycle theft, otherwise pretty quiet. Maggie's still out taking the theft report."
Maggie Lebekov, their female officer and one seventh of the sworn force…and several of the reasons he liked Baumen.
"Got a couple of BOLO's, neither local."
Garreth saw them posted by the radio, one state, for a bank robbery suspect from Topeka and one national for two men suspected of robbing a South San Francisco bank, during which a guard and customer were killed, and of subsequently murdering a highway trooper in Nevada.
While listening to the radio traffic of police and sheriff departments in the surrounding counties, Garreth checked other notices around the desk. Descriptions of stolen vehicles; a list of warrants; several pictures of missing children. Also the picture of a missing hunting dog and the name and fax number of a sheriff's dispatcher in Stony Creek, Arizona, with the notation: send recipe for chili-chocolate cake. That had to be a connection Doris Schoning, their night dispatcher, made through skip, radio signals reflecting off layers in the atmosphere late at night…sometimes originating from very distant sources.
"Five, Baumen." A voice from a local source, Officer Ed Duncan.
Garreth keyed the mike. "Go ahead, Five."
After a pause, Duncan came back in a deep voice: "Yo, Mama, your voice is changing. I warned you all that red meat would put hair on your chest."
Nat rolled his eyes heavenward.
Garreth cut off the nonsense. "What do you need, Five?"
Duncan's voice returned to normal. "What? Oh…a new case number."
Garreth read it off Sue Ann's clipboard.
He finished logging the call in time for Sue Ann to reclaim her chair. "Thanks a ton, Garreth. I'm supposed to be drinking lots of water with this diet and it makes me pee all the time." Her plump face twisted wryly.
"Six, Baumen," the radio said. "I'm 10-7." Maggie, going out of service.
Shortly she came through the rear entrance…curly dark hair, slim and tautly fit. After a visit to the locker room she reappeared minus her duty belt and slicker, laid her briefcase on a desk, and giving Garreth a warm smile, tossed him car keys. "It's ready to go, including a full gas tank."
Nat said, "One last thing. There's a blood drive in Bellamy this coming Wednesday and Danzig 'encourages' us all to participate."
Not an order, but everyone knew how much Danzig, who would go, liked his department demonstrating public spirit.
The briefing over, Garreth picked up his gear and started out.
"Beware the ides of March," Sue Ann called.
Garreth glanced back, feeling his neck prickle. Not her usual be careful out there or stay safe. "It's only the seventh, Sue Ann. The Ides are the fifteenth."
She grinned at him over the communications desk. "Oh? I didn't know that. It just seemed like a cool intellectual kind of thing to say."
It might come of impulse for her, but after growing up with his Grandma Doyle, who had Second Sight, combined with last night's dream, it felt threatening.
Once he checked out the car and pulled out of the parking lot, reflex turned Garreth left, heading the two blocks to Kansas Avenue, mainstreet, while reflecting on blood. To please the boss and play his role, of course he intended to endure daylight and go to the blood drive. Donate, though? Hell no. Lane believed a virus created vampires. A healthy person's immune system destroyed the small inoculations received in saliva during a bite, but with continued inoculations, or if virus-rich blood entered a weakened body — as when he bit Lane's hand then bled out — the virus took over. Renovating its host, creating an instrument for its survival and reproduction. Except no way would he assist the latter. So he counted on his vampire-low blood pressure to once more excuse him from donating.
At Kansas Avenue, Garreth crossed its two southbound lanes and halted on the Maple Street crossing of the railroad spur running up the middle of the street. A good vantage point for a quick survey of the downtown area while listening for his number on the radio. This being Thursday, the stores stayed open late, giving Baumen more traffic than most weeknights. Farm families in particular took advantage of the evening hours, and shoppers from Lebeau — a wide spot in the road at the north end of the county — who opted for Baumen over driving all the way down to the county's biggest town, Bellamy. So cars, vans, and a large number of pickups filled parking spaces on both sides of the street and along the tracks.
On the radio a Bellamy deputy ran a registration check. A Russell deputy reported an open pasture gate.
Not all the vehicles belonged to shoppers, he knew. During the week customers in the bars and members of the VFW up the street danced more than they drank, but as the one am closing time approached he would still watch for drivers who seemed unsteady.
He fingered his gear shift, debating whether to drag Kansas as the local teens would tomorrow and Saturday night, checking for expired tags and suspicious behavior. Or remain here for a bit, which still met Chief Danzig's dictate to "maintain a presence"…keep visible to the public.
So many of whom he knew by now. Automatically his internal file ID'd passing faces. Denise Schaller: daughter of Schaller Ford's owner Daniel, driving her vintage T-bird convertible, top down tonight. Gene Eberhardt in his Dodge RAM, who married the boss's daughter to become virtual owner of Gfeller Lumber. Jeremy Spicer, sixteen, in his chopped and lowered matte black '39 Ford, dressed in black, too, hair slicked back, trying to look badass.
As he passed Garreth he revved his engine to let the pipes roar. Just show, knowing full well his father would confiscate the car keys and ground him for a moving violation.
And, oh goody…Officer Edward Duncan…weight-lifter, crack marksman, and swaggeringly proud of his faint likeness to Robert Redford.
Duncan pulled onto the crossing and braked with his window opposite Garreth's. The biceps of the arm resting on his window strained his uniform sleeve. "Yo, Frisco." He paused. "Um…" Paused again.
Garreth blinked. Uncertainty? From Duncan? He waited. This had to be good.
Finally: "What do you know about the Brit in town asking about your grandmother?"
Meaning Mada Bieber…the root of the lie he lived. A chill erased any amusement at Duncan's discomfort. "What Brit? What kind of questions?"
"You don't know?" That brought back the Duncan he knew…smirking…clearly pleased at being one up. Being another victim of Lane's arrows had not bonded Duncan and him the way shared peril often did. "He's a writer researching a book about World War II and he wants to know where your grandmother is so he can ask her about her experiences over there then."
The chill became a jolt of fear. Beware the Ides of March. How did he know Mada had been in Europe then? How much did he know about her time there? "Did you tell him she's dead?" True enough…just the where and when being a lie.
Duncan snorted. "Of course. That's why I told him to go see her mother."
Anna Bieber. Could this guy tell Anna something indicating Mada had been in Europe at the time everyone around here needed to believe she was in Sacramento giving birth out of wedlock to his father?
Than anger shot through the fear. "You sent a stranger to a old woman who lives alone!" However false his relationship to Anna, he had become as fond and protective of her as if he were really her great-grandson.
Duncan went defensive. "It isn't like he's an axe murderer, just a writer."
"I still want to check him out."
Garreth gunned the car north to the next crossing, then west toward Anna's house.
Expose Sacramento as a lie and the truth about him and why he really came here could come out. He cringed at the thought of everyone feeling betrayed, played for fools. But most desperately, he wanted to prevent Anna discovering what a monster her beloved daughter had become.
The Mustang in Anna's driveway had Ellis County plates. Garreth eyed it — a rental from Hays? — while keying his mike. "Seven, Baumen. I'll be on high band at 513 Pine." With the radio's sound low enough to be inaudible to human ears.
Sue Ann knew the address, so she would give calls to Duncan if possible.
Out of the car, he hurried up the walk and onto the porch, tucking his ball cap under his arm.
Anna answered his knock…thin with age but still straight-backed and sharp-eyed. Her face lighted. "Garreth! What a nice surprise."
Garreth smiled back at her through the screen. "I understand you have another visitor." He pointed at the Mustang. "And I hear he's British."
Her brows rose. "Ah. I should have known." She shook her head. "Always the policeman…so suspicious and protective. Not that I don't appreciate it." She pushed open the screen door. "Come in and meet him. His name is Julian Fowler."
Garreth followed her through the hall to the diningroom. Fowler sat at the table with one of Anna's photo albums open in front of him and a teacup off to the side.
He stood as Garreth came in…an athletically lean six feet, middle forties, pale blue eyes, and the kind of English face probably pink-cheeked in his youth but with age, had gained character and masculine edges. Looking very writerly in a turtleneck and tweed coat with leather patches at the elbows. Also looking familiar, though Garreth could not place him.
The Englishman's gaze raked him, too.
"Mr. Fowler," Anna said, "I'd like you to meet Mada's grandson, Garreth Mikaelian."
The visual autopsy ended abruptly in a broad grin. "Really. Splendid!" He pumped Garreth's hand, strength in the grip. "Anna was just telling me the story: deathbed revelation by your grandmother that your father isn't her natural son but born to a girl who roomed with them during the Depression and abandoned the baby; you deciding to try finding the girl and tracking her here by an address on a letter. Then on the night you finally met her and had the kinship confirmed, she vanished. Now you think she's dead? Why? How did it happen?"
Garreth rescued his hand. "Let me ask you a question. You've come to ask about my grandmother's experiences in World War II. How do you even know she was over there?"
"She told him," Anna said. "He's met Mada."
Garreth's gut lurched. Where? When?
Fowler nodded. "In Nice, 1948, whilst there on holiday with my parents. She and they struck up a friendship and sat on the hotel terrace evenings swapping war stories before she went off to sing in the club where she worked. My father flew for the RAF and my mother was a nurse in London during the Blitz. Mada had been trapped in Europe by the war and her stories were about dodging the army and struggling to survive. She even managed to escape a concentration camp at one point. And I hung on every word, absolutely gobsmacked by her. Now I want to hear those stories again…and the ones I missed by being packed off to bed. I was eight years old." He sat on the edge of the table, forehead furrowing. "You're certain she's dead?"
Anna's breath caught.
Garreth saved her from answering. "I'm afraid so." Then changed the subject. "So she told your parents she came from here?"
Fowler shook his head. "She was vague about her background…creating mystique. No…I learnt covertly." He smiled ruefully. "Being so taken with her I'm afraid I spied on her, and one time when she mailed a letter I managed a peek at the envelope."
Garreth eyed him skeptically. "You remembered the address all these years?"
Fowler shook his head again. "Soon afterward I fell seriously ill, and when I recovered, I remembered almost nothing of that holiday. But going through my mother's effects several months ago, I found photos of Nice and suddenly my memories, including that of the address on her letter, came rushing back. The war stories inspired the plot for this new book."
Garreth started. Now he recognized the man as a picture on the dust jacket of a book his first wife Judith had read. "You're Graham Fowler."
The Englishman shifted his shoulders, as if embarrassed. "Guilty. Julian Graham Fowler, actually, but my publisher insists I write as Graham because he thinks it sounds more fitting for a writer of thrillers."
"So World War II will be a different subject for you."
"Not really. The war drives the action but the story is about a young woman from a sheltered, insular background being exposed first to the sophistication and desperate glitter of pre-war Europe, then caught up in the violence of the war. She struggles through privation and terror until finally, stripped of all innocence, honed into a hard, shrewd woman by the needs of survival, she triumphs."
Anna beamed. "Mada to a T!"
He nodded. "Based on her at any rate. So I've coming looking for her. But have arrived too late it appears." He sighed. "How did she die?"
"In an apartment fire in San Francisco," Garreth said.
"She fell that night after talking to Garreth," Anna said, "and got amnesia from a concussion. Only instead of not knowing who she was, she thought she was one of her stage personalities. What did you say it's called, Garreth?"
"A fugue state."
She nodded. "So she didn't understand what she was doing here and hitchhiked to California to go to the club where she sang when she used that name. She explained it all in a letter she wrote when she got her memory back, to let me know she was alive and what happened."
A letter actually written by Harry's wife Lien to create the illusion of Mada alive and distant from the John Doe buried here. She abetted his cover-up, he knew, hoping it would help rebuild the life shattered by Lane's attack. Even without knowing the extent of that damage, and what Lane made him. Everything else he could tell her, but somehow, not that.
Fowler frowned. "What about the apartment fire?"
Anna's eyes filled with tears. "It happened the day— "
"The day she mailed the letter," Garreth finished for her. "And we heard about the fire the day after the letter arrived here."
"A friend she had been staying with called me."
Lien, again.
"Is she buried here?" Fowler asked. "I'd like to visit her grave."
Tears choked Anna's voice. "There's no grave. They couldn't identify her body."
Fowler straightened. "Then maybe she didn't die. Maybe the amnesia— "
"Can I talk to you outside?" Garreth said it through gritted teeth, heading for the door.
Fowler followed him onto the porch. "Have you tried looking— "
Garreth wheeled on him. "Of course we thought of repeat amnesia. We spent months hunting her, checking every hospital in the bay area, every address in the state where Anna remembers Mada living, every friend she ever mentioned, looking for her by every stage name she used." Not true, though he told Anna so. "Her picture was circulated nationwide as a missing person. We never found any sign of her."
"Can you put me in touch with her friend, the one who called?"
What was it with this guy? "No! What the hell are you trying to do? Can't you see how much you've upset Anna…making her wonder all over again if Mada escaped the fire. Mada is dead! Accept that as we have! Go create your heroine with the stories you remember."
Fowler stepped back, blinking. Finally appearing to hear the anger in Garreth's voice. "Oh. I am so sorry. You're quite right. What must you think of me. I don't mean to be insensitive. Sometimes when a book grabs me I forget— " He grimaced, shaking his head. "I must apologize to Anna."
Garreth stepped between him and the door. "I'd rather you just leave. I'll give her your regrets."
Fowler stared down at him for a moment, face expressionless, then he nodded. "I understand. Tell her I'm so sorry to have distressed her."
Garreth watched him climb into the Mustang and drive away before going back inside. "Are you all right?"
Anna wiped her eyes. "Do you think there's any chance— "
"No. She'd have remembered something by now and called you."
After a moment Anna nodded. "Yes. Thank you for coming over."
He gave her a hug. "Always…any time you need me."
He no sooner let Sue Ann know he was back in service than Duncan's voice came on the radio. "Five to Seven direct. 10-43 high school parking lot."
Duncan sat against the front fender of his patrol car when Garreth pulled into the parking lot. "How'd it go at your great-grandmother's?"
Garreth grimaced. "Not good. The guy upset Anna going on about Mada maybe escaping that fire and disappearing because of more amnesia."
Duncan shook his head. "I never should have given him directions there."
Garreth shrugged. "If you hadn't someone else would have."
"Yeah. So…" Duncan grinned. "…I don't feel bad pointing out you owe me for taking all the calls while you were there."
Of course…Duncan being Duncan. Not that Garreth had heard all that much traffic on his radio. Still, why spit into the wind. "Yes, I owe you. But look, this Fowler seems like the obsessive kind, so will you keep an eye out for his car and make sure he doesn't come back?"
"Sure thing. I won't even add it to the favors you owe me."
Joking or not? Hard to tell with Duncan. "You're a prince."
Duncan appeared not to hear the irony. He pulled his ball cap down to his eyebrows at a jaunty angle and drove out of the parking lot with a salute.
Garreth went back to work, too. All the while wondering about Julian Fowler. The writer's interest in Lane seemed particularly intense. If he went digging for information on her in Europe, how much could he uncover? Surely many hotel records had been lost in the war. More to the point, if he did learn anything contradicting the story of her being pregnant in Sacramento, would it get back to Anna?
Midnight came. For the next four hours he represented all the law and order in Baumen. They had reserve officers on call in case of emergencies but no immediate backup. Fortunately, they rarely needed it.
Radio traffic faded to time checks from area agencies. To that accompaniment he turned west to cruise neighborhood streets. They all seemed quiet, his the only vehicle moving, and all but a handful of houses dark. A light shone in the diningroom at Anna's. Was she going through the photo albums she pulled out for Fowler? If so, he hoped it was not with renewed grief for Mada.
As one o'clock neared, he returned downtown. With the bars and VFW closing, he passed each several times watching patrons leave. The exodus appeared orderly, with no one unduly under the influence. So before he parked to rattle doorknobs along Kansas — a tradition Chief Danzig honored as demonstrating that the city's tax dollars supported police who did not just ride round in patrol cars but took a hands-on interest in the security of local businesses — Garreth headed out to highway 282's curve around the east side of town to check businesses along there.
Wal-Mart and Dillons looked buttoned down for the night as he drove around them, their parking lots empty, even behind where couples sometimes parked. Nothing moved among the lights inside the Hammond greenhouses or inside Gfeller Lumber's building. He did take time to shake the yard gate and check its lock. The few cars remaining at the American Legion hall belonged, he knew, to cleaning personnel. He expected to find the same at the bowling alley.
But as he started to pull out of the hall's lot, a T-top Corvette with the roof panels off roared up the highway past him. Given tonight's lack of traffic, dry road, and moonlight providing good visibility, he could forgive a little speed…but this idiot had to be doing at least seventy.
He flipped on his light bar and gunned after the speeder. Instead of pulling over, however, the Corvette pulled away. Double idiot, choosing to run. The Corvette might outdistance his Crown Vic, but not the radio. Or maybe the driver thought a local cop had to give up the chase at the city limit. Surprise.
They passed the city limit and crossed the Saline River with the Corvette still accelerating. And no more curves between here and the Rooks County line to slow it down.
Garreth buried his foot on the floor to keep up and keyed his mike. "Seven, Baumen, I'm on 282 north of Baumen in pursuit of a speeder, silver T-top Corvette, local N-Nora — oh, shit!"
Even focused on the Corvette, he registered the pale shape coming out of the hay field on the left and identified it as a deer headed for the highway.
The Corvette's brake lights flared as the deer, a big buck, appeared three or four hundred feet ahead…a couple hundred feet too close at the vehicle's speed. Garreth yelled into his radio for Fire Rescue and a tow truck as the Corvette slammed into the deer with a sickening thunk of metal meeting flesh.
Amid fishtailing and flying front end shrapnel, it carried the deer for another couple of seconds, then Garreth saw the animal slide across the hood and smash into the windshield. Not stopping there, to Garreth's horror it bounced, rolling up the windshield, landing on the car roof with legs thrashing down through the open panels.
The vehicle's rear end slewed off the highway to the right and across the narrow shoulder into the bordering ditch. Spinning the front end around toward Garreth before tipping over onto the driver's side in the ditch.
Garreth bailed out of the patrol car with his portable radio as soon as the Vic stopped rolling and leaped into the ditch. Landing knee deep in water from the day's rain. A glance past the buckled hood knotted his gut. Beyond the shattered windshield, the driver sagged sideways, head dipping into the water, apparently unconscious…female from what remained visible, with lacerations on her face and scalp.
As he scrambled along the vehicle, Garreth met a flood of blood scents, animal and human. Tipping over had flipped the body of the deer, now dead, off the roof, but its hind legs remained inside. Garreth jerked it free and heaved it aside.
A male struggled in the passenger seat. "Help me get out of here."
Garreth gave him one quick glance: early twenties, dazed eyes, also bleeding from multiple lacerations on his head and face.
"I have to help your girlfriend first." Garreth worked his legs down between door and driver to lift her face clear of the water, at the same time holding her head to keep her neck steady. He would hate to save her from drowning only to leave her paralyzed. Now he just needed to hold her here until help arrived.
He risked moving one hand to key his radio. "I need that ambulance!"
"It's on its way," Doris Schoning came back.
But how long before it arrived? The girl might drown from other than water. Her nose had flattened…broken either by the deer or collision with the steering wheel. Her breathing seemed less respiration than spasms, each accompanied by open-mouthed, liquid bubbling. Blood from her nose filling her throat, maybe going into her lungs. Each breath brought a blast of blood scent, igniting hunger in him.
The passenger groped for his seat belt. "Help me out. I feel like I'm gonna fall."
Garreth grabbed his wrist. "Don't! Wait for help." He could not catch the kid's gaze, so he hoped the kid was coherent enough to pay attention and obey. "What's your name?"
The kid took a moment to think. "Todd." Then struggled in Garreth's grip.
Garreth clamped tighter. "The thing is, Todd, you release your seat belt and you just might fall on top of us. That could kill your girlfriend if she has a neck injury. So why don't you grab the edge of the window up there. See if you can hook your elbow over it and hang tight for a while longer."
The girl's chest heaved, struggling to pull in air, while the gurgle of her breath worsened. Cold ran through Garreth. Where the hell was Fire Rescue! Her airway needed clearing and needed it now! If only he could pull her out and lay her on her side to drain the blood…but if she had a neck injury… "Doris, where's the EMT!"
"They'll be there any minute."
Any minute…but any minute might be too late. The kid continued fumbling for the seat belt and Garreth clamped a hand over his wrist again while listening to the girl in anguish. Any minute she might drown in her own blood.
She choked.
The blast of blood scent increased his hunger….and brought a solution for clearing her throat.
One he instantly rejected. No, he could not do that! He would not touch human blood. Dared not. There had to be another way!
Desperately he peered through the shattered windshield toward town, but saw no flashing lights of emergency vehicles.
The girl's chest jerked. By moonlight he saw her face darkening with suffocation.
His gut knotted. All right! he shouted silently, though to whom Garreth had no idea. Fate, perhaps, or Lane's ghost. Just this once…to save a life, not take it…and spit out the blood, not swallow it.
"Todd, don't be alarmed but I have to give your girlfriend mouth to mouth."
He twisted down to her face and fastened his mouth over hers, sucking. Reminding himself not to swallow…to —
Then the blood filled his mouth.
Every cell of him screamed in joy. The hot, salty-coppery liquid flowed over his tongue with a richness animal blood never had. A richness the Hunger had been craving since the moment he woke in the San Francisco morgue. It snatched control, would not let him turn away and spit.
He swallowed.
The blood burned like fire in his throat, but a fire that cooled, not seared, soothing the other fire of thirst. And from it warmth spread outward through the rest of him, warmth and a crackling surge of energy. Awareness of everything around him faded to the distant edge of perception. Garreth sucked and swallowed again, and again, ravenously, greedily relishing every drop.
Dimly, he heard a nearing siren. The chest of the girl heaved, finally drawing in a breath.
A hand touched Garreth's shoulder. "We'll take over now."
Fury boiled up in him. No, not yet! He clung snarling to his prey. The hand shook him. "Mikaelian! We've got her!"
The sound of his name broke through the Hunger controlling him. Horrified at himself, Garreth flung himself away, scrambling backward up the ditch until stopped by the pasture fence. Barbs on the wire pricked his arms and legs. He welcomed the pain…concentrated on it to forget the taste lingering in his mouth. Taste he wanted to be as loathsome as the beast the Hunger made him, taste he wanted to reject. But the taste sang in him…and the Hunger rejoiced.
The scene became a swarm of vehicles and activity: EMTs examining the victims and putting cervical braces on them before the arriving wrecker pulled the 'vette back onto the road where Fire Rescue could cut the victims free; the ambulance arriving and taking both to the hospital — bloodied but alive and the girl regaining consciousness, thanks to them actually wearing their seat belts. This being county jurisdiction, Sheriff's Deputy Marvin Herbert drove down from his convenience store in Lebeau.
Garreth watched it all from somewhere outside himself, his mind churning, urging him to flee this new nightmare. After tasting human blood, could he still force himself to drink animal blood, or would the Hunger control him now? Already, smelling blood in the EMTs, wrecker driver, and deputy had his throat tickling with thirst again.
He vaguely heard Herbert ask him something and grunted an answer, then Herbert said, "It's a shame to scrap that."
"The car?" Garreth watched its remains being dragged up on the flatbed.
"Car?" Herbert's snort shook his belly like Jello. "A Corvette ain't a car, son. It's plastic. Though her daddy loves it, god knows why, and is probably gonna ground Alexa for life…if he doesn't kill her. No, I mean the buck. That rack had twelve points before it hit the windshield!"
Garreth glanced toward the deer carcass, then scowled up at the deputy. "The buck? It's the victims— "
"Who matter," Herbert finished for him. "Yeah. But now I've finally got your attention, tell me why you're looking like that buck likely did in the headlights. You must've worked accidents before."
He produced a shrug and grimace. "I…I'm just coming down from the adrenaline."
Herbert eyed him a moment or two longer, then slapped his shoulder. "Well, take 'er easy. Remember, aside from the buck and Hot Wheels, no one died here."
But maybe control of his existence had.