BONES ALONG THE HILL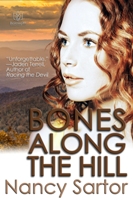 A decade-old mystery, a power-mad enemy and his human-trafficking ring stand in the way of the hopes and dreams of funeral home facial restorationist Neva Oakley.TO THE BONE
Neva Oakley is a funeral facial restorationist with a legendary skill at making the dead look alive. But for all her talent, she can never bring back Gray Ledbetter, her first love,who took his own life ten years ago.Davis Pratt, too, is consumed. Long ago his younger brother disappeared, and Davis won't give up hope. Perhaps that's why he and Neva are sucha good couple. Or perhaps that's why they can't move forward. Then the search leads them to the Oakley cemetery and a murder tied to a human trafficking ring. Suddenly, impossible crimes threaten both family and friends, crimes that cannot be ignored. Not even the Nashville PD can keep Neva safe, but if she and Davis succeed, together they just might solve all their mysteries and free each other to embrace their future.
Chapter Excerpts
Chapter One
CHAPTER ONE
Except for his jaw, the baby's new head looked exactly like his old one.
Neva Oakley took in little Jared Nelson's forever-closed eyes, the pale, delicate
brows arched like butterfly wings on either side of his upturned button nose. A beautiful
child, rounded in the way only a six-month-old human could be, perfect. His life had
stretched ahead in promise and opportunity.
Babies should be exempt from the meanness of life, coddled and tickled and hurt
only when they had to be. A baby should never be collateral damage in a savage attack on
his mother, as Jared had been yesterday.
Neva couldn't change the unchangeable, couldn't will the child back to life. She
could only close the gaping wound in his head, replace his missing ear and present him to
his mother looking like her child. Neva knew only too well that this illusion would not
erase the stark image of Jared's death, but she hoped it would give Larissa Nelson a few
moments of peace, a tiny respite from her grief.
If she could fix whatever was wrong with his jaw before the putty dried.
With a sigh that came from her toes, she went over it one more time. His ears were
equally placed in relationship to his head. The natural left was about the same distance
from his jaw as the newly formed right one. The jaw had been pretty much intact. So,
what the hell?
She dropped into a modified downward-facing dog yoga pose with her arms hanging
free. As she visualized tension flowing from her shoulders down her arms and out her
fingertips, her fingers tingled. The ache between her shoulder blades eased.
Her father cleared his throat.
She swung up, turned to face him.
"Got a problem?" he asked.
"His jaw." She waved a hand at Jared. "It's lopsided, and I cannot tell why." As she
had so many times, she waited for his thirty years' experience in the mortician trade to
rescue her. That he knew little about restoration or sculpting was irrelevant. He had a
keen eye and years of peering at dead faces.
He stepped around her, leaned over the baby.
For the purposes of sculpture and restoration, people were made in two separate and
slightly disparate halves smashed together. She'd measured Jared's cheeks. They had the
right variances.
"Maybe it's not the jaw." Her father cupped his big hands on either side of Jared's
head, framing the ears. The problem suddenly shimmered against his right palm. The
right lobe was a hair thicker than the left, the natural one. That created the illusion of
wrongness in the jaw.
"Why didn't I see that?" Neva asked as she shouldered her way in beside him.
She'd consciously chosen fast-drying putty for the ear to minimize the chances of
denting it as she worked. Now, time ticked in her head like a windup clock. The clay was
grainy, barely pliable. Slicing would require the lightest of touches.
For the millionth time, Neva blessed her strange hands. The subject of incredible
ridicule when she was a child, her hands were long, thin, so narrow her wrists were
practically nonexistent. She was also blessed with a double-jointed thumb on her right
hand. She cocked the thumb back, felt it catch, moved it forward a half-inch into her
palm. In this position, it was little more than a length of bone and skin, able to exert
almost no pressure. Which was exactly what she needed right now: a way to balance the
tool without adding pressure.
Breathless with the need to hurry, she grabbed the double-ended sculpting tool from
her metal tray.
"Be careful," her dad said from her elbow.
She nodded, already planning the width of the slice, how deep the cut, knowing she
had a minute, tops.
She set the angle of the blade against the lobe, bit lightly and cut all the way to the
bottom, widening without deepening, then flung the slice into her metal tray, flipped the
tool upside down, moved it to her left hand and smoothed the lobe. With her thumb and
forefinger, she rolled and further smoothed it to make sure no sign of the tool remained.
When she thought it was good, she pulled the telescoping light down and peered over
every inch. The ear was perfect. Now, if the jaw was okay.
She flung the light up again and stepped back. The jaw looked right, didn't it? She
rubbed her tired eyes, looked again. Was that an eyelash on his cheek? She reached
toward it, her finger trembling with exhaustion, afraid to touch the putty again, unable to
stop herself.
"He's perfect!" her father said and exploded her compulsion into a billion fragments.
"Bless him," she said as she released a breath she hadn't realized she was holding
and dropped her hand to her side. There was no eyelash. It had been a figment of her
insatiable need for perfection.
They gazed in silence at the baby's innocent face. "You thought you knew the
mother?" her father asked.
"Yes."
Knew was a strong word for what they'd shared at Hume Fog Comprehensive High
School. Larissa Dudin, later Nelson, was a strange, withdrawn child. Neva had touched
the girl's arm once and been shocked when Larissa jerked away as if she'd been burned.
Larissa joined no groups, ate alone in the cafeteria, had no besties, offered no opinions,
joined in no conversations, never raised her hand in class. Now, with the advantage of an
adult brain, Neva realized Larissa's isolation had spoken perhaps more loudly than the
overt acting-out obvious in some other children. A silent cry for help.
In that same silence, Larissa had communicated her love for her child this morning
when she and her husband came to make the arrangements. Stiff, dry-eyed, Larissa had
seemed lost in her own personal hell until Neva's father mentioned a closed-casket
funeral with perhaps a nice picture of Jared on the lid.
The woman jerked up. Her eyes flared. She spoke rapidly to her husband in a voice
too low for Neva to hear. He nodded without looking at her, then said to Neva's father,
"How much more to make him look right, to let us open the casket?"
Neva was recognized as one of the best facial reconstructionists in the business, as
witnessed by the newspaper article her father recently taped to her wall. But funeral
restoration, like the repair of a living being, required that certain things be in place. Like
a skull, which in Jared's case had imploded when his mother's attacker knocked him to
the sidewalk. To fix it, Neva had to create half a head, not repair one.
Her father had must have caught Neva's discomfort because he began to explain the
reasons a restoration might not be possible. Laser-focused on Larissa, Neva had felt more
than seen Larissa jerk with his every word as if they were rocks. Larissa's pain was so
raw, so fresh, it seemed to fill the room and then to finally fill Neva with a miserable ache
she remembered well.
"I can do it, Dad," she'd said, the words feeling torn from her tight throat.
Larissa held Neva's gaze for a long and painful moment before she lifted a hand, a
salute, Neva thought, a thank-you for giving them the one and only gift that could matter
at this point.
Now, with the baby almost whole again, Neva gave her father a quick squeeze.
"Don't know what I'd do without you." She meant that in every respect of the word. He'd
held her tight when life was so devoid of light she didn't want to be in it. Even now,
when her life was pretty calm, he was the anchor from which she lived it.
"That Pratt guy hangs around here long enough," he said while she moved her thumb
back to its first joint, "you'll be saying good-bye to your old dad to go make babies."
"Better slow that one down a step or two," Neva said as she dumped her tools into
the deep sink in the far corner, its porcelain surface stained and scarred from decades of
use. "He and I are sorta just getting going here. No commitments."
Her father's eyes widened. "Gave you a key to his house."
"Yes."
"Sounds serious to me."
From habit, Neva checked the bust on the tall stool beside her before she washed up.
She'd started it ten long years ago when her first love, Gray Ledbetter, took his life. She
picked pieces of clay from her fingers and wondered again why she could easily sculpt
anyone else's likeness, recreate a child's head, a woman's face, anything but Gray's face.
Each time she worked on it, the head, shoulders, pecs and upper arms almost sculpted
themselves. But his face …not the whole face. It was mostly his eyes. She could get his
turned-up nose, the high cheekbones, but when she tried to add the eyes, in some reverse
synergy, the total became much less than the sum of all its parts, a face as lifeless as
Gray's real one had been after his inexplicable suicide.
"Throw it away," her father said from the other side of the room.
"When I get his face right," she said. She didn't offer any more explanation although
she'd had many over the years. Professional pride, a need to complete what she started,
dogged determination not to let the thing defeat her. But the secret truth was she'd never
completely recovered from Gray's suicide, never quite let him go. She was positive if she
ever got his face right, she could turn him loose. Even though she'd just denied it, she and
Davis were growing ever closer. They'd not discussed marriage, exactly.
Not yet.
Gray would always be a part of her, always have a place in her heart, but she didn't
want his ghost in her trousseau.
She tore her gaze from the bust, forced herself to focus on Jared. That fine baby hair
would be hell to replace because it was thin and sparse. Far different from thick, adult
hair. After the embalming, she'd added protective undergarments to ward against any
leak of fluids, then dressed the baby in a tiny pair of dark blue trousers and a white
dickey with a navy blue tie. Topped off with a tiny navy jacket, he looked like he was on
his way to church. Which, in a way, he was.
Six o'clock. Davis would be in soon. They had this one night together before he left
for Europe for a week. Her gaze moved to Jared's head. She could cheat a little, make the
hair thinner on his left side, the side that would face the casket lid. The shadow of the lid
would hide it. She could save several hours.
With her hands and tools clean and dried, she turned back to the room.
Her father was still at Jared's side. The basement prep room's ultra-bright ceiling
lights sparked off the new strands of silver in his dark hair, accentuated the deeper slope
of his shoulders. As if he felt her gaze, he said, "Will you be working late?"
"First viewing's at nine tomorrow. He needs hair. I'm using angora. Might as well be
a spider web, it's so thin and fragile. It'll take forever. Besides, Ice hasn't picked up his
bodies yet."
Her father glanced at her, his face stretched in mock surprise. "Didn't we give that
old bird a watch last Christmas?"
"Shoulda included a tutorial."
They had given Ice a watch. One with a ginormous face. Meant to be funny, true, but
also given with a definite message.
Ice had worked for Oakley's Funeral Home for twenty years, bringing bodies to
Oakley's for embalming and restoration from outlying funeral homes that had no
morticians. Her father got a fee for their work on these bodies, twenty percent of which
went to Ice. He'd quickly dubbed the refrigerated truck in which he brought the bodies
the "Ice Wagon," which had spawned his nickname, "The Ice Man," who, he often
quipped, cometh when he cometh.
Trouble with that philosophy was somebody had to log those bodies out of Oakley's
system, have Ice certify all their belongings were there.
She'd waited until midnight more than once for him to pick up.
Her father, who was still staring at Jared when she moved up beside him, said, "I've
buried probably a hundred of these little guys in my career. It never gets easier." With a
deep breath, he finished, "Don't stay too late. Call me before you leave so I won't
worry."
"Davis is around somewhere."
Her father turned with a teasing smile. "Ah, the grave-digging architect. Tell me he's
better at designing buildings than he is at digging graves."
Delighted to shake off the somber mood of this day, Neva said, "You are such a
comedian."
"Don't get sassy, girl. You may be too old to spank, but I'm still your father."
"Indeed you are." She tiptoed to kiss him good-bye. "The best father a girl could
have."
"Flattery is the favorite tool of a naughty child," he said as he returned her kiss.
She watched him cut his usual path between the long embalming tables, his head
barely passing beneath the lights. As always, he sidestepped the floor drains, but his
once-jaunty step was slower.
He tried to keep a cheerful front, but he wasn't fooling her. Her mother's illness and
his mounting business problems were wearing him down