Cabin Fever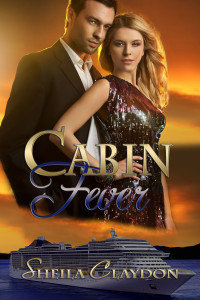 In Sheila Claydon's Cabin Fever, published by Books We Love, the Osprey cruise ship is in trouble. Can Ellie Masters and Andy Smith solve the problem? When they join the ship in New Zealand they soon discover that it's going to be hard work all the way to Australia. Not that either of them intend to let long hours get in the way of their blossoming love affair…until Ellie develops feet of clay..or is it Andy who is the problem? Is he really who he says he is?
They joined the ship to help the crew, but now it's Ellie and Andy who need help. Will they get it or is it already too late?
Chapter Excerpts
Chapter One
The telephone call came at noon. By midnight Drew Pennington-Smith was on a business class flight to New Zealand wondering what he had let himself in for.
He jabbed the recline button on his seat and stretched out his long legs as it slid backwards. He would try to sleep while he had the chance because he knew from past experience that once he joined the cruise ship Osprey he'd be lucky to grab five hours a night.
After an hour of tossing and turning he gave up, switched on the reading light and hauled his briefcase out from beneath his seat. It was full of files. He sighed as he pulled out the first one. By the time the plane touched down for refueling in Bangkok he had read everything in it. He now had a working knowledge of the crew, the mix of passengers, the entertainment program and the cruise itinerary, plus the exact layout and dimensions of the ship that was to be his home for the next few weeks.
He stood up, rubbing eyes that were gritty from lack of sleep. Maybe if he had a shower in the Club Lounge he would manage to relax on the second leg of the journey. That way he might have half a chance of pulling this off, although after six years of being deskbound he wasn't taking bets.
As joint owner of the rapidly expanding Oceanus Cruise Line, he was always prepared to consider anything that might add to its success. The impulse that had made him agree to stand in as replacement Cruise Director on the Line's newest ship was total madness however. Especially when, given a little more time, the agency would have found someone up-to-date and reliable.
Still brooding, he left the aircraft with only a flicker of a smile at the flight attendant who had looked after him throughout the flight. She watched him go with a sigh. Why was it that the good-looking ones were always preoccupied?
* * * * *
Ellie Masters, trying to remember the details of the in-flight cabin announcement made by the captain prior to touch down, had much the same thought as he brushed past her without so much as a glance. If he had looked even a little bit more approachable she might have asked him if he knew which Gate they had to go to for re-boarding.
Drew had, in fact, noticed her. It was difficult not to. Tall and slim, she had honey-blonde hair coiled loosely at her neck, smooth tan skin, and wide amber eyes. At any other time he would have smiled, even struck up a conversation, but today he had other things on his mind. As far as he was concerned she could have been stark naked and his stride wouldn't have faltered.
Two hours later things were very different. Freshly showered and shaved, and with orange juice and two cups of strong coffee inside him, he approached the Boarding Gate feeling decidedly more cheerful. He had managed to make the phone calls necessary to put his social life on hold for the next few weeks, as well as to send a list of instructions to his assistant, so for the next few hours he was going to relax and try to sleep.
Ellie, following behind, noticed his fresh shirt and damp hair and, guessing he had showered in one of the Club lounges, resented it. She knew she was being unreasonable but she was tired and sticky despite her best attempts to freshen up in the public washroom. Nor had the dry muffin and cup of indifferent coffee she'd bought in a crowded café improved her temper.
With a long-suffering sigh she stalked past him and settled herself into a seat near the Gate's entrance. Closing her eyes she waited for the boarding announcement.
Chapter Six
By midnight Ellie's body was almost shrieking with tiredness as she made her way to her cabin on bare feet.
Both performances had been successful and she was grateful that Craig, who was by far the best male dancer in the troupe, had covered up the couple of mistakes she'd made. When she thanked him after the show he grinned at her.
"Anyone who can learn an entire performance in an afternoon has my vote," he said. "Besides this show needs livening up and my guess is that you're going to do it, so I'm banking on the best known faces being picked first."
Startled by his insight she nevertheless laughed at his cheekiness. "What makes you think I'm going to change anything?"
"Your reputation. I know people who've worked with you and I couldn't believe our luck when I heard you were going to join us. If anyone can pep things up a bit, it's you."
"Thanks for the vote of confidence," she said gratefully, and then smothered a yawn as she gathered up her discarded costumes. "I hope I can live up to it but right now all I need to do is sleep."
She was still pondering his words as she searched through her bag for her cabin key. Craig was right. The show was bland and she did want to liven it up but had she really developed a reputation, or was he just another chancer who hoped his smooth words would get her on side? It wouldn't be the first time an ambitious male dancer had made a play for her in the hope she would give him a star spot, particularly if it was known there was someone with a theatrical background on board who might be able to promote his career.
She frowned. When had she become so cynical? Was that what six years at sea had done to her? If so, it was certainly time she moved on. In the meantime she would give Craig the benefit of the doubt because he seemed nice. He was also someone who was prepared to look out for her and, given the current situation on board ship, she needed all the help on offer.
Finally locating her key card at the bottom of the jumbled contents of her bag, she pushed it into the lock with a sigh of relief. It didn't work. The electronic entry light remained stubbornly on red. At the fifth attempt she lost her temper as she contemplated the long trek up to the night desk to get it reconfigured. Forgetting her bare feet she gave the door an angry kick, and when Drew found her she was sitting on the floor nursing a sore toe, her eyes awash with tears of exhaustion.
"Do you have room for another one?" he said, sitting down beside her. Then, seeing her lip quiver, he stopped joking. "What's happened? Has somebody been giving you a hard time?" He was surprised at how the thought disturbed him.
"No. Everyone's been great," she swiped at her eyes with the back of her hand, smudging mascara and eye shadow across her face as she did so. "It's just that my key card won't work and, and …"
"… you're tired," he finished for her, gently removing the culprit from her fingers. "Here, let me try."
Despite his best attempts he was no more successful than Ellie, and after sliding the card into the key slot several times he gave up and held out his hand. "Come on, we'll ask a night steward to unlock the door for you and then I'll go up to the desk and get you another key."
She let him pull her to her feet without any thought of what his touch might do to her because as far as she was concerned, her exhausted body had ceased to function in all but the most basic ways. Unfortunately she didn't realize how traitorous it was going to be until she was upright, and closer to Drew than she had any right to be in such a long and deserted corridor. Only then did it begin its clamorous bid for attention by speeding up her pulse rate at the same time that it slowed down her responses, so when Drew put his arm around her shoulders she didn't shrug him off. Instead, she found herself noticing that on top of all his other attributes he had eyelashes to kill for, and that the few flecks of grey in his short hair only added to his attraction.
Drew, whose own exhaustion nearly matched Ellie's, gave an inward groan as she swayed towards him at the very moment her lips parted. She was virtually begging to be kissed. He dipped his head ready to cover her mouth with his own, and then found he couldn't take advantage of her despite the fact his body was pleading otherwise every way it knew. He could see she didn't realize how provocative she was being because she was almost out on her feet. His alter ego might be playboy and philanderer but that didn't mean he took advantage of women who didn't know the score, and right at this minute Ellie certainly didn't. In fact she probably didn't even know what day of the week it was.
"Come on," his voice was husky as he removed his arm from her shoulders. "We need to find a steward before you fall asleep standing up."
* * * * *
Ellie had just finished cleaning her teeth when Drew tapped on the cabin door. Pulling on a toweling robe, she opened it.
"Here's your new key," he said, handing it to her. Her robe slid open as she reached for it, offering Drew a brief glimpse of swelling breasts as they pushed against the skimpy top of her blue cotton pajamas. He drew in a deep, raggedy breath, and turned away. Then, because despite his best intentions he couldn't help himself, he turned back and kissed her lightly on the cheek.
"Sleep well."
Ellie did as he suggested, sleeping the sleep of utter exhaustion until the first sounds of early morning briefly disturbed her. As she fell asleep again, the warm touch of his lips invaded her dreams and made her press her fingers to her cheek.