Career Mapping: Planning Your Career on Purpose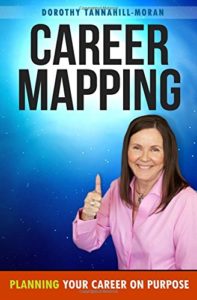 Do you know where you're going professionally?
The saying that if you fail to plan, you are planning to fail is particularly true for your career. If you don't like the direction your career has gone, a lack of a solid career plan is to blame. Maybe you never gave a career plan any thought before now.
It's never too late to put your career on track and finally enjoy your dreams.
You can create the kind of career plan that takes into account job promotions, more responsibility, or even a career change.
Written as a workbook, you will discover the important steps to take and the guidance will help you easily create your own plan by the time you finish the book.
Here's what you'll discover:
– How to create short-term and long-term goals that create accountability
– How to conduct a gap analysis that will verify the actions you are planning are the right ones
– How your process will help you gain supporters and mentors to help you achieve your goals!
Wake up every day with the confidence that you know where you're headed and that what you are doing will get you there!
"It is easy to say 'I want more from my work and career', but it can be difficult to know where to start. Never fear. This easy-to-digest book makes it doable. Dorothy Tannahill-Moran has kept it simple and straight-forward." Hannah Morgan, Career Sherpa
Chapter Excerpts
Chapter 1 Introduction & Chapter 2 Introduction to Career Mapping
CAREER
MAPPING
Planning Your Career
On Purpose
Dorothy Tannahill-Moran
No part of this publication may be reproduced, stored in a retrieval system, or transmitted in any form or by any means, electronic, mechanical, photocopying, recording, or otherwise without written permission of Dorothy Tannahill-Moran. Permission can be obtained from: Dorothy@introvertwhisperer.com
ISBN-10:099702450X
ISBN-13:978-0-9970245-0-0
Illustrations by Malia Schultheis
Other Books Dorothy has published:
Easier Networking for Introverts and the Socially Reluctant
Personal Branding: A Simple Guide To Reinvent & Manage Your Brand For Career Success
Elevator Speeches That Get Results
Get Free Instant Access to Video series The 5 Most Common Ways Introverts Commit Career Self-Sabotage and How to Avoid Them. Click here now: www.introvertwhisperer.com/careergoals
ACKNOWLEDGMENTS
When I started writing this book, I didn't realize I was writing a book until long after I finished the manuscript. For some reason, I thought I was writing an "eproduct" for people to download, which is still true, only now I realize it's also a book. Interesting how our minds work.
My journey to this place starts with the tireless support of my husband, Terry Moran, who has believed in me for some thirty-plus years and given me strength. Until he came into my life, I didn't realize how much one person's belief in another could help you jump hurtles you didn't know you could.
My deceased mother, Mildred Tannahill, whose wisdom shaped me and rings true every day. She should have been an author, because she wrote for as long as I could remember and she truly wanted to give a voice to her ideas. I have a box full of her work and perhaps one day when I figure out all of this, she will finally get published.
To my BFF, Ruth Colter, who is herself an author of Zelfar, The Discovery and a source of inspiration. Ruth is the perpetual up-beat person in my life and is always sure that the right things come your way.
Lastly, I have to thank and honor my clients who I have seen work hard on their career goals and prevail. They are the daily testimony that to love your job is to love your life. My clients make all of this exciting and fun each and every day I am honored to spend time with them.
ABOUT THE AUTHOR
Dorothy Tannahill-Moran is a Leadership & Career Change Agent, Author and Speaker, and founder of Next Chapter New Life Coaching.
In one-way or another, Dorothy's career has involved the positive development of other people's careers. Her first career was that of a Distributive Education Coordinator where she was recruited from college to establish those programs for the Kansas City School district. She developed community-training stations, prepared students for job search, job placed those students and had students win state competitions taking them on to national competitions.
As a senior level manager/director for Intel Corp., she hired, trained and developed hundreds of people up to senior managers that reported to her. Her specialization was large-scale change initiatives in marketing, manufacturing and HR, transforming organizations, processes and systems. As a result of the huge impact these programs had, Dorothy was twice awarded with Intel's highest achievement award for outstanding accomplishments.
Dorothy has taken her skill in people and management development along with highly specialized skills in body language and change management to help coach and develop her clients. Dorothy is adept and quickly assesses her clients' needs in order to provide actionable direction to move them forward towards their specific career goals.
As an introvert herself, she has discovered numerous "adaptation" strategies for fully succeeding within an extroverted culture. These adaptation strategies, along with her keen insight for reading the political landscape, have made her a trusted advisor to corporate professionals and executives internationally. If you would like to read more of her management and career insights and tips check her blog at:
Or write Dorothy at: Dorothy@introvertwhisperer.com
TABLE OF CONTENTS
Chapter 1 – Introduction
Chapter 2 – Career Map Overview
Chapter 3 – Creating Your Career Vision
Chapter 4 – Long-Term v/s Short-Term Goals
Chapter 5 – Short-Term and S.M.A.R.T. Goal Creation
Chapter 6 – Long-Term Goal Setting
Chapter 7 – Short-Term Goal Setting
Chapter 8 – Gap Analysis
Chapter 9 – Action Plan Validation
Chapter 10 – Accountability Structures
Chapter 11 – Growth and Promotion
Introduction to Career Mapping
You have taken a great step toward planning a career you want to have. I speak to people every day who are dissatisfied with their career or job and are searching for how to get on a track they will enjoy. I truly believe a very big part of their issues stem from a lack of clarity and direction. People who are clear about what they want and where they are headed tend to focus on those activities that will support their goals.
Things like a bad boss or dysfunctional environment, of course, do create problems. However, your ability to gauge those things early and have a willingness to correct your situation are easier when you are clear about what you need out of each experience.
This is also not your usual self-help book with loads of fluff and repetition. This is the no-kidding, down-to-earth information and direction you will want to use to take action planning your future. It's the very same process I have used for myself and my clients for years.
Lastly, I have one thing for you to keep in mind:
It's not "just" a job; it's half your life. Love your career.

CAREER MAPPING OVERVIEW –
PLANNING YOUR CAREER ON PURPOSE
Your career can either happen to you or you can make it happen. The thing we know for sure is that it won't stay the same, nor will you.
Way too many people really don't like their job or career. Depending on what survey you read, the number can be a staggering 60% of us don't like what we're doing. That is way too much time spent unhappy, especially when you consider that, other than sleeping, you will spend more time working than anything else you do in life.
It's not JUST a job – it's half your life. It's time for you to love your career so you can lead a completely fulfilling life.
I believe that a big contributor to the dissatisfaction that comes along with our careers is the fact that we put very little planning and thought into where we're going. The saying: "If you don't plan where you're going, that's where you'll end up," seems to apply to our career. You need to define where you are going and how you will get there – just like a car trip. That's why I refer to this process as a career map.
Just like planning a road trip, you put thought, research, planning and validation into your plan. You don't just jump in the car and start driving. You have to know where you are headed, how you will get there and how long it will take. You must provision your trip with gas, oil and maps. Because you want to enjoy both the journey and the destination, you want to know what you can do between point A and point B. But, most people put more time, energy and thought into planning a vacation than they do their career. You put this kind of time into your vacation planning so you will thoroughly enjoy yourself. Imagine how great things would be if you put that kind of thinking into your career.
Let's get real for a minute. Most people think of "planning" as boring, tedious and a waste of time. Not an appealing or alluring activity.
What if your career map held the same kind of excitement as planning a vacation? It's time to hit the reset button on your attitude for planning your life and career. This is about you! How much more exciting can it get? Besides, this process is going to build in your vision for your career; and the great thing about a vision is it will get you excited.
The process you are embarking on will be easy to follow. This process is straightforward to do and will give you all the steps and actions you need to take. It is practical and relevant to your specific situation and not some "pie in the sky" process that sounds good but doesn't really work. Not only that, but as you move forward, you can continue to reuse this process repeatedly throughout your career. You are building a vital skill that will serve you as long as you work.
I might also point out that as a manager this is a superb process to use with the people who report to you. They will feel like they are nurtured and matter to you and the company. Imagine the productivity when each person translates their growth goals into daily action!
Because it's always good to know where you're going and why, let's look at the steps in your career map.
Create your Career Vision.
Purpose: One of the things that charges your batteries is a vision of your career that really excites you. This is you thinking about the big picture of what's possible, if not a bit scary because it is so audacious.
Define your Short-Term and Long-Term goals.
Purpose: Think of this as figuring out how long it will take you to get from one point to the next. Just like your road trip, you will think through how long it will take for you to get to various points as well, and which order things need to happen. As part of your goals, we look at such things as how to position yourself for growth and promotion.
Execute a Gap Analysis.
Purpose: As you look forward to your next career step, you have to analyze what resources, skills and experience you need to get there. This is your "provisioning" step, like putting gas and oil in your car.
Create your Short & Long-Term Goals.
Purpose: Your plan only works if you identify specific actions you should take and when you will take them. This helps keep you accountable to yourself to ensure you don't "go to sleep at the wheel".
Validate Your Plan.
Purpose: You need buy in to your plan with your management in order to get their support and potential opportunities. You need to make sure that your plan, and the actions you take, are ones that matter, not just to you, but also to the decision makers.
Build Accountability Structures.
Purpose: All the planning in the world won't make any difference if you do nothing. You need to put structures in place to help ensure you do what you intend.