Christmas Storm A Longview Romance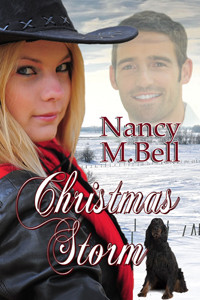 All Michelle wants for Christmas is peace of mind. The only thing bigger than the storm in her heart is the blizzard raging across the Alberta prairie outside her window. Finding an injured stray dog is the last thing she needs. Add to the mix the handsome new vet who is taking over her beloved Doc's practice and peace of mind is not in the picture. Cale Benjamin is too nice to be for real. Michelle is still smarting from being jilted by her high school sweetheart fiancé and not in the mood to trust any man, let alone one as drop dead gorgeous as Dr. Cale Benjamin DVM. The injured stray, Storm, keeps putting Michelle in Cale's path whether she likes it or no. She is distressed to find that the handsome young vet is sliding past her carefully erected defenses and into her heart. A few well placed nudges from Doc's match maker wife, Mary, help the young doctor's cause, but will it be enough to make the lady rancher allow him into her life?
The answer lies in the pages of Christmas Storm, find out for yourself.