Confronting the Wizards of Erda (Book 2 of Jewels of Erda)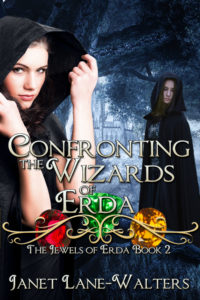 Two of the Jewels have no Holders and they must be found. The Brotherhood of Wizards also seeks to find them. Jindera is one of the pair and she must escape her cruel uncle. She wishes to find her twin brother taken by the Wizards who will use him in their attempt to destroy the Jewels of Erda. As twins, they can speak via the Inner Path. The Wizards hope to use this.
Mara, is a clanless desert dweller and faces life as the abused plaything of a future clan leader. She flees into an unknown future. On the winds, the crystals call this pair.