Conscious Parenting: Mindful Living Course for Parents (AoL Mindfulness Book 5)
Conscious Parenting is AoL Mindfulness Training Book 5, a mindful living course designed for parents.
Free your conscious and subconscious mind, Unconsciousness and kids
A UN report tells us that one million animal and plants species are to be extinct during the next few decades, more than the number of living beings extinct through thousands of years of evolution. What do you think of that?!!
After we incarnate on this little planet, we take decades of schooling to develop fairly low level memory of the intrinsic matter, and we are left guessing properties of the primordial / spiritual matter.
Our parents' circumstances, family history, relationships with the friends or enemies, our priests, teachers, journalists, contribute to our conscious and subconscious leanings. Yet, whether we like it or not, the strongest physical mechanisms within our emotional or a mental body is the hormonal or chemical input our brain receives, as part of our survival instincts.
The ancient Greeks portrayed Unconscious within their Mythology
A snake killing the children of Laocoön
or as a myth of Icarus that dies burnt for flying too close to the Sun, In Greek mythology, Icarus, καρος, is the son of the master craftsman Daedalus, living in Crete, the creator of the Labyrinth. Icarus and his father attempt to escape from Crete using wings constructed from feathers and wax. Icarus' father warns his son of the complexity of the endeavor, yet Icarus fly too close to the sun, melting the wax, falls and drowns.
Teenagers and Collective Unconsciousness
The cruelty of the renewal that see no other but It's-small-self of teenagers is symbolically represented by the pelican parent feeding the children with own blood. Our teenagers have a strong response built in their DNAs of miss-trust, challenging the family's habits, standards, norms. As a teenager, my 11 year old boy, mistrusted my interpretation of Everything, and with a reason, for the truth is tremendously multi-layered.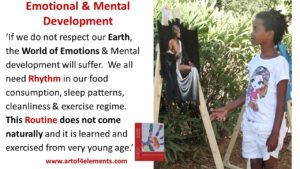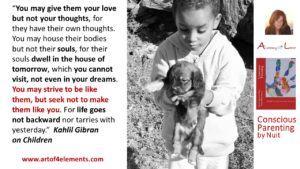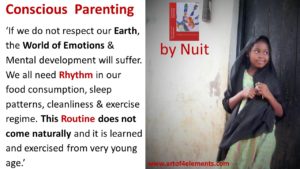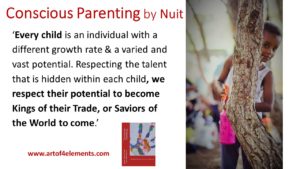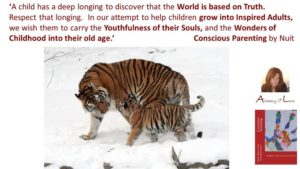 Reading his wisdom sutra that "the mind states are five and are subject to pleasure and pain" we came to conclusion that these reflect as 4 (four) elements as:
Voices of Earth, security based instincts related to food, death, injury
Voices of Sex, based on longing and fulfilled longing
Voices of Action based on the Karmic group, profession, winning or losing, short-term focus
Heart based loving vs. hating; giving vs. taking
One-pointedness towards Goodness
The power of the Soul can be intuitively or consciously observed through the daily life. However one has to give full respect towards the element Earth that runs through us as the hormonal and chemical balance of a specific age-group, or a specific disease, that physically changes our brains. Within the basic crude our water intake affects waves of "water" layers within us; our breathing affects the gusts of "air" currents or winds, solidifying further the products of "earth" or where we are within the food chain, affects our physic, the flames of "fire" are the life force we get from Sun rays. Activities such as music, painting, sports, reading, all fall under the Patanjali's "esoteric meditation and study", two of three spiritual growth methods of liberation from the negative Mind Chitta, the third one being Service. The self-indulgent behavior patterns, obsession with food, mobiles, gossiping or hate, all waste our life-force. Activities such as meditation use Willpower to detach from a thought-form, or chose a more inspiring mind-chitta.
Pulsation, vibration, rhythm exists everywhere as Akasha / Sound / Waves and we hope to reach the vibration of wisdom embedded Logic or Love Enlightened Intelligence transcending our microcosmic limitations. The kids resonance is supreme, they tune into subconscious "security" fears of humanity, "food" indulgence, "society" acceptance, all important "survival"
Conscious Parenting: Mindful Living Course for Parents by Ivana Milosavljevic and Nataša Pantović Paperback: 226 pages. Size: 8″x10″ Published by Artof4Elements
Chapter Excerpts
Why Conscious Parenting
ALL THROUGHOUT THE EXERCISES YOU AND YOUR CHILD WILL BE EXPLORING:
Concentration: Learn the art of concentration and practice with your children 'focus' that will help you grow and do your day-to-day duties the best you can.  Will-Power: Work with the magic of discipline to create the life you desire  Love: Improve your ability to connect with yourself and others Creative Intelligence: Live authentically, and express your creativity  Listen to Your Soul: Learn how to listen to your Soul' Whispers Oneness: Realise that we are all One  Spirituality: Raise your awareness and live more consciously
 SO, WHY SELF DEVELOPMENT?
Self-development is a way of Life. Our Self Development never ends. We are never too young or too old for personal growth.We have an amazing potential to reach our highest potential, to have truly inspiring careers and loving relationships.
Unfortunately, often we walk through our lives asleep, we let our habits rule us, and find it difficult to change our beliefs. Recognizing the power of our Mind and the power of our Soul, learning the art of Concentration and Love, we are learning to Live with the Flow, not against it.
It is in our nature to learn and grow. For happiness we need to learn to Love, we need to learn to Concentrate and we should keep the flow and energy of inspiration within our lives. Taking a commitment to grow, work on Self, spiritually develop, we take responsibility for our lives.
Learning the art of Self Development we learn about power of mind, consciousness, mindfulness, true love, and we become aware of the possibility to live life in harmony with ourselves, our family, neighbors, our relatives, our parents, animals, plants, and the planet Earth. Through a process of self-discovery, we will learn mindfulness, we will get in touch with conscious behavior and change our attitudes so that we are not ruled by instincts, habits and someone else beliefs.
Our Soul is the true driver of the chariot called our body and mind, and it is a source of an amazing inner knowing.
WHY SELF DEVELOPMENT FOR PARENTS?
Because the world belongs to our children and we are their soil, their water, their air.
BECAUSE THE PARENTING IS THE MOST DIFFICULT JOB IN THE WORLD
Because it is possible to get it RIGHT, our children need our Love, but also our support within this amazing matrix of choices. They need us to guide them towards healthy foods, healthy habits, inspiring activities, life enriching friends, etc.
It is unfortunately easy for parents to lose themselves in RESPONSIBILITY, in day to day tasks, in screams of demanding children, within the piles of shit of their babies, within
 RULES they are supposed to follow and within ROLES they are supposed to play. It is easy for parents to lose the connection with Her Majesty Love.
No matter how much we try we will not get it RIGHT the first time, we (human beings) need to GO through an experience to be able to learn. Helping a sister, who just had a child, is still a completely different experience form having your own child. The one who has never been a parent will have difficulties understanding all the struggles, traumas and complications, a parent needs to go through in his or her role of a Parent.
However, it is possible to get it RIGHT the second, the third or perhaps the twenty-fourth time round. It is important not to give up, get discouraged, or forget that we can aim to reach our highest potential even surrounded with screams, buttered with no sleep, exhausted with the utter lack of privacy, utter lack of space for one-Self, constantly challenged with various demands (for more and more chocolate, for more and more TV, for more and more games, for more and more expensive gifts, for more and more and more). It is possible to get it RIGHT if we stick to the very basic principle of Self Development and Spiritual Growth let Her Majesty Love rule sharing the throne with her lover Willpower.
Conscious Parenting Course Methodology
BALANCING FOUR ELEMENTS
The four elements within each one of us are: air, earth, fire, and water, four states of
matter Life chooses to manifest on Earth: Jung describes them as four basic components
of a personality: intuition, sensation, thinking and feeling.In an attempt to deeper explore the infinite game of Life, together with you, we will explore:
Earth that is fixed, rigid, static and quiet, and symbolizes your world of senses;  
Water that is the primordial Chaos, is fluidity and flexibility, and symbolizes your subconscious mind; Intuition is a deeper perception. Without clear evidence or proof, intuition perceives the subtle inner relationships and underlying processes creatively, and imaginatively.
Fire that is boundless and invisible, and is a parching heat that consumes all, or within its highest manifestation, becomes the expression of Divine Love. It is a symbol of your emotions, and  
Air that has no shape and is incapable of any fixed form. It symbolizes your world of thoughts. It is a rational, systematic process, it is our intellectual comprehension of things.
All elements are bound by:
Soul that stands at the center of the four elements as an Essence, an Observer, Consciousness coming forth to experience the magic of Life.
We will follow ancient philosophies: Taoists with their concept of Yin and Yang, Yogis with their belief in two opposite energy forces that flow through our body (Ida and Pingala), Jung that arranges the four functions (intuition, thinking, emotions, sensation) into two pairs of opposites – sensations / intuition and thinking / feeling that form our personality;
WE WILL NOT BE TALKING TO YOU ABOUT PARENTING BUT ABOUT HOW TO GROW AS A SPIRITUAL BEING TOGETHER WITH YOUR CHILDREN
Our intention is not to preach, to attack your ways of parenting, to blame you or highlight your mistakes, but to support you on your parenting journey, to inspire your higher self, to help you see and bring to consciousness the patterns that might hinder your growth.
Our intention is to help you constantly return to the energy of love no matter how much of a challenge parenting might be.
Our intention is to let you know that you are not alone in your parenting battle-field, within the arena of discomfort, sacrifice, and confusion that children might create and to help you see that your stage is surrounded with marvel, beauty, and plenty of unforgettable experiences.
The ancient truth is that no one can touch your buttons like your-own child can and no one can inspire within you so much owe, happiness, and wonder like your-own child.
We will try to help you potter each one of your and your children's days in such a way to create many moments of amazement.
We will help you at all time remember that you are a parent NOW and that this moment is unique and will never return.
 Do not give up when you touch the door of awareness, frightened by its trap, but let it open wide giving your family a possibility to create reality of your dreams.
The main tools we will be using within Conscious Parenting course are:
 Your habits, stereotypical behaviors, prejudices  Your dreams, & goals 
Listen to your Soul: o Learn Mindfulness  o Increasing Your capability to Love, Stay Inspired, Creative and Full of Energy o Using Your Soul's Diary & Spiritual Diary