Crusader (Archangel Book 1)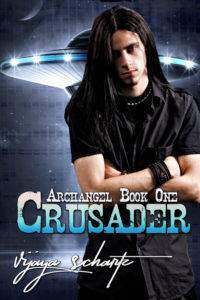 In Vijaya Schartz' "Crusader" published by Books We Love Ltd, Michael Tanner, proud, brash, irreverent, half Native American, and single father, doesn't believe in aliens. When a Blue Angel claims to have fathered him, Michael knows his drinking has gone haywire… But a seductive Prince of Darkness born of a nightmare now targets Michael's family. When his girlfriend disappears and characters from his dreams suddenly materialize to threaten his daughter, Michael must come out of denial and overcome his weaknesses, to face the unbelievable mystery of his birth and fulfill his unique destiny.
"…relationships, angels, aliens and seduction… even Satanism… kept this reviewer riveted… compelling fantasy… you won't want to put it down… superior… enthralls, and, at the same time, awakens!" – Metaphysical Reviews
"A mighty fine tale primed to read through in one sitting." – Curled Up With a Good Book.
"…engaging and fast-paced… a harmonious mix of enticing story… where real people do extraordinary things… humorous and hopeful… fluid and entertaining… quick and often droll dialogue… a marvelous tale of good and evil…" – The Charlotte Austin Review
"…Lavishly described, expertly written with stirring descriptions that take one's breath away. Author Schartz has written a solidly absorbing, old-fashioned science fiction novel of good and evil, yes and no, the one and the many." – The Book Reader