Dark Secrets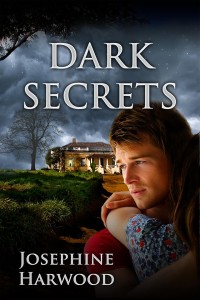 Rick's passion was his music until he met Angela. Angela never knew passion until she met Rick. Soon they would both know the passion…of a stalker's revenge.
To escape painful memories, Angela Donavon moves from Connecticut to West Texas. The last thing she wants is a romantic relationship. Local garage band singer Rick Anderson is hotter than the triple digits of The Lone Star State. With his seductive voice and hypnotizing blue eyes, he melts the ice around her heart uncovering the passionate woman underneath. But when she becomes the unsuspecting target of a stalker, will she trust Rick with her dark secrets? Someone is watching Angela…could this disturbing obsession prove to be deadly?
Chapter Excerpts
Prologue
Dark Secrets
By
Josephine Harwood
Copyright 2012 Josephine Harwood
This ebook is licensed for your personal enjoyment only. This ebook may not be re-sold or given away to other people. If you would like to share this book with another person, please purchase an additional copy for each recipient. If you're reading this book and did not purchase it, or it was not purchased for your use only, then please return to Smashwords.com and purchase your own copy. Thank you for respecting the hard work of this author.
All rights reserved. No part of this book may be reproduced or transmitted in any form or by any electronic or mechanical means, including photocopying, recording or by any information storage and retrieval system, or by any means existing now or in the future, in whole or in part, without the express written permission of the author.
This is a work of fiction. Names, characters, places, organizations, and incidents are either the product of the author's imagination or are used fictitiously, and any resemblance to actual persons, living or dead, is entirely coincidental.
This story contains some adult sensual content and is strongly recommended for mature readers eighteen years of age or older.
Dedications
To my high school sweetheart, my best friend, my inspiration, my husband, John, I love you.
To our boys: Shane, for his contagious laugh and sense of humor, and Steven, for his unexpected hugs and incredible sensitivity to others.
To my sister, Diana, whether it's my songs, plays, or stories, you have never failed to give your honest opinion or your loving support.
To Sandy Smith-Priest, our friendship is priceless and timeless, and only you know my rock and roll heart.
To Paul Hearne and Judy Rogers, you'll never know how much your words meant to me.
To my LOHS English teachers, Diana Lee Mills and Judith Skiba, I thank you both for consistently encouraging my passion to write stories.
To the rest of my family, friends, and ego boosting/busting beta readers, your feedback of my work was tremendously helpful.
To Donna Casey of Digital Donna, thank you for designing such a wonderful eBook cover.
I sincerely thank you all for helping me turn a lifetime dream into reality.
In loving memory of Robert and Miyoko Jones,
You are finally together, again.
I miss you, Mom and Dad, more than words could ever say.
PROLOGUE
Havelord, Connecticut
"Veronica Chase, you are ignorant and naïve. This obsession you have with my son has gone on long enough. After today, you will be nothing more than a bitter memory for my Ethan."
Regina's threatening words made Veronica tremble, and the psychotic woman had left her apartment hours ago. Her boyfriend's mother had arrived at the apartment complex like visiting royalty in a black limousine driven by a man she called Chambers. The large dark-skinned man was dressed in a black suit, silk tie, and dark sunglasses. His intimidating appearance reminded Veronica of a secret service man or a bodyguard hired to protect political figures or famous people. Chambers had opened the door and had helped her exit the vehicle.
Regina was a statuesque blonde enveloped in silky black fur. There were emeralds and rubies on her long tapered fingers, diamonds on her earlobes, and there were three strands of pearls draped around her neck. Her lips were blood red and her complexion was shockingly white. Ethan's mother was the most intimidating person Veronica had ever met.
And the malicious bitch had changed Veronica's life forever.
Suddenly the wind howled like a weak and wounded animal making Veronica tremble even more. Rain fell persistently on her roof like impatient fists demanding entrance. She was sitting on the cold tile floor in front of the scarred wooden dresser. With shaky hands she moved personal belongings and clothes from the bottom drawer to the cardboard box beside her. The blue smear from the ink was still on the tip of her index finger. It was visual evidence of the letter she had been forced to write. She glanced at the expensive black leather case with gold trim that she had hidden between the dresser and the nicotine-stained wall. She hadn't counted the money yet, but she did look inside. She was an eighteen-year old waitress working at a diner barely making above minimum wage. The case was layered with stacks of one hundred dollar bills and the sight had made her head spin.
She had written the letter, she had taken the money, and now she was moving away to another town, another state… another life without Ethan.
"Ronnie, I think it's wonderful you got a new job."
Her best friend, Yolanda Russell, was across the small room wrapping a brown porcelain coffee cup in newspaper. She had offered to help Veronica pack her little efficiency apartment. Yolanda's voice was like a breath of fresh air, and her very presence was like a ray of warm sunlight in the cold and dark world of Veronica's abruptly altered life.
"Anything has to be better than the diner where those creeps try to pinch your ass," Yolanda added setting the wrapped cup in a cardboard box on the small counter. "I just wish you didn't have to leave Havelord. I'm gonna miss you."
Veronica stared at the beautiful twenty-three year old woman with the long blonde hair and light brown eyes that were now glistening with tears. She loved her like a sister. She hated lying to her.
Thunder exploded above their heads like the crack of a giant's whip and rattled the only window in the apartment.
"Wow! This storm is really something," Yolanda exclaimed.
"I hope Baby Jackie is all right. I know she doesn't like this kind of weather," Veronica mentioned with concern thinking about Yolanda's two-year old daughter.
"Jacklyn's fine. She's with her daddy—so, what does Ethan think about the move? I'll bet he'll drive to Hartford every weekend just to see you," Yolanda chattered on. "I swear that hot boyfriend of yours worships the ground you walk on, girl."
Suddenly the front door flew open with tremendous and unexpected force making both girls jump. At first Veronica had thought the powerful winds outside had blown the door wide open, but she was wrong.
Standing in the doorway was Ethan.
Her nineteen year old boyfriend's six-foot four inch physique filled the broken doorframe. In the three months she had known him, never had Veronica seen him so angry.
"Ethan…oh, my god," Yolanda said breathlessly with her hand over her chest.
Without a word Ethan quickly approached Veronica, kicked aside the cardboard box, and pulled her roughly to her feet.
"Ethan, what the hell are you doing? Let her go!" ordered Yolanda completely shocked by his unexpected physical actions toward Veronica.
He reached into the front pocket of his shirt, and pulled out a folded sheet of paper. "Why did you write this letter?" he demanded. "Did my mother say something to you? Answer me, Veronica."
Veronica inwardly cringed at the harshness of his voice and the heat of his blazing green eyes. She had anticipated his pain and confusion. She wasn't prepared for his anger. She had no idea Ethan was capable of such an intense level of emotion.
"Did you mean what you wrote in this letter? You don't love me anymore?" Ethan's voice suddenly broke with emotion. "Is there…someone…else?"
The sight of her strong and self-confident boyfriend looking so shattered nearly ripped her heart in two, and Veronica felt herself weakening. Ethan was her world. He filled her senses. He filled her every thought, her every emotion. He made her feel alive. He made her feel strong, confident, and smart. She wanted to throw her trembling body against his hard muscled chest and tell him she loved him more than life itself. She longed to reach out and touch his handsome face one last time. She stared at his thick golden hair, the hair she loved to run her fingers through as they made love. She stared at his soft lips that kissed her with a passion she knew she would never know again. She looked deep into his beautiful emerald eyes that were filled with so much pain.
God, help her, she wanted to tell him his mother, Regina, had threatened her life if she didn't leave him, but she couldn't tell him the truth. She knew Ethan would promise to do anything and everything to protect her, but his unconditional love would never be enough. His mother was too rich and powerful. With an evil smile Regina had warned her about the possibility of unfortunate accidents that could occur at any given moment if she insisted on seeing her son. Veronica couldn't live that way. She couldn't ask Ethan to live that way. She loved him too much.
They had no future. She had no choice but to sever all ties with Ethan. There was only one way she could accomplish that heart-breaking task.
She had to convince him she didn't love him.
She remembered how much she despised Regina with every fiber of her being, and she allowed that dark and blinding hate to fill her until she could barely breathe…and she lied to the only man she would ever love.
"You pathetic fool," she hissed shaking his hold on her. "Did you really think you were the only one? Just because you were the first doesn't mean you get to be the last. You don't own me, Ethan. Oh, and here's a newsflash for you. Mommy was right about me. I never loved you. I only pretended to love you because you were rich. I was using you to gain your family name and all the money that goes with—"
Veronica inhaled sharply as Ethan grabbed her again. His large hand felt like a vice on the flesh of her upper arm. His teeth gnashed together in a dangerous rhythm, and she could see the muscle in his jaw line throbbing beneath his taut skin. The flames of hatred burned in his eyes like emerald fire.
Ethan, the one who had always treated her with respect, the one who had known all about her abusive childhood after her loving parents had died, the one who had promised to never lay a hand on her, was raising his muscular arm high to strike her now. She squeezed her eyes shut, turned her head, and braced herself for the impact.
It never came.
Ethan abruptly released her arm as if her skin had burned him. She opened her eyes, and what she saw would be embedded in her memory forever. Ethan looked at her with such blatant disgust she felt every inch the white trash whore Regina said she was. Taking two one hundred dollar bills from his wallet he let them flutter to the floor at her feet.
"For the door," he said.
Without another word Ethan turned his back on her. He walked out of her apartment.
He never looked back.
Veronica helplessly watched from the opened doorway as Ethan quickly backed his expensive sports car out of the parking space in front of her apartment. The engine roared over the thunder, and the back tires sliced like a power saw through gravel and mud. The red tail lights melted into the darkness of the storm.
Veronica crumbled to her knees grabbing her stomach. "Oh, Ethan…oh, god," she groaned and dragged herself to the bathroom and retched violently.
Moments later, she felt the coolness of a washcloth on the back of her hot neck. Yolanda was holding her long black hair away from her face. Veronica coughed and wiped her mouth with the back of her hand. Unable to hold back the tears she broke down and cried.
"Ronnie, what the hell is going on?"
Veronica lifted her head and stared at the only friend she had in the world. "I'm pregnant."
The family clinic confirmed only days ago she was going to have Ethan's baby. She hadn't told anyone.
Regina's money could buy anything, even personal and confidential medical information.
Yolanda had suspected for weeks Veronica might be pregnant. "Ronnie, why didn't you tell Ethan about the baby?"
Veronica shook her head slowly. "I can't tell him. I have to leave him."
"Leave him? Ethan's the father. He has the right to know—oh, my god, Ronnie. She threatened you, didn't she? Regina knows. That rich bitch knows about the baby. That's why you told Ethan those lies."
"I have to leave town."
"The hell you do. I'm calling the police."
Veronica grabbed her wrist before Yolanda could stand. "You can't call the police. Regina owns the police. She buys everyone, Yolanda. She bought me."
Yolanda's eyes narrowed. "What do you mean, she bought you?"
Veronica let go of her wrist. "She gave me a briefcase filled with money. She threatened me and this baby if I didn't take the money and leave town."
"What?" Yolanda whispered.
"I can't stay, Yolanda. I have to think of my baby."
"But Ethan should know—"
"Yolanda, I'm begging you," Veronica said breathlessly her large brown eyes widening in fear. "Ethan can never know I'm carrying his baby, and this child can never know Ethan is the father. The baby's life will depend on it. Promise me, Yolanda. Promise me, you'll never tell my secret."
"Ronnie…I—"
"Promise me," Veronica urged grabbing her wrist.
Yolanda swallowed hard and nodded her head. "I promise."
Veronica released a ragged breath and slowly let go of Yolanda's wrist.
"Ronnie? Where are you really going?"
"A lawyer contacted me at the diner a couple of weeks ago, remember?"
"Yeah, you told me he wanted to discuss a provision in your parent's will."
"I inherited my parent's summer home."
"Where is this place?"
"Starview, Texas."