Deadbeat Dads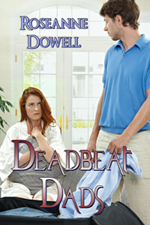 After her husband leaves her for a younger woman, Erica Morris starts a group for ex wives of deadbeat dads. Little did she know just how many there were. In the process of rebuilding her life, a someone tries to blackmail her. Can she put the past behind her or will it catch up to her?
5.0 out of 5 stars Get 'em Erica April 1, 2013
By Judy M Winn
Format:Kindle Edition|Verified Purchase
Erica establishes a support group to help other women protect themselves from circumstances she knows all too well: desertion, deceit and financial abandonment. Bad goes to worse and you can't stop turning those pages.
Chapter Excerpts
From the Author
This story idea came to me from my husband who overheard two women talking in a bank. The conversation wouldn't leave me and after chatting with someone who went through something similar, the story idea wouldn't leave me alone until I wrote it. I hope you enjoy it as much as I enjoyed writing it.