DECEIT & DEVOTION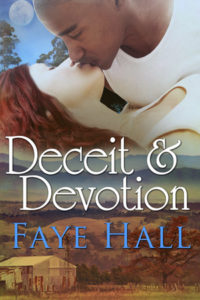 "I will pay you to sleep with my wife."
Jarrah Miyan, a young half-caste aboriginal man, is supposed to seduce a white woman into an affair so her greed-driven husband can gain full control of her inheritance, including the rare collection of black opals she keeps under lock and key. When he walks into the study to meet the poor chit he's to take advantage of, he expects to find an aging woman who smells of stale perfume and gin. Who he finds though is the most beautiful woman he's ever laid eyes on—the same woman whose pale thighs had been wrapped around him just a few hours earlier as she'd begged him to give her pleasure.
After their night of passion together, Emily Holtz doubted she would ever see Jarrah again. To have him standing before her now, asking for employment at her cattle station, was not a situation she had prepared herself for. She agrees to hire him on one condition. He has to spy on her husband and get her the incriminating evidence she needs to apply for a divorce. She's spent years in a miserable arranged marriage, and she's desperate to escape. But her husband is a dangerous man, and he will stop at nothing, including murder, to get what he wants.
As they begin to develop feelings for each other, Jarrah worries about what will happen when Emily discovers that he's been working for both her and her husband. Not that they could ever really be together, as society would never accept that.
Content Warning: contains sex, strong language, and some violence
Chapter Excerpts
Deceit and Devotion – Excerpt
Lifting the pillow to his nose, Jarrah breathed deep the sweet scent he knew to be Emily's. His senses instantly responded, his groin aching for the mere touch of her skin against his again.
"My husband and I don't share a room, Jarrah," she remarked from the doorway, forcing him to turn around suddenly. "You'll find no trace of him in here. If you wish to search through his belongings, then you'll have to go down the hallway."
"I have already inspected his room," he replied, placing the pillow neatly back on her bed.
"Then what are you doing in here?"
He walked toward her, his steps measured. "I want to know who you are. I want to know why a woman as beautiful as you was burdened with a husband who doesn't love her." Stopping before her, he lifted his hand to her face, his fingers caressing the soft skin of her cheek. "And I want to know what sort of business requires your attention at such a late hour."
Emily took a step back from him. "You'll find none of the answers you seek in this room."
"Then why don't you tell me what I want to know, Emily?" Jarrah begged, aching to pull her back to him. "Please."
He watched the beauty of her face as she smiled slightly at him, and for a moment, he thought she might tell him at least some of her secrets. Slowly, she shook her head.
"You don't want to hear what I have to tell you," she said firmly as she went to walk past him and into her room.
His hand came out, gripping her elbow, stopping her. "I want to know where you were tonight," he said again, more insistent this time.
"Why?" she asked, her gaze holding his. "Why would you care how or where I spend my nights?"
He felt as if he were drowning in the greenness of her eyes, a feeling so very unfamiliar to him. How was he to explain to this woman that he did in fact care quite a lot about her whereabouts when he didn't even understand it himself?
"Because…" He paused, knowing what he was about to admit. Never before had he allowed himself such a familiar feeling toward any woman. He hadn't intended to now either, but studying Emily's slightly freckled, pale skin, her brilliant red hair highlighting her exquisite features, Jarrah knew he could no longer deny what he was feeling. Letting out a steadying sigh, he knew he had little choice but to tell her the truth. "I care because I don't want you visiting other men and luring them into your bed."
She raised her brow, her expression unfaltering. "And is that where you think I've been the last couple of hours? Trying to lure men to come home with me?"