Defective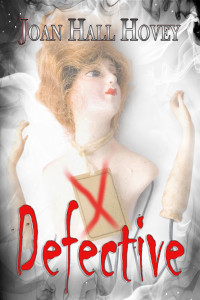 DEFECTIVE
It was mid-afternoon, overcast, and The East End Mall in Kingsdale was crowded with shoppers. The Eraser, as he liked to think of himself, sat at one of the molded plastic tables by himself, nursing a Pepsi and eating fries from a small cardboard plate, and people watching. It was one of his favorite things to do, especially in nice weather when the girls wore shorts or tight jeans, some with their tanned midriffs bare, skimpy tops that showed off their boobs and skinny jeans that accentuated their tight little butts. Why not? He was a normal guy, he told himself. He avoided looking at the ones with flab hanging over their waistbands. He had girlfriend once or twice, but it didn't last. The last one said he was weird and just stopped returning his calls. Well, to hell with her.
His eye strayed momentarily to the big screen monitor advertising Nike sneakers. Then it changed to a rent-a-car commercial and on to something else, but he'd already looked away. Idly dipping a French fry in the small pool of ketchup on his plate, he popped it in his mouth and went back to girl-watching. They did little for him today. His hand moved to cover the scratch that the retard left on his cheek, though it was fading now. That Polysporin ointment was good stuff.
Music played over the sound system, competing with the jabbering of shoppers, nothing he recognized. Probably supposed to keep people shopping, buying junk they didn't need. His gaze narrowed ever so slightly as a young girl with a silver ring in her lower lip and wearing black eyeliner got up from a table not far from him and limped heavily to the waste bin and dumped in the remainder of her meal, a half-eaten hamburger, fries. She sat the tray on top of the stack. Behind her, someone called out, "Hey, Lana," and the girl turned in his direction and took a step forward so he could see her full-length; she looked past his shoulder and waved. He felt his heartbeat rev up, his throat go dry.
She had short dark hair, and was wearing a khaki skirt and cream-colored blouse. Her dimpled smile, the gleam of white, even teeth barely registered on him. He didn't even glance behind him at the woman who had called out to her. He had no interest. As he had no genuine interest in the woman who returned the wave, really.
No. It was her foot in its big brown shoe that drew and held his attention. Not brown exactly, but like tea when you put milk in it. Taupe. Yes, that was what his mother called that color. It was all he could see when he looked at her: that big clunking shoe. So ugly it offended him, as deformities of any kind offended him. Even horrified him. A chill had crept down his back. He had to work extra hard to keep the disgust and pity from his face. She was a mistake. A blight, a tragic spawn. She must be erased. Like when you're a kid and you draw a picture of something and it doesn't come out right. You just erase it. Or rip out the page, and start again.
He was the eraser of mistakes. The good Lord had chosen him to do this work. Not that he was blaming God. No, there was no blame to be handed out here. Some small voice told him his reasoning was flawed, that that wasn't why they had to die. But he wasn't listening. As people were born of sin, women carried the faulty limbs, twisted features and minds within them. Carriers. As his mother had been a carrier, her womb spewing forth a defective, barely human—thing. Not the defective's fault either. But since the flaw couldn't be repaired, the whole issue had to be erased. The burden lifted. The Eraser held that kind of power; he could end suffering, change lives for the better. He remembered well the very moment he had changed his own life but no time for that now. She was heading for the exit doors. He rose casually from his chair, tossing the remainder of his own fries and drink into the trash, dropped his tray on top of hers, and followed. He was really following the 'shoe'. His eyes were riveted on the shoe. It filled his vision, his consciousness. That big, ugly shoe that rose and fell, rose and fell, her left hip dipping in sync, the shoe dragging it downward, seeming an entity in itself. When she stepped through the automatic doors into the grey, drizzly day, he was right behind her. Close enough to touch her. He buried his hands deep in his pockets to stifle the urge.
The bus pulled up with a hiss of air brakes and a belch of exhaust, and she hitched herself up onto the step. He followed, paid his fare. His bike was chained and locked in the parking lot; it would be fine. She took a side seat near the driver, and he sat himself two seats behind her and pretended to look out the window.
In the grayness of the day, his reflection in the glass was faint, but almost at once he could see his reflection begin to morph into that of another, as she had once been. A raindrop ran down the window and caught one corner of her mouth like the drool he remembered, couldn't forget, and he could not tear his eyes away. The small voice in his head spoke to him, sending the familiar chill through him, as if his heart had just received an infusion of ice water. The voice could form words now, where once it was capable only of mindless gibberish. "You know it's me in there, don't you. I'm watching you. I've come back. I'll always come back. I'll never leave you."
"No! No!"
Fearing he had cried out, he jerked his head around in sudden panic, but no one on the bus was looking at him. One man was reading a newspaper. A woman was talking and smiling at her little boy. Relief swept through him, but he was trembling just the same. A Chinese man seated across from him turned the page in his paperback, paying him no mind.
The girl had put earphones in her ears and her lips were moving to a song only she could hear. Her legs were crossed, the shoeswinging in time, mocking him.